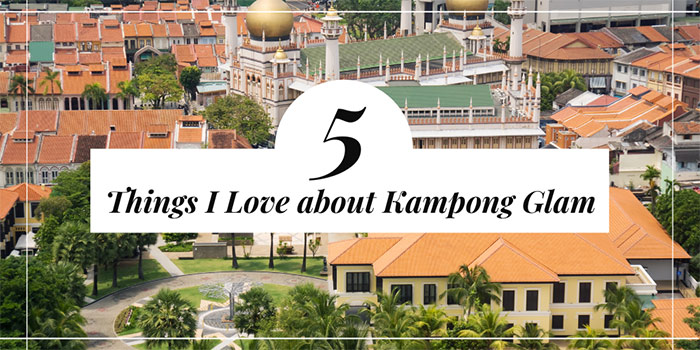 Here are the 5 things that I love about visiting Kampong Glam – a fascinating area of Singapore.
Welcome to my list of the 5 things I love about Kampong Glam. I can still remember my first visit to Kampong Glam in Singapore, and since then I have been back on many different occasions. I consider this to be one of Singapore's most cultural areas with fascinating streetside shops and restaurants. 
Throughout my many visits to Kampong Glam, I noticed one thing that is for certain – it is completely underrated in comparison to other areas around the city. And, by reading this article, you will learn exactly why that is.  
Kampong Glam is oriented around Arab Street that consists of 19th-century shophouses that have been converted into stores selling textiles and restaurants specializing in spicy Malay and middle eastern cuisine. There are some notable landmarks in this area of Singapore that draw people to Kampong Glam. The golden-domed Sultan Mosque and Malay Heritage Centre are two historic places of interest. Furthermore, be sure to check out Haji Lane. As its name suggests this is a narrow, colourful lane of artsy boutiques, hip bars and trendy cafes. Before you leave this area of the city, consider eating along Bussorah Street. This is one of the best dining streets in Singapore with views of the Sultan Mosque in the background. 
So here is my list – 5 things I love about Kampong Glam in Singapore
---
1. Direct MRT Access
If you are planning a trip to Kampong Glam, then you'll be happy to hear that it is very well connected to Changi Airport and other areas of Singapore. I can still recall taking the MRT to Bugis MRT Station during my first trip to this area. Within a few minutes, I was right in the heart of Arab Street and the surrounding textile shophouses. 
Another cool thing about Kampong Glam is that it can be easily accessed from Changi Airport. It is east of Marina Bay and the central business district, so it is actually faster to get here than many of the popular sightseeing areas. Once you land at the airport, clear immigrate and follow the signs to Changi Station. From there, it is a simple process of getting to Kampong Glam. 
Also, take note that MRT is only one of many transportation options to reach this area of Singapore. You can also use Singapore's reliable bus service, or opt for taking a taxi (the choice is up to you). 
I love that you can get right into the heart of Kampong Glam without spending hours in traffic. Get here fast without any headaches and be prepared for a fascinating cultural show. 
---
2. Street Murals and an Artistic Touch
The second thing I love about Kampong Glam is its artistic flavour. 
During my first visit to this area, I was truly impressed with the colourful street murals and vibrant vibe. This was most apparent around Haji Lane – one of my favourite streets in the entire city. Picture yourself walking by rustic streetside cafes, craft shops lined with colourful street art. 
While you are walking along Haji Lane and the surrounding area, be sure to bring along a good camera or cell phone. Selfies and group photos are very popular here (and for good reason). Enjoy a coffee and snacks with your travel mates before you move on to the next exciting area in Kampong Glam. 
There are many noteworthy cultural attractions in Kampong Glam, so you will need some energy to walk from one point of interest to another.
---
3. Affordable Accommodation Options
I have always loved that Kampong Glam still manages to offer many affordable accommodation options. Singapore often gets labelled as a ridiculously expensive city to visit. And while some parts of the city such as Marina Bay and Sentosa are quite pricey, Kampong Glam still caters to budget travellers. 
Consequently, over the years, Kampong Glam has become a popular destination for backpackers, thrifty business travellers and budget-oriented families. An added benefit of staying here is that there are lots of little restaurants and convenience stores scattered throughout the vibrant streets. 
Ideally, try to book a room as close as you can to Arab St, Bussorah St or Haji Lane. This will ensure that you are right in the heart of the sightseeing district and within walking distance from many of the best attractions. 
To learn more about hotels and hostels in Kampong Glam read our very popular article on the best places to stay in Bugis Singapore. 
---
4. Delicious Arabic Food
Another reason why I love Kampong Glam is the selection of delicious Arabic-inspired meals you can find here. Malaysia and Singapore are famous for their superb Peranakan-inspired meals, but in Kampong Glam you can try out some unique flavours that are sure to satisfy your tastebuds. 
I love eating along Bussorah Street at night while capturing views of the elegant Sultan Mosque beautifully illuminated. Personally, I would plan on arriving at Kampong Glam with an empty stomach so that you can sample some of the cafes along Haji Lane and then dig into larger meals closer to Sultan Mosque. 
The last thing you want to do is 'fast-track' your way throughout Kampong Glam. In order to feel the true cultural difference between it and other areas of the city try to spend at least a few hours here, but preferably more!
If you are concerned about the level of spice in your food, be sure to ask in advance how spicy it is. You might be able to request less spice than usual, but this will depend on the dish!
---
5. Interesting Cultural Sites
Although Kampong Glam is lined with colourful streets and interesting shops, it is equally well known for its cultural sites. 
One of the things I love about Kampong Glam is the accessibility to really interesting cultural sites that are easy to access from Bugis MRT Station. The Malay Heritage Centre is an excellent, rewarding place to visit to learn more about Malay Culture and how it has influenced Singapore. It is also known as Istana Kampong Glam because it was originally a Malay Palace. 
Malay Heritage Centre was classified as a national monument on the eve of Singapore's Golden Jubilee.
Very close to the Malay Heritage Centre you will find Sultan Mosque, also known as Masjid Sultan. This is one of the most picturesque religious sites in Singapore and one of my favourite areas in the city. 
During my first trip to Kampong Glam, I arrived in the late afternoon. After making a quick pass through Arab Street and Haji Lane I managed to reach Sultan Mosque right before sundown. At night, Sultan Mosque looks beautiful with elegant lighting which immediately entices visitors to Kampong Glam to take out their camera or cell phone for some photos. I know I spent a considerable amount of time taking photos of Sultan Mosque (from different vantage points) while I was in the Kampong Glam area. 
---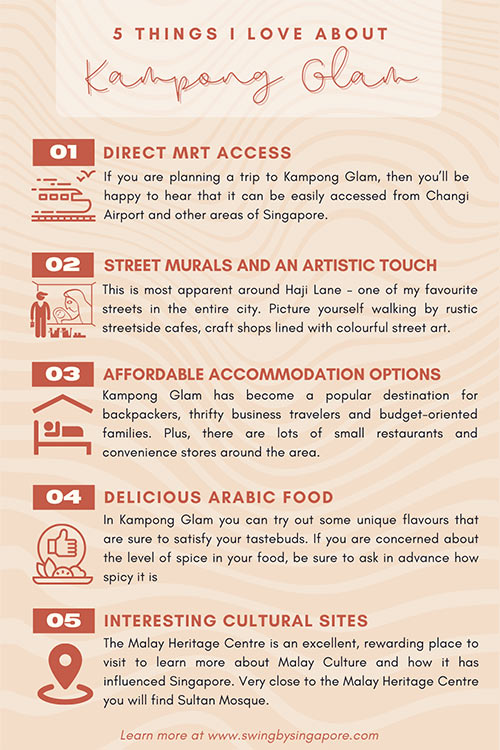 ---
When is the best time to visit Kampong Glam?
Since Kampong Glam has a variety of cafes and restaurants to choose from it is actually possible to visit here any time of the day. However, if you  Plan on walking around and sightseeing, then you are best to avoid Singapore's intense afternoon heat.
I recommend that you try to visit either in the morning or late afternoon if possible. Personally,  I think that the best time to visit kampong Glam is in the late afternoon (possibly a few hours before sunset). The reason for this is that you can do some sightseeing when it isn't too hot outside, eat dinner at an amazing restaurant, and then take additional photos when interesting sites such as Sultan mosque are lit up. 
If you go too early in the afternoon you will probably be sweaty, hot and not interested in eating in the Kampong Glam area. Make the most of your time and plan on taking the MRT to Bugis Station around 4 pm in the afternoon. 
---
Any more questions about Kampong Glam?
So there you have it, 5 things that I love about Kampong Glam. But something tells me this isn't the last list that I will share with you! Kampong Glam is a really cool area to visit. More and more tourists like to also stay in this area. 
You might even be surprised that there are also three malls a few minutes east of the cultural sites:
Textile Centre
Sultan Plaza
City Gate Shopping Mall
Consider checking these out if you want to take a break from Singapore's intense afternoon heat. Golden Landmark Shopping Centre is also conveniently located near Bugis Station in case you want to do some additional shopping. 
If you have any questions about visiting Kampong Glam (like where to stay, what we recommend, etc.) don't hesitate to add a comment or send us an email. We would be more than happy to help you as best we can. In the meantime, enjoy your time on Kampong Glam and make the most of your time in Singapore.