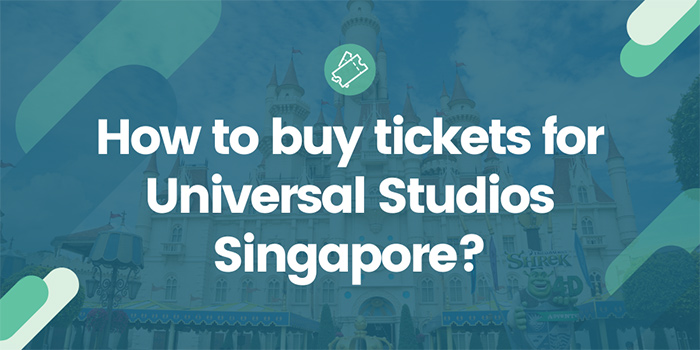 The Complete Guide on how to buy tickets to Universal Studios in Singapore.
Are you interested to know how to buy tickets for Universal Studios Singapore? We have written this comprehensive article to share all the information you need to find the cheapest tickets. We will outline both online and in-person ticketing options and also describe how you can buy multi-attraction bundles to save money.
Universal Studios is one of Singapore's most popular attractions because it attracts tons of foreign and local tourists. If you are visiting the city with children you can book a hotel room only a few minutes from the entrance gate and then just walk over when it's convenient. We will share all the ticketing options so that you can save you valuable time and money (including offline and online options).
---
Why should you visit?
Before you purchase tickets to Universal Studios Singapore, it's important to know whether it is an attraction that interests you and your companions. 
It is a large theme park located within Resorts World Sentosa on Sentosa Island. Sentosa Island is one of the most well-developed tourist islands in the world. Getting here with your family is super easy, especially if you use a combination of MRT and the Sentosa Express train line. 
Once you arrive at Universal Studios you can experience all kinds of cutting-edge rides, shows, attractions and 'themed zones'. Many of the attractions integrate world-class technology to create an unforgettable experience.
At the time of writing Universal Studios Singapore features 28 rides, shows, and attractions in seven themed zones that are based on blockbuster movies and television shows.  Jurassic Park is an example of a theme here. It is the second Universal Studios theme park to open in Asia, only second to Japan. However, it is the first and only one in Southeast Asia. Consequently, people fly from neighbouring countries just to experience this modern, world-class attraction.  
After a much-anticipated build-up, Universal Studios Singapore officially opened on May 28th, 2011 and it has been attracting millions of visitors ever since. One of the clear benefits of visiting Universal Studios in Singapore is that it is physically located near to many other major attractions on Sentosa island and world-class resorts. Getting around with children is super easy and stress-free. Creating a family-friendly itinerary here is quick.
You can literally stay at Resorts World Sentosa – Hotel Michael (5-star, 8.3/10 review score) and be within a few minutes of the admission gate. Directly east of the theme park is Serapong Golf Course.
---
Types of Tickets Available for Universal Studios Singapore
Before we outline how to buy tickets for Universal Studios, we will first provide an overview of what kinds of tickets are available to purchase. This will give you all the info you need to see what kind of ticket suits your travel preferences. 
First of all, you should know that tickets for Universal Studios may change throughout the year. You may have a selection of basic entry tickets or packages and this will depend on your selected dates. 
[Non-Resident] Universal Studios Singapore One-Day Ticket
These tickets are designed for non-residents of Singapore who want to visit Universal Studios just for a single day. Typically, these entrance tickets are more expensive than what local residents of Singapore pay. You can expect to have an 'entrance window' when you buy a one-day ticket which grants you access to the rides and activities. 
[Singapore Resident] Universal Studios Singapore One-Day Ticket
As you might have guessed these are designed for permanent residence of Singapore. If you hold Singaporean citizenship or permanent residency, then you can receive a discounted rate in comparison to foreign visitors who want to spend the day at Universal Studios. These are basic fares with one-day access to the sights and attractions.
Passes to Universal Studios
Depending on your anticipated date of arrival you may also be able to purchase an annual or seasonal pass to Universal Studios in Singapore. Seasonal Passes have a 6-month validity whereas annual passes cover one year. These passes are good value for money because as we all know – the more you pay, the more you save. Some additional benefits of getting a long-term pass to Universal Studios is that you often can have priority access and special privileges (including discounts) while visiting. Be sure to read up on the current terms and conditions before you purchase a long-term pass, however. 
Some of the most popular inclusions with these passes are:
Discounts (ranging from 15-20%) at all food and beverage outlets.
Birthday gift and privileges during your birthday month.
Discounts on Universal Studios Singapore events, packages and select RWS events
Priority access to park entrance during first three hours of regular park operating hours
---
Age Categories for Tickets
If you are buying tickets for Universal Studios in Singapore, then you should know that prices vary according to age. 
At the time of writing, there are three main age categories (Adult, Child and Senior) which correspond to different prices. 
Adults – Consist of visitors from ages 13-59. Adult visitors pay the most to enter Universal Studios.
Child – Ranges from ages 4-12. Children's tickets are usually about 20-25% cheaper than adult tickets. 
Seniors – Sixty years old and above. If you happen to be over 60 you are in luck and will enjoy the cheapest rates to Universal Studios!
---
Buying tickets for Universal Studios Singapore
There are two main ways to buy tickets for iFLY Singapore:
Online using various ticketing websites such as Klook.

In-person at the Universal Studios Singapore ticket counter.
In the section below we will summarize how to buy Universal Studio tickets. 
---
Online Ticket Purchases 
Official Website Tickets
If you want to buy tickets for Universal Studios Singapore, then you can purchase them directly using the official website. Keep in mind that Universal Studios is actually part of Resorts World Sentosa, so the official website is a page on RW Sentosa website.  
 It is really easy to buy tickets using the official site.  Simply go to the web page and click the 'Book now' icon on the side of your screen. At the time of writing, the icon was a dark red rectangle, but of course, the web layout may change over time. But it shouldn't be too hard to find! 
 Once you click on the 'Book Now' tab, then you will immediately see a pop-up window. Select your intended month and date. Then, select 'Universal Studios Singapore' as the attraction. You may also have the choice of selecting S.E.A. Aquarium and Adventure Cove Waterpark.  
 Click again on the 'Book Now' tab and you will be redirected to a new webpage that lists all the available types of tickets for your intended visit. Select the number of tickets and the ages required. Then consider any 'add ons'. Proceed to the payment to confirm your tickets. 
Third-Party Online Tickets
Because Universal Studios is a very popular attraction in Singapore, you can also book tickets directly on third-party websites. Consequently, you do have a choice of booking directly on their official site or a trustworthy affiliate site.  
 There are multiple online providers for Universal Studios Singapore tickets, but some of the most popular ones include:
KLOOK – highly recommended with over 2,000,000 online tickets booked!
Viator
Tiqets
kkDay
Thrillophilia
KLOOK is particularly popular in Singapore when it comes to purchasing online tickets for attractions. It summarizes tons of verified guest reviews along with useful photos. At the time of writing, Universal Studios had a 4.8/10 review score based on 79,790+ reviews and over 1 MILLION tickets booked on KLOOK. Needless to say, when you have that many reviews with a review score that high, chances are you are going to have an amazing day! Booking with a provider such as KLOOK is a wise decision because you can read the specific experiences from people that already visited Universal Studios Singapore. 
 A clear benefit of booking with KLOOK as opposed to the official website is that you can access detailed review information to better prepare for your visit to Universal Studios. 
In-Person Ticket Sales
 Like most large theme parks around the world, Universal Studios Singapore has an on-site ticketing area to purchase tickets in person. This might be an option for you if you are sightseeing on Sentosa and decide to enter the theme park.
 We suggest booking online in advance, however, to avoid unnecessary queues and to take advantage of online promotions. The last thing you want to do is buy a ticket in person only to find out later that the same ticket was much cheaper online elsewhere. 
---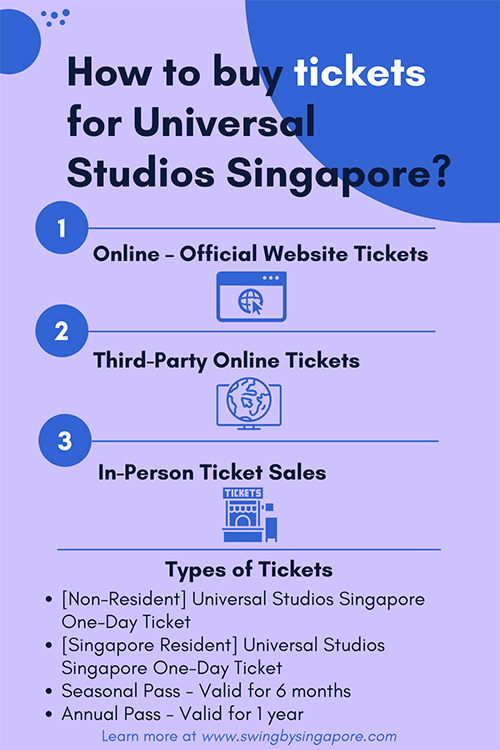 ---
How to buy the cheapest tickets to Universal Studios in Singapore?
Probably the best strategy to find cheap tickets to Universal Studios is to refer to the official website and all other affiliate sites before confirming your tickets. Occasionally, you might find that a third-party affiliate has a special promotion going on that can save you and your travel companions some cash. 
It's also important to see if you can buy multi-attraction bundles that are cheaper.
For example, you could check the official website for universal studios and Klook to see which day pass is cheaper. Then, compare both of these prices to the price you would pay if you purchased a day pass as part of a multi-attraction bundle such as the Klook Pass. In many cases, buying more passes in bulk will help you save money.
Furthermore, affiliates may have special rewards programs to consider before booking. If you can get coupons or 'points' towards a future purchase then it might be worth looking into. Some people prefer booking directly through the Universal Studios website because you won't experience any surprises when you arrive at the gate. 
---
Additional Questions about Universal Studios?
This article outlines how to buy tickets for Universal Studios Singapore. Ideally, you should now know enough about ticketing options so that it is a stress-free process. If for any reason, you require additional information, please don't hesitate to send us an email. We would be more than happy to assist you in any way possible. Remember, if you do love Universal Studios then look into annual or seasonal memberships. You can save a lot of money buying bulk passes that allow for multiple or unlimited trips in a set period of time.  
Universal Studios is an awesome attraction that caters to people of different ages. Conveniently, it is very close to some of the best hotels and attractions on Sentosa Island. Fortunately, we have a useful article on what to do on Sentosa Island to get you started with itinerary planning. 
Finding accommodation on Sentosa Island can be challenging if you are on a tight budget. A lot of luxury hotels are scattered around the attractions but there are a few more affordable options to consider. Check out the cheapest hotel options near iFLY Singapore.