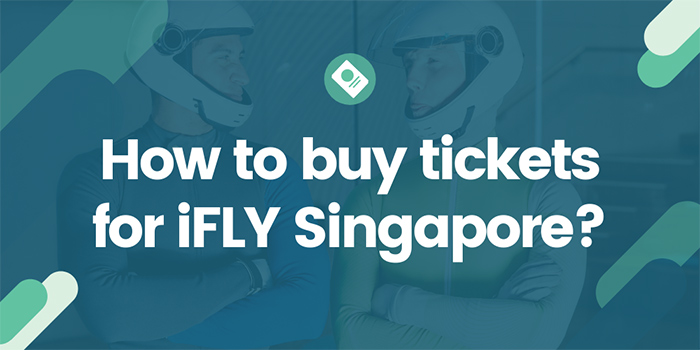 The complete guide on how to buy tickets for iFLY Singapore – one of Singapore's most exciting attractions. 
Are you interested to know how to buy tickets for iFLY Singapore? You are in luck because we have written this comprehensive article to share all the information you need to find the cheapest tickets. We will outline both online and in-person ticketing options. iFLY Singapore is a popular attraction on world-famous Sentosa Island because it caters to both locals and foreign visitors to the city. Find the cheapest tickets using this guide! 
---
Why should you visit?
Before you purchase tickets to iFLY Singapore, you have to make sure it is something that interests you and your travel companions. iFly Singapore is ideally located on Sentosa Island, directly beside Beach Station. Consequently, it is one of the easiest attractions to access on Sentosa Island using the Sentosa Express train. Once you get off at Beach Station it is only a 1-minute walk to the entrance. If you want to visit one of the cutting-edge attractions in Singapore this is definitely one you do not want to miss!
iFLY Singapore on Sentosa island is one of its kind in Southeast Asia and the world for that matter. It is a themed indoor skydiving facility that includes a state-of-the-art wind tunnel. If you want to experience what it feels like to fly in a safe, well-maintained environment you should give it a try!
When you visit iFly Singapore you will be impressed by the size of the wind tunnel. It has a height of 56.5 feet and a diameter of 16.5 feet. This makes it one of the world's largest wind tunnels. It is so big that it can accommodate up to 20 flyers at a given time. 
IFly is also an extremely well-managed facility having won five Guinness World Records and TripAdvisor's Certificate of Excellence. 
Safety is not a concern at iFly Singapore either. It uses a top-notch safety system from the International Bodyflight Association (IBA). It is proven worldwide to provide a safe environment for all participants regardless of their experience level.
---
Types of Tickets Available for iFLY Singapore
Before we outline how to buy tickets for iFLY Singapore, we will first provide an overview of what kinds of tickets are available to purchase. This will give you all the info you need to see what kind of ticket suits your travel preferences. 
First of all, you should know that tickets for iFLY Singapore are organized according to four main 'Flyer Categories':
First-Timer

Return Flyer

Member

Proflyer
These categories are then broken down into multiple ticket offers. In the section below, we will provide you with an overview of each type of ticket that is available for iFLY Singapore. 
First-Timer Tickets
As the name suggests, first-timer tickets are designed for either new visitors or people who just want one skydive experience. The 'first-timer' offers obviously can change over the course of time, but at the time of writing there are 2 main ticketing options:
The Teaser (local or for foreigners) 

The Challenge (local or for foreigners) 
The Teaser is designed for visitors who want one skydive experience. The prices are arranged according to whether you are a Singapore resident or not. The price for locals is usually cheaper with a significant discount. The Teaser includes one skydive session. 
The Challenge tickets are similar to Teaser tickets except that they include 2 skydives and not 1. The Challenge tickets are good value because you do save by experiencing 2 skydives at iFLY Singapore as opposed to only 1. Think of it like buying in bulk – the more you buy the cheaper it is. 
Memberships and Packages for iFLY Singapore
If you love skydiving then you might want to do it more than once or twice while in Singapore. In this case, a membership or package might be a more practical option. In the section below we will summarize the main packages and memberships available to guests:
Trial Training Package
The Training Package is ideal for you if you want to learn about skydiving beyond just 1 or 2 dives. This package includes 6 skydives along with some coaching and training. If you try 6 skydives at iFLY Singapore then you will have a pretty good idea of whether this is a sport that you want to pursue more in the future. Sometimes it's challenging to know if you are passionate about it after only 1 or 2 dives. Six is a more practical number to really see if you like it. At the time of writing, the trial training package is only available to Singaporeans and permanent residents. 
Membership Packages
iFLY Singapore also offers membership packages for more interested visitors. They offer different membership tiers to suit your requirements. In total, there are 5 membership tiers available:
Basic
Bronze
Silver 
Gold
Platinum
The 'Basic' package includes 15 skydives, then you can top up your membership in 20-dive increments. Since Platinum is the most expensive membership level that consists of the most skydives, it also offers you the largest savings per dive. Another cool perk of reaching the Gold or Platinum level is that you get complimentary skydives during your birthday month. Gold members get 5 complimentary dives whereas Platinum members get 10. 
Another option available is to 'Fast-Track' your membership right away. By paying more upfront it's possible to receive the discounted rates per jump. Also, take note that skydives are for off-peak times only and that all skydives are in denominations of 90 seconds.
Proflyer Packages
Last but not least, there are Proflyer Packages available at iFLY Singapore. These are best described as high-frequency memberships over a short period of time. You can purchase 1-day packages that consist of either 5 or 10 skydives. Alternatively, you can buy a 20 skydive pass with 1-month validity. Proflyer packages are ideal for passionate skydivers that only have a limited amount of time to get their dives in. 
iFLY Singapore also offers corporate and birthday packages. 
---
Buying tickets for iFLY Singapore
There are two main ways to buy tickets for iFLY Singapore:
1. Online using various ticketing websites
2. In-person at the iFLY Singapore ticketing counter.
In the section below we will summarize how to buy iFLY Singapore tickets. 
---
Online Ticket Purchases 
 

Official Website Tickets
If you want to buy tickets for iFLY Singapore, you can purchase them directly on the iFLY Singapore website. This is the official website for iFLY Singapore and not a third-party affiliate.  
 The purchasing process is very straightforward.  Simply go to the web page and click the 'Book' icon on the side of your screen. At the time of writing, the icon was a dark red circle, but of course, the web layout may change over time. But it shouldn't be too hard to find! 
 Once you click on the 'Buy tickets' tab, then you will be directed to a webpage that summarizes the types of tickets available (first-timer, return flyer, member and pro flyer). Select the ticket option that suits your preferences. The 'First Timer' tickets do not require you to log in whereas the other ticketing options do. 
Click on the number of tickets you want and click 'Continue'. Then select the date and time using the calendar provided. Key in your payment information and you should be good to go!  
Third-Party Online Tickets
Since iFLY Singapore is a very well-established and popular attraction in Singapore they have created many partnerships with third-party online companies. Therefore, you do have the choice of purchasing your tickets using the official website or an affiliate website. 
There are multiple online providers for iFLY Singapore tickets, but some of the most popular ones include KLOOK, Sistic, sg.trip.com, and www.headout.com.
KLOOK is particularly popular in Singapore when it comes to purchasing online tickets for attractions. It summarizes tons of verified guest reviews along with useful photos. At the time of writing, iFLY Singapore had a 4.6/10 review score based on 957+ reviews and over 10,000+ tickets booked on KLOOK. This strongly suggests that people love visiting iFLY Singapore and they were very happy with the overall experience. Booking with a provider such as KLOOK is a wise decision because you can read the specific experiences from people that already visited iFLY Singapore. You should value personal reviews as you develop a detailed itinerary for Singapore. 
In-Person Ticket Sales
 If you are wondering how to buy tickets for iFLY Singapore you will be happy to know that you can also buy tickets directly at the ticketing office as well. 
 We suggest booking online in advance, however, to avoid unnecessary queues and to take advantage of online promotions. The last thing you want to do is spend buy a ticket in person only to find out later that the same ticket was much cheaper online. 
Available Times to Experience iFLY Singapore
iFly Singapore is open every day of the week! During the week it opens at 11.00 am and closes at 8:30 pm. Then, on weekends it opens at 9:00 am and closes at 9:30 pm. Here is a summary below:
Weekdays
11:00am – 09:00pm
First Flight: 12:00pm
Last Flight: 08:30pm
Weekends & Public Holidays
09:00am – 10:00pm
First Flight: 10:00am
Last Flight: 09:30pm
---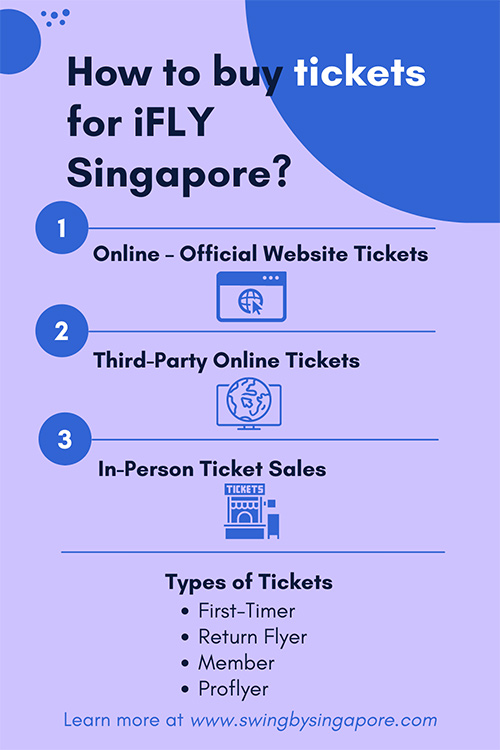 ---
How to buy the cheapest tickets to iFLY Singapore?
From time to time you might be able to find a promotion for visiting iFLY Singapore. We suggest that you first complete an internet search to see which third-party providers are selling tickets. Then compare the prices from third-party websites to the official iFLY Singapore website. Doing this will ensure that you don't miss out on any deals and check whether affiliate sites are adding commission to the price. 
In some cases, the ticket prices may be different on different websites and affiliate providers may change. Research early and compare multiple sites before buying your tickets. 
---
Additional Questions about iFLY Singapore?
This article outlines how to buy tickets for iFLY Singapore. Hopefully, it has provided you with sufficient information to visit this popular attraction on Sentosa Island. If for any reason, you require additional information, please don't hesitate to send us an email. We would be more than happy to assist you in any way possible. Remember, if you do love skydiving you may want to buy one of the membership packages. You can save a lot of money buying bulk passes.  
iFLY Singapore is an awesome attraction that caters to people of different ages. It is also very close to some of the best hotels and attractions on Sentosa Island. Fortunately, we have a useful article on what to do on Sentosa Island to get you started with itinerary planning. 
Finding accommodation on Sentosa Island can be challenging if you are on a tight budget. A lot of luxury hotels are scattered around the attractions but there are a few more affordable options to consider. Check out the cheapest hotel options near iFLY Singapore.