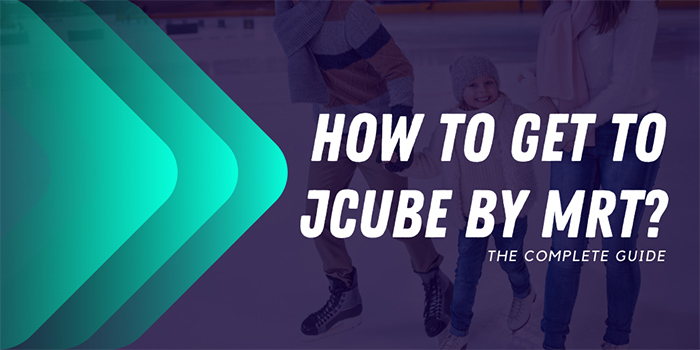 "Get to JCube fast and easy with this comprehensive guide."
Welcome to our complete guide on how to get to JCube by MRT.  By the end of this article, you will get to JCube in a fast and affordable manner. Singapore is well known for its extensive public transportation system. And fortunately, the MRT is one of the best ways to get to JCube.
Even though JCube is located in Jurong East (which is outside of popular sightseeing areas such as Marina Bay, Sentosa and Chinatown), it can be easily accessed without stepping foot in a vehicle. 
Getting around Singapore can be stress-free and cheap, but you need to make sure that you stay close to an MRT station and navigate the right lines to access points of interest. JCube is a popular mall and worth visiting. Learn how to get there by following the steps outlined below. 
---
Why should you visit JCube in Singapore?
JCube is a popular shopping and entertainment centre in Jurong East, Singapore. It is considered to be one of the best malls for leisure and entertainment in the city. JCube is home to Singapore's only Olympic-sized ice skating rink, which is very popular with people of all ages, particularly children. It is called 'The Rink' and offers multiple different packages for guests. You can rent skates right at the rink and a helmet, gloves and additional gear if needed. 
JCube also has a massive 460-seat IMAX theatre that features international blockbusters. 
There is a wide selection of food and beverage outlets at JCube as well. So, if you need a break from shopping or leisure activities, grab a refreshing beverage or a meal. 
---
Getting to JCube by MRT
Step 1: Access the closest MRT station.
Getting to JCube using MRT can be a smooth process if you can easily access the MRT network.
Singapore's MRT system consists of tons of stations organized over several lines. The faster you can access a station, the better! Conveniently, there are tons of hotels and hostels scattered around Singapore in ideal places, close to MRT stations. 
Many visitors to the city choose to stay in popular areas such as Marina Bay, Chinatown, Sentosa Island and Little India. All of these are serviced by the MRT and make it easy to get around the city. 
A few popular places to stay with direct MRT access include:
Marina Bay Sands (5-star) (very close to Bayfront Station)
Fairmont Singapore (5-star)(very close to Esplanade Station)
Once you have your accommodation sorted, it's time to head to the nearest station on your way to JCube. 
---
Step 2: Locate Jurong East Station on the map and buy your ticket.
Before buying your MRT ticket to JCube make sure that you have mapped out your way to Jurong East Station. In terms of convenience, this is by far the best station to access JCube. 
Jurong East Station is located along the East-West line which is typically shown in green colour on the MRT map. You may have to transfer lines, so double check what line you are starting this trip on.
Get an MRT card or ticket for your trip. 
Once your trip is mapped out, next purchase either an MRT ticket or a card for your journey. 
Under most circumstances, you can choose from three different types of tickets and each one has some benefits, so choose the one that works best for you:
Single trip tickets

Stored value cards

Singapore Tourist Passes
Single journey tickets are best if you are only going to use the MRT a few times. These are the no-frills option. Show up at the station and go to the ticketing machine. 
Singapore Tourist Passes are popular with foreign guests in the city. They allow holders to use the bus and MRT unlimited times for a set period of time (usually 1-3 days). If you are a busy traveller, then this is the cheapest choice. Visitors with 'high energy' 3-day itineraries will benefit from a Tourist Pass.
Stored value cards are popular with Singaporeans and permanent residents. Tourists staying for a long time in Singapore also use these cards. We have used our EZlink cards on multiple occasions. Simply buy the card and top it up. Then later, you can just simply 'tap it' to enter and exit the system. The cost of the ride is automatically deducted from the cash balance on the card. We used a stored value card when we were learning how to get to JCube by MRT. 
Read More: How to buy Singapore Tourist Passes – The Complete Guide
---
Step 3: Travel along the East-West Line to Jurong East Station.
Now, make your way along the East-West Line to Jurong East Station and JCube. 
Chances are that you will be travelling from Singapore's downtown area to JCube. Therefore, as you travel northwest along the East-West Line you will stop at Clementi Station directly before Jurong East. 
As you hear the verbal announcement at Clementi Station, make your way closer to an exit door on the train because you will alight at the next stop. You can also refer to the digital screens on the train to see where you are along the East-West line.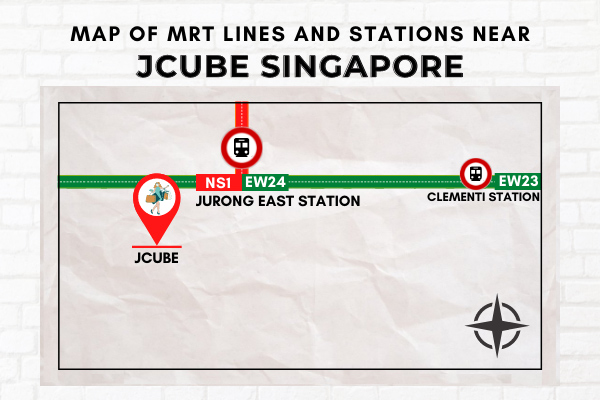 ---
Step 4: Alight at Jurong East Station. 
Alight at Jurong East Station which is #24 on the East-West Line to access JCube. 
---
Step 5: Exit Jurong East Station and walk to JCube.
Take Exit A from Jurong East Station down to ground level and walk west along Jurong Gateway Road to JCube.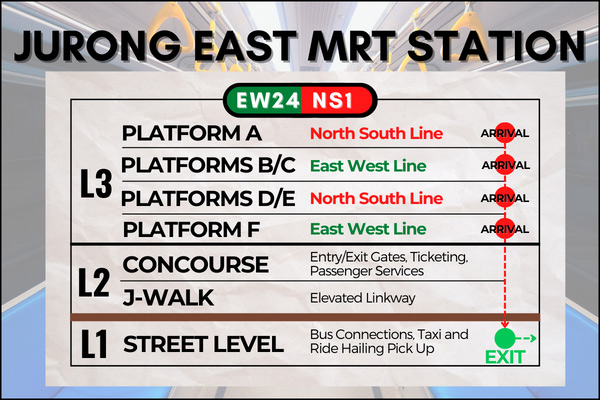 Expect the walk from Jurong East Station to JCube to take you only a few minutes. Follow the signs and it's super easy.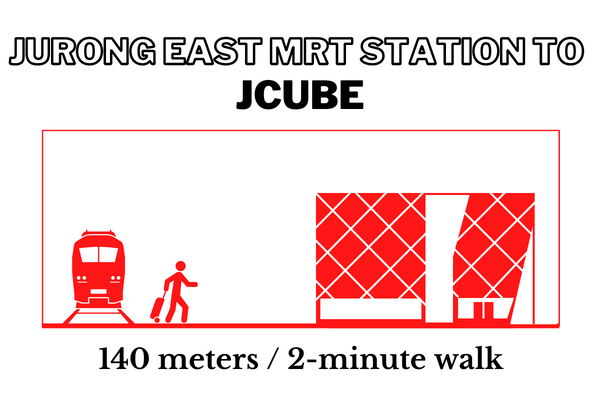 ---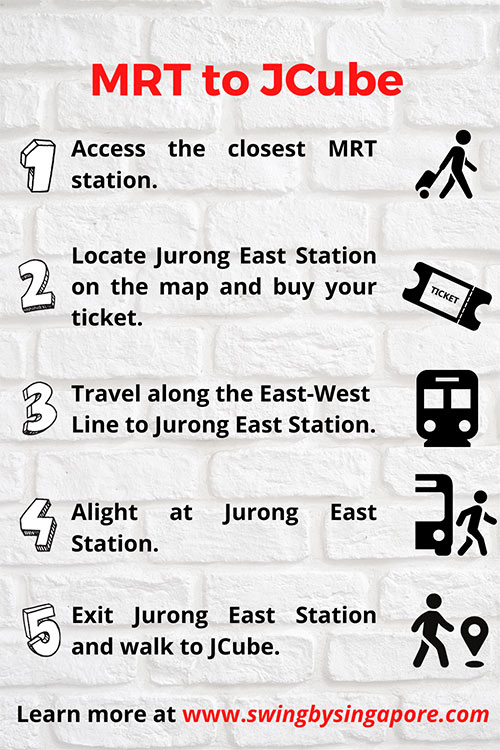 ---
Are there places to stay near JCube?
The area around JCube in Singapore is loaded with other shopping malls that are conveniently connected by what is called the 'J-Walk'. However, hotels in this area of Singapore are limited. 
The closest hotel to JCube is Genting Hotel Jurong. It is a well-respected 4-star hotel and very close to Jurong East Station. But realistically, most people who visit Singapore tend to stay in a sightseeing area such as Marina Bay or Chinatown, for instance. 
Consequently, you might find it more practical to stay in the city centre and then head out to Jurong East for a shopping extravaganza.
Read More: Singapore Accommodation Guide – Find the Best Places to Stay, Now…
---
Conclusion – Getting to JCube
We hope that this step-by-step guide on how to get to JCube by MRT will make things easier for you. But remember, if you invest time getting out to Jurong East, there are other malls and points of interest worth visiting in addition to JCube.
For example, a series of malls are connected around Jurong East Station that JWalk physically connects. Once you exit the station, you can walk around this elevated, covered path to reach the following malls:
Westgate
IMM
jem
Furthermore, your Jurong East itinerary could also feature visits to popular family attractions such as Snow City Singapore and Science Centre Singapore. These are either a 10-12 minute walk or a short bus ride from Jurong East Station.  Expect to spend a whole day in and around JCube. In our opinion, this is an underrated area to explore, considering how well connected the infrastructure is.
If you encounter any more questions about getting to JCube or any of the other attractions in Jurong East, please don't hesitate to send us an email or comment below. We would be more than happy to support you the best we can to make your trip here an awesome one!