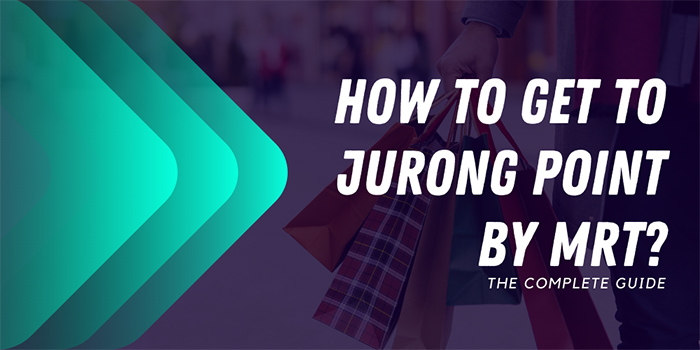 "Get to Jurong Point fast and easy with this detailed guide"
This is the complete guide on how to get to Jurong Point by MRT. After you read this article you will be able to get to Jurong Point in a fast and affordable manner by utilizing Singapore's amazing public transportation network. 
As you probably know, Singapore is an expensive place to visit relative to other countries in Southeast Asia. Staying right beside a station and using public transport is one way you can save serious cash in Singapore. You can access Singapore's main attractions with the MRT, and getting to Jurong Point is no exception!
There are various metro lines in Singapore that make it possible to visit most attractions, malls and museums without stepping foot in a vehicle. Despite the fact that Jurong Point Shopping Centre is located outside of the core tourist areas, it is still conveniently close to the East-West MRT line and within walking distance of a station.  
---
Why should you visit Jurong Point in Singapore?
Jurong Point is a popular shopping mall which is located in Jurong West, Singapore. At the time of writing, it is considered to be the largest shopping mall in Singapore according to the number of tenants. 
Since it first opened its doors in 1995, Jurong Point has undergone a few different expansions to create what is now a megamall. With multiple anchor stores and a massive selection of international brands, Jurong Point is very popular amongst Singaporeans and residents in Jurong. 
Although Orchard attracts a lot of tourists visiting Singapore, Jurong Point is definitely worth visiting if you are looking for items or want to try some delicious dishes. It has hundreds of tenants and offers a large selection of restaurants to choose from. 
As you will soon learn below, Jurong Point is very well connected to the MRT and Boon Lay Bus Interchange, making it convenient to access. You can expect Jurong Point to be considerably busier during weekends as opposed to weekdays when Singaporeans are off work and ready to shop.
---
Getting to Jurong Point by MRT
Step 1: Find the closest MRT station.
Getting to Jurong Point via MRT is a smooth process that begins with accessing the closest MRT station to your point of origin. 
For tourists staying in the downtown area, you should focus on finding a hotel that is within walking distance to a station. You will appreciate the convenience of walking directly to the nearest station, opposed to getting additional taxi rides all the time. Singapore gets really hot, so the closer you are to a station, the better.
Conveniently, there are tons of hotels and hostels scattered around Singapore that are in ideal places, close to MRT stations. A few popular suggestions include: 
Marina Bay Sands (5-star) (very close to Bayfront Station)
Fairmont Singapore (5-star)(very close to Esplanade Station)
With your accommodation sorted, walk to the nearest station and get ready to use the MRT to reach Jurong Point mall. 
---
Step 2: Find Boon Lay Station on the map and buy a ticket.
Plan on travelling to Boon Lay Station for your MRT trip to Jurong Point. Without question, this is the best and closest station to the shopping centre.  
Boon Lay Station is a stop on Singapore's East-West Line that is typically shown in green colour on the metro map. It is station number 27 on that line. 
You may have to transfer to the East-West Line on the way to Jurong Point, so be sure to look over the metro map located in your first station. 
Buy an MRT ticket or card for your trip.  
Next up, get your ticket sorted to Jurong Point. 
Typically, Singapore offers two main choices for MRT tickets. Each one has some benefits, so choose the one that works best for you:
Stored value cards

Singapore Tourist Passes
Stored value cards are popular with Singaporeans and permanent residents. We have used our EZlink cards on multiple occasions. Simply buy the card and top it up. Then later, you can just simply 'tap it' to enter and exit the system. The cost of the ride is automatically deducted from the cash balance on the card. We used a stored value card when we were learning how to get to Boon Lay Shopping Centre by MRT. 
We strongly suggest buying a multiple-attraction pass to use alongside your transportation card. You can save up to 52% on entrance prices to Singapore's top attractions. At the time of writing, over 200,000 passes have already been sold.
Singapore Tourist Passes are popular with foreign guests in the city. They allow holders to use the bus and MRT unlimited times for a set period of time (usually 1-3 days). If you are a busy traveller, then this is the cheapest choice. Visitors with 'high energy' 3-day itineraries will benefit from a Tourist Pass.
Read More: How to buy Singapore Tourist Passes – The Complete Guide
---
Step 3: Travel along the East-West Line to Boon Lay Station.
Now, make your way along the East-West Line to Boon Lay Station and Jurong Point. 
If you are staying closer to Singapore's core tourist areas like Marina Bay and Chinatown, then you will be travelling westward. Therefore, the station directly before Boon Lay is Lakeside Station. 
When you hear the verbal announcement on the train for Lakeside, move closer to the nearest exit. You will alight at the next stop.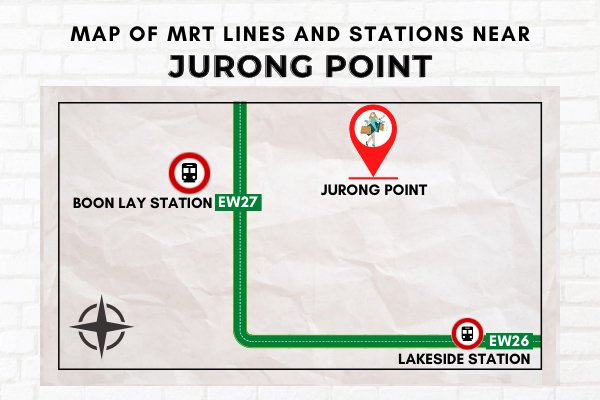 ---
Step 4: Alight at Boon Lay Station. 
Alight at Boon Lay Station in order to access Jurong Point. Conveniently, Boon Lay Station is located directly south of Jurong Point. This makes the walk super fast and stress-free.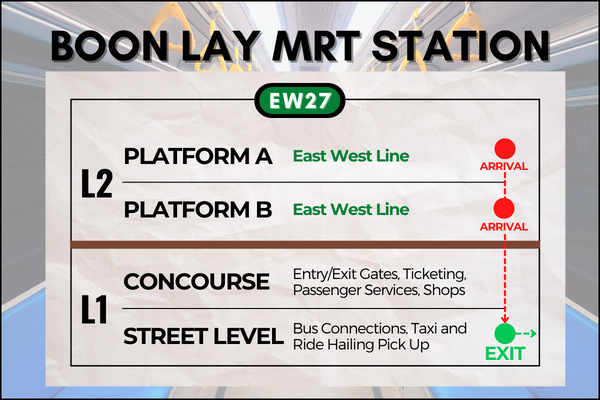 ---
Step 5: Walk briefly north to Jurong Point. 
Take Exit A and follow the signs north to Jurong Point from Boon Lay Station. Simply follow the signs and you can't miss the mall! 
Expect the walk from Boon Lay Station to Jurong point to take you only a few minutes.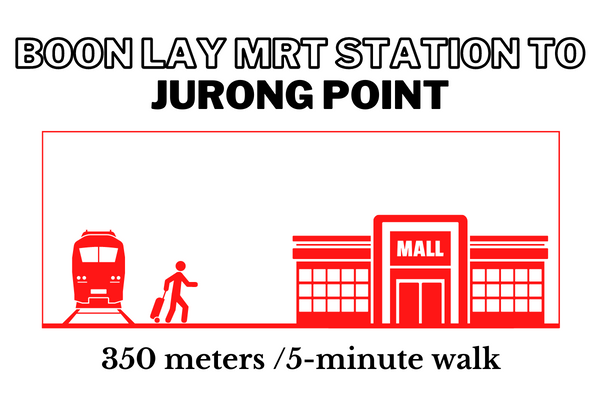 ---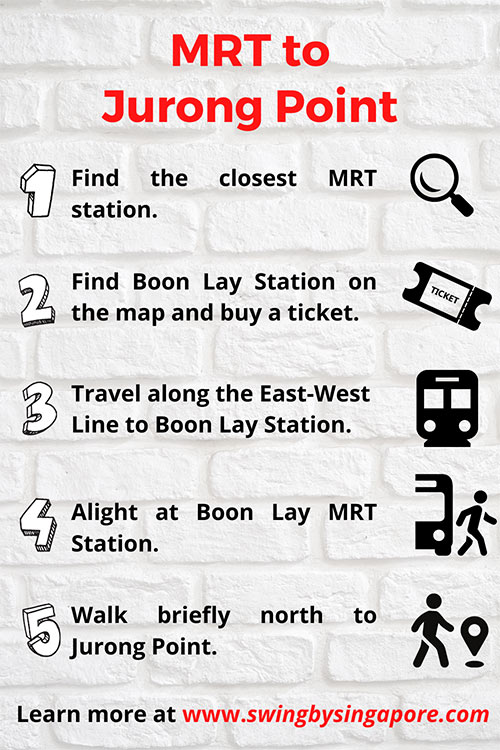 ---
Are there places to stay near Jurong Point?
Jurong Point is without question one of the best shopping malls in Singapore. But, don't expect there to be a wide selection of hotels near it!
Actually, it's hard to find accommodation in this area of Singapore. Areas like Chinatown, Marina Bay, Sentosa and Kampong Glam have many more hotels and hostels to choose from. 
So, from a practical point of view, you might be better off staying closer to downtown and shopping at Jurong Point as part of a day trip. 
Read More: Singapore Accommodation Guide – Find the Best Places to Stay, Now…
---
Conclusion – Getting to Jurong Point
Ideally, we hope that this step-by-step guide on how to get to Jurong Point by MRT will make your trip fast and easy. But also remember that you are making your way to Jurong, there are other interesting places to visit. 
In other words, building a fun itinerary of the Jurong area is easy. You can get off at neighbouring Lakeside Station and visit Jurong Lake Gardens – one of Singapore's most interesting recreational parks. 
Furthermore, a stop at Jurong East Station opens up all kinds of possibilities. Families will enjoy Snow City and Singapore Science Centre. And shoppers flock to the following malls that are right around the station: 
JCube (mrt directions)
Westgate
IMM (directions)
jem
The Jurong East and Jurong West often get overlooked because they are not close to Singapore's famous premier attractions on Sentosa and around Marina Bay. But consider making your way out here.
If you require any additional assistance with your trip to Jurong Point, we are here to help! Simply send us an email or post a comment below, and we will get back to you! Enjoy your time shopping and dining at Jurong Point!