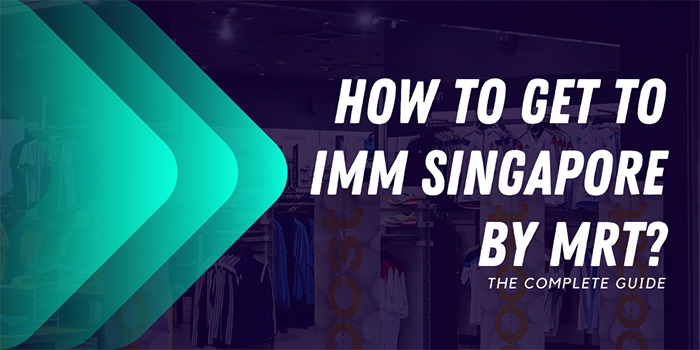 Get to IMM in Singapore fast and easy by using this comprehensive guide.
We have written this step-by-step guide on how to get to IMM Singapore by MRT to save you valuable time and money.  IMM is a popular shopping centre in the Jurong East area of Singapore. By the end of this article, you will get to IMM in a fast, stress-free manner. We also hope to provide you with some practical tips to save money, including where to stay and what kind of MRT ticket and attractions passes are the best for your trip.
Fortunately, IMM in Singapore is easy to get to using Singapore's extensive public transportation system. Despite the fact that IMM is located in Jurong East (outside of popular sightseeing areas such as Marina Bay, Sentosa, and Chinatown), it's easy to get to from most places in Singapore. 
---
IMM Singapore – Why Should you visit?
IMM is currently Singapore's largest outlet mall. It is a very popular shopping centre if you are looking for excellent deals at more than 90 outlet stores. With discounts up to 80% year-round, you can find world-class branded products at IMM for a fraction of the price of normal shopping malls. 
IMM consists of over 220 retail outlets and over 50 food and beverage outlets to choose from. Outlet malls around the world are known for being solely focused on selling clothing.  IMM, however, is a one-stop-shop for all kinds of services and products. For example, it features specialized furniture and interior design merchants and a large grocery store and other lifestyle stores.
So what can keep your children occupied while you are shopping?
Well, conveniently, IMM has both wet and dry playgrounds located on level 3 of the mall! If you are considering making a trip to the Jurong East area of Singapore, a stop at IMM will ensure cheap prices, delicious food and fun for the whole family (if you have children)! 
---
Specific Details – Getting to IMM by MRT
Step 1: Access the closest MRT station.
Using the MRT to get to IMM in Singapore is easier if you stay close to a station. Fortunately, Singapore has several MRT lines with tons of stations that are beside hotels and hostels. 
Singapore gets extremely hot so try to avoid uncomfortable walks by staying within 500 meters or less of an MRT station. 
A few popular places to stay with direct MRT access include:
Marina Bay Sands (5-star) (very close to Bayfront Station)
Fairmont Singapore (5-star)(very close to Esplanade Station)
With your accommodation taken care of, walk to the nearest station on your way to IMM in Jurong East.  
---
Step 2: Identify Jurong East Station on the route map and buy your MRT ticket.
If you are not staying along the East-West MRT (Green) Line, chances are you will have to transfer lines to get to Jurong East Station and IMM mall. Refer to the map in the station or online.  Plan your transfer(s). 
Next, proceed to buy your MRT ticket to IMM and Jurong East Station. In terms of convenience, this is by far the best station to access IMM. 
Jurong East Station is also located along North-South (Red Line), but most tourists who stay downtown will take the East-West to IMM. The North-South Line does a loop well north of the main attractions in the city. 
Get an MRT ticket or multi-use card for your trip. 
Once you have referred to the map, get an MRT ticket or a card for your trip to IMM. 
There are two main types of tickets you can choose from to reach IMM:
Stored value cards

Singapore Tourist Passes
Although we have provided general information below, this detailed guide is your best bet for information about buying MRT tickets in Singapore. 
Singapore Tourist Passes are popular with foreign guests in the city and they are often used with an attraction pass. They allow holders to use the bus and MRT unlimited times for a set period of time (usually 1-3 days). If you are a busy traveller, then this is the cheapest choice. Visitors with active plans for three days or less will benefit from a Tourist Pass.
Stored value cards are popular with Singaporeans and permanent residents. We used a stored value card when we were learning how to get to IMM Singapore by MRT. 
These tend to be popular with long-term guests in Singapore. We have used our EZlink cards on multiple occasions. Simply buy a card and top it up. Then later, you can just merely 'tap it' to enter and exit the system. The cost of the ride is automatically deducted from the cash balance on the card. You also avoid long ticket kiosk lines by keeping a running balance on your card!
Read More: How to buy Singapore Tourist Passes – The Complete Guide
---
Step 3: Take the East-West Line all the way to Jurong East Station.
Now, it's time to travel along the East-West Line to Jurong East Station, making your way to IMM.
You are staying in Marina Bay, Chinatown or Little India, for instance, you will be travelling northwest along the East-West Line. The station directly before Jurong East is Clementi Station. 
Once you stop at Clementi, move to the nearest exit because you will alight at the next stop.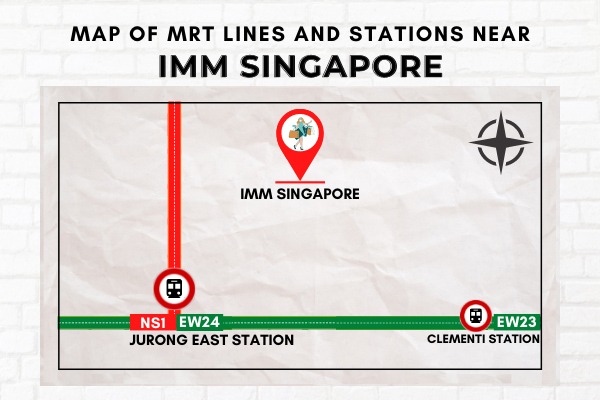 ---
Step 4: Alight at Jurong East Station. 
To access IMM, you should alight at Jurong East Station. Make sure that you bring all parcels from the train.  
---
Step 5: Exit Jurong East Station and walk to IMM.
Take Exit D from Jurong East Station and enter Westgate shopping mall. Walk past Starbucks and continue straight until you see the green "J-Walk" sign. Continue straight, and then you will see a red "IMM" sign and another green "J-Walk" sign.
Exit Westgate and then walk outside along J-Walk towards Ng Feng Fong General Hospital and Jurong Community Hospital. 
Be sure to enter the hospital. There will be a door on the right (towards the direction of Tower C). Turn right. Walk straight and follow the sign to IMM. Exit the hospital.
Walk outside along J-Walk towards IMM. Enter IMM, and you have reached your destination!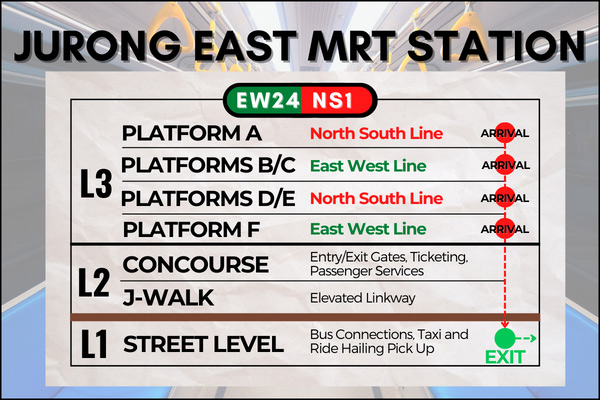 You can expect the walk from Jurong East Station to IMM to take you about 7-10 minutes.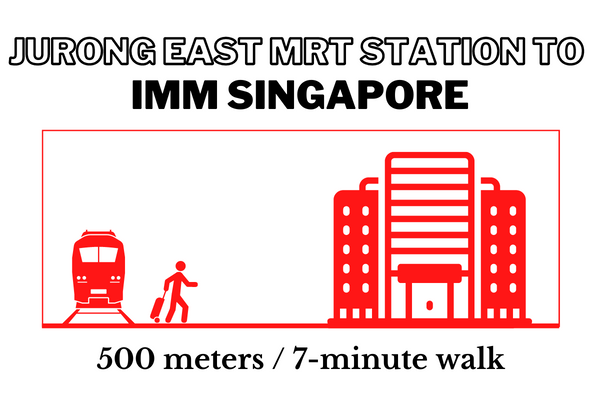 ---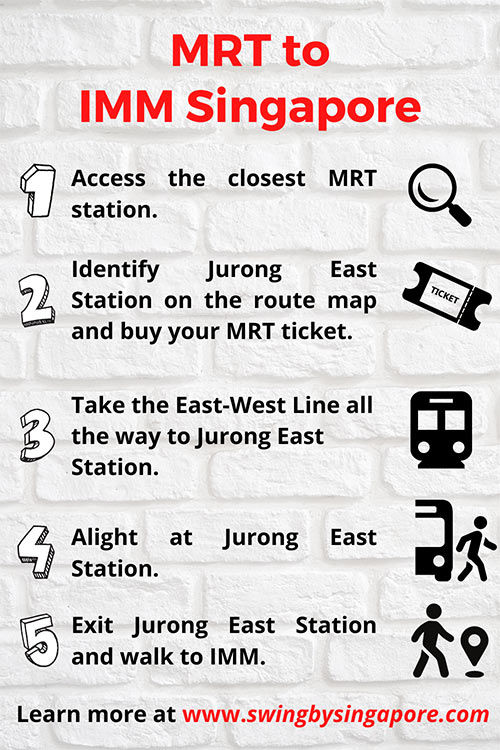 ---
Are there places to stay near IMM?
Although the area around Jurong East Station has been built up with numerous shopping malls, there aren't many places to stay in this area. These malls tend to be very popular with local residents of Jurong East and some day-trippers from downtown.
If you want to book a room near IMM, the closest hotel is Genting Hotel Jurong. 
According to our research, this is a well-respected 4-star hotel and very close to Jurong East Station. 
Read More: Singapore Accommodation Guide – Find the Best Places to Stay, Now…
---
Conclusion – Getting to IMM
We hope that this step-by-step guide on how to get to IMM Singapore by MRT will make this trip fast and worry-free. Once you arrive at Jurong East Station, you will be impressed by the infrastructure here. 
J-Walk is an outdoor covered walkway that seamlessly connects the malls around Jurong East Station. Consequently, even heavy rain won't impede you from shopping at IMM!
But remember, if you invest time getting out to Jurong East Station, you can also visit other shopping malls and points of interest here. 
Once you leave Jurong East Station, you can walk around to the following malls:
Westgate
JCube
jem
Furthermore, you can also visit popular family attractions such as Snow City Singapore and Science Centre Singapore (Purchase Entry Tickets here). 
You can either walk or take the bus to these attractions from Jurong East Station. Expect the walk to be around 10-12 minutes or a very short bus ride (but you may have to wait a few minutes for the bus to arrive). 
Developing a full-day itinerary in Jurong East is entirely possible. A visit to Jurong Lake Gardens is also a must if you arrive early in the morning or late afternoon. Consider buying some heavily discounted designer goods at IMM and then checking out other places.  Once you know how to get to IMM Singapore by MRT there are all kinds of itinerary options that become available.
If you have any questions about getting to IMM, please don't hesitate to send us an email or comment below. We would be more than happy to support you the best we can to make your trip here an awesome one!