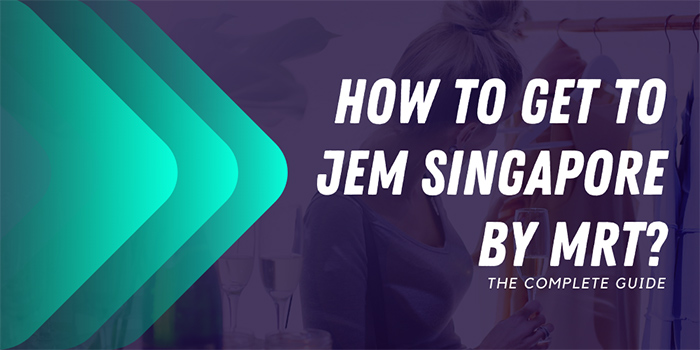 Get to Jem in Singapore fast and easy with these detailed steps.
Welcome to our complete guide on how to get to Jem Singapore by MRT. By the end of this comprehensive article, you should be able to reach Jem shopping mall in Singapore in a fast, cost-effective way without any headaches. 
Jem is a popular shopping centre that is located in the Jurong East area of Singapore. It is considered to be a superb shopping and entertainment complex with plenty of stores, restaurants and leisure activities to satisfy the whole family.  
Fortunately, Jem is easy to reach by public transport regardless of your experience getting around the city. Singapore is known for world-class public transportation, including an extensive MRT network to afford you where you need to go. And, getting to Jem is no exception!
---
Jem Singapore – Why should you visit?
Jem is a great place to visit if you are looking to shop, dine or take part in some leisure activities. It is located in the Jurong East area of Singapore. Jem is considered to be a lifestyle hub because it consists of more than just an excellent shopping experience. It features six levels of retail space, 580,000 sq. feet and 220 retail spaces.  With many world-class retail merchants and a cinema centre, there is no shortage of opportunities here. 
Jem Market is the ideal place to dine while you are at Jem. Food stalls, cafés and restaurants feature food and beverages from all over the world. Then, if you are looking for some outdoor alfresco dining, head to Jem Street. This unique design features world-class shops and popular international food outlets. 
If you are looking for some leisure activities, then visit Jem Park and/or Jem Play. 
Jem Park is an ultra-modern rooftop garden complex that is oriented actress levels 5 to 7. It is ideal for chilling out for a while before you grab a meal or shop more. Picture yourself reading outside or doing some Yoga. 
Jem Play is a honey-combed playground that is located at level 5. If you are travelling to Jem with children, strongly consider letting them play here while you do your shopping. That will create a win-win scenario for you and your kids!
---
Specific Details – Getting to Jem Singapore by MRT
Step 1: Find the closest MRT Station.
It's a priority to stay close to an MRT station in Singapore. So if you have the choice, try to select a hotel within 500 meters or less from a station. Not only will you save time, but you will also avoid Singapore's scorching afternoon heat. 
Conveniently, Singapore has tons of hotels to choose from that are close to stations. Many of them are connected by air-conditioned walkways.
A few of our favourite places to stay with direct MRT access are:
Marina Bay Sands (5-star) (very close to Bayfront Station)
Fairmont Singapore (5-star)(very close to Esplanade Station)
Once you have a convenient room, access the closest station for your trip to Jem.
---
Step 2: Plan your trip to Jurong East Station and buy an MRT ticket.
If you stay in the Marina Bay area or other popular areas like Chinatown or Little India, you will take the East-West Line to Jurong East Station. 
Jurong East Station is by far the most convenient one to access Jem shopping mall. 
So, if you are not near a station on the East-West Line, you will have to plan to transfer lines. There are route maps available at all MRT stations to help you find the way. 
Get an MRT ticket or multi-use card for your trip.
Once you have referred to the map, purchase either a ticker or a multi-use card for your trip to Jem in Jurong East. 
There are three main types of tickets to get to Jem in Singapore:
Single trip tickets

Stored value cards

Singapore Tourist Passes
You can read this detailed guide for the best information about buying MRT tickets in Singapore. 
Single journey tickets are best if you are only going to use the MRT a few times. These are the no-frills option. Show up at the station and go to the ticketing machine. 
Singapore Tourist Passes are popular with foreign guests in the city. They allow holders to use the bus and MRT unlimited times for a set period of time (usually 1-3 days). If you are a busy traveller, then this is the cheapest choice. Visitors with active plans for three days or less will benefit from a Tourist Pass.
Stored value cards are popular with anyone staying in the city for an extended period of time. We used a stored value card when we were learning how to get to Jem Singapore by MRT. 
Once you buy a card, just top it up. Then later, you can 'tap it' to enter and exit the system. The cost of the ride is automatically deducted from the cash balance on the card. You also avoid long ticket kiosk lines by keeping a running balance on your card!
Read More: How to buy Singapore Tourist Passes – The Complete Guide
---
Step 3: Travel to Jurong East Station via the East-West Line.
The East-West Line is usually coloured green on Singapore public transportation maps.  
Take the MRT to Jurong East Station to access Jem. 
For most passengers, you will stop at Clementi Station before arriving at Jurong East. Move to the closest exit to ensure that you get off at Jurong East; otherwise, you will miss Jem!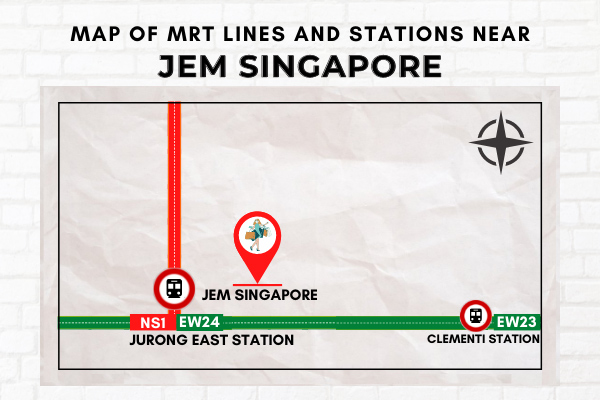 ---
Step 4: Get off the train at Jurong East Station. 
Get off the train at Jurong East Station and bring along all of your bags and personal belongings.  
---
Step 5: Exit Jurong East Station and walk to Jem.
Leave Jurong East Station using Exit C.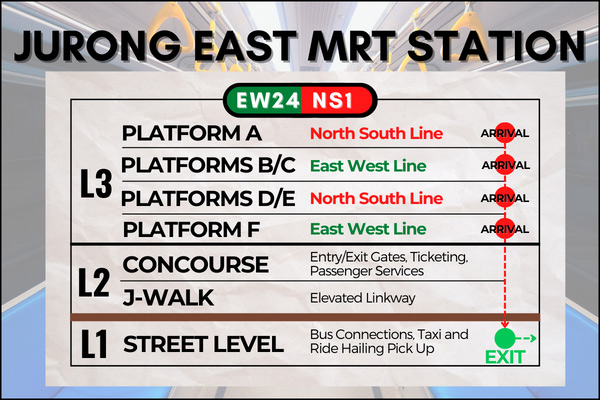 Walk along J-Walk to the entrance of Jem. 
The walk from Jurong East Station to Jem should only take about 3-4 minutes, so it should be quick and easy!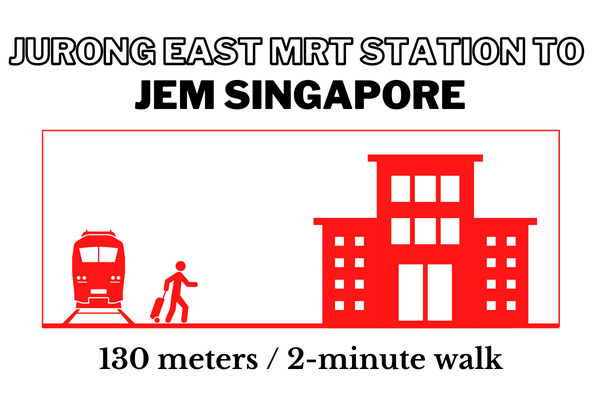 ---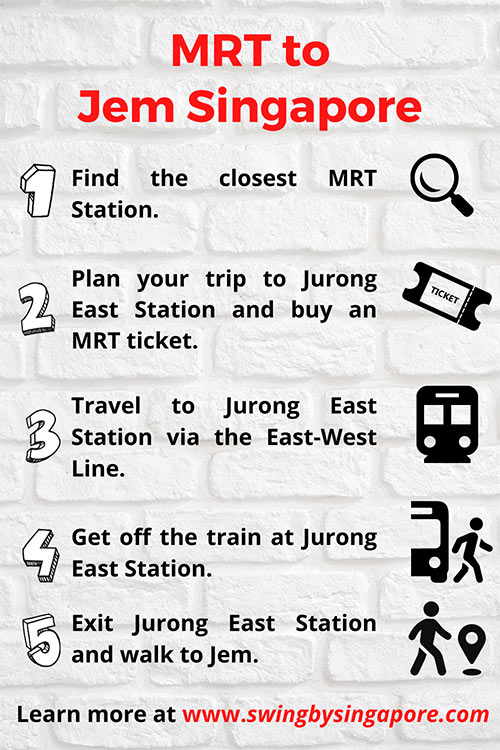 ---
Should you stay at a hotel near Jem?
Jem is an excellent mall that other shopping centres surround. It is very convenient to access via public transport. However, the Jurong East area is not particularly well known for hotels and hostels. 
Many residents shop at the malls in Jurong East, but this area is not considered a 'prime tourist area' for foreign visitors. With malls like this, maybe it should be! Regardless, at the time of writing, the closest hotel to Jem is Genting Hotel Jurong. 
According to our research, this is a well-respected 4-star hotel and very close to Jurong East Station. Consider staying here if you want to be close to the MRT and the shopping malls in Jurong East.
Read More: Singapore Accommodation Guide – Find the Best Places to Stay, Now…
---
Conclusion – Getting to Jem Fast and Easy
We hope that this step-by-step guide on how to get to Jem Singapore by MRT has helped you. Remember, using the MRT in Singapore is cheap, reliable and worry-free. 
The infrastructure around Jem and other malls here in Jurong East is very impressive. J-Walk is an outdoor covered walkway that seamlessly connects the malls around Jurong East Station.  This covered walkway makes it easy to visit other shopping malls and points of interest here. 
Once you leave Jurong East Station, you can walk around to the following malls:
Westgate
JCube
IMM
If you are travelling with children, you can also visit Snow City Singapore and Science Centre Singapore. Once you arrive at Jurong East Station, you can expect the walk to be around 10-12 minutes or a very short bus ride to these attractions. But, if you take the bus, you may have to wait a few minutes.
Developing a full-day itinerary in Jurong East is a practical idea once you know how to get to Jem Singapore by MRT. Shopping and recreational experience could undoubtedly take up an entire day. A visit to Jurong Lake Gardens is also a must if you arrive early in the morning or late afternoon. Consider buying some items at Jem and then checking out other places. 
Please feel free to send us an email or comment below if you need more information about getting to Jem by MRT. Our goal is to make this trip as easy as possible so that you can focus on enjoying your shopping and leisure activities at Jem in Singapore.