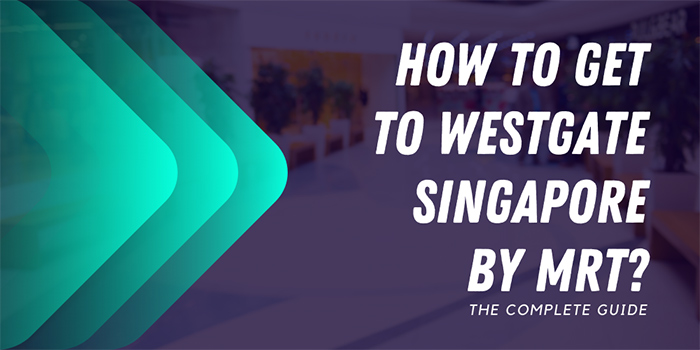 Follow this comprehensive guide to get to Westgate Singapore – fast and easy.
We have written this step-by-step guide on how to get to Westgate Singapore by MRT to make this trip fast, cost-effective and stress-free. 
Westgate is a popular shopping destination in Jurong East Singapore. Although it technically isn't right in downtown Singapore, it is surrounded by other shopping malls and popular family attractions.  
Singapore has a world-class public transport system that services most city areas, including Jurong East, where Westgate is located. We will outline each individual step required to get to Westgate, including which MRT lines are required and how to get from the nearest station to the shopping mall. Once you get to Westgate, you will have a wide selection of other shopping opportunities, so plan on spending the entire day in this area of Singapore.  
---
Westgate Singapore – Why should you visit?
Westgate is a great shopping mall conveniently located in Jurong East, minutes from the nearest MRT station and bus interchange. Although it offers a surplus of top-notch brands, Westgate is well known as a lifestyle destination with an open family-friendly atmosphere.
Aside from shopping at Westgate, there are many delicious dining options as well.  The Courtyard is a popular area that features alfresco restaurants. It is an ideal place to grab a drink or meal while enjoying some fresh air. 
If you are visiting Westgate with children, you won't be disappointed. 
At level 4 of Westgate, you will find Westgate Wonderland. This massive thematic outdoor playground is very popular with kids from 2-12 years of age. It features a 10-metre tall tree house and other very large attractions like a watering can and giant insects. While you shop, your children can burn a lot of energy at Westgate Wonderland – this sounds like a brilliant day at the mall!
Also, remember to enjoy the neighbouring malls around Westgate. Due to the excellent infrastructure here, you can create a mega-mall experience by visiting Westgate, IMM and JCube. 
---
Specific Details – Getting to Westgate Singapore by MRT
Step 1: Find the nearest MRT station to access the network.
We highly recommend booking a hotel room that is within walking distance of a station. Numerous MRT lines in Singapore make it easy to get around the city. But, it doesn't make sense to take the MRT to places like Westgate if you plan on staying far away from the nearest station. 
Fortunately, Singapore has no shortage of excellent hotels within walking distance of MRT Stations. We have included a few popular hotels directly near stations to get you started:
Fullerton Hotel (5-star) (very close to Raffles Place Station)
Marina Bay Sands (5-star) (very close to Bayfront Station)
Fairmont Singapore (5-star)(very close to Esplanade Station)
With your room taken care of, now make your way to the closest station to begin your trip to Westgate. 
---
Step 2: Locate Jurong East Station on the MRT Map and buy your ticket.
The closest station to Westgate Singapore is Jurong East Station. So, plan on taking the MRT there. 
Technically, Jurong East Station is on two different lines:
East-West Line (green)
North-South Line (red)
For most travellers, you will likely take the East-West Line from downtown in a northwestern direction towards Westgate. In this case, the station directly before Jurong East will be Clementi Station. 
Get a multi-use card or a ticket for your trip to Westgate. 
Once you have referred to the map, purchase either a ticker or a multi-use card for your trip to Westgate in Jurong East. 
There are three main types of tickets you can choose from to reach IMM:
Single trip tickets

Stored value cards

Singapore Tourist Passes
You can read this detailed guide for the best information about buying MRT tickets in Singapore. 
Single journey tickets are best if you are only going to use the MRT a few times. These are the no-frills option. Show up at the station and go to the ticketing machine. 
Singapore Tourist Passes are popular with foreign guests in the city who have busy itineraries. If you want to go all over the city from one place to the next these are awesome They allow holders to use the bus and MRT unlimited times for a set period of time (usually 1-3 days). If you are a busy traveller, then this is the cheapest choice. Visitors with active plans for three days or less will benefit from a Tourist Pass.
Stored value cards are popular with anyone staying in the city for an extended period of time. We used one of these when we were learning how to get to Westgate Singapore by MRT. 
Just simply buy a card and load it up so you don't unexpectedly run out of cash. Then later, you can 'tap it' to enter and exit the system. The cost of the ride is automatically deducted from the cash balance on the card. You also avoid long ticket kiosk lines by keeping a running balance on your card!
Read More: How to buy Singapore Tourist Passes – The Complete Guide
---
Step 3: Travel to Jurong East Station to reach Westgate.
As mentioned before, the East-West Line is usually coloured green on Singapore public transportation maps. Ride the MRT to Jurong East Station to get to Westgate. 
When you stop at Clementi Station, move to the nearest exit and prepare to alight at the next station.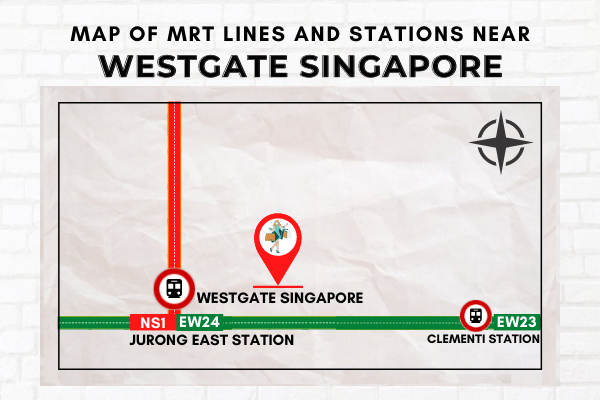 ---
Step 4: Exit at Jurong East Station and bring your belongings.
When you arrive at Jurong East Station, alight and remember to bring all of your personal belongings.
---
Step 5: Exit Jurong East Station and walk to Westgate.
Use Exit D on level 2 to leave Jurong East Station. Walk along J-Walk to the entrance of Westgate. J-Walk is a very convenient, covered elevated walkway that connects buildings in this area to the MRT station.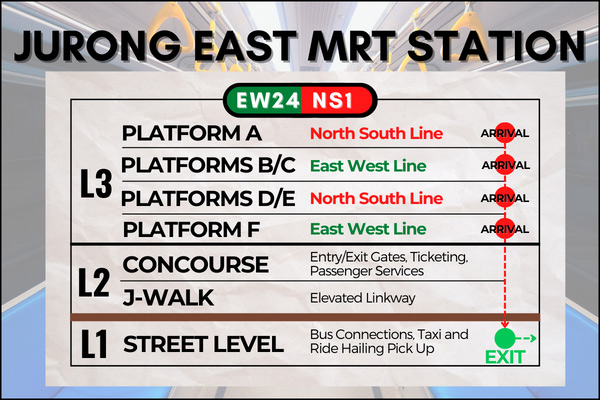 In case you are wondering, the walk from Jurong East Station to Westgate should only take you about 2 minutes.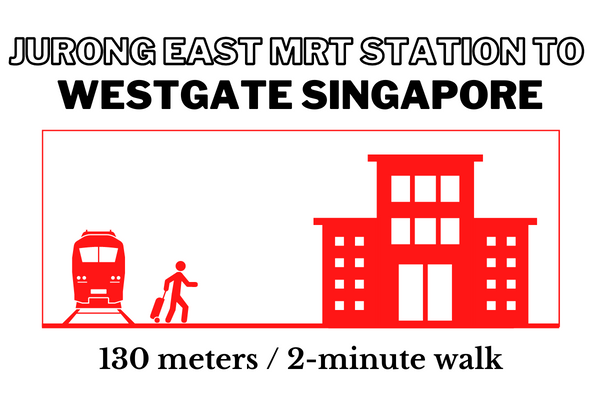 ---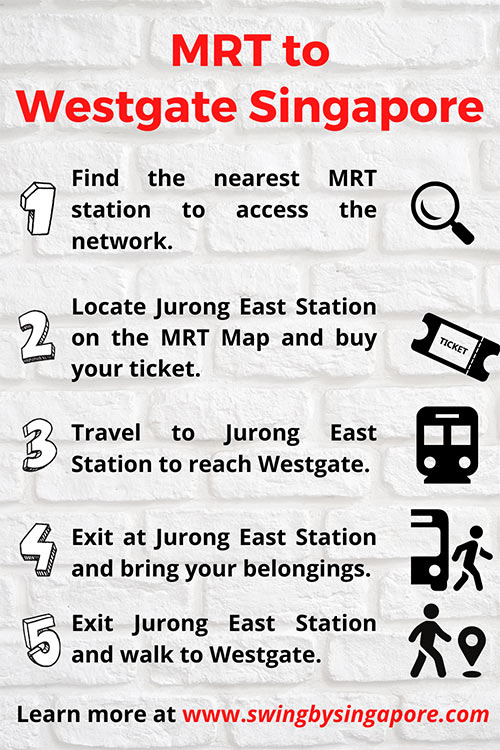 ---
Should

you stay at a hotel near Westgate?
The direct area around Westgate is not particularly famous for hotels. Despite the multiple malls and family attractions in Jurong East, most tourists tend to stay closer to Marina Bay in the city centre. 
However, if you are looking to stay close to Westgate and Jurong East Station, then the closest hotel is Genting Hotel Jurong. 
According to our research, this is a well-respected 4-star hotel. It is close to Jurong East Station. Consider staying here if you want to be close to the MRT and the shopping malls in Jurong East.
Read More: Singapore Accommodation Guide – Find the Best Places to Stay, Now…
---
Conclusion – Getting to Westgate Stress-Free
We hope that this step-by-step guide on how to get to Westgate Singapore by MRT will make your journey fast and easy. As long as you have referred to the MRT map it's pretty easy getting around the city using MRT.
You will be impressed by the infrastructure around Westgate and other malls here in Jurong East. Ever since J-Walk was developed here, the connectivity around Jurong Station is excellent. Whether it's rain or shine, it almost feels like the malls in this area are one massive shopping experience.  
Once you leave Jurong East Station, you can walk around to the following malls:
IMM
JCube
Jem
If you happen to have children, then there is also lots to do in the Jurong East area.  For example, Snow City Singapore and Science Centre Singapore are two popular attractions for children.  
To get to these all you need to do is exit the MRT system at Jurong East Station. Then, you can either walk or take the bus. Typically, the walk takes around 10-12 minutes, whereas the bus is faster but you might have to wait for it at the station. 
We recommend planning a full-day itinerary in Jurong East if you have the time. 
A visit to Jurong Lake Gardens is also a must if you arrive early in the morning or late afternoon. You could visit the Gardens before the malls open and then have a nice air-conditioned brunch followed by an afternoon of shopping. It's clear that once you learn how to get to Westgate Singapore by MRT there are lots of day-itinerary options available.
Please feel free to send us an email or comment below if you need more information about getting to Westgate by MRT. Our goal is to make this trip as easy as possible so that you can focus on enjoying your shopping and leisure activities at Westgate in Singapore.