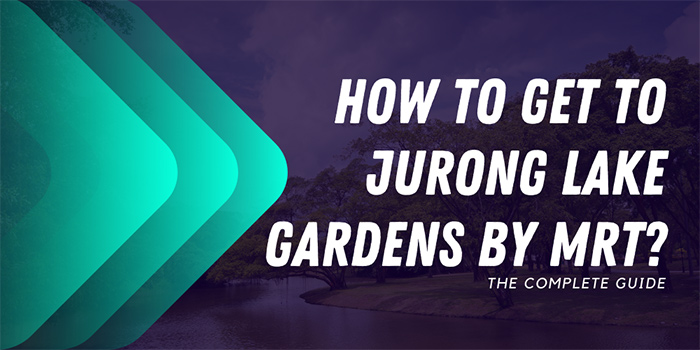 "The most comprehensive guide to get to Jurong Lake Gardens – fast and Easy"
Welcome to the complete guide on how to get to Jurong Lake Gardens by MRT in Singapore. We have written this article to make sure that you can get to Jurong Lake Gardens in a fast, stress-free manner while saving some cash along the way. 
As you might have heard, Singapore has one of the best public transportation networks in the world. This means that you can get from one point in the city to the next without stepping foot in a vehicle. Multiple MRT lines are servicing most areas of the city. Jurong Lake Gardens, as its name suggests, is located in Jurong East. Technically, this is outside of the leading tourism areas such as Marina Bay, Sentosa and Chinatown. 
Even though Jurong Lake Gardens is outside the downtown area, you can still enjoy this beautiful recreational area by taking the MRT network! We will outline what MRT line and station(s) you should use and some practical tips in this comprehensive guide. 
---
Why should you visit Jurong Lake Gardens in Singapore?
Jurong Lake Gardens is a 90-hectare recreational area that is located in Jurong East Singapore. It features numerous gardens and attractions that cater to visitors of all ages. At the time of writing, the Lake Garden area of the park is open to visitors, but in the future, visitors will be able to enjoy the Chinese Garden, Japanese Garden and the Jurong Lake District. 
Within Jurong Lake Gardens, there are numerous attractions. For example, there is a Butterfly Maze, outdoor playground, Forest Ramble (a natural playground), therapeutic gardens, and more! If you are in Singapore, then highly consider checking out Jurong Lake Gardens. It is ideal for people looking to get fit, seeking relaxation or families with children. As the new gardens get developed, you can expect this to become one of Singapore's best outdoor recreational areas. 
---
Getting to Jurong Lake Gardens by MRT
Step 1: Access the closest MRT station.
If you plan to save money by using Singapore's MRT network, it's important that you can quickly and easily access a station. Therefore, if you are visiting for a few days, highly consider booking a room near an MRT station. 
Singapore gets extremely hot during peak afternoon hours. Ideally, you want to be within five hundred meters or less of an MRT station. Although there are tons of hotels within walking distance of stations in Singapore, here are a few famous examples:
Marina Bay Sands (5-star) (Bayfront Station)
Fairmont Singapore (5-star)(Esplanade Station)
Assuming that your accommodation is sorted, the first step in getting to Jurong Lake Gardens is accessing the closest MRT station.
---
Step 2: Locate Lakeside Station on the map and buy your MRT ticket. 
For your trip to Jurong Lake Gardens, plan on travelling to Lakeside Station. It is directly beside the northwestern corner of the Gardens. 
Singapore has multiple MRT lines, so you need to know which one to take. Lakeside Station is located on Singapore's East-West Line which is typically shown in green colour on the route map. 
To get to the East-West Line, make sure that you transfer lines if your point of origin is on a different MRT line in the network.
Get an MRT ticket. 
Next, you need to buy a ticket or card to reach Jurong Lake Gardens. 
Typically, Singapore offers three choices:
Single trip tickets

Stored value cards

Singapore Tourist Passes
Read our complete guide on how to buy MRT tickets in Singapore to know everything about these choices. Single journey tickets are best if you are only going to use the MRT a few times.
Stored value cards are popular with Singaporeans and permanent residents. We have used our EZlink cards on multiple occasions. Simply buy the card and top it up. Then later, you can just simply 'tap it' to enter and exit the system. The cost of the ride is automatically deducted from the cash balance on the card. We used a stored value card when we were learning how to get to Boon Lay Shopping Centre by MRT. 
Singapore Tourist Passes are popular with foreign guests in the city. They allow holders to use the bus and MRT unlimited times for a set period of time (usually 1-3 days). If you are a busy traveller, then this is the cheapest choice. Visitors with 'high energy' 3-day itineraries will benefit from a Tourist Pass.
Read More: How to buy Singapore Tourist Passes – The Complete Guide
---
Step 3: Ride the MRT along the East-West Line to Lakeside Station.
Once you have purchased the appropriate ticket or card, now make your way to Jurong Lake Gardens by riding the East-West Line to Lakeside Station. 
Most visitors to the city will ride the East-West line starting from the downtown area.  Therefore, chances are, the station before Lakeside will be 'Chinese Garden' Station. When you hear the verbal announcement on the train about Chinese Garden Station, you should get close to the nearest exit because you will be getting off at the next stop.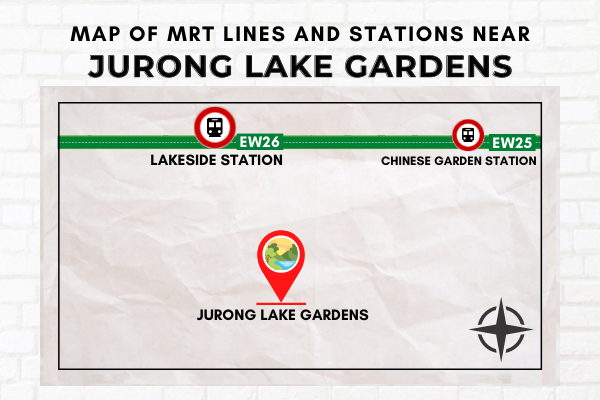 ---
Step 4: Use Exit A at Lakeside Station. 
Alight at Lakeside Station on your way to Jurong Lake Gardens. 
There are three different exits at Lakeside Station: A, B and C. You should use Exit A to leave the station.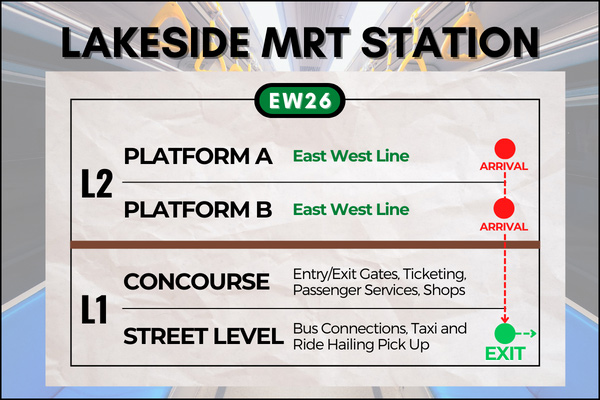 ---
Step 5: Walk south to Jurong Lake Gardens.
Once you are through Exit A at Lakeside Station, turn left and continue walking along the sheltered pathway towards the intersection. 
Then, cross over to the other side of Yuan Ching Road. Turn right and walk towards the North Entrance of Lakeside Gardens. The Gardens extend south for quite a distance, so you can pick and choose which attractions you want to experience!
Expect it to take you about 3 minutes to reach the northern section of the park and about 15 minutes to reach the middle section of Jurong Lake Gardens.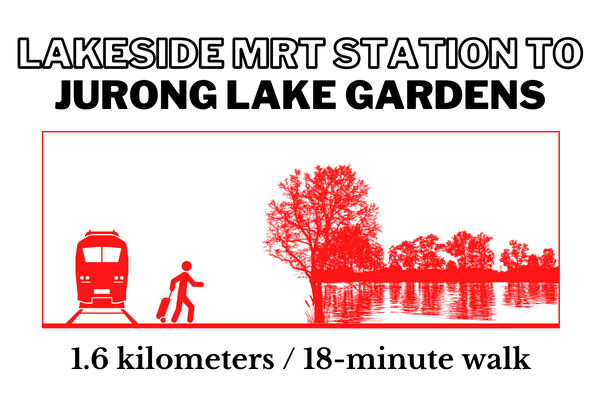 ---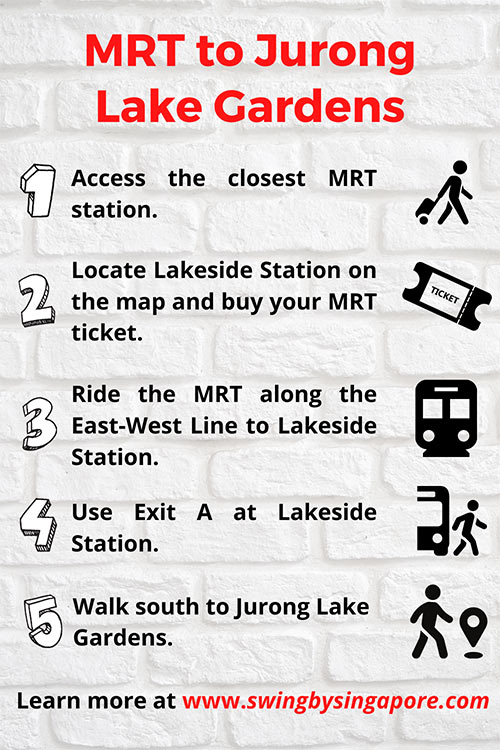 ---
Should you stay at a hotel near Jurong Lake Gardens?
If you are building an itinerary for Singapore, then take note that it takes approximately 1 hour to get from Marina Bay to Jurong Lake Gardens using the MRT. 
The area around Jurong Lake Gardens is busy with Singaporeans and permanent residents. It technically isn't a popular area for tourists to stay in while they are in Singapore. Instead, attractions such as Jurong Lake Gardens are visited as part of a day trip to this city area. 
Read More: Singapore Itinerary Guide – Building the best plan for Singapore!
---
Conclusion – Getting to Jurong Lake Gardens
We hope that this comprehensive guide on getting to Jurong Lake Gardens Singapore by MRT will make your trip more accessible and efficient. It is an exciting time to experience Singapore because many parks and recreational facilities are being updated and developed. There is a clear emphasis on health and wellness. 
The cool thing about taking the MRT out to Jurong Lake Gardens is that other popular attractions are close by on the MRT. For example, Snow City and Singapore Science Centre are accessible from Jurong East Station, two stops east of Lakeside Station on the East-West Line. 
A solid selection of malls are sprinkled around Jurong East station as well:
JCube
Westgate
IMM
jem
It's also possible to walk to Boon Lay Shopping Centre (and market) from Lakeside Station. 
If you require any additional assistance with your trip to Jurong Lake Gardens (or anywhere else in Singapore, we are here to help! Simply send us an email or post a comment below, and we will get back to you! Enjoy your day at Jurong Lake Gardens and take advantage of this beautifully designed area.