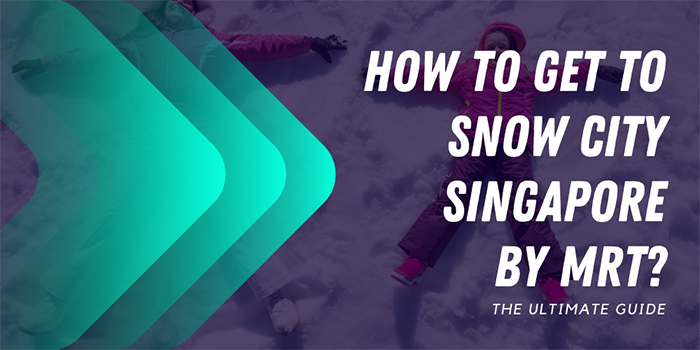 Welcome to the complete guide on getting to Snow City Singapore – one of the city's 'coolest' family attractions in Jurong East!
This is the step-by-step guide on how to get to Snow City Singapore by MRT. When you finish reading this article, you will be able to get to this popular attraction in Singapore in a fast, affordable and stress-free manner. 
Singapore is one of the best places in Southeast Asia to visit because of its well-developed public transportation system. Although Snow City is located well outside the most popular sightseeing areas in Singapore, it is still accessible by MRT. The network consists of multiple lines that extend to most of the attractions within the city. 
Although most people choose to stay at a hotel closer to the city centre in areas such as Marina Bay and Chinatown, these directions will help you get to Snow City Singapore as part of a day trip. 
---
Why should you visit Snow City in Singapore?
Snow City is considered to be Singapore's first permanent snow centre. It is an excellent place to visit if you are staying in or visiting Singapore with your family. It features multiple indoor 'arctic-like' activities to enjoy. 
The snow at Snow City is created using a special 'snow gun'. Using a combination of high-pressure compressed air and liquid nitrogen, powder-like snowflakes are created. Over 10 tons of snow is created weekly at Snow City to keep all of the winter-like activities up and running. 
If you visit Snow City you can enjoy activities such as:
Snow Slope – a super fun 60-meter snow experience
Drift on Ice – a super fun bumper car arena
Winter Shooting Area – a chilly, target practice area and paintball shooting activity
Snowy Playgrounds
You might also enjoy rotating, special exhibits when you visit. Take note that there is a souvenir shop at Snow City called "Shaman's Souvenir Shop" and Fountain Microbrewery and Restaurant. 
---
Getting to Snow City using the MRT 
Step 1: Leave your hotel/home and travel to the nearest station. 
If you are visiting Singapore, chances are that you will book a hotel room closer to the city centre, as opposed to near Snow City Singapore. Snow City is located in Jurong West and this area is outside of popular tourist areas such as Marina Bay, Chinatown and Sentosa. 
We suggest booking a room within walking distance of an MRT station so that you can access the system fast and easily. Singapore gets super hot, so ideally, get a place within 500 meters or less of a station.
Here are a few examples below of hotels within 1-2 minutes from stations. Obviously, there are tons of options available throughout the city, but this is a good start: 
Marina Bay Sands (5-star) (Bayfront Station)
Fairmont Singapore (5-star)(Esplanade Station)
Once your hotel is sorted and you are ready to go to Snow City, simply walk to the closest station.
---
Step 2: Buy your MRT ticket and locate Jurong East Station on the route map.
For your trip to Snow City, access your first station and then plan on going to Jurong East Station. This is the most practical station for getting to Snow City. 
Check which line on the MRT network you are starting on because Jurong East Station is a stop on two different train lines in Singapore:
East-West Line (shown in green colour on the train map)
North-South Line (shown in red colour)
Both of these MRT lines are popular and well connected with other tourist attractions in Singapore, so it's possible to see a few attractions within the same day. 
Selecting the best type of MRT Tickets
Next, select which type of MRT ticket you will use for your trip to Snow City. You can select from:
Single trip tickets

Stored value cards

Singapore Tourist Passes
Read our complete guide on how to buy MRT tickets in Singapore to know everything about these choices. Single journey tickets are best if you are only going to use the MRT a few times.
Stored value cards are popular with Singaporeans and long-term visitors. We have used our EZlink cards on multiple occasions. We used one when we were figuring out how to get to Snow City Singapore by MRT. Simply buy the card and top it up. Then later you can just simply 'tap it' to enter and exit the system. The cost of the ride is automatically deducted from the cash balance on the card.
Singapore Tourist Passes allow holders to use the bus and MRT an unlimited number of times for a set period of time (usually 1-3 days). If you are a busy traveller, then this is the cheapest choice.
Read More: How to buy Singapore Tourist Passes – The Complete Guide
---
Step 3: Take the MRT to Jurong East Station.
With your ticket to Snow City sorted take either the East-West Line or North-South Line to get there. For most tourists staying in the city centre, the East-West (green) Line will be the one to take. 
Clementi Station will be the stop before Jurong East Station if you are travelling from the city centre on the East-West Line towards Snow City. Listen for announcements along the way so you don't miss the stop.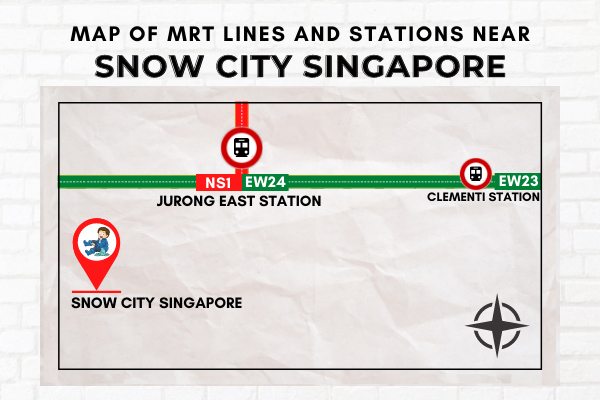 ---
Step 4: Alight at Jurong East Station.
Get off the train at Jurong East Station on your way to Snow City Singapore. 
Exit the station and get prepared to either walk or transfer to a bus to reach Snow City.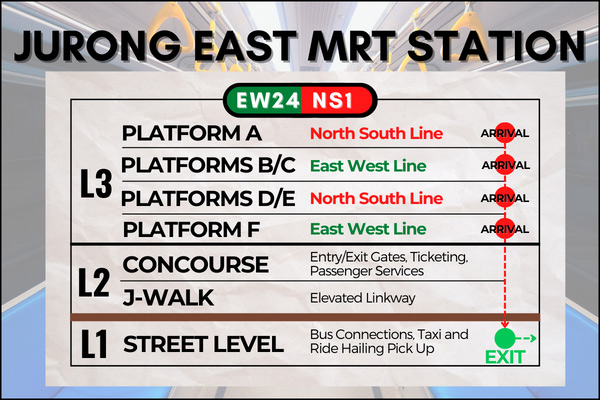 ---
Step 5: Walk, or take bus No. 335 or 66 to Snow City Singapore.
 Once you exit Jurong East Station there are two main options:
Walk to Snow City….or

Take either bus 66 or bus 335 
Please read the directions below:
Walking from Jurong East Station to Snow City
The walk from the station to Snow City is about 1 km. Therefore, if it isn't too hot outside it might make more sense just to walk (opposed to waiting for the bus).
Take Exit A from Jurong East Station to walk to Snow City. Then, walk across Jurong Gateway Road. Go straight through the intersection at Jurong Townhall Road and it will be to your left.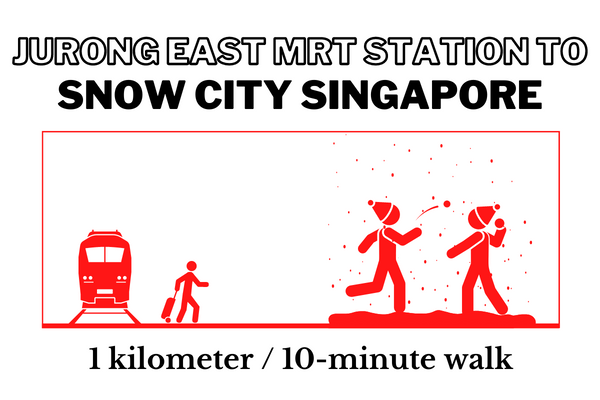 Taking the bus from Jurong East Station to Snow City
If it's hot outside or you just don't feel like walking to Snow City, then take Exit A to access the Jurong East Bus Interchange. Keep your eyes open for bus #66 or bus #335. 
Either one of these will go to Snow City. The ride should only take you a few minutes, but you might have to wait a while for the bus to depart the station.
---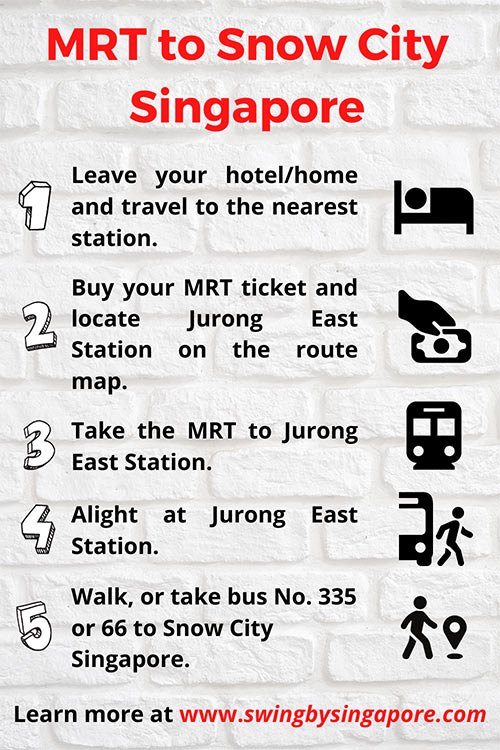 ---
Is it a wise idea to stay near Snow City or elsewhere in Singapore?
If you are building an itinerary for Singapore then take note that there are not too many hotels in the direct vicinity of Snow City.
Visitors to Singapore tend to stay in main tourist areas such as Marina Bay, Chinatown, Sentosa, Little India and Kampong Glam. So, day trips to Snow City are popular with locals and tourists.
The closest hotel to Snow City is called Genting Hotel Jurong. It is a 4-star property that gets moderate to low review scores. 
From a practical point of view, you should probably stay in a more centrally located area, and then access the family attractions in Jurong East for one day. 
Read More: Best Hotels in Singapore for Families – The Complete Guide
---
Conclusion – Getting to Snow City Singapore
We hope that this step-by-step guide on how to get to Snow City Singapore by MRT will make your trip stress-free and affordable. The cool thing about taking the MRT out to the Jurong East area is that there are other family attractions that you integrate into your day trip. It's possible to visit Snow City, eat lunch, and then visit another attraction. 
At the time of writing, the following two family attractions were open and within walking distance of Snow City:
Science Centre Singapore
KidStop
Even though Snow City is not in the most popular sightseeing areas of Singapore, it is convenient that you can make a mini day itinerary in Jurong East with your kids.
We are committed to making Singapore an amazing place to visit. Therefore, if you do have any additional questions or concerns about visiting Snow City please comment below or send us a private email. We are more than happy to provide you with any support!