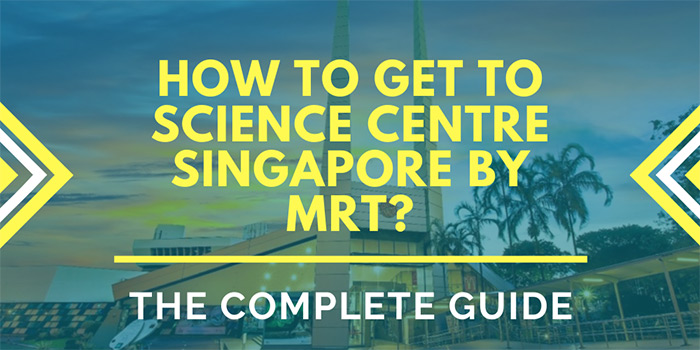 This is the step-by-step guide on how to get to the Science Centre Singapore by MRT. By the end of this comprehensive article, you will be able to get to this popular attraction in Singapore in a fast and affordable manner. Hopefully, you will also be able to bypass Singapore's traffic along the way as well!
Through our extensive travel experience in Singapore, we have learnt that the MRT is the best way to get around the city. This is especially true if you are budgeting and eager to check out a lot of different points of interest. It is even possible to get to the city center from Changi Airport without stepping foot in a vehicle.  Once you land you can directly connect with the MRT and then use it throughout the rest of your time in Singapore. 
In this specific article, we will focus on getting to the Science Centre Singapore. This is surprisingly easy to get to using the MRT.
---
Why should you visit Science Centre Singapore?
Science Centre Singapore is a scientific institution that is located in Jurong East – an area of Singapore. It was originally opened on December 10th, 1997. Currently, this popular centre consists of over 850 exhibits focusing on different aspects of science and technology. According to the official website, the Science Centre Singapore focuses on "making science accessible and engaging, creating an environment where Singaporeans are empowered to advance their own learning and, hopefully, are inspired to do something incredible with their futures."
Spread over 8 gallery floors, the Science Centre Singapore has a large and diverse offering of exhibits and activities for visitors. Not only does this Centre focus on creating educational experiences for students, but it also brings awareness about the importance of Science and Technology to everyone that visits. Over the years, the Science Centre Singapore has won countless awards and also receives more than 1 million visitors on an annual basis. Needless to say, this is something worth checking out while you are in the city. It has modern exhibits and meaningful educational experiences.
There aren't many accommodation choices near Science Centre Singapore with the exception of Genting Hotel Jurong (4-star, 7.3/10 review score). Therefore, most tourists choose to stay closer to the city centre and then take public transport (such as the MRT) out to the Science Centre. 
We will outline how to get there via MRT directly below. 
---
Getting to Science Centre Singapore using the MRT
Step 1: Find the nearest MRT station near your hotel/home. 
Chances are that if you are visiting Singapore then you will be staying at a hotel close to the city centre.  The majority of tourists who visit Science Centre Singapore tend to stay near Marina Bay or Chinatown and then use public transportation to get to the Centre. 
Consequently, we strongly suggest that you book a hotel room that is within walking distance of an MRT station. Not only will this allow you to get directly from Changi Airport to your hotel, but it also will allow you to visit all kinds of attractions in the city without getting in a car.
Since Science Centre Singapore is located outside of the main tourist zone, you might want to get a room near Marina Bay or an area such as Chinatown. Then you can walk straight from your hotel to the station and be on your way. 
We have included two examples below of hotels within 1-2 minutes from stations. Obviously, there are tons of options available throughout the city, but this is a good start: 
Marina Bay Sands (5-star) (Bayfront Station)
Fairmont Singapore (5-star)(Esplanade Station)
Once your hotel is sorted and you are ready to go to the Science Centre Singapore simply walk to the closest station.
---
Step 2: Get a ticket and plan your trip to Jurong East Station.
After arriving at the station you will have to plan your trip and get an MRT ticket. The best station for accessing Science Centre Singapore is Jurong East Station.
Jurong East Station is a stop on two different train lines in Singapore:
East-West Line (shown in green colour on the train map)
North-South Line (shown in red colour)
Therefore, you can access Jurong East station and eventually Science Centre Singapore using either one of these popular lines. 
Types of MRT Tickets
Next, you will have to determine what kind of MRT ticket you were going to use to get to Science Centre Singapore. At the time of writing, there are three different types of tickets and passes that you can choose from:
Single trip tickets

Stored value cards

Singapore Tourist Passes
You can learn everything you need to know about these by reading our complete guide on how to buy MRT tickets in Singapore. However, in general, single Journey tickets are best if you are only going to use the MRT a few times.
Stored value cards are popular with Singaporeans and long term visitors. When we first tried to figure out how to get to Science Centre Singapore by MRT we tried using what is called an EZlink card. Simply buy the card and top it up. Then later you can just simply 'tap it' to enter and exit the system. The cost of the ride is automatically deducted from the cash balance on the card.
Singapore Tourist Passes allow holders to use the bus and MRT an unlimited number of times for a set period of time (usually 1-3 days). You can read our popular article on how to buy Singapore Tourist Passes to find out what the pros and cons are. If you want to see a lot of different attractions then this is a great option.
---
Step 3: Ride the MRT to Jurong East Station.
Once your ticket is sorted then it is time to get on the train to Jurong East Station. As mentioned before, you can either take the East-West Line or North-South Line to get there. 
Refer to the station maps to see if you need to transfer lines along the way to Science Centre Singapore. Also, listen for verbal instructions on the train. These are designed to inform you of upcoming stations on the line. 
Under most circumstances, you will be probably travelling along the East-West Line from the downtown area. In this case, Clementi Station will be the stop before Jurong East Station. When you hear it being announced, get closer to the exit and prepare to get off at the next station.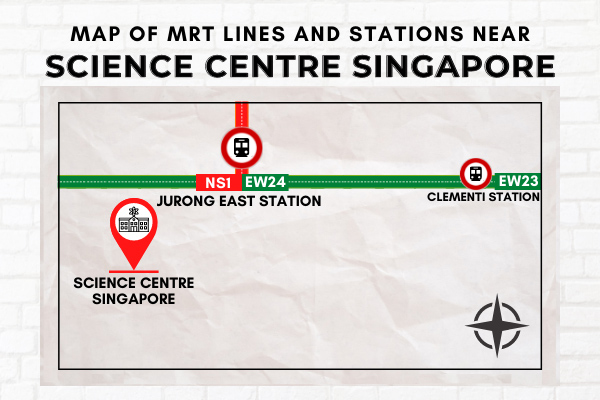 ---
Step 4: Alight at Jurong East Station.
Get off the train at Jurong East Station on your way to Science Centre Singapore. 
Be sure to take all your belongings from the train. 
You won't be making a transfer here, so you can plan on getting out of the station and exiting the MRT system.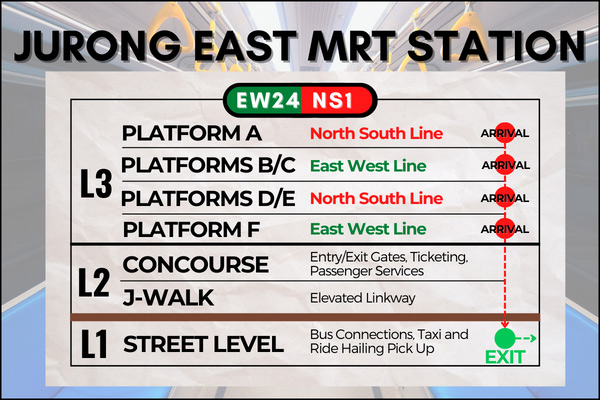 ---
Step 5: Either walk or take bus #66/#335 to Science Centre Singapore. 
When you arrive at Jurong East Station you have two main options:
Walk to the Science Centre Singapore….or

Take either bus 66 or bus 335 
Walking to Science Centre Singapore
Unless it's extremely hot outside you might want to walk from Jurong East Station to Science Centre Singapore. The walk from Jurong East Station to Science Centre Singapore is only 7-8 minutes (depending on your speed). The Science Centre is only 700 directly west of the station. 
Take Exit A from Jurong East Station to Science Centre Singapore. Then, simply walk across Jurong Gateway Road. Go straight through the intersection at Jurong Townhall Road and you can't miss it!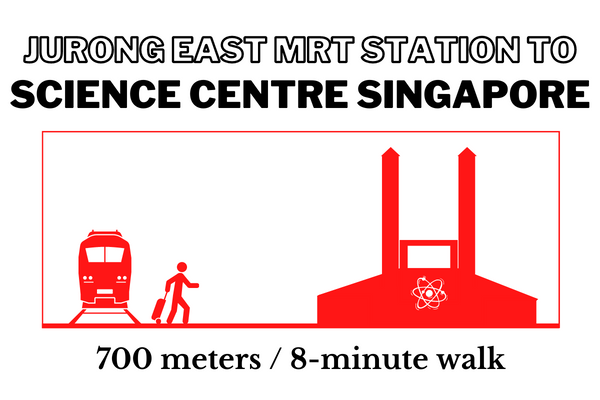 Taking the bus to Science Centre Singapore
If it's really hot outside or you are simply not in the mood for walking you can also take the bus to Science Centre Singapore from Jurong East Station.
Take Exit A to access the Jurong East Bus Interchange. Then look for bus #66 or bus #335. 
Either one of these will go to the Science Centre. The ride should only take you a few minutes, but you might have to wait a while for the bus to depart the station.
---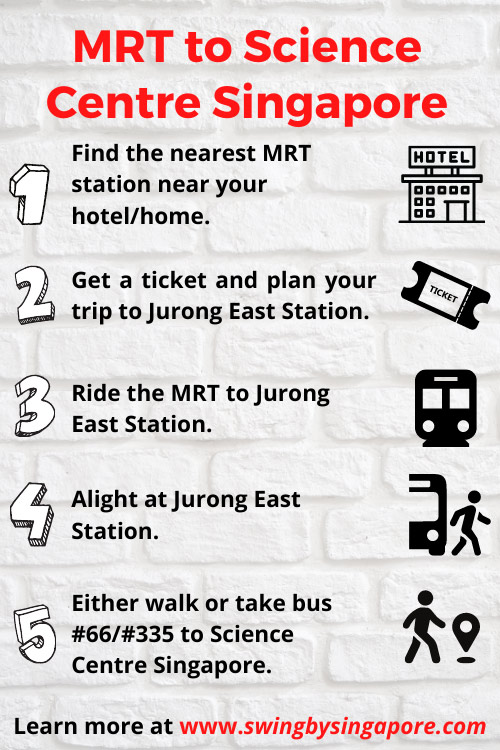 ---
Is it a wise idea to stay near the Science Centre Singapore while you are in the city?
Unlike many of Singapore's other major tourist attractions, Science Centre Singapore isn't located around many other properties. It is quite far from the main city centre, and therefore, it is visited as part of a day trip to this area. 
The closest hotel to Science Centre Singapore is called Genting Hotel Jurong. It is a 4-star property that gets moderate to low review scores. 
We suggest staying closer to the city centre and then just following the steps outlined here to get to the Science Centre. This will make your trip more efficient and convenient. 
Popular areas include Orchard, Chinatown and Marina Bay. All these are serviced by the MRT. The hotels in Marina Bay tend to be pricey, but world-class. Chinatown is a better option if you are trying to save some cash.
---
More questions about getting to Science Centre Singapore?
We hope that this step-by-step guide on how to get to Science Centre Singapore by MRT will make your trip fast, easy and affordable.  If you require more information please feel free to send us an email at any time.
Also, keep in mind that there are other family attractions that are in the direct vicinity of Science Centre Singapore.  For example, you can check out Snow City Singapore and KidStop. These can easily be integrated into the same itinerary for this area. Singapore Zoo and the Night Safari are also not too far away from this area as well.