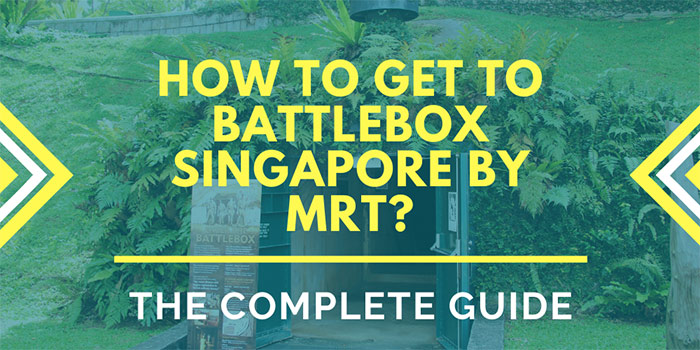 Welcome to the complete guide on how to get to the Battlebox Singapore by MRT. Unlike many cities around the world, Singapore is extremely well connected with a spectacular public transportation system. You can get to amazing points of interest such as The Battlebox by relying only on MRT. 
The same can be said for getting to Singapore city centre from the airport. Once you land in Singapore forget about taxis and private vehicles. The MRT is efficient, affordable and very well connected. And, fortunately, this includes getting to the Battlebox which is considered to be one of the top museums in all of Singapore. We will outline in this article how to get within a short walking distance to Battlebox so you can use the MRT even during peak afternoon hours when it's super hot in Singapore.
---
Why should you visit The Battlebox while in Singapore?
The Battlebox is regarded as one of Singapore's best museums. It is a WWII British underground command centre that is situated within Fort Canning Hill. The museum was formally opened on February 15th, 1997 which corresponded to the 55th anniversary of the surrender of Singapore.
Battlebox was part of the headquarters of Malaya Command, the army which defended Malaya and Singapore in WWII. This is also the location where the British made the decision to surrender Singapore to the invading Japanese on February 15th, 1942.
Currently, you can get exceptional guided tours of The Battlebox. They are extremely popular with visitors to Singapore. The tours also feature scenic Fort Canning Hill and the surrounding area.  
Since the Battlebox is located in Fort Canning Park, you can also explore Fort Canning Trail. The total length of the trail is about 2.5 km. There are eight checkpoints that are located throughout the park that you can check out on their cell phone app. 
Fort Canning Park is also a popular 'social venue' for events such as festivals and concerts. Interestingly, you can also stay at Hotel Fort Canning (5-star, 8.9/10 review score) which is minutes from the Battlebox and other activities within Fort Canning Park. 
The Battlebox is also well serviced by the MRT which we will outline below. 
---
Getting to Battlebox Singapore by MRT: The Step-by-Step Guide
Step 1: Walk from your hotel to the nearest station.
Staying near an MRT station is the first step in making your trip to Singapore fast, convenient and affordable. Getting to Battlebox Singapore can be a really straightforward process if you can just walk from your hotel to a station.
This avoids traffic jams, taxi fees and let's not forget about parking!
Fortunately, there are many hotels ideally located in Singapore close to MRT stations. We suggest staying only one or two minutes from the station. This will allow you to walk to and from the station every time you want to go somewhere, even if it is during the hottest hours of the day. 
Two convenient and popular hotels within 1 minute of a station are Marina Bay Sands (Bayfront Station) and Fairmont Singapore (Esplanade Station).
---
Step 2: Plan your trip and buy a ticket to Fort Canning Station or Dhoby Ghaut Station.
Once you arrive at the nearest station to your hotel, it's time to figure out what kind of ticket you are going to use for your trip to Battlebox. 
There are two main MRT stations that you can travel to in order to visit Battlebox:
1) Fort Canning Station
2) Dhoby Ghaut Station 
In order to reach these stations, you have to have some form of MRT ticket. There are three different ticket options in Singapore:
A single trip ticket 

A stored-value card that can be used for multiple trips

A Singapore Tourist Pass 
We have written this comprehensive guide on how to buy MRT tickets in Singapore that outlines the differences between these three.  In general, however, single trip tickets are usually the best option if you are only going to use public transportation once or twice while you are in the city. You can purchase these at ticketing machines directly at each station.
Stored value cards are a very popular option for long-term residents of Singapore.  If you are staying for more than 3 days you may want to get one of these. Actually, when we first discovered how to get to Battlebox Singapore by MRT, we used one of these. 
Singapore Tourist Passes are the best option if you are a very busy traveller. They are ideal for 1-3 days in the city. Feel free to read our complete guide on how to buy Singapore Tourist Passes for more information. 
---
Step 3: Travel on the MRT to Fort Canning Station or Dhoby Ghaut Station.
Fort Canning Station and Dhoby Ghaut Station are on different MRT lines. Therefore, you have to decide which line you will use to get to Battlebox. 
Fort Canning Station is part of the Downtown Line which is shown in blue colour on the Singapore train map.  
Dhoby Ghaut Station tends to be busier because you can transfer between three different MRT lines there: 
1) North-South (Red)
2) North-East (Purple)
3) Circle (Orange)
Be prepared to hear verbal announcements about what the upcoming station is on the way to Battlebox. Similarly, refer to the signs above the exit doors to see where you are.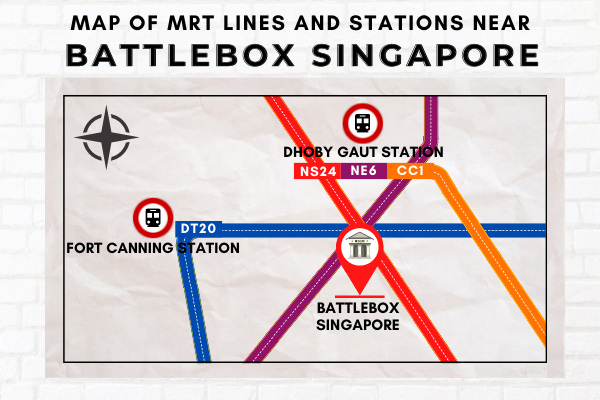 ---
Step 4: Walk to Battlebox from Fort Canning Station or Dhoby Ghaut Station.
Get off the train at Fort Canning or Dhoby Ghaut and don't forget your belongings.
Next, follow the station signs to the exits. 
Directions from Fort Canning Station to Battlebox
Take Exit B at Fort Canning Station to reach Battlebox. Then turn right. Walk towards the escalator near the base Fort Canning Hill. Travel up the three elevators.  Continue walking along the pathway until you reach the Fort Gate. Turn left at the forked road before the gate. Walk past Hotel Fort Canning until you reach the roundabout where the Battlebox Visitor Centre is located.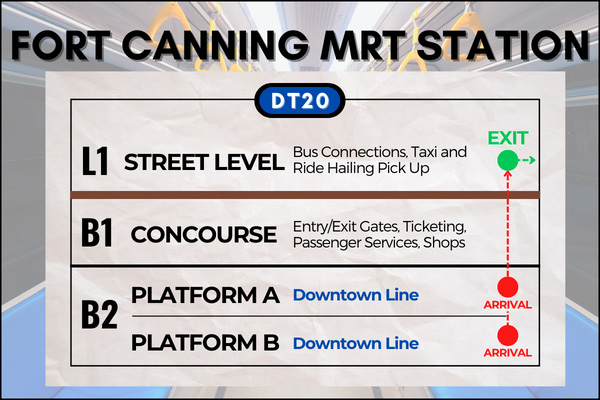 Take note that the walk from Fort Canning Station to Battlebox is 800 meters and this should take you around 12 minutes. Expect it to take a few minutes longer if it's hot outside though!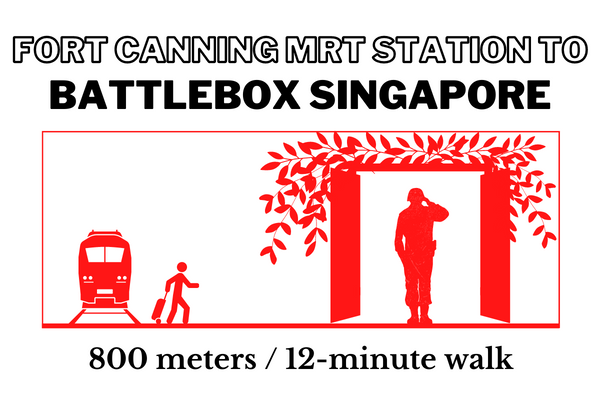 Directions from Dhoby Ghaut Station to Battlebox
Get off at Dhoby Ghaut MRT Station and use Exit B to get to Battlebox. 
Once out of the station, walk straight to 9 Penang Road. You should see a white covered pathway. Turn left here and walk straight until you see the Fort Canning Tree Tunnel. Walk along the tunnel. Then, travel up the spiral staircase. Turn right and walk up the stairs until you reach Percival Rd. 
Walk along the roundabout until you see the Battlebox Visitor Centre. 
You can purchase tickets here!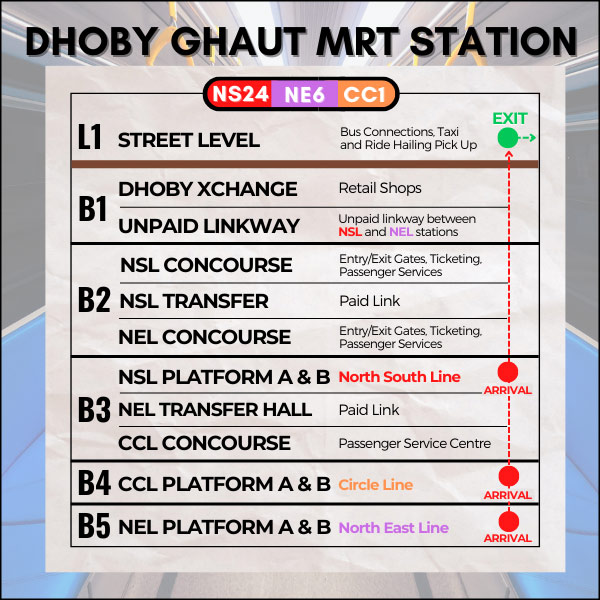 Expect the walk from Dhoby Ghaut Station to Battlebox to take about 9 minutes. The walk is 600 meters. 
As you can see Dhoby Ghaut is slightly closer to Battlebox than Fort Canning Station.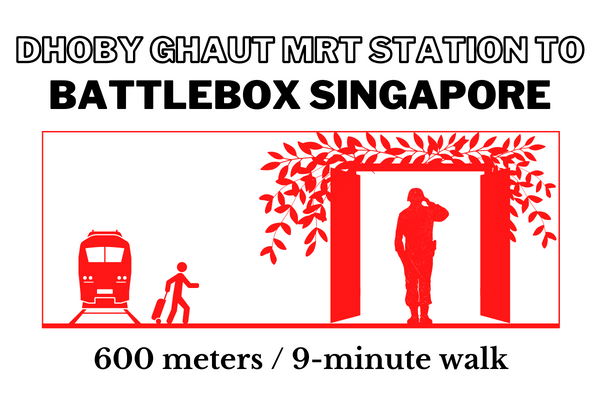 ---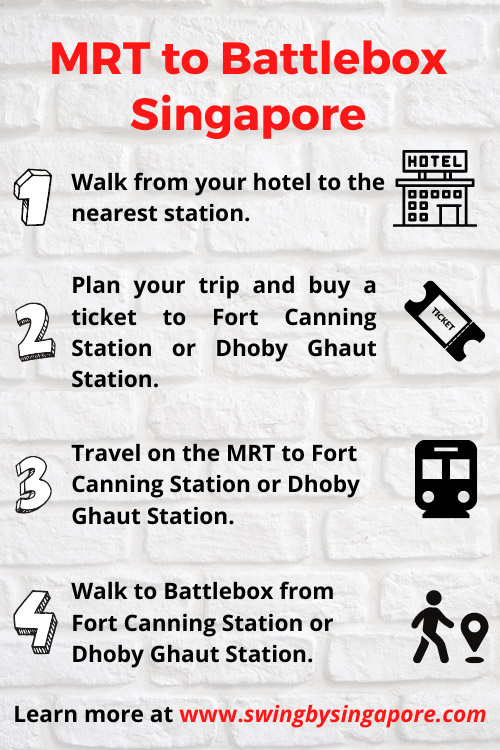 ---
Best place to stay near Battlebox Singapore?
The Battlebox museum is located in a pretty convenient area of Singapore. The area is well serviced by the MRT. Furthermore, Orchard Road is located north of the park. This is Singapore's premier shopping district with tons of malls and restaurants to choose from. 
One of the coolest places to stay is actually 'inside Fort Canning Park'. There's one property called Fort Canning Hotel that you can stay at that is in an ideal location. It also receives a solid verified guest score of 8.9/10 at the time of writing. If you want beautiful scenery and fresh air this is the best place to stay. 
There are also a bunch of good properties around the exterior of the park within walking distance of Battlebox. 
We have included a list below for your convenience:
The Capitol Kempinski Hotel Singapore (5-star, rated 9.1/10) 
Iyf Funan Singapore by Ascott (4-star, rated 8.6/10)
Grand Park City Hall (5-star, rated 8.8/10)
Park Avenue Clemenceau (4-star, rated 8.8/10)
The high verified review scores suggest that these are all well-managed properties. 
The values were obtained from leading accommodation websites at the time of writing.  Although all of these properties are solid choices if you want to stay around the park in Singapore, we suggest that you stay at Fort Canning Hotel if you want a unique experience.
We do not have any direct partnership with any of the specific properties listed above. The review scores were quoted at the time of writing based on leading online accommodation websites. Therefore, these values are subject to change over time according to how guests perceive their stay.
If you want to find some more affordable options then try Chinatown. There are lots of hostels and boutique hotels close to Chinatown Station. 
---
Any more questions about getting to Battlebox Singapore using MRT?
We have written this article with the intention of providing you with a step-by-step guide on how to get to Battlebox Singapore by MRT. Send us an email or comment about any questions that you may still have. We would love to help you out!
The most convenient thing about visiting Battlebox Singapore is that it is really close to a lot of the coolest areas in the city. Naturally, Fort Canning Park is the other point of interest right here. 
To the north, you will find Orchard Road. Head there for shopping and eating out. 
Since Battlebox is close to the MRT you can access all kinds of other areas, fast! Consider exploring Boat Quay, Clarke Quay, Orchard Road, Chinatown, Little India, and Marina Bay. These are super popular with tourists.
If you do want more specific information about buying tickets and visiting Battlebox then refer to the official website. They have an excellent and informative website that has great visuals. Be sure to enjoy your time at this extremely interesting Museum in Singapore!