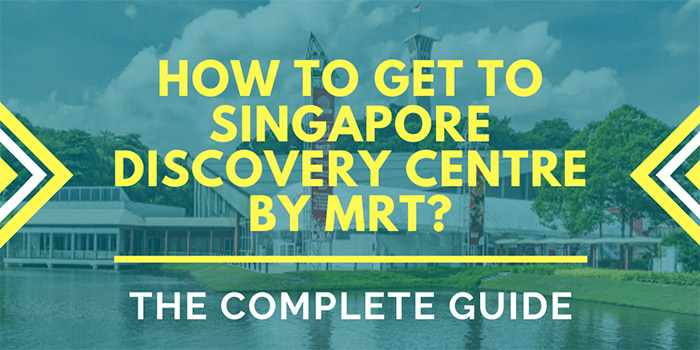 This is the complete guide on how to get to Singapore Discovery Centre by MRT. When you read this article you will learn how to save time and money by following the specific steps outlined below. The information outlined below is particularly useful because Singapore Discovery Centre is not located within the downtown area of the city. 
Using the MRT in Singapore is a wise decision for many reasons. 
Once you land at the airport you can take the MRT right into the city. 
Then you can book a hotel room that is within walking distance of an MRT station. This allows you to get directly from Changi Airport to your hotel. Also, you can visit all kinds of attractions without booking a taxi or worry about parking a vehicle.
Singapore Discovery Centre is located outside of primary tourist hotspots such as Sentosa Island, Marina Bay and Chinatown. Therefore, you might want to find a room close to a station in one of these areas and then work your way to Singapore Discovery Centre from there. 
There are tons of options available throughout the city, be we have included two popular choices to get you started:
Marina Bay Sands (5-star) (Bayfront Station)
Fairmont Singapore (5-star)(Esplanade Station)
---
Why should you visit Singapore Discovery Centre?
Singapore Discovery Centre is a popular mixed purpose venue that focuses on entertaining guests while educating them at the same time. It is also a popular tourist attraction that is located in Jurong West, Singapore. 
Singapore Discovery Centre originally opened on November 23rd, 1996. Since then it has welcomed and attracted tons of guests due to its focus on the history of Singapore and how people can contribute to Singapore's future. According to the official website, the mission statement for Singapore Discovery Centre is "To share the Singapore Story and inspire a desire to contribute to Singapore's future". If you plan on visiting you can expect an engaging multi-sensory experience that features various exhibits and attractions. 
At the time of writing, Singapore Discovery Centre features many attractions. For example, you can experience a 4-D simulation ride, Crossfire Paintball, SAFTI Bus Tours, and movies. Many of the Centre's exhibits focus on education. Therefore, many school visits are hosted here. Don't expect to find many places to stay near Singapore Discovery Centre. The only property near it is The Area Country Club (3-star, 7/10 review score). 
We will outline how to get there via MRT directly below. 
---
Getting to Singapore Discovery Centre using the MRT 
Step 1: Buy an MRT ticket 
Once your accommodation is sorted, walk to the nearest station. At this point, you will have to decide on what kind of ticket you want to reach Singapore Discovery Centre.  The type of ticket that you purchase really depends on your travel itinerary and the length of time you have in Singapore.
At the time of writing, there are three different types of tickets and passes that you can choose from which are listed below for your convenience.
Types of MRT Tickets
Single trip tickets

Stored value cards

Singapore Tourist Passes
Read our complete guide on how to buy MRT tickets in Singapore to find out all the specific details you need. However, in general, if you are only using the system once or twice, you might want to stick with a single trip ticket. 
When First figuring out how to get to Singapore Discovery Centre by MRT we used a stored-value card.  It's called an EZlink card. This is not the only one available.
Once you have bought one of these just top it up with cash and you can just tap to enter and exit each station. The fare is automatically deducted from the cash balance on the card which is fast, affordable and convenient.
Read our popular article on how to buy Singapore Tourist Passes to find out whether these are the best option for you. Typically, we recommend these if you want to see a lot of different attractions over a 1-3 day period.  
---
Step 2: Plan your trip to Joo Koon MRT Station
With your ticket now sorted, plan to go to Joo Koon MRT Station. Having some familiarity about Singapore's MRT lines will help you get there. 
Joo Koon Station is a stop on the East-West Line that services trains from Changi Airport to Tuas Link. The East-West Line is represented in green colour on Singapore's official train map. City Hall and Raffles Place are popular stations to access the East-West Line for tourists staying at a hotel in the city centre.
---
Step 3: Take the MRT to Joo Koon MRT Station
While you are in the station planning your trip to the Singapore Discovery Centre, refer to the train maps in the station. This will help you to see if you need to change lines anywhere. 
While you are on the train you can expect to hear verbal announcements being made to inform you of the next station on the line. If you are staying in the city centre, then the preceding station to Joo Koon will be Pioneer. 
When you hear Pioneer Station being announced, get closer to an exit because you will be getting off at the next station. You can also refer to the signs of the exit doors on the train to see where you are on your journey.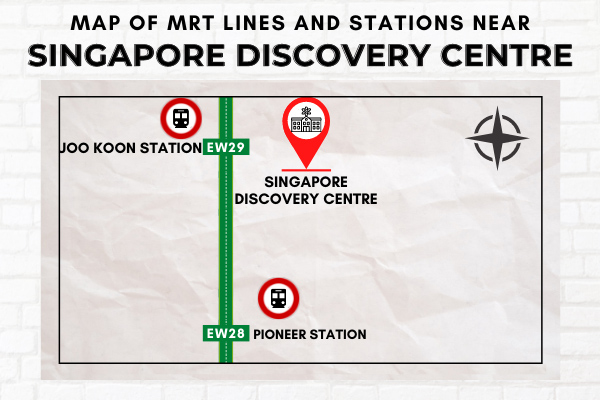 ---
Step 4: Get off at Joo Koon Station and walk to Singapore Discovery Centre.
Get off the train at Joo Koon Station on your way to Singapore Discovery Centre. 
Grab all of your belongings from the train. You don't want to forget anything.
Take Exit B from Joo Koon Station to reach Singapore Discovery Centre.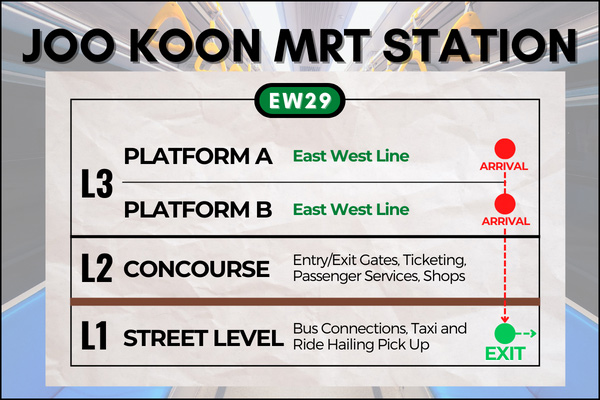 Singapore Discovery Centre is about 650 metres north of Joo Koon Station and this walk should take you no more than 10 minutes. 
Simply go east on Joo Koon Cir and then north along Benoi Rd. Walk a few meters west on Upper Jurong Road. Then head north to the Centre.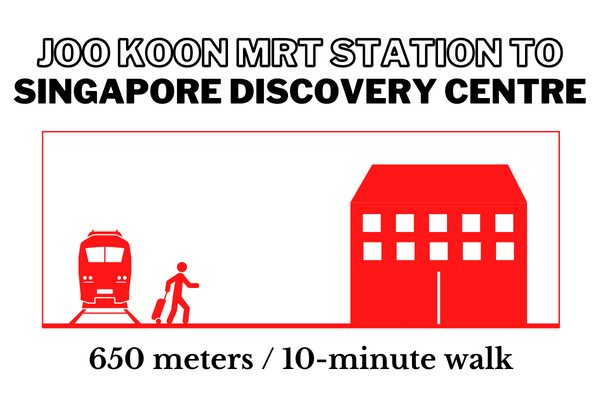 ---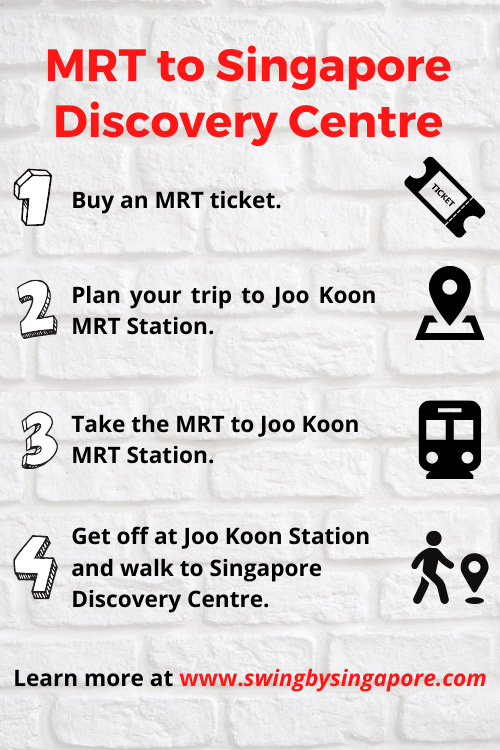 ---
Is it a wise idea to stay near the Singapore Discovery Centre while you are in the city?
Singapore Discovery Centre isn't located around many hotels. This is not a 'tourist zone' because it is quite far from the main city centre. Usually, people visit the Centre as part of a day trip. Staying here will make it much harder for you to access other attractions throughout the city.
The closest hotel to Singapore Discovery Centre is called The Area Country Club. It is a 3-star property that receives low to moderate review scores based on Singapore standards. 
We recommend that you stay closer to the city centre and then use this guide to the Discovery Centre. This will make your trip more efficient and convenient in terms of accessing other attractions throughout the city.
Try to stay in a convenient area such as Orchard, Chinatown or Marina Bay. All these are serviced by the MRT. The hotels in Marina Bay tend to be pricey, but world-class. Chinatown is a better option if you are trying to save some cash.
---
More questions about getting to Singapore Discovery Centre?
Ideally, this step-by-step guide on how to get to Singapore Discovery Centre by MRT will make your trip fast, stress-free and economical. Send us an email right away if you have any questions about getting here! We would be happy to help.
While you are in this area of Singapore also consider adding the Army Museum of Singapore to your itinerary. Conveniently, it is only a few hundred metres west of the Discovery Center. It does take a while to get out to this area on the MRT, so be sure to make the most of your visit to Singapore Discovery Centre and potentially the museum.