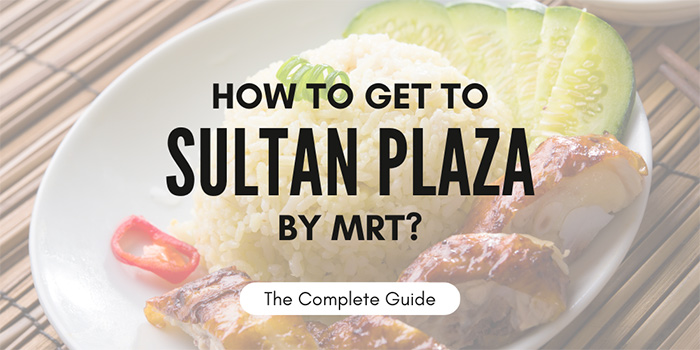 Get to Sultan Plaza via MRT as fast as possible with this guide!
Welcome to the complete guide on how to get to Sultan Plaza by MRT in Singapore. 
In this article, we will outline all the steps you need to get there fast and affordably, regardless of where you are starting your trip in the city. 
Sultan Plaza is located north of the malls and towers along Beach Road and east of Kampong Glam – one of Singapore's coolest sightseeing spots. 
One of the benefits of taking the MRT here is you can technically access the area using one station and leave using another. This strategy will be an affordable way to visit Sultan Plaza while seeing all the cultural sights in Kampong Glam.   
---
Visiting Sultan Plaza in Singapore
Sultan Plaza is a mixed-use complex consisting of a retail component, offices and affordable eateries. You will find a mix of shops, services and office space here. On the ground level, there is a food outlet called Makan Matters. It's a place where you will find locals enjoying daily coffee and conversations. 
In terms of tenants, expect to find real estate offices, textile stores, travel agencies, massage parlours, and food and drink vendors. Music shops are located on the second storey. 
Many guests comment on the age of the building, but it's still a great place to find affordable food, products and services. Conveniently, there are several shopping centres around Sultan Plaza. If you can't find what you are looking for here, simply walk along Jalan Sultan, and you should see other malls. 
---
Getting to Sultan Plaza via MRT
Step 1: Plan your route to Sultan Plaza – Lines and Stations?
The best station for accessing Sultan Plaza via MRT is Nicoll Highway (CC5).
According to its station code, Nicoll Highway Station (CC5) is the fifth station on the Circle Line. 
The Circle Line is represented in orange colour on Singapore's metro map. 
---
Step 2: Access the closest MRT station.
Getting to Sultan Plaza and other points of interest in Bugis is much easier if you book a room near an MRT station in the city. 
The MRT in Singapore can help you to avoid
Parking fees

Road traffic

Vehicle emissions
Parking can take a lot of time if it's a busy time. 
We recommend either one of these hotels to be within a few minutes of convenient MRT stations. 
Fullerton Hotel (right beside Raffles Place Station)
Marina Bay Sands Hotel (right beside Bayfront Station)
You might want to try searching for hotels and hostels in Chinatown, Little India, Katong, Bugis or Geylang to save some cash.  
Boutique hotels and hostels tend to be the cheapest available options in Singapore. Re suggest finding a cheap place with lots of reviews and a score above 8.5/10 on leading websites. 
---
Step 3: Buy a public transportation card to reach Sultan Plaza.
You can buy different types of metro cards to reach Sultan Plaza by MRT. But the two main ones are
Stored Value Cards 
You can save money using a Tourist Pass under a few travel conditions. 
If you are planning a

busy itinerary

in Singapore with lots of MRT trips in the works

You are visiting from abroad and only plan on using the card for a few days
You can use your Tourist Pass for unlimited train and bus rides once it's purchased and activated. 
We used a stored value card while figuring out how to get to Sultan Plaza by MRT. 
Unlike a Tourist Pass, Stored Value Cards work on a per-trip basis. Once you exit the MRT network or get off a bus, the balance will automatically adjust. 
---
Step 4: Ride the MRT to Nicoll Highway Station (CC5). 
Find the station closest to you and complete transfers to the Circle Line.
Take the Circle Line to Nicoll Highway Station (CC5) to access Sultan Plaza
Nicoll Highway has two neighbouring stations:
Stadium Station (CC6)
Promenade (CC4) 
You will hear verbal announcements on the train as you approach Nicoll Highway Station.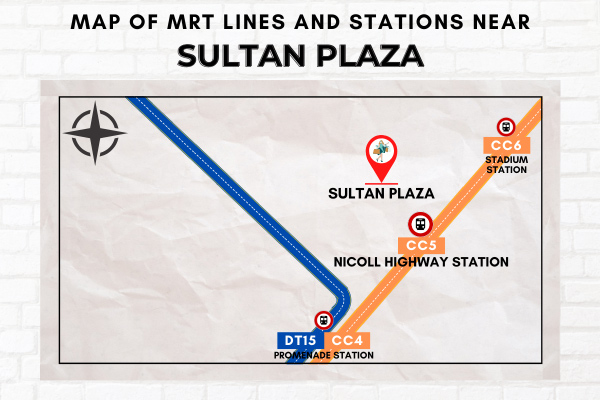 ---
Step 5: Alight at Nicoll Highway Station (CC5).
Alight when you arrive at the Nicoll Highway Station (CC5) platforms. 
Bring all your belongings with you when you get off the train. 
---
Step 6: Head from the Circle Line Train Platform up to the best exit.
In the section below, we explain how to get from the train platform to the best exit for getting to Sultan Plaza. 
The faster you can exit the train and station, the faster you will reach the Plaza. 
Exiting Nicoll Highway Station 
Nicoll Highway MRT Station (CC5) is built below Republic Avenue and is located adjacent to Nicoll Highway.
It has four main levels:
L2 Overhead Bridge
L1 – Street Level 
B2 – Ticketing Concourse
B3 – Circle Line Train Platforms
Expect to get off the train at the Level B3 Train Platforms on your journey to Sultan Plaza.
Head up to L1 – Street Level using the elevator, stairs or escalator.
You can choose from two main exits at ground level at Nicoll Highway MRT station, A and B.
Exit A also connects to an overhead bridge across Nicoll Highway and leads to Beach Road.
Take EXIT A at Nicoll Highway Station to get to Sultan Plaza.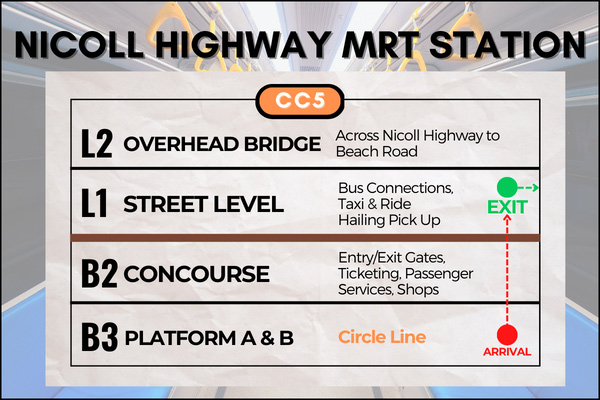 ---
Step 7: Walk from Nicoll Highway Station to Sultan Plaza.
The walk from Nicoll Highway Station to Sultan Plaza should be fast and straightforward using the steps below. Fortunately, most of the walk is sheltered from direct sunlight and rainy conditions. 
Walking Directions to the Plaza
Take the overhead bridge connected to Exit A. 
Walk north along the covered pedestrian path (bridge) until you reach Beach Road. 
Take the stairs down and then walk briefly west along Beach Road. 
Turn right and head north along Jalan Sultan. 
Cross Minto Road, and you should see Sultan Plaza immediately to your right.
Enter Sultan Plaza using the southwestern entrance.
---
How long is the walk from Nicoll Highway Station to Sultan Plaza?
The walk from Nicoll Highway Station to Sultan Plaza is about 400 m and should take you about 4 minutes.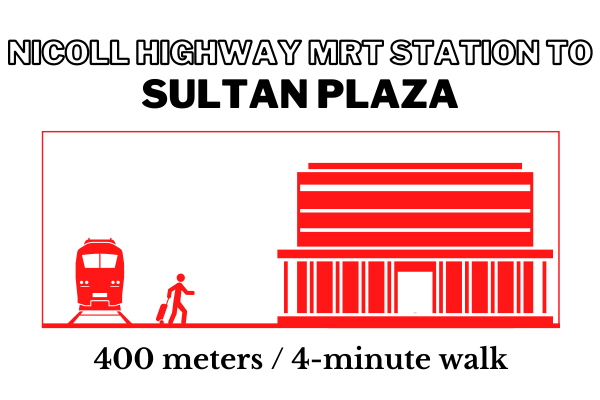 ---
Other MRT Stations within Walking Distance?
In some cases, you might be travelling on another MRT line downtown, and it might not make sense to transfer lines. The time you would spend transferring lines wouldn't be worth the headaches involved. 
Refer to the table below for alternative stations for accessing Sultan Plaza.
Station Name

Walking Distance to 

Sultan Plaza

Walking Time to 

Sultan Plaza

Nicoll Highway Station (CC5)

400 m

4 minutes

Lavender (EW11)

650 m

8 minutes

Bugis (DT14/EW12)

900 m

11 minutes

Promenade (CC4)

1.5 km

19 minutes
As you can see, the four closest stations to Sultan Plaza range from 4 minutes up to 19 minutes walking distance. 
Singapore also has an extensive public bus network that services most (if not all) MRT stations. You could take the bus from these stations if you don't feel like walking or you would prefer to avoid the heat or rain. 
---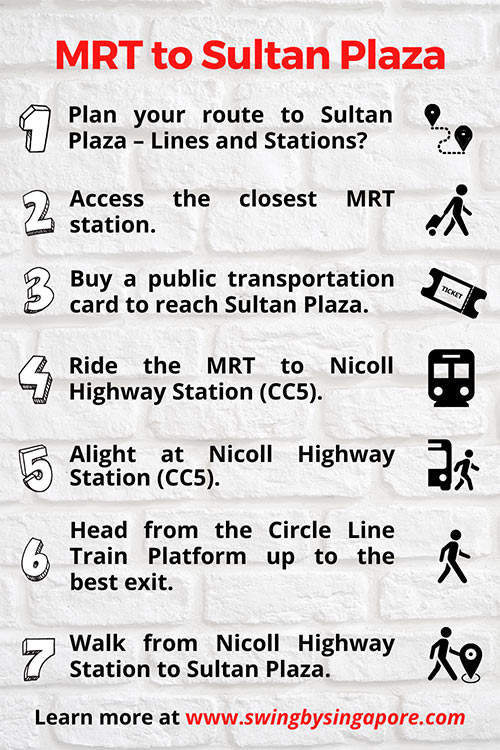 ---
Other Points of Interest
Sultan Plaza, located conveniently in Bugis, is close to several shopping malls and cultural sights. A trip to this area can be explored over a few hours or a full day, depending on your time and interest level. The Singapore Chinese Opera Museum is also part of Sultan Plaza and very much worth checking out. 
A few of the closest shopping centres relevant to Sultan Plaza are:
City Gate Shopping Centre 
Textile Centre
Golden Mile Complex (Directions – set to close in 2023)
All you need to do is walk either north or south along Jalan Sultan to access them. 
Sultan Plaza is only a few minutes from the top attractions in Kampong Glam. 
Simply walk west along Pahang Street to reach some of these famous points of interest:
Sultan Mosque (Directions)
Haji Lane (Directions) 
Arab Street (Directions)  
The Malay Heritage Centre (Directions) is also located in Kampong Glam and is very much worth an extensive visit. 
Kampong Glam is an excellent place to sample delicious middle-eastern cuisines right in Singapore. 
The area around Sultan Mosque is particularly popular amongst visitors. 
---
Where to stay near the Plaza?
Kampong Glam, directly west of Sultan Plaza, is a popular area to stay because it features several bustling streets with access to cultural sights and delicious restaurants.  
Properties here tend to be good value because they are not right in the heart of Marina Bay. Several MRT stations service this area, so getting to other areas of Singapore is straightforward. 
You can find a healthy selection of 2, 3 and 4-star properties within walking distance of Sultan Plaza. 
Hotel 81 Heritage (2-star hotel) is the closest and most convenient place to stay relative to the Plaza. It's right across the road and less than a 20-second walk. 
Other hotels close to Sultan Plaza include:
The Sultan (4-star)
Aliwal Park Hotel (3.5-star)
Hotel Clover 769 North Bridge Road (4-star)
You can walk west from these properties to the attractions in Kampong Glam and also Bugis MRT Station.
---
Conclusion
Hopefully, this guide has summarised all the steps on how to get to Sultan Plaza by MRT in Singapore. 
The closest and most convenient station for getting there is Nicoll Highway (CC5). 
You can get to it using the Circle Line. 
If you're travelling to Sultan Plaza using an alternative metro line, such as the Downtown or East-West Line, you can access other stations, such as Lavender or Bugis. 
The walk is longer, but it might be comparable to spending time transferring lines to reach Nicoll Highway Station. 
Once you're at Sultan Plaza, you can walk south to the Golden Mile area or head west to Kampong Glam. City Gate Mall is directly south of it, and Textile Centre is directly north of it. You can find all kinds of affordable products and services at these shopping centres.