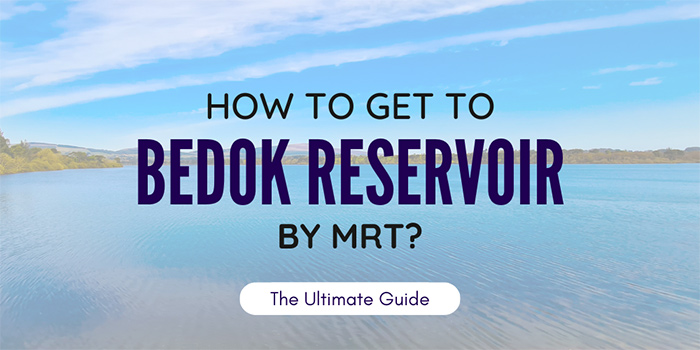 Get to Bedok Reservoir super fast and affordably.
Welcome to our guide on how to get to Bedok Reservoir by MRT! 
By the end of this article, you will be able to access this popular outdoor area in Singapore without stepping foot in a vehicle along the way. Even though Bedok Reservoir is located away from downtown, it's still super easy to access from different parts of the city. 
There are several interchange stations available which allow you to transfer lines along the way to the Reservoir. 
You will also save money with this guide.
Getting around Singapore is expensive if you rely on taxis and ride-hailing applications. Using the MRT network ensures you avoid these costs and the costs associated with parking your vehicle. You don't want to spend half your day looking for parking spots when the MRT will bring you near your final destination, including Bedok Reservoir. 
---
Visiting Bedok Reservoir in Singapore
Bedok Reservoir is a popular outdoor Park located in Bedok New Town, Singapore. 
It consists of 88 hectares of land and a large body of water, formerly a sand quarry. You should visit Bedok Reservoir if you want to walk, run, or enjoy water activities.  
Some of the most popular water-based activities here include 
Fishing
Dragon Boating
Wakeboarding
Kayaking
Running enthusiasts enjoy visiting Bedok Reservoir because it is one of the best places in the city for fresh air and distance training. It has a 4.3 km track that loops around the water. 
If you love nature watching, bring along your camera.
Bedok Reservoir has many birds such as swallows, little herons and kingfishers, white-breasted waterhens and a wide range of flora and fauna. And once you have taken enough photos, consider going rollerblading here or cycling. 
One of the most popular action activities at Bedok Reservoir is the aerial tree obstacle course. It's super popular with children and spans around 100 m down.
You can rent sports equipment near the eastern side of the park. There is even a restaurant at Bedok Reservoir if you want a drink or a meal. 
---
Getting to Bedok Reservoir using MRT
Step 1: Access the closest MRT station to your starting point. 
The first step in getting to Bedok Reservoir via MRT is finding the closest MRT station. 
You shouldn't have much trouble with this because the metro consists of several lines which service most city areas. 
If you have the choice, book a room close to a station. Doing so will ensure easy access to the MRT and cheap transportation for your entire trip. 
We recommend a few properties based on location (proximity to MRT stations) and verified guest reviews (close to 9/10).
Capitol Kempinski Hotel Singapore – 2 minutes from City Hall Station
The Fullerton Hotel Singapore – 2 minutes to Raffles Place Station
Some of the most convenient areas in Singapore with direct MRT access are Chinatown, Bugis, Marina Bay, Geylang and Little India. 
---
Step 2: Plan your route to Bedok Reservoir – Lines, Stations and Transfers. 
There are actually several MRT stations that you can use to access Bedok Reservoir with connecting bus services. 
But, the best one for accessing Bedok Reservoir is easy to remember because it's called "Bedok Reservoir Station." 
Bedok Reservoir Station (DT30) is located along the Downtown Line, which is shown in dark blue colour on the metro map. 
While planning your route to Bedok Reservoir, note convenient interchange stations along the way.  
Here are convenient stations for transferring to the Downtown Line
Chinatown Station
MacPherson Station
Tampines Station 
Take a look at where you are starting your trip and where you may have to transfer on your way to Bedok Reservoir Station (DT30).
---
Step 3: Buy an MRT card that suits your itinerary.
You have two main card choices for using the MRT to Bedok Reservoir:
Stored Value Cards
Singapore Tourist Passes and Stored Value Cards allow commuters to tap and go on both trains and buses. 
However, Tourist Passes can only be purchased by foreign tourists in the city. 
We used a stored value card while discovering how to get to Bedok Reservoir by MRT. Once you buy one, top it up, and the cost of each trip will be automatically deducted from your running balance.
Tourist Passes can save foreign guests lots of cash if they plan on using the metro and bus network a lot over the course of a few days. In other words, you must have a very busy itinerary to make the cost worthwhile. 
---
Step 4: Take the MRT to Bedok Reservoir Station (DT30).
When ready, use your card to enter the MRT gates at your starting station. 
Then travel along the MRT to Bedok Reservoir Station (DT30). 
You should travel along the Downtown Line to access this station and make any necessary transfers along the way. 
Bedok Reservoir Station has two neighbouring stops that you should be familiar with on your way to the park:
Bedok North (DT29) – west of Bedok Reservoir 
Tampines West (DT31) – east of Bedok Reservoir
Once you stop at either one of these stations, walk closer to an exit on the train and prepare to alight.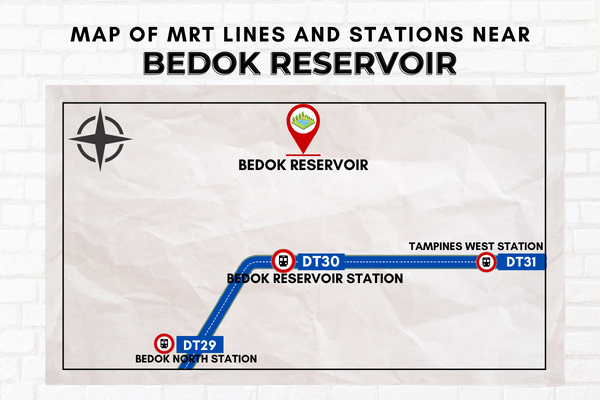 ---
Step 5: Alight from the train at Bedok Reservoir Station (DT30). 
Get off the train when you arrive at Bedok Reservoir Station (DT30). 
Expect to hear a verbal announcement on the train as you approach the station.
---
Step 6: Walk from the B3 Train Platforms to Level 1 (ground level) to access the correct exit.
Bedok Reservoir Station is built under Bedok North Avenue 3, near the PIE flyover and junction with Bedok Reservoir Road.
It consists of 3 main levels:
L1 – Street Level
B2 – Concourse Level 
B3 Train Platforms (A and B)
You will arrive at Level B3, where west and eastbound trains stop and depart. 
Once you're off the train, follow the signs up to L1 – Ground Level. 
You can take the stairs, elevators or escalators up.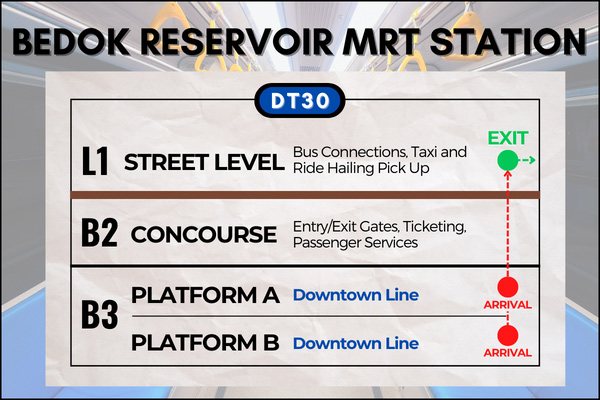 ---
Step 7: Take Exit B at Bedok Reservoir Station (DT30).
Bedok Reservoir MRT station has two exits at ground level.
Technically, you can take Exit A or B to reach the Reservoir, but Exit B is the best one.
---
Step 8: Walk north from the station to access the southern section of Bedok Reservoir.
Exit B at Bedok Reservoir Station will bring you to Bedok North Avenue 3. 
Walk north along Bedok North Avenue 3 until you reach Bedok Reservoir Road. 
You should be able to see Bedok Reservoir across the road. 
Cross Bedok Reservoir Road, and you can enter the park using the cemented pathway. 
If you continue north, you will reach the water, or you can walk east or west to access other sections of the Reservoir.
---
How long does it take to walk from the Station (DT30) to Bedok Reservoir?
Once you take Exit B at Bedok Reservoir Station, you will be around 200 meters south of the Reservoir. 
The walk from the station to Reservoir should take less than 4 minutes. 
But, if you want to walk all the way to the western edge of the park, it will take well over 10 minutes. It should take about 7 minutes to the eastern section of the Reservoir.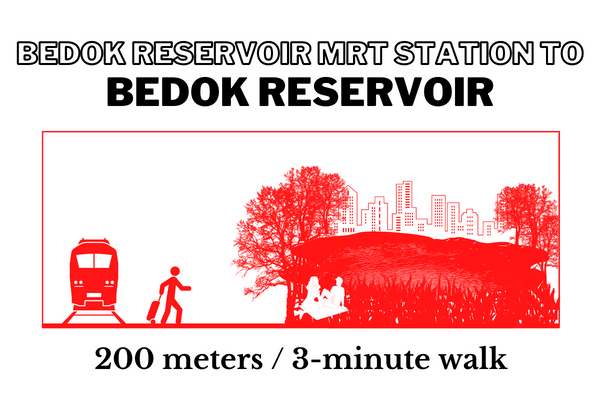 ---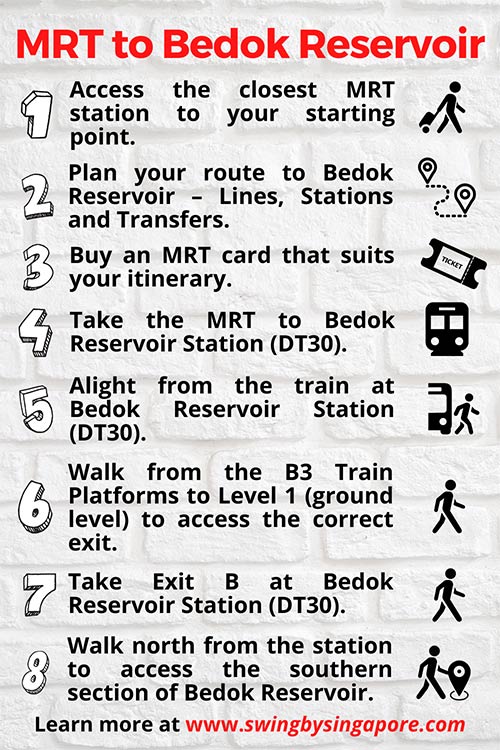 ---
Can you reach Bedok Reservoir from other MRT stations?
The simple answer is yes! You can actually access the park from various stations. 
Bedok Reservoir Station (DT30) is the closest station, but if you want to walk farther or take a short bus ride, it's possible to access it from several stations.
The next two best stations for accessing Bedok Reservoir along the Downtown Line are
Bedok North Station (DT29)
Tampines West Station (DT31)
Bedok North is convenient for accessing the western portion of the park, whereas Tampines West is best for getting to the northeastern side. 
You can also take a bus from Bedok Station (EW5) north to Bedok Reservoir. Bedok Station is part of the East-West Line, which runs south of the Downtown Line.
---
Other Places to Explore near Bedok Reservoir 
There are several shopping centres and other points of interest near Bedok Reservoir. For example, if you head northeast, you will reach the Tampines cluster of malls centred around Tampines Station. 
You can explore the following shopping centres there:
Tampines 1 (Directions)
Tampines Mall (Directions)
Our Tampines Hub (Directions)
In terms of recreational areas, Bedok Town Park is south of Bedok Reservoir. It is directly west of Bedok Reservoir Station and very easy to access via MRT. 
You can also travel south to Bedok Town Centre (Directions).
Here you will find Bedok Mall, DjitSun Mall Bedok and Bedok Interchange Hawker Centre. They are all within short walking distance of Bedok MRT Station.
Paya Lebar Air Base, The Air Force Museum, and Tampines Quarry are northwest of Bedok Reservoir. 
---
Best Places to Stay 
Our online research shows very few (if any) hotels or hostels near Bedok Reservoir. Instead, most visitors in the city prefer to stay closer to the central business district around Marina Bay or to Changi Airport. 
Areas such as Chinatown, Clarke Quay, Marina Bay and Little India are well serviced by the MRT. You can stay in one of these areas and access points of interest like Bedok Reservoir efficiently and affordably.
Q Loft Hotels@Bedok is the closest hotel we could find on the map. 
---
Conclusion
We hope that this step-by-step guide on how to get to Bedok Reservoir by MRT has outlined all the steps clearly. 
Getting to Bedok Reservoir is really easy because there are several MRT stations you could use to get there. The most convenient station is Bedok Reservoir (DT30), which is located only a few minutes south of the park. 
Once you use Exit B and walk north, you can reach the Reservoir in under 5 minutes. 
The most challenging part of getting here is making sure that you transfer lines at the right interchange station. Otherwise, the trip is super easy. 
A few other alternative stations for getting to Bedok Reservoir include Bedok North Station (DT29), Tampines West Station (DT31) and Bedok Station (EW5). Bus connections from these stations to the park are common.