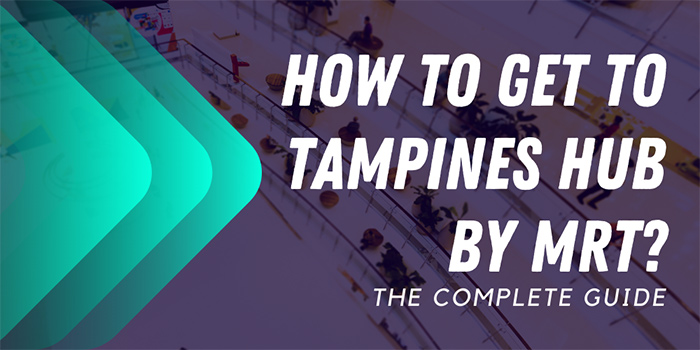 Get to Tampines Hub in Singapore fast and easily by following all the steps in this detailed article.
Welcome to the step-by-step guide on how to get to Tampines Hub by MRT. By the end of this article, you will be able to make it to all of the facilities and programs that make up Our Tampines Hub (OTH) in Singapore. 
Like most areas in Singapore, Tampines Hub is serviced by the city's MRT network. Therefore, if you book a room or are staying near a station, it's pretty easy to make it here without even stepping foot in a vehicle!
When you take the MRT to Our Tampines Hub, you can walk directly from the nearest station. Therefore, you naturally will save time and money by avoiding road traffic congestion and parking fees. 
You can select from various ticket types on your way to Tampines Hub and get there using two different MRT lines. We will outline all of this specific information in this guide, as well as some itinerary ideas. You will also learn how to buy attraction passes to visit multiple places with huge discounts. Our Tampines Hub is within walking distance of multiple shopping malls with tons of restaurants. You can easily spend half a day or a full day in the Tampines area, which has become very convenient for families.  
---
Our Tampines Hub Information
Tampines Hub, also known as 'Our Tampines Hub' (OTH) is an impressive integrated community and lifestyle hub. It consists of multiple facilities and services on the former Tampines Stadium and Tampines Sports Hall.
Since it first opened on August 6th, 2017, Our Tampines Hub has provided residents with a range of facilities, recreational activities and community programs. 
Some of the facilities here include sports venues such as six different swimming pools, including the largest rooftop pool in Singapore. Children can enjoy the large 5,000 sq ft (460 m2) playground. Book lovers will enjoy the public library. There are also numerous arts programmes, retail shops (an outlet mall!) and a hawker centre. A 5,000-seat multisport stadium is the central focal point of Tampines Hub.
As a result of the wide range of facilities and services here, Our Tampines Hub provides recreational opportunities to thousands of families in Singapore. It provides a modern example of a successfully integrated community.   
---
Begin your trip to Tampines Hub using MRT:
Step 1: Walk to the closest MRT station. 
Getting to Tampines Hub via MRT gets a lot easier if you are close to a station. Most Singaporeans and permanent residents just walk from their house/condo to a neighbouring station. Therefore, if you already have a permanent residence in Singapore, skip down to #2. 
If you are visiting Singapore, then make booking a room close to a station a big priority. It will save you money and make accessing points of interest such as Tampines Hub much faster. 
Here are a few properties that are popular with our readers and very close to adjacent stations (listed below for your convenience):
Marina Bay Sands (5-star, 9.0/10 review score, very close to Bayfront Station) 
The Fullerton Hotel (5-star, 9.0/10 review score, 2 minutes from Raffles Place Station)
Conrad Centennial Singapore (5-star, 9.0/10 review score, close to Promenade Station) 
 Walk to the nearest station when you are ready to begin your trip to Tampines Hub. 
---
Step 2: Plan on using either the Downtown or East-West Line to reach Tampines Hub. 
You should know which lines to take and which station is best if you want to get to Our Tampines Hub fast and affordably. We outline this information for you below:
Station and Line Overview to Tampines Hub
Plan on going to Tampines Station (EW2-DT32) to access Tampines Hub. We consider this to be the most convenient station for walking directly to Tampines Hub. 
Tampines Station tends to be quite busy because it welcomes trains from two MRT lines in Singapore:
East-West Line (Green Line)
Downtown Line (Blue Line)
 It is an above-ground station along the East-West Line and an underground station along the Downtown Line. Therefore, you can transfer between lines here and there are several exits from the station because of East-West and Downtown trains stopping here. 
We have including the four neighbouring stations to Tampines Station below for your convenience. Take note that once you stop at any one of these, you will be at Tampines Station in no time!
Pasir Ris Station – north of Tampines Station on the East-West Line.
Simei – south of Tampines Station on the East-West Line. 
Tampines East – east of Tampines Station on the Downtown Line. 
Tampines West – west of Tampines Station on the Downtown Line. 
---
Step 3: Buy either a ticket or a card to reach Tampines Station. 
You can select from a few types of tickets for getting to Tampines Hub. These include stored value cards and Singapore Tourist Passes. 
If you are living in Singapore, chances are you already have a card. In this case, just make sure that it is topped up with extra cash for your trip to Our Tampines Hub. We used a stored value card while figuring out how to get to Tampines Hub by MRT. It worked very well without added stress!
Are you a tourist visiting Singapore?
If you are visiting from abroad, then look into buying a Singapore Tourist Pass. 
We recommend these if you are visiting for a short stay and plan on seeing a lot of places in Singapore. 
But there is a catch. 
If you don't travel a lot throughout the city on buses or trains, you might not get your money out of the card. Once you buy a Tourist Pass, you can enjoy unlimited bus and train rides for a set number of days. Be sure to have a well-planned itinerary before purchasing one of these!
We strongly suggest buying a Multi-Attraction Pass to use along with a Tourist Pass. At this point, over 200,000 of these have already been purchased because when you buy in bulk you can save up t0 52% on entrance prices.
---
Step 4: Ride the MRT to Tampines Station en route to Tampines Hub.
Ride the MRT via the Downtown or East-West Line to Tampines Station. Plan any transfers to these lines in advance.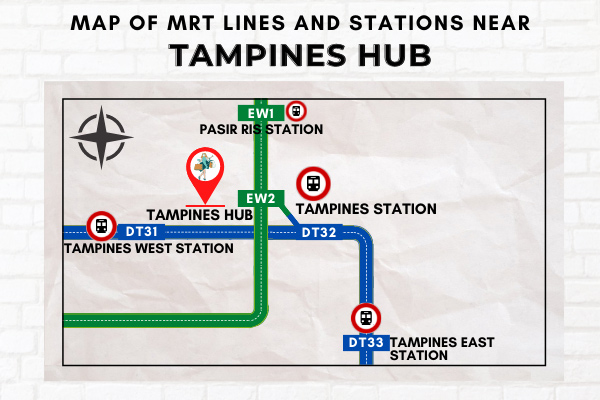 ---
Step 5: Get off the train at Tampines Station.
When you arrive at Tampines Station alight from the train. Double-check that you have all your personal belongings with you. Keep your eye out for exit signs after you step off of the train. 
---
Step 6: Walk west from Tampines Station to Our Tampines Hub.
Walking Directions – Tampines Station to Tampines Hub
When you arrive at Tampines Station, don't get overwhelmed by choice of exits.  
Both the Downtown and East-West Line service trains here and that's why there are 7 stations to choose from: A, B, C, D, E, F, G.
The East-West Line Station has three exits on the ground floor, whereas the Downtown Line Station has four exits to street level. 
Exits A, B, C are part of the East-West Line station.
Exits D, E, F and G part of the Downtown Line station.
You can take Exit A, D, E, F or G to walk from Tampines Station to Tampines Hub. 
 The main thing here is that you should walk in the western direction once you exit Tampines Station. Technically, you can walk through Tampines 1 and Century Square Shopping Mall (with air conditioning) or along Tampines Central 5 to Tampines Central 1. 
You can also walk through part of the Tampines Bus Interchange and then along Tampines Central 2.
It depends on whether you want to walk there directly or with a few stops along the way.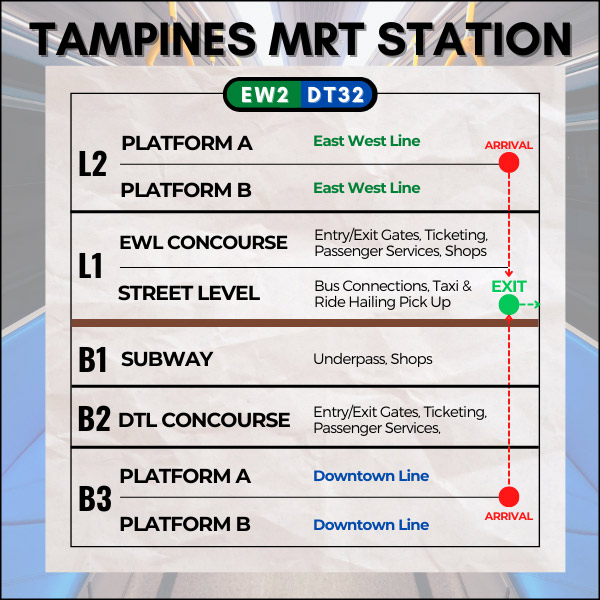 ---
How long does it take to walk from Tampines Station to Tampines Hub?
The walk from Tampines Station to Tampines Hub only takes about 6-7 minutes. Tampines Hub is only 500 m west of the station.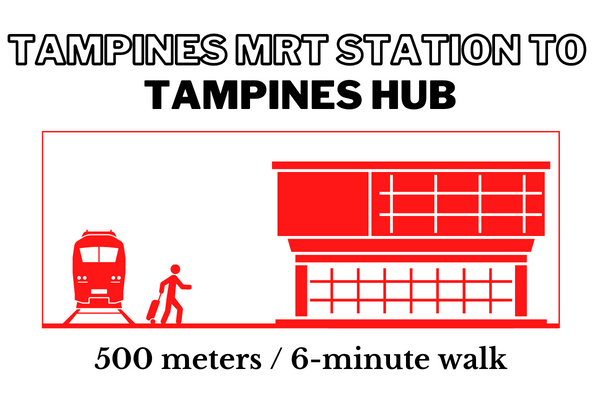 ---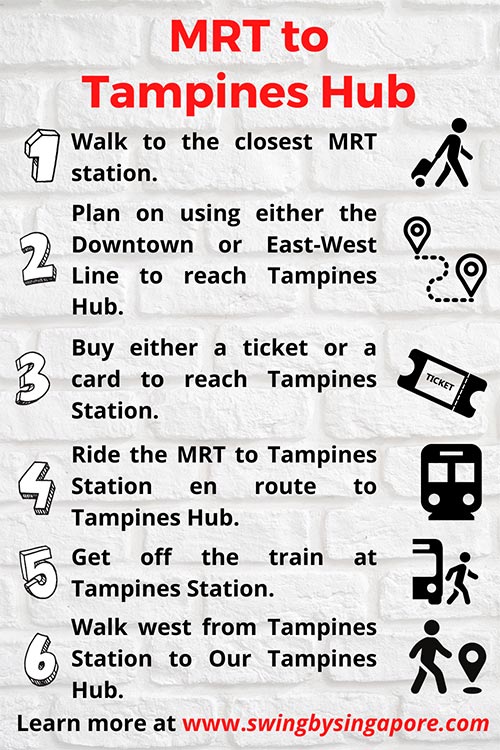 ---
Should you stay near Tampines Hub while in Singapore?
Despite being a popular venue for shoppers and residents of Tampines, this area is not known for tourism. Places such as Sentosa, Marina Bay and Chinatown welcome many more visitors annually. 
Hotels and hostels are hard to find around Our Tampines Hub, which suggests that many locals use the facilities here instead of foreigners. 
We researched on multiple large accommodation websites couldn't find anywhere to stay close to Tampines Hub. 
We found two 4-star hotels within walking distance of Singapore Expo and Changi Business Park. 
These properties are a few stations south of Tampines:
Park Avenue Changi (4-star, 8.4/10 score based on 800+ reviews) 
Capri by Fraser Changi City (4-star, 8.6/10 score based on 1150+ reviews)
If you are visiting Singapore for a few days, consider staying elsewhere. You can easily take the MRT here using these steps. But staying in Marina Bay or Chinatown will make it easier to visit popular areas such as Orchard, Clarke Quay and Sentosa Island. 
---
Conclusion 
We hope that this guide on how to get to Tampines Hub by MRT will help save you time and money. Since you can get here with either the Downtown or the East-West Line, it's easy to do some sightseeing elsewhere and then make your way here.
There are three main malls here in addition to Tampines Hub: 
Century Square 
Tampines 1
Tampines Mall (Directions via MRT)
All of them are east of Tampines Hub. Century Square is the closest to Tampines Hub, and Tampines Mall is directly east of Century Square. You can walk to these super easily from the Hub.
 Tampines 1 is a bit farther. You have to walk to the other side of Tampines Station to get there from Tampines Hub. 
If you are arriving or departing by bus, just walk over to the Tampines Transportation Interchange. It is located between the Hub and Tampines Station. Many commuters access buses from here to other areas of the city. You should have no problem using a Tourist Pass or a Stored Value Card here. Just tap and go!
You can visit two parks northeast of Tampines Hub: 
Sun Plaza Park
Tampines Eco Green 
Remember to bring along refreshments, sunscreen and some running gear.
Our Tampines Hub truly has a lot to offer! We hope that you enjoy your time here and make the most of your day. Please reach out to us via email or comment below if you need any more information!