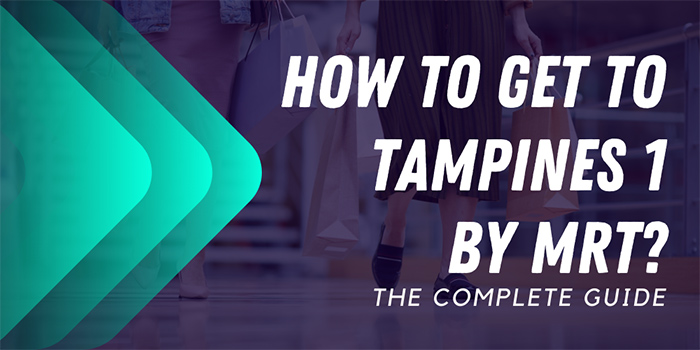 Get to Tampines 1 Mall in Singapore super fast and affordably with this detailed article. 
Welcome to the step-by-step guide on how to get to Tampines 1 by MRT. By the end of this article, you should travel to Tampines 1 from most areas in Singapore without stepping foot in a vehicle. 
Singapore has a superb, modern public transport system that provides direct access to Tampines 1 – a popular shopping centre in eastern Singapore. To reach the Mall, you have to know which types of tickets are available, and which MRT lines and stations are the best to use. We will outline this information and provide you with some itinerary and accommodation suggestions if you visit from abroad. 
As its name suggests, Tampines 1 Mall is located in the Tampines area of the city. This is north of Singapore Expo and Changi Business Park and west of Changi Airport. It may not be the most popular area in Singapore in terms of tourism, but there are many shopping malls and recreational facilities within walking distance of Tampines 1.
---
Tampines 1- Mall Information 
Tampines 1 is a trendy shopping mall in east Singapore. Construction work to build the Mall commenced in March 2007, and it officially opened to the public on April 1st, 2009. 
Currently, Tampines 1 is home to about 180 retail and dining merchants spanning over 24,600 m2. Some of the brands here are world-class and internationally recognized, whereas others are niche shops selling high-quality goods and services. 
Although Tampines 1 attracts visitors of all ages, young Singaporeans have come to love the fashion, beauty, and trendy food establishments here. One of the added benefits of visiting Tampines 1 is that it is part of a more extensive shopping, dining and leisure area with multiple malls and recreational facilities. Therefore, once you get here via MRT, you can walk directly from Tampines 1 to other interesting points of interest without even breaking a sweat!
---
Starting your trip to Tampines 1 via MRT
Step 1: Access the most convenient MRT Station.
Singapore, without question, has one of the best public transportation systems in all of Asia. However, it gets much more challenging to go from one point to the next if you are not close to an MRT station.
We highly recommend that if you choose where to stay in Singapore, try to select an area that is well served by the MRT. Furthermore, try to book a room that is within 500 meters or less from the nearest station.
Not only will this save you a lot of money by avoiding parking fees and taxi fees, but you will also have a much more efficient overall itinerary and save time making your way to Tampines 1.
If you live permanently in Singapore, you can skip down to step number 2 of this article because you already likely know the closest station to your residence.
In the direct section below, we have compiled a list of 3 properties that consistently receive very positive reviews from our readers.  
They are all within three minutes or less from their adjacent MRT stations: 
The Fullerton Hotel (5-star, 9.0/10 review score, 2 minutes from Raffles Place Station)
Marina Bay Sands (5-star, 9.0/10 review score, very close to Bayfront Station) 
Swissotel The Stamford (5-star, 9.0/10 review score, directly across from City Hall Station) 
 When you are ready to begin your journey to Tampines 1, walk to the nearest station.
---
Step 2: Plan your trip to Tampines Station using either the East-West or Downtown Line. 
In the section below, we will outline the best station and MRT lines for accessing Tampines 1. Ideally, this will help you plan any transfers that are necessary along the way to the Mall. 
Getting to Tampines 1 – Station and Lines
Tampines Station (EW2-DT32) is by far the best and most convenient station for accessing Tampines 1 and the surrounding shopping centres.  
It is a popular station because it is part of two MRT lines in Singapore:
Downtown Line (Blue Line)
 East-West Line (Green Line)
Therefore, it is technically two stations but at the same general location (if that makes sense). It is an above-ground station along the East-West Line and an underground station along the Downtown Line.
Tampines Station has four neighbouring stations (2 on the Downtown Line and 2 on the East-West Line). 
Don't get off at these to access Tampines 1, but you should be familiar with them due to their proximity to Tampines Station (you'll be getting off at the next stop). 
Tampines East – east of Tampines Station on Downtown Line. 
Tampines West – west of Tampines Station on Downtown Line. 
Pasir Ris Station – north of Tampines Station on the East-West Line.
Simei – south of Tampines Station on the East-West Line. 
Expect the ride from these stations to Tampines 1 to be brief.
---
Step 3: Buy a ticket to reach Tampines 1. 
You can select from several types of tickets for getting to Tampines 1.
Before purchasing a card or ticket for your trip, consider the following two questions:
Are you staying in Singapore for more than 3 days?

Is Tampines 1 the only place you plan on travelling to, or do you have busy travel plans around Singapore?
Based on your answers to the two following questions above, select the correct ticket for your trip to Tampines 1.
Here is some additional information to help get you started:
Stored Value Cards 
We like using stored value cards to get around Singapore. We used one while we were figuring out how to get to Tampines 1 by MRT. 
You can expect to find a few kinds of stored-value cards in Singapore. They are simple to buy and use. Buy one, top it up with some cash and then use it on buses and trains throughout the city. Just remember to check your balance every once in a while to ensure that you don't run out of cash on the way to Tampines 1!
Single and Multi-Trip Tickets
Single trip and multiple trip tickets are your conventional ticket.
You can easily buy these from a ticketing machine right in the station on the way to Tampines 1. Remember to avoid peak travel times and long lines at ticket machines. 
The Popular Choice for Tourists
If you are visiting from abroad, then look into buying a Singapore Tourist Pass. 
Once purchased, you can enjoy public transport in Singapore (bus and train services) an unlimited number of times over a set period of time. For example, if you are in Singapore for 2 days, you could buy a 2-day Tourist Pass and be good to go!
Your trip to Tampines 1 Mall would be just one of many trips over the course of a few days. 
Just remember that with a Tourist Pass, your itinerary has to be busy enough to warrant its purchase!
---
Step 4: Take the MRT to Tampines Station (best choice).
Ride the MRT to Tampines Station and complete and necessary line transfers along the way.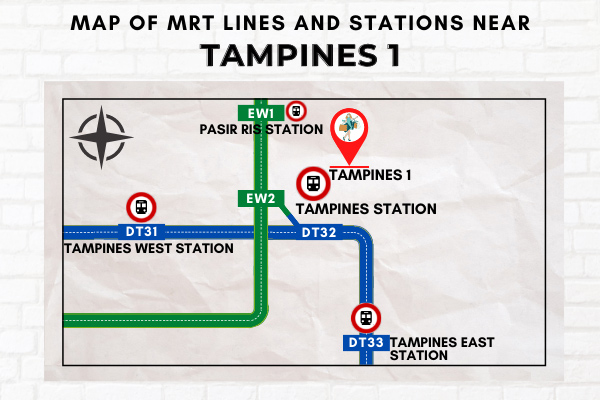 ---
Step 5: Alight at Tampines Station. 
Alight when you arrive at Tampines Station. Double-check the train for personal belongings and begin looking for exit signs. 
---
Step 6: Exit Tampines Station and walk northeast to Tampines 1.
Directions – Walking from Tampines Station to Tampines 1
When you arrive at Tampines Station, there are 7 exits to choose from because both the Downtown and East-West Line service trains here. 
The East-West Line Station has three exits on the ground floor, whereas the Downtown Line Station has four exits to street level. 
Exits A, B, C are part of the East-West Line station.
Exits D, E, F and G part of the Downtown Line station.
The two best exits for walking directly to Tampines 1 Mall from Tampines Station are Exit B of Tampines MRT Station (EW2) and Exit D of Tampines MRT Station (DT32). 
Once you find either one of these exits, you should easily navigate your way to Tampines 1 (which is directly beside the station) with the clear signs provided along the way.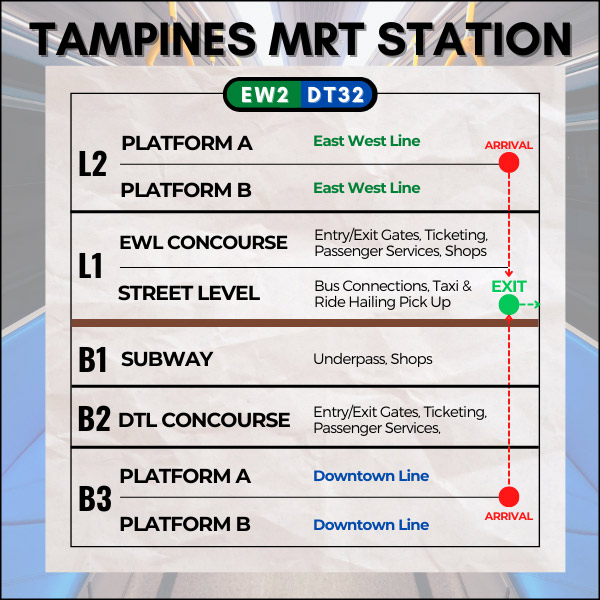 ---
How long should it take you to walk to Tampines 1 from Tampines Station?
Tampines 1 is directly adjacent (west) to both the Downtown and East-West sections of Tampines Station. You can walk from Tampines Station to Tampines 1 in 1-2 minutes. Yes, it's that close!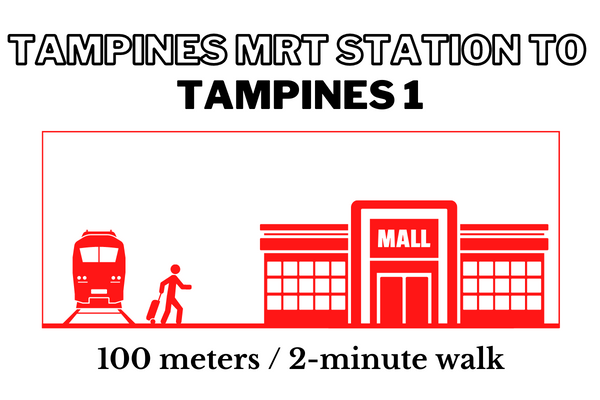 ---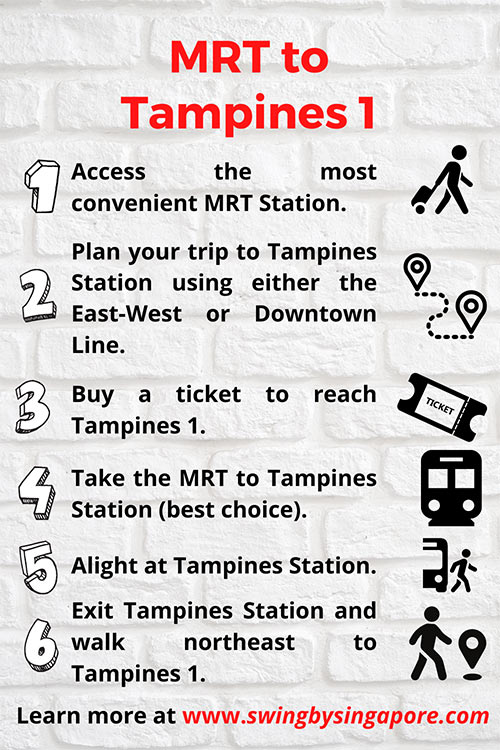 ---
Should you stay near Tampines 1?
Tampines 1 is definitely in a convenient location for shopping and recreational activities. Multiple shopping malls are only a few hundred metres from the station. Despite being a popular venue for shoppers, Tampines isn't very popular amongst tourists. It is pretty far from most of the main sightseeing areas such as Marina Bay, Chinatown and Sentosa Island. 
We searched multiple accommodation websites and had a hard time finding hotels or hostels close to Tampines 1. The two closest ones are located south of Tampines 1, within walking distance of Singapore Expo and Changi Business Park. 
We have included them below for your convenience:
Park Avenue Changi (4-star, 8.4/10 score based on 800+ reviews) 
Capri by Fraser Changi City (4-star, 8.6/10 score based on 1150+ reviews)
We recommend staying closer to Marina Bay and using the MRT to get to Tampines 1 as described in this article. 
---
Conclusion
Hopefully, this step-by-step guide on how to get to Tampines 1 by MRT has given you all the information you need to get there stress-free!
Since you can get to Tampines Station by using both the Downtown or East-West Line, it's an easy place to visit. 
Aside from Tampines 1, you can visit multiple malls in this area.  Century Square and Tampines Hub, and Tampines Mall are within 5 minutes or less from Tampines 1. They are all located on the western side of Tampines Station. It's easy to walk between any of these without breaking a sweat.  
Tampines Hub is an integrated shopping and recreational facility that features an outlet mall, community auditorium, sports courts, and a lot more!
If you are arriving or departing by bus, just walk over to the Tampines Transportation Interchange. It is a few hundred metres northwest of Tampines Station. Many commuters access buses from here to other areas of the city. Remember, either a stored-value card or a Singapore Tourist Pass can work for bus and train services.
Travel north of Tampines Station to Sun Plaza Park or Tampines Eco Green if you want to exercise. Bring refreshments and some running gear.
Please send us an email if you want more information about getting to Tampines 1 Mall in Singapore.  Enjoy your trip and make the most of your day in Singapore!