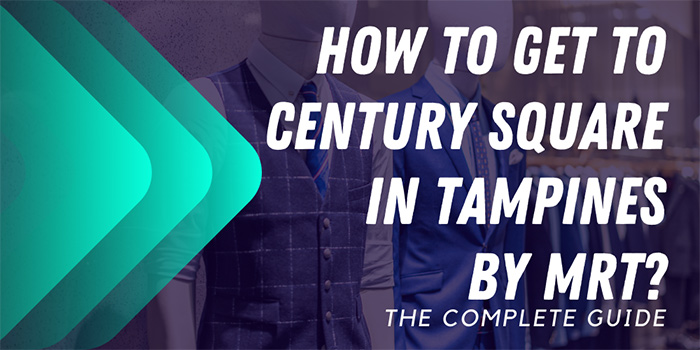 Get to Century Square fast, affordably and stress-free with this detailed guide. 
If you are wondering how to get to Century Square in Tampines by MRT, you have reached the right article.  This is our complete guide on getting to Century Square using Singapore's extensive MRT network. 
And the good news is that you can make it almost directly to this popular mall in Tampines without the need of stepping foot in a vehicle! Forget about
In this article, we will outline all the specific information you need, which will include:
Which lines and stations should you use to reach Century Square in Singapore?
 What kind of ticket should you buy to get there?
What considerations should you make when making an itinerary of the Tampines area?
Multiple shopping centres surround Century Square in Tampines. You can easily spend half a day or a full day in this area once you arrive by MRT. The Tampines Bus Interchange Station is also only 1-2 minutes from Century Square, making it easy to depart the area via bus if that's more convenient.  
---
Century Square in Singapore 
Century Square is a popular 6-storey mall in Tampines, Singapore. It consists of 6 levels of retail, entertainment, and food and beverage options for you and your family to enjoy. 
Since its opening in 1995, Century Square has undergone two major renovations in 2005 and 2018. Fast forward to the present, and Century Square has a modern feel with a roof garden on Level 1 and a new facade. 
When you go shopping at Century Square, you can bring along the whole family. It has large nursing rooms, family car park lots, open spaces for running around and a 24-hour gym. Also, check out the virtual library on Level 4, which is considered to be the first of its kind in the city.  
Century Square is very conveniently located in Tampines. Therefore, if you visit the mall, you can directly walk to other shopping malls and Our Tampines Hub during the same visit. Getting to and from Century Square is super easy using both bus and MRT services.
We will outline how to get there using MRT below!
---
Getting to Century Square in Tampines using MRT:
Step 1: Access the most convenient MRT station.  
Walk or drive to the nearest station when you are ready to begin your MRT trip to Century Square. For most people living in the city, this should be easy because you already know which station is close to your house or condo. 
For tourists visiting Singapore, you probably need to spend a bit more time finding a place to stay that is close to an MRT station.  We strongly suggest taking the time and researching the area and hotel you are going to stay at. 
It doesn't make a lot of sense planning on using the MRT to get around Singapore and go to places like Century Square if you are not staying close to a station. 
Select your Location Wisely
We suggest that you book a room within 500 m or less of a nearby station to ensure that you do not have to use taxis or spend too much time walking in Singapore's intense heat, especially during the afternoon hours. 
Getting to Century Square is much easier if you can walk directly to the closest station.
Here are a few properties that are popular with our readers and very close to adjacent stations (listed below for your convenience):
Marina Bay Sands (5-star, 9.0/10 review score, very close to Bayfront Station) 
The Fullerton Hotel (5-star, 9.0/10 review score, 2 minutes from Raffles Place Station)
Conrad Centennial Singapore (5-star, 9.0/10 review score, close to Promenade Station) 
 Once you have accessed the closest MRT Station, you should be ready to plan your trip to Century Square in Tampines.
---
Step 2: Plan on reaching Century Square via the Downtown or East-West Line.
Please refer to the station information below. We outline which lines you should use and which station is the best for walking directly to Century Square. 
Best Lines and Station for Direct Access to Century Square
Plan on going to Tampines Station (EW2-DT32). 
Tampines Station is without question the most convenient station for direct access to Century Square in Tampines.
Chances are you may have to transfer lines to reach Tampines Station. Therefore, you should know which lines you can use to get there. Tampines Station is part of two metro lines in Singapore:
East-West Line (Green Line)
Downtown Line (Blue Line)
 It is an above-ground station along the East-West Line and an underground station along the Downtown Line. It's possible to transfer lines at Tampines Station, so it tends to be busy during peak periods of the day. 
Please refer to the list below of neighbouring stations to Tampines. 
Pasir Ris Station – north of Tampines Station on the East-West Line.
Simei – south of Tampines Station on the East-West Line. 
Tampines East – east of Tampines Station on the Downtown Line. 
Tampines West – west of Tampines Station on the Downtown Line. 
When you arrive at these stations, you will be only a few minutes away from Tampines Station and Century Square. 
---
Step 3: Buy your ticket to reach Tampines Station. 
You can choose from three main types of tickets to get to Century Square:
1) Stored Value Cards
2) Single/Multi-Trip Tickets
3) Singapore Tourist Passes 
As you might have guessed, single and multi-component tickets are your conventional fare for getting to Century Square.  You can buy these tickets directly at the first station as you begin your trip.
If you are living in Singapore, chances are you already have a stored-value card. 
We used a stored value card while figuring out how to get to Century Square in Tampines by MRT. It worked very well without added stress! Once you purchase a card, you have to make sure that you have a running balance on it. Then, you can use the card interchangeably on buses and MRT rides throughout the city.
Spending 3 days or less in Singapore?
If you are visiting from abroad, then look into buying a Singapore Tourist Pass. 
We strongly recommend these if you are visiting for a short stay and plan on seeing a lot of places in Singapore. 
But there are a few considerations, and you should be familiar with them. 
Once you buy a Tourist Pass, you can enjoy unlimited bus and train rides for a set number of days. You could use it to go to and from Century Square in Tampines. But if you don't use the card a lot, then you might not get all your money out of it. 
In other words,  you have to have a well-planned itinerary before purchasing one of these! If your itinerary is not busy enough to warrant the purchase of one, then you might want to just opt for single or multi-trip tickets.  We strongly suggest getting a Singapore Tourist Pass if you plan on seeing multiple areas of Singapore in a 1-3 day period. 
---
Step 4: Take the MRT to Tampines Station.
With your trip mapped out and your ticket sorted, take the MRT via the Downtown or East-West Line to Tampines Station. This will provide you will conveniently access to Century Square.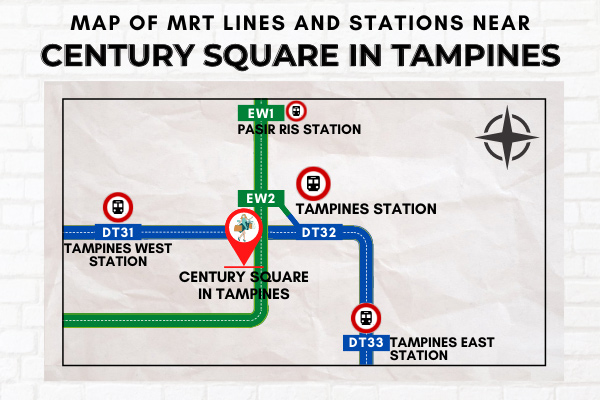 ---
Step 5: Alight at Tampines Station. 
Alight from the train when you arrive at Tampines Station.
Double-check that you haven't forgotten anything on the train. 
---
Step 6: Walk directly from Tampines MRT Station to Century Square. 
Walking from Tampines MRT to Century Square – Directions
When you arrive at Tampines Station, you will have 7 exits to choose from. Both the Downtown and East-West Lines stop here, which means there are many exits and lots of different points of interest in the area. 
The exits to choose from are: A, B, C, D, E, F, G.
The East-West Line Station has three exits on the ground floor, whereas the Downtown Line Station has four exits to street level. 
Exits A, B, C are part of the East-West Line station.
Exits D, E, F and G part of the Downtown Line station.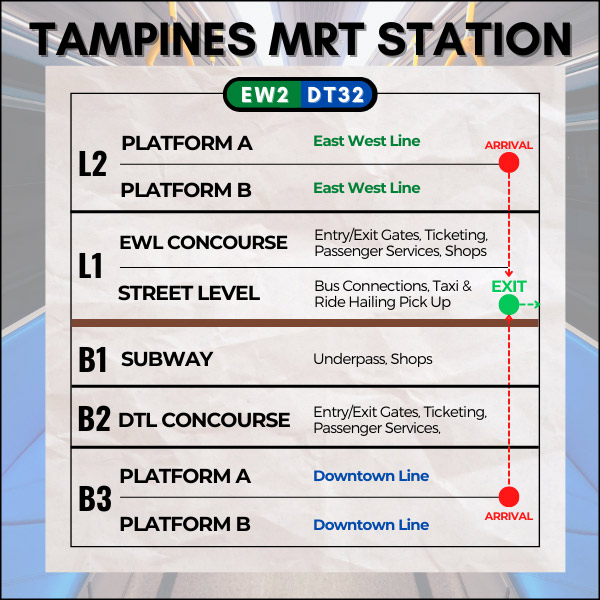 Best Exits?
The best exits for walking from Tampines Station to Century Square are Exit C and Exit F. 
Exit C is part of the East-West Tampines MRT Station (EW2)
Exit F is part of the Downtown Tampines MRT Station (DT32)
Refer to the station map (shown in step 2 above) to see which exit is the best based on the line you are arriving on. 
Once you are out of the station, walk west, and you should see Century Square off of Tampines Central 5. It is directly beside (west of) Tampines Mall.
---
How long does it take to walk from Tampines Station to Century Square?
The walk from Tampines Station to Tampines Hub only takes 1 minute. Century Square is only about 100 meters from the outdoor area of Tampines Station. 
Now, that is convenient!!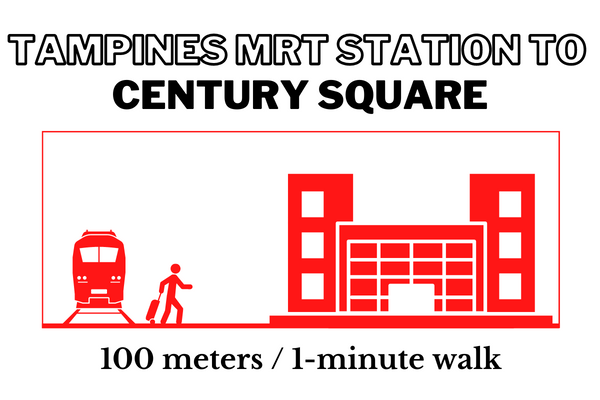 ---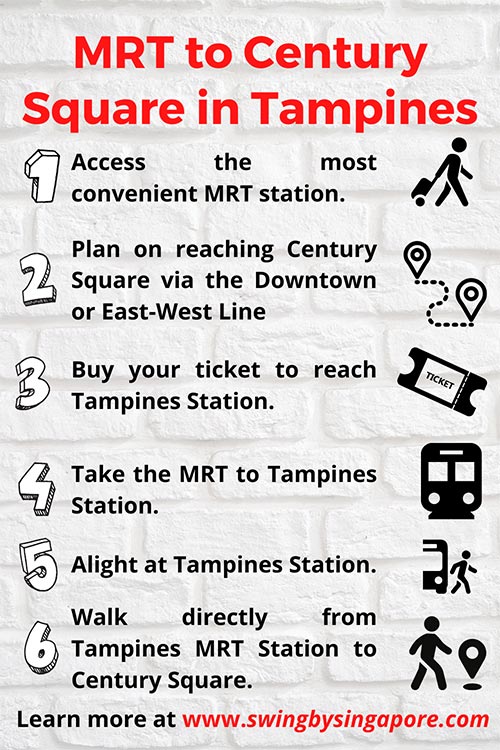 ---
Is staying near Century Square a wise decision?
If you select a place to stay in Singapore, you probably will not book a room near Century Square. 
Although the Tampines area of Singapore is extremely convenient for accessing restaurants and shopping malls, it is not known for a wide range of accommodation options.
This is a busy area because you have Tampines Station directly adjacent to the bus interchange. Therefore, we consider this to be a very convenient place to visit while you are in Singapore, but because there are not a lot of hotels or hotels here, you might as well stay closer to the city center.
Areas such as Marina Bay, Sentosa and Orchard have a lot more hotels to choose from. 
If you are conducting business near the city's Tampa area, you might want to stay a few stations south near Singapore Expo and Changi Business Park. 
These properties are near Expo Station and receive positive reviews from verified guests:
Park Avenue Changi (4-star, 8.4/10 score based on 800+ reviews) 
Capri by Fraser Changi City (4-star, 8.6/10 score based on 1150+ reviews)
The benefit of staying at one of these properties is that you will easily reach Changi Airport and take the MRT directly downtown if needed. 
---
Conclusion 
Ideally, this guide on how to get to Century Square in Tampines by MRT has provided you with all the information you need!
Since Tampines Station is serviced by trains running along the downtown and East-West Line, it is effortless to get out here. And, once you are in the Tampines area, you can conveniently walk to multiple malls and the very popular Our Tampines Hub. 
There are three main malls here in addition to Century Square that you might want to check out:
Tampines Hub
Tampines 1
Tampines Mall 
Tampines Hub is an integrated facility consisting of a shopping centre, hawker stalls and various recreational and sporting facilities. It is very popular with residents in this area. 
 Tampines Mall is directly east of Century Square, whereas Tampines 1 is on the other side of Tampines Station. It is super easy to walk between all of these points of interest around Tampines Station. 
 The Tampines Bus Interchange is only one minute away from Century Square (directly north of the mall). Technically, you could take the MRT to Century Square and then take a bus to another area of Singapore afterwards. 
If you find the immediate area around Century Square to be too congested, you can visit some 'green lungs' further north of this area:
Sun Plaza Park
Tampines Eco Green 
Remember to bring along refreshments, sunscreen and some running gear!
Please send us an email or comment if you need additional information about Century Square or sightseeing in Singapore.  We would be more than happy to assist you in any way possible.