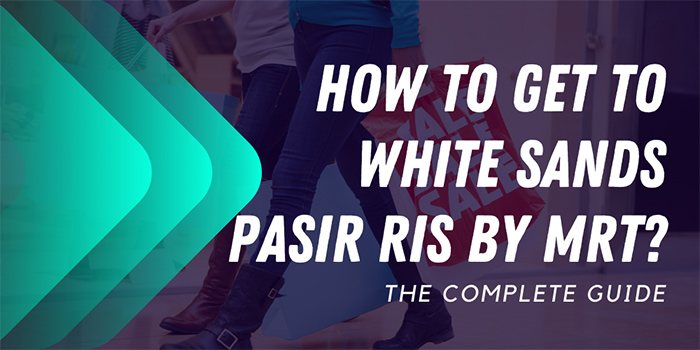 Get to White Sands mall in Pasir Ris fast and affordably with this detailed article. 
Welcome to the complete guide on how to get to White Sands Pasir Ris by MRT? By the end of this article, you will be able to reach White Sands in Pasir Ris, Singapore, without stepping foot in a vehicle. 
We will outline all the steps you need to follow to use Singapore's extensive Mass Rapid Transit system to White Sands. You will be delighted to know that White Sands is very convenient to access by train, eliminating your time spent in traffic. 
You will also save money by avoiding taxi fees, gas for your car and parking fees when you arrive!
In this comprehensive guide, we will also outline:
Which lines and stations should you use to access White Sands in Pasir Ris?
 What is the best kind of ticket for your trip: single-use or multi-use?
What are the most interesting points of interest near White Sands in Pasir Ris?
Once you arrive at White Sands in Pasir Ris, you will access many recreational facilities and delicious restaurants. Although Pasir Ris isn't the famous choice for tourists visiting the city, it's popular with locals and worth checking out! 
---
White Sands in Pasir Ris, Singapore
White Sands, also known as White Sands Shopping Mall, is a 6 level shopping, lifestyle and dining centre right in the heart of Pasir Ris, Singapore. It was the first major mall to be opened in Pasir Ris way back in December 1996. After multiple renovations, fast forward to modern-day, and it's still a popular shopping centre due to its strategic location and wide range of different stores, services and dining options. 
White Sands has approximately 125 tenants (stores and services) spread across the six shopping levels.  
Apart from being a popular shopping destination for locals, White Sands mall becomes quite busy on weekends. This is because Pasir Ris is a popular recreational zone along the eastern coastline of Singapore. Therefore, families head to this area for some fun in the sun and exercise when they are not working.
If you are shopping at White Sands in Pasir Ris, don't forget to check out the basement level of the mall. You will find retail outlets here. 
---
Getting to White Sands in Pasir Ris using MRT:
Step 1: Go to the nearest MRT Station.   
Getting to White Sands in Singapore is super easy if you can efficiently access the MRT Network. In other words, it doesn't make much sense to use the MRT to get there unless you can either walk or get a short ride to a nearby station. 
Then, once you are in the metro, you can relax and make your way there in a stress-free manner. 
Singaporeans and permanent residents already likely know which station is most convenient for their house or condo in the city. So, you can skip down to step #2.
Location is Key 
If you are visiting Singapore, try to book either a hotel or hostel close to an MRT station (preferably in a convenient location like Marina Bay, Chinatown or Orchard). 
Getting to White Sands in Pasir Ris is much easier if you walk directly to the closest station. You will save time by avoiding traffic and save money by reducing taxi and potential parking fees. 
We have researched accommodation options in Singapore and found these three properties that are very close to their neighbouring stations: 
Marina Bay Sands (5-star, 9.0/10 review score, very close to Bayfront Station) 
The Fullerton Hotel (5-star, 9.0/10 review score, 2 minutes from Raffles Place Station)
Conrad Centennial Singapore (5-star, 9.0/10 review score, close to Promenade Station) 
 You can begin 'mapping out' your trip to White Sands using MRT once you enter the nearest station. 
---
Step 2: Plan on reaching White Sands in Pasir Ris using the East-West Line.
We have outlined specific line and station information for your trip to White Sands shopping mall in the section below.  Technically, White Sands is on the East-West Line, but we will also share some transfer information to make your trip easier if you are not staying near the East-West Line.  
Important Line and Station Information 
The best station for directly accessing White Sands is Pasir Ris MRT Station. 
Pasir Ris Station (EW-1) is the first station along the East-West Line (Green Line).  
There is no MRT station north of Pasir Ris, but Tampines Station is the next stop south of Pasir Ris. Therefore, if you arrive at Tampines Station, be prepared to get off at the next stop!
Although Pasir Ris is located on the East-West Line, many commuters get to White Sands by taking the Downtown Line (Blue Line) all the way to Tampines Station. You can then transfer between the East-West Line and Downtown Line at Tampines and take the East-West Line one station north to Pasir Ris. 
As long as you can get on either the East-West or Downtown Line from wherever you are starting in Singapore, it's easy to reach White Sands.  
---
Step 3: Buy your ticket to reach White Sands. 
You can choose from three main types of tickets to get to White Sands:
1) Stored Value Cards
2) Single/Multi-Trip Tickets
3) Singapore Tourist Passes 
As you might have guessed, single and multi-component tickets are your conventional fare for getting to White Sands and the Pasir Ris area of the city.  Buy one of these in the first station at a ticketing machine, and you'll be good to go!
You likely already have a stored-value card if you are staying in Singapore.  
We used a stored value card while figuring out how to get to White Sands in Pasir Ris by MRT. These cards are super easy to use. Once you buy one, top it up and then tap and enter and exit the transportation network. They work for both buses and trains throughout the city. 
Are you visiting Singapore from abroad?
Consider buying a Singapore Tourist Pass if you are visiting from another country. 
We strongly recommend these for 1-3-day trips to Singapore. They are ideally suited for tourists who are doing a lot of sightseeing over a few days. 
You should have an idea of how Tourist Passes work before considering buying one to reach White Sands and other points of interest. 
Once purchased, a Tourist Pass enables you to complete unlimited bus and train rides for a set number of days. You could use it to go to and from White Sands Pasir Ris and other areas of Singapore. 
In other words, you have to be busy with a well-planned itinerary to make them financially worthwhile. Some tourists buy one and then don't use them enough to warrant the initial cost. But, for many visitors, Tourist Passes are the best 'stress-free' transport deal!
---
Step 4: Ride the MRT to Pasir Ris Station.
With your ticket taken care of and your route planned on the MRT map, travel to Pasir Ris Station. Remember, this is by far the best station to access White Sanes in Pasir Ris!
You will stop at Tampines Station directly before Pasir Ris, so move closer to the exit.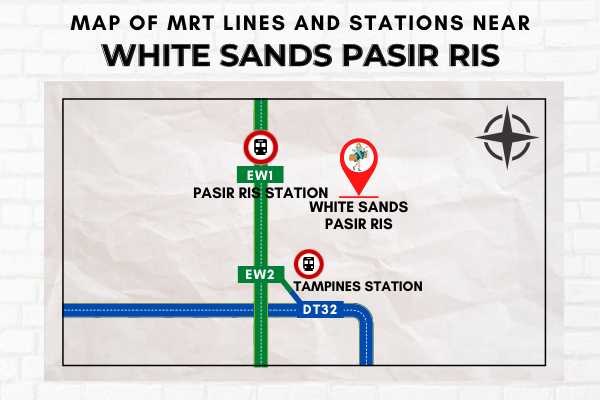 ---
Step 5: Alight at Pasir Ris Station.
Alight from the train upon arrival at Pasir Ris Station. Collect all your personal belongings from the train before getting off. 
---
Step 6: Walk directly from Pasir Ris MRT Station to White Sands.
Directions – Walking from Pasir Ris Station to White Sands 
Pasir Ris MRT Station (EW-1) is an above-ground station. It has three exits (A, B, and C) on the station's ground floor to choose from. 
Take Exit A from Pasir Ris to reach White Sands. 
Once you are out of the station, you will enter a covered walkway that provides shelter to visitors going to White Sands and the Pasar Ris Bus Interchange. 
The walkway between Pasir Ris Station and White Sands has a series of restaurants. 
Walk directly across the walkway and enter White Sands mall using the southeastern entrance (at the time of writing, the entrance sign was blue with white lettering). You can't miss it!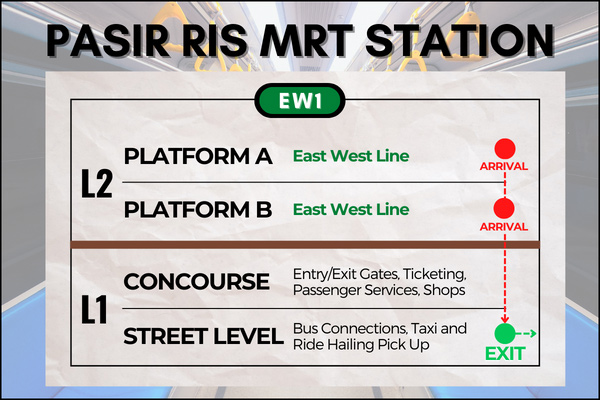 ---
How long does it take to walk from Pasir Ris Station to White Sands?
The walk from Pasir Ris Station to White Sands takes less than 1 minute. White Sands is directly across from the station, so it is only about 30 m from the station's exit to the entrance of the mall. 
Now, that is convenient!!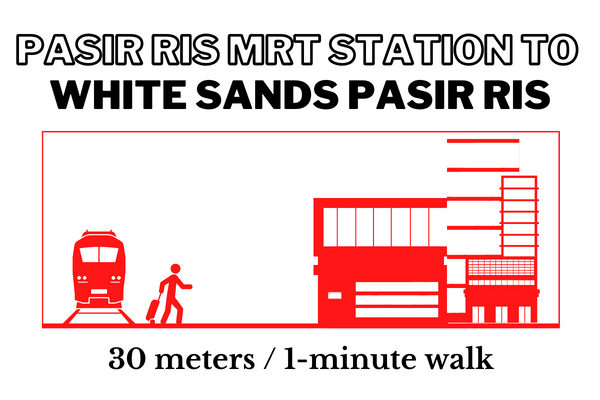 ---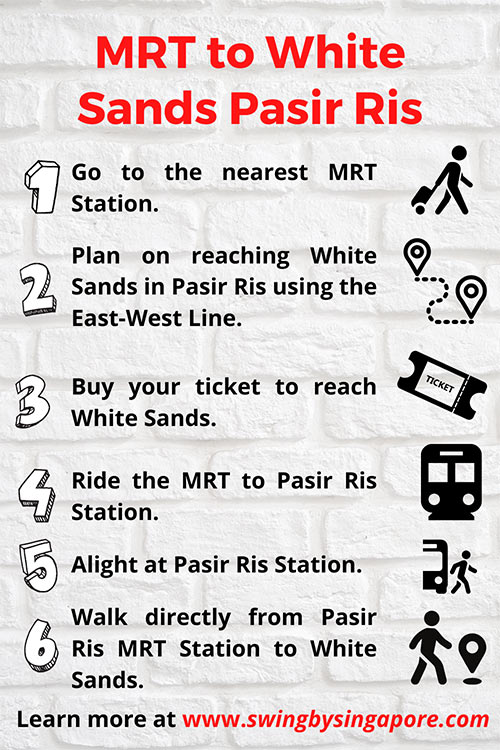 ---
Is staying near White Sands in Pasir Ris a good idea?
Although the Pasir Ris area around White Sands welcomes many weekend domestic tourists from other parts of Singapore, this isn't a popular hotel area. 
Day trips to Pasir Ris are popular amongst locals because there are many outdoor recreational facilities north of the station and mall. You can take the MRT or a bus here and then spend the day outdoors. 
We completed a search of hotels and hostels close to White Sands in Pasir Ris and we only found this property:
D'Resort @ Downtown East (4-star, 7.9/10 score based on 1820+ reviews) 
You should consider staying here if you want convenient access to Wild Wild West @ Downtown East, E!Hub @ Downtown East, and the Pasir Ris area parks and beaches. 
Foreign tourists could stay here or in popular areas such as Marina Bay, Orchard or Chinatown. Since White Sands and this area are connected to downtown Singapore via MRT, it's quite easy to get to this city's corner. 
---
Conclusion 
We hope that this step-by-step guide on how to get to White Sands Pasir Ris by MRT has been helpful!
The interesting thing about taking the MRT to White Sands is that there are also many other things to do once you're here!
Pasir Ris is well known as an outdoor playground for Singaporeans! North of Pasir Ris Station, there are several cool places to check out. There is a popular fishing pond at Pasir Ris Town Park east of the station. 
Then, as you head further north, you will see the Pasir Ris Central Hawker Centre. If you want to try some delicious, traditional dishes, this is the place for you!
Further north, you should consider checking out the shopping and recreational points of interest. Popular places include Wild Wild West @ Downtown East, E!Hub @ Downtown East, and the Pasir Ris area parks and beaches. Pasir Ris Beach, Pasir Beach Park and Pasir Ris Park Playground attract many families throughout the year. 
Remember to bring along lots of refreshments, sunscreen and appropriate clothing because Singapore's sun can get really intense! There is even a bird-watching tower here, so bring along your camera (Pasir Ris Bird Watching Tower in Pasir Ris Park).
You can easily spend 1-2 days in Pasir Ris. Make the most of your time and safe travels!