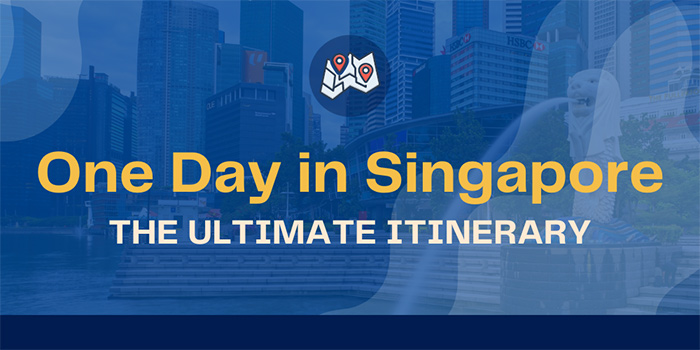 "The best and most exciting itinerary for one day in Singapore'
Should you visit Singapore for only 1 day?
We have written this article to provide you with the best 'one day in Singapore' itinerary. Before we get into all the details regarding your upcoming visit, the first question that we have to answer is whether it is worthwhile to visit Singapore for only one day?
Fortunately, the answer to this question is a definite YES!  Actually, it is hard to find a better city to visit for only 24 hours.  Ideally, of course, you should stay in Singapore a lot longer than 24 hours. 
But we do understand how sometimes you just simply do not have a choice of how long you stay at a destination. Your flight may have changed, or you may have surpassed your travel budget, for example. 
Singapore is an excellent city to visit for only one day because the transportation network is so fast, convenient and affordable. This makes it easy to get around the city to see a lot of sites in a short period of time. A perfect example of this is flying into Changi Airport.  Since the MRT is directly attached to the airport, you do not even have to step into a vehicle to make it downtown to popular areas such as Marina Bay and Chinatown.
A lot of the major attractions in Singapore are also quite close to each other. There are specific clusters of tourist sites in certain areas. Once you access an area like Marina Bay, then you can quickly get from one attraction to the next. 
When you are making a one-day itinerary for Singapore there are some serious considerations that you must make. In the section below, we are going to discuss some of the variables that you should think about.
---
Considerations for one day in Singapore
If you are spending only one day in Singapore, then you have to be very well prepared to maximize your sightseeing experience. Being organized will save you serious time and money. 
You should know where you want to go, and how you want to get there!  Here are some additional considerations that you should be thinking about before you arrive.
Accommodation – where to stay?
Selecting a strategically located hotel in Singapore is key to having an efficient and affordable trip to the city. You should book a room that is very close to an MRT station to minimize the amount of time and money you spend on taxis and private vehicles.  Also, keep in mind that if you use public transportation such as the MRT or bus network, then you do not have to worry about parking a vehicle or parking expenses during your entire trip!
Location is also super important in terms of what area you stay in. For instance, if you stay far away from the core attractions, then you will waste time getting to them throughout your one day in Singapore. 
Marina Bay and Chinatown are two great areas for staying with direct access to the MRT. 
You can read this comprehensive article on where to stay in Singapore to learn more about the best areas to stay and how much they cost. 
How do you want to get around?
Singapore has an extensive selection of ways to get around the city. Actually, the transport infrastructure in Singapore is truly impressive in comparison to other cities in Southeast Asia.
We strongly suggest you use the MRT as much as possible. It services all major tourist areas. You will bypass traffic, save money and help the environment. The last thing you want to do with 24 hours in Singapore is to spend an hour in a traffic jam!
You should book a hotel within walking distance to a station. A few common examples include:
Fairmont Singapore (5-star, 8.9/10 review score) – beside Esplanade Station
Chic Capsule Otel (2-star, 8.6/10 review score) – beside Chinatown Station. 
The Fairmont is beside Marina Bay, whereas Chic Capsule is in Chinatown.
---
Singapore Itinerary for 1 Day
Day 1: Morning 
Book a room in the Marina Bay area
If you can afford it, try to stay at a hotel in the Marina Bay area of the city. Since you only have one day in Singapore, get as close to the major attractions as possible. This will limit your travel time between sites. 
Some of the most popular hotels in Marina Bay include:
Marina Bay Sands (5-star, 9/10 review score) – beside Bayfront Station
The Fullerton Bay Hotel (5-star, 9.2/10 review score) – beside Raffles Place Station
The Capitol Kempinski Hotel Singapore (5-star, 9.3/10 review score)
Start your day in Singapore with a delicious breakfast at your hotel. Food choices and drinks should be plentiful at any of the properties listed above. 
Tour world-famous Marina Bay and its surrounding attractions (2 to 4 hours)
Walking around scenic Marina Bay will naturally lead you to some of Singapore's most famous attractions. 
Try to start at the Merlion, which is a famous and iconic landmark representing Singapore. Snap photos of stunning Marina Bay Sands across the bay with water reflections. 
Walk around Marina Bay and visit either Singapore Flyer or Sands SkyPark. If you had more than one day in Singapore, you would probably visit both of them!  
The SkyPark and Flyer are famous because they offer breathtaking skyline views of Singapore's downtown area. You cannot leave Singapore without getting skyline photos, and that's why we have added these places to your itinerary.
Then walk from Marina Bay Sands to Gardens by the Bay.  
This is a fascinating outdoor area that has become one of the most popular attractions in Singapore over the last five years. It features family attractions such as Flower Dome Cloud Forest and Supertree Grove. All of these are worth a visit, but you may have only time for one!
---
Day 1: Afternoon
Eat lunch at a celebrity restaurant in the Shoppes at Marina Bay Sands. (30 minutes to 1 hour)
After walking around Marina Bay, go to The Shoppes at Marina Bay Sands.  This is a beautiful mall that is physically connected to Marina Bay Sands Hotel.
It boasts the most extensive selection of celebrity-chef restaurants in the city. Enjoy the ice-cold air-conditioning, and get ready to take the MRT to your next destination. 
Ride the MRT from Bayfront Station to Chinatown Station. (10 minutes)
Once you have explored the Marina Bay Area, next walk from The Shoppes at Marina Bay Sands to Bayfront Station. Take the MRT two stations northwest along the Downtown Line until you reach Chinatown Station. 
Alight at the station and then exit to access Chinatown.
Explore Chinatown – one of Singapore's most fascinating areas. (1-2 hours)
Your one day in Singapore itinerary continues in Chinatown. 
This is one of Singapore's most famous areas and rightfully so! It's renowned for boutique hotels and hostels, and this is 'backpackers central'.
Explore some of the street markets in Chinatown and consider visiting a few of the famous temples such as Buddha Tooth Relic Temple and Sri Mariamman Temple.  Buy a few souvenirs and take some photographs before leaving this area.
Try some street food from a hawker stall and soak up the bustling atmosphere. This is a great place to buy souvenirs if that's your thing!
Return to your hotel for some pre-dinner relaxation. (2 hours)
You can continue sightseeing all day in Singapore if you want. But, the chances are that you will want to get some relaxation before a busy evening in the city.
In this case, head back to your hotel and spend some time in your pool or at the spa.  You should have no problem getting top-notch service and treatments if you are staying at one of the luxury hotels in Marina Bay.
Marina Bay Sands has a superb infinity pool, consider staying there if you love pools with a world-class skyline view.
---
Day 1: Evening
Dine at Boat Quay along the scenic Singapore River. (2 hours)
Fortunately, Singapore has countless restaurants to choose from. This can make it challenging to select the 'right spot' for your one day in Singapore. 
Different people like different types of food.  Furthermore, the ambiance that we enjoy may not be the same as what you enjoy. 
We do recommend eating along the Singapore River if possible, however. 
Boat Quay, Clarke Quay and Riverside Quay are three beautiful areas for dining.  You can also walk to these areas if you are staying at a hotel in Marina Bay.  This is a scenic and highly recommended walk.
Enjoy a bottle of wine and some seafood as you talk about your one day in Singapore. 
Just remember, it isn't over yet!
Head out for some nightlife! (3-10 hours!)
Your day in Singapore would not be complete without being entertained and having a night out!
Start the evening by watching a world-class production show at either the Esplanade or Sands Theatre. Expect 'Broadway-level' shows that are sure to impress.
Then, head out for some drinks to one of the city's sky bars or Clarke Quay.
Clarke Quay is a great spot for hanging out, watching live music and dancing. You can access this area using Clarke Quay MRT Station if you are tired of walking.   
Another option instead of partying is going to one of Singapore's casinos. Both Sands Casino and Resorts World Casino are popular with visitors to the city.
Go to Sands Casino if you are staying in Marina Bay.
---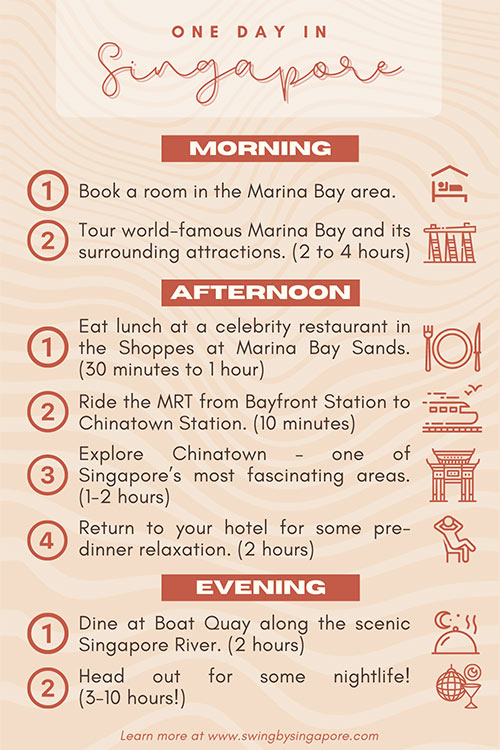 ---
Any questions about this 1-day itinerary for Singapore?
It is challenging to prioritize attractions in Singapore.  This is especially true over one day in the city. There are so many things to see and do, which makes it tough to figure out a concrete plan. 
We have provided some suggestions in this itinerary.  Some will work for you, and some will not! Our goal is not for you to follow this itinerary right down to the second.  Instead, take what you can from it to make your trip the best that it can be!
In terms of accommodation, you may want to stay in Chinatown if you are following a strict budget.  In this one day itinerary, we assumed that you would stay in Marina Bay. Still, this area can be pricey, especially if you are a budget traveller (for example, a backpacker).  
Chinatown is a practical alternative because it is still close to Marina Bay, but there are far more hostels and boutique hotels to choose from.
If you are travelling with a family, then you might want to spend more time on Sentosa Island as opposed to Marina Bay.  Sentosa island is loaded with family attractions that are also very popular amongst guests. For example, you can explore Universal Studios and other exciting attractions such as Adventure Cove Waterpark.
Singapore Zoo and Singapore Night Safari are also very popular with families.  We chose not to include them in this itinerary because they are quite far from the city center, and the transportation required would take up a lot more of your time. Remember, this is a one day in Singapore itinerary. If you were staying longer, then we would recommend heading to one of these attractions.
Please reach out to us if you have any more questions or suggestions about itineraries for Singapore. We are always happy to hear from our readers. Kindly send us an email, and we will try our best to help!