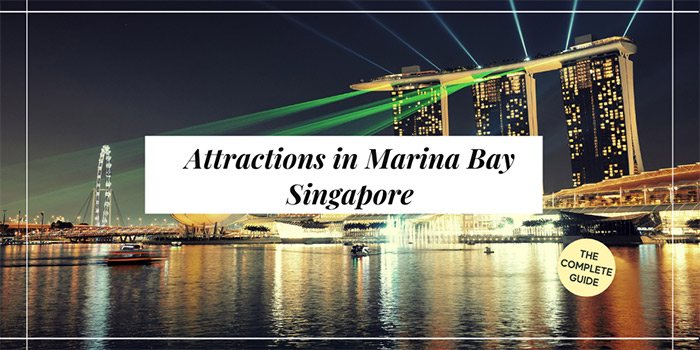 "The complete overview of the best attractions in Marina Bay, Singapore."
Why should you visit Marina Bay in Singapore?
You are reading the right article if you want to learn about the attractions in Marina Bay.  
Based on our extensive travel experience in Singapore, we are the first to say that Marina Bay is one of the most beautiful, 'must-see' areas in the entire city.  Not only is it loaded with things to see and do, but Marina Bay is also the best place in the city to capture panoramic skyline views of Singapore.
There are a few areas in Singapore that you must see before you leave the city. Fortunately, Marina Bay is one of them. As a bonus, Marina Bay is also exceptionally well serviced by the MRT Network. Consequently, it's super easy to access this area from multiple MRT stations that are part of numerous MRT lines. Heck, you can even get to Marina Bay from the airport using MRT.
It's also possible to enter the Marina Bay area using one MRT station and leave using another.
Convenient area to stay
Marina Bay is also one of the most convenient areas to stay in Singapore. As you might have guessed, with so many attractions in Marina Bay, there is a high demand for hotel rooms here. As a result, many of Singapore's best luxury hotels are right beside Marina Bay. It's entirely possible to book a room here and walk to the Bay in less than 1 minute!
A few of the top properties in Marina Bay include the Fullerton Bay Hotel (5-star, 9.4/10 review score) and Marina Bay Sands (5-star, 9/10 review score). When you stay at one of these properties in Marina Bay, you can capture superb views of the waterfront and the surrounding cutting-edge architecture.
While you are building a Marina Bay itinerary, it's super easy to walk from one attraction to the next without using a vehicle. This convenience saves money throughout a 3-day trip to the city. There are also multiple shopping malls within minutes of Marina Bay. With extensive food courts at these malls, you should have no problem rejuvenating between attractions. 
---
Top Attractions in Marina Bay
Now it's time to go over the top attractions in Marina Bay. For this section, we have numbered the attractions. But, they are in no specific order because we know that everybody loves different types of attractions! Choose the ones that interest you the most and add them to your itinerary.
1) Sands SkyPark – Amazing views and photos!
Sands SkyPark is a 'must-see' attraction in Marina Bay. This is arguably the best place in the entire city to capture panoramic views of Singapore's amazing skyline.  Not only do we consider this to be one of the best sights in Marina Bay but it is also one of the best sites in the entire city!
Sands SkyPark is a viewing platform that is located at the 57th level of Marina Bay Sands Hotel. To get to the SkyPark, enter the hotel lobby area and ask the hotel staff how to get there. They will direct you to one of the elevators in the lobby, and you should be there in no time!
Take the elevator up to the 57th level and be prepared for world-class views of Singapore's skyline.  Be sure to bring along a camera and a selfie stick for some of the best photos you've ever taken anywhere!
You might want to go to Sands SkyPark a few times before you leave to capture different photos when the sun is at different positions in the sky.
---
2) Gardens by the Bay – the innovative and exciting 'green-space.'
After checking out Sands SkyPark, consider exploring nearby Gardens by the Bay.  
Since it opened, Gardens by the Bay has become of the most popular attractions in all of Singapore.  This is a futuristic garden complex that features all kinds of cool activities and experiences for people of all ages.  
Not only is it massive, but Gardens by the Bay is also such a great educational place to visit. This area is incredible if you are travelling in Singapore on a budget because a lot of the Gardens are free to explore!
However, if you want to get a taste of the best experiences at Gardens by the Bay, you have to pay upon entry.  Some of the most popular places to visit within Gardens by the bay include:
 Flower Dome
Cloud forest
Supertree Grove
These are very popular with families and children in the city. Expect many awesome photo opportunities and educational experiences. 
---
3) Marina Barrage – an impressive recreational facility

. 
Singapore is such an innovative city, and Marina Barrage is a perfect example of smart decision making.  Marina Barrage was originally built to help Singapore maintain an adequate supply of fresh water. But now it has become one of the coolest recreational areas in the city, and one of the best attractions in Marina Bay.
You can do different watersports here, but our favourite spot at Marina Barrage is the 'green-roof'.  This is a fantastic spot to hang-out and capture pictures of Marina Bay Sands and Singapore's skyline. 
---
4) ArtScience Museum – where art meets science.
ArtScience Museum has a cutting-edge architectural design that is sure to capture your attention. Ideally located directly beside Marina Bay and the Shoppes at Marina Bay Sands, this museum manages to interrelate art, science, culture and technology.
Some of the world's most famous artists' works are displayed here.
The cool thing about visiting the ArtScience Museum in Singapore is that the exhibitions change. This means that you can visit one year, and the next time, you will enjoy a different experience.  
---
5) Red Dot Design Museum – cutting-edge!
After a visit to the ArtScience Museum, walk a few hundred meters west along the waterfront to the Red Dot Design Museum. 
This is a boutique museum that showcases attractive new designs that have won awards. The exhibitions here showcase works from different disciplines that are sure to get your attention. 
There is also a lovely waterfront cafe that is an ideal place for a snack or lunch break. You can capture beautiful pictures of Marina Bay here with a wide-angle lens.
---
6) The Merlion at Merlion Park
Walk around Marina Bay and The Fullerton Bay Hotel until you reach The Merlion. It is located in Merlion Park. This is without question one of the top attractions in Marina Bay.
A visit to Singapore wouldn't be complete without a visit to the Merlion. 
This is the most famous and iconic symbol of Singapore.  As its name suggests, this is a hybrid of a mermaid and a lion. Although sort of an interesting combination, it seems to work and tourists love the design! 
Merlion Park can get busy during peak hours. 
It is a wise idea to keep tabs on the Merlion to see how many people are there as you walk around Marina Bay. Ideally, try to capture unobstructed photos here with Marina Bay Sands in the background of your selfies.
---
7) The Singapore Flyer – the largest Ferris wheel in Asia!
The Singapore Flyer is one of the best places to take photos of Marina Bay and the famous skyline.  It is currently ranked as Asia's largest observation wheel. It stands at a stunning 165m above the ground. 
Unlike many 'wheels' around the world, you can also experience fine dining as you travel on the 'Flyer'. They offer a delicious 4-course meal that is sure to excite your taste buds from 165 meters up!
---
8) Helix Bridge – DNA???
Finish your walk around Marina Bay by crossing Helix Bridge.
This is a truly impressive steel footbridge that opened in 2010. As you may have guessed, its design was inspired by the curved form of the structure of DNA. Photogenic on its own right, Helix Bridge is another ideal spot to take photos of Marina Bay and the surrounding skyline. 
The developers did a great job of making sure that the bridge plays both a functional and tourism-focused role! As you walk across look-out for 'photo-taking areas'. They knew this bridge would be a big hit with tourists well before it was even built!
---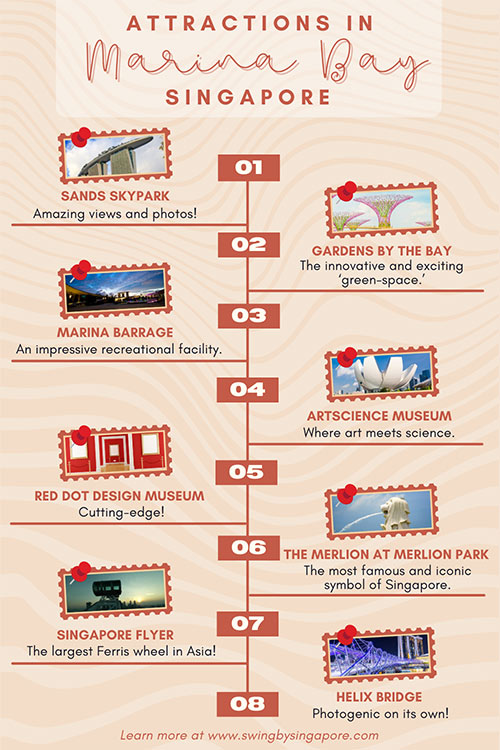 ---
Final thoughts about the best attractions in Marina Bay
Although we have discussed some of the best attractions in Marina Bay, you may have more experiences and suggestions that you want to share.  Feel free to send us an email or provide a comment below if that's the case.  Remember, this is not an exhaustive list of things to do in Marina Bay. We are merely outlining what we think are the best attractions in this area.
Also consider checking out all the malls in the Marina Bay area such as Marina Square, Millenia Walk, Suntec City and the Shoppes at Marina Bay Sands. You will find lots of dining options that are entirely air-conditioned during Singapore's hottest hours! 
Although not technically an attraction per se, Sands Casino is a trendy place for visitors in Singapore.  Catching a show at Sands Theater or the Esplanade is a perfect way to enjoy your evening in this area.