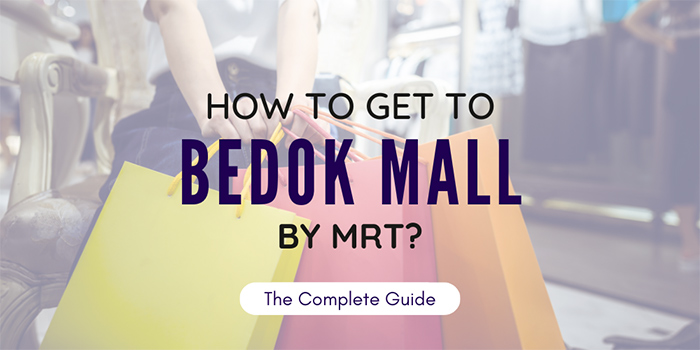 Get to Bedok Mall fast and stress-free with this step-by-step guide.
Welcome to our guide on how to get to Bedok Mall by MRT. By the end of this comprehensive article, you will know how to use Singapore's extensive MRT network to get right to Bedok Mall. 
Fortunately, Singapore's metro services most areas, making it super easy to access this shopping centre. Actually, MRT is probably the best way to get here with seamless integration. 
Aside from directions, we will also highlight the types of ticket options available, other points of interest near the mall, and where are the most convenient places to stay.
Using the MRT to access Bedok Mall is also a wise decision from a financial point of view. You will avoid taxi fees, parking fees and all the headaches associated with being stuck in traffic. 
---
Shopping at Bedok Mall in Singapore
Bedok Mall is the commercial component of a mixed-use complex in Bedok Town Centre.  It is a very well-established mall and was the first major shopping centre built in Bedok.
Bedok Mall has over 200 shops spanning three levels of approximately 220,000 square feet. Above the mall, there are 583-unit residential units available. 
Due to its convenient connectivity with Singapore's MRT network, you can easily stop here to buy groceries, lifestyle and fashion products. There are several restaurants throughout Bedok Mall and services such as spas and tuition centres.
Some additional services that you will find at Bedok Mall include
Customer Service Counter
Parking Services for vehicles and motorcycles
Complimentary Wifi
Nursing Rooms
Complimentary Babystrollers and Wheelchairs
POPStation
ATMs
At the centre of Bedok Mall is a large atrium. It's common to see special events hosted here and major retail promotions. 
With several residential buildings around Bedok Mall and a convenient hawker centre next door, the mall can get very busy on weekends and holidays. 
---
Getting to Bedok Mall using MRT
Step 1: Access the closest MRT station. 
Before heading to Bedok Mall via MRT, you must find the closest station.
If you are staying downtown, your hotel is likely close to at least one station. Booking a room in Singapore in a strategic area close to a station can make getting around much faster (and cheaper). 
Here are a few properties to get you started if you need to book a room in Singapore:
Capitol Kempinski Hotel Singapore – 2 minutes from City Hall Station
The Fullerton Hotel Singapore – 2 minutes to Raffles Place Station
Some of the most popular areas to stay in Singapore include Marina Bay, Bugis, Chinatown, Sentosa and Little India. 
---
Step 2: Plan your route to Bedok Mall – Lines and Transfers. 
Singapore's MRT is connected to most areas of the city. So the main thing you need to plan for on your way to Bedok Mall is which lines to take and where to transfer along the way!
Bedok Mall is located along Singapore's East-West Line, which is green on the MRT map. 
You must take the East-West Line to Bedok Station to directly access Bedok Mall. 
Since the names are the same, you shouldn't have trouble remembering this station!
Paya Lebar Station and Tampines are two of the closest and most popular interchange stations for accessing the East-West Line and Bedok Mall. 
MRT maps are posted in each station and train, so plan your transfers in advance. 
---
Step 3: Purchase a card to reach Bedok Station (EW5).
You can access Bedok Mall via MRT using two main forms of cards.
Tourist Passes

Stored Value Cards
Stored value cards are the most popular. There are a few different types of these, such as the EZ Link Card.
We used a stored value card while figuring out how to get to Bedok Mall by MRT.
The second main option is buying a Singapore Tourist Passes.
These are reserved for foreign visitors in Singapore and allow unlimited bus and train rides for a set number of days. Usually, they are valid for 1-3 days, depending on how much you pay. 
Credit cards can be used if the tap or wave feature works. 
---
Step 4: Ride the MRT to Bedok Station, making any necessary transfers. 
Once you're ready, head to Bedok Station on the East-West Line. 
Bedok Station has two neighbouring stops that you should be familiar with
Kembangan Station (EW6) – West of Bedok
Tanah Merah (EW4/CG) – East of Bedok
Once you stop at either one of these, you might as well move closer to an exit on the train. Tanah Merah is particularly busy with commuters heading to and from Changi Airport from popular areas such as Marina Bay.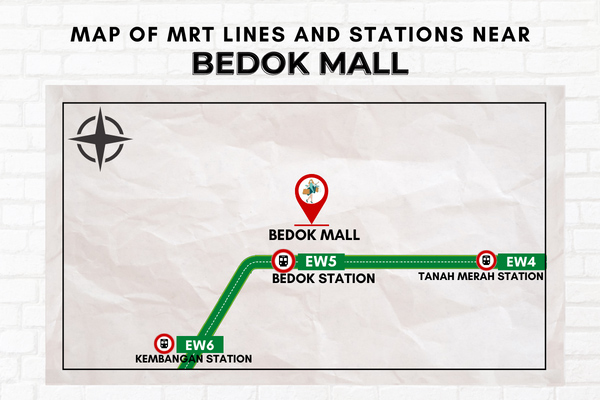 ---
Step 5: Alight at Bedok Station (EW5).
Get off the train when you arrive at Bedok Station. Bring all your stuff!
---
Step 6: Travel from Level 2 of Bedok Station to Basement Level 1 to access the correct exit. 
Bedok MRT Station (EW5) is built above-ground near the boundaries of Bedok North and Frankel planning subzones.
The station consists of three primary levels.
L2 Train Platforms
L1 Concourse and Street Level
B1 Basement Underpass
You will arrive at the Level 2 train platforms. 
Follow the station signs down to B1 Basement Underpass. 
You can take stairs, escalators or elevators.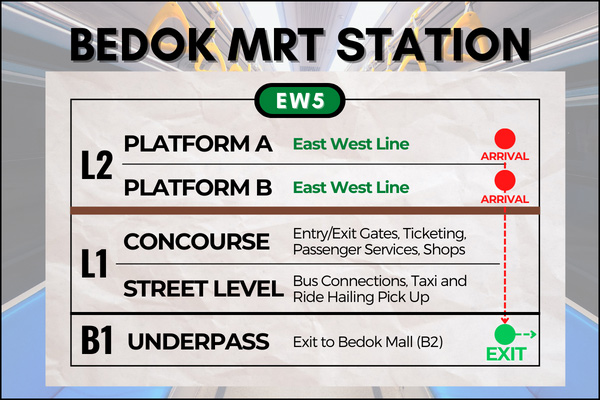 ---
Step 7: Take Exit C at Bedok Station.
Once you reach B1 of Bedok Station, follow the signs and take Exit C to access Bedok Mall.  
---
Step 8: Walk directly from Bedok Station to Bedok Mall. 
Exit C at Bedok Station will lead you straight into the Basement 2 link to Bedok Mall. 
---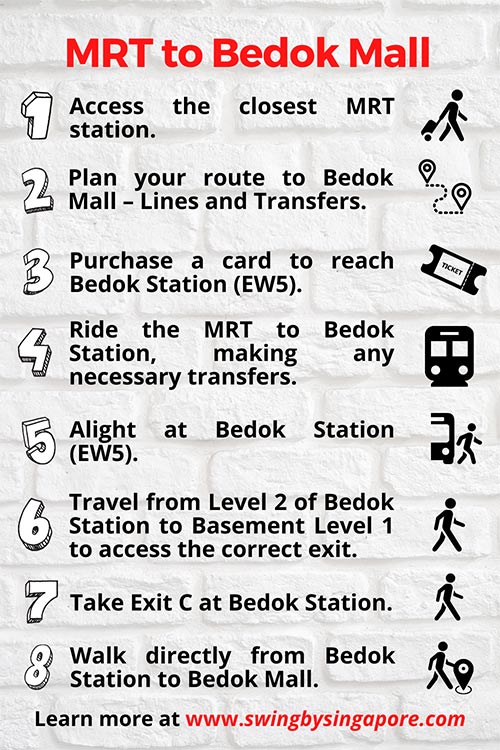 ---
How long does it take to walk from Bedok Station to the Mall?
Bedok Mall is only about 200 meters north of Bedok Station. Using the underground linkway, you can walk between the station and the mall in under 3 minutes. 
---
Other Points of Interest near Bedok Mall
The immediate area around Bedok Mall is densely packed with residential buildings, event venues and hawker centres. 
Directly northeast of Bedok Mall is Bedok Town Square. This is a popular event venue that you can walk to from the mall. 
Bedok Interchange Hawker Centre is directly east of Bedok Mall. Head here if you want affordable, delicious meals. 
Bedok Public Library and Heartbeat@Bedok ActiveSG Swimming Complex are northeast of the mall. These are popular community facilities for families living in Bedok. 
Bedok ActiveSG Stadium is about 1 km east of Bedok Mall.
---
Best Places to Stay 
Bedok is a massive area of Singapore. Despite its size, the area around Bedok Mall actually has very few hotels and hostels to choose from. 
There are several condos and apartments here, but most tourists/business people choose to stay either closer to downtown (Marina Bay, for example) or closer to Changi Airport. 
Two of the closest listed properties to Bedok Mall are
Q Loft Hotels@Bedok
Hotel 81 Changi
But they are not conveniently located if you plan on shopping here. 
We recommend finding a comfortable place to stay downtown and using the East-West MRT Line to Bedok Mall for the day. 
---
Conclusion
Ideally, this guide on how to get to Bedok Mall by MRT has been detailed enough to get you there efficiently and affordably. 
Remember, Bedok Mall is actually right north of the station. So getting from the station to the mall is the easiest part of your trip using the B1 Basement connector.
Getting to the East-West Line might require pre-planning, especially if you are staying along another MRT line. Fortunately, several interchange stations are available, and there are clearly labelled MRT maps in stations throughout Singapore. 
The direct area around the mall is not the most convenient place to stay as a tourist, so consider booking a room elsewhere and using the MRT here for the day.