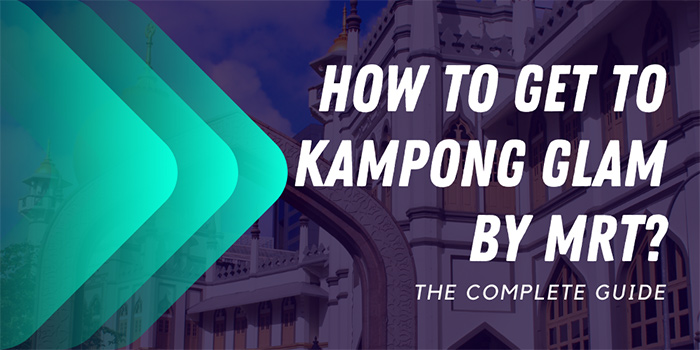 Get to Kampong Glam (one of Singapore's most interesting cultural areas) fast and easily by following the specific steps in this guide.
Welcome to the step-by-step guide on how to get to Kampong Glam by MRT. 
We have consistently used the MRT as our mode of transportation to and from Kampong Glam on many occasions. Based on our experiences, we will share all the steps required to get there fast and easily using the MRT.
In addition to information about transport lines and stations, we will also focus on:
How to save money on your way to Kampong Glam?
What attractions and points of interest are there in Kampong Glam once you arrive and how can you get the cheapest deals?
Accommodation information – should book a room in Kampong Glam or elsewhere?
One of the most convenient things about visiting Singapore is the amazing public transportation system that they have developed. 
You can literally visit the city for a week and not even step in a vehicle. There are currently numerous MRT lines and many more in development. Therefore, take advantage of the fast, affordable, and convenient MRT system as you travel to Kampong Glam using the directions outlined below. 
---
Why should you visit Kampong Glam in Singapore?
Kampong Glam is one of the most exciting areas to explore in Singapore. It is widely known as Singapore's main Muslim Quarter. It is oriented around Arab Street, consisting of 19th-century shophouses that have been converted into stores selling textiles and restaurants specializing in spicy Malay and middle eastern cuisines. 
Visitors to Kampong Glam genuinely love the colourful shophouses, photogenic mosques and delicious cuisine. You might even be impressed by the broad selection of streetside shops selling fabrics, jewellery, and so much more. 
Similar to Chinatown and Little India in Singapore, Kampong Glam is a 'cultural area' that is worth exploring while you are in the city. It has an eclectic blend of history, culture and a surprisingly trendy dining scene.
Interesting Points of Interest
A visit to Kampong Glam is not complete without visiting some of its main points of interest. Sultan Mosque and Malay Heritage Centre are two historical places of interest. Furthermore, Haji Lane is sure to impress you. As its name suggests, this is a narrow, colourful lane of artsy boutiques, hip bars and trendy cafes. It is considered to be one of the best streets, not only in Singapore but in the entire world for tourists.
You should also try dining along Bussorah Street. This is one of the best dining streets in Singapore, with fantastic views of Sultan Mosque directly from some of the street-side tables. 
Over the last 10 years, Kampong Glam has become more popular with budget tourists. 
Currently, there is a solid selection of budget-friendly boutique hotels and hostels to choose from here. You can find all kinds of affordable room options within only a few minutes of the nearest MRT station. 
A few popular examples include:
CUBE Boutique Capsule Hotel @ Kampong Glam (2-star, rated 8.7/10)
Beary Best! Kampong Glam (2-star, rated 8.6/10)
Kampong Glam is northeast of Marina Bay and southwest of Little India, making it a convenient area to integrate into your itinerary. You can directly access it via MRT as outlined below.
---
Specific Details – Getting to Singapore Clarke Quay by MRT
Step 1: First, access the most convenient MRT station to begin your journey to Kampong Glam.
Whether you are a visiting tourist or living in Singapore, staying close to an MRT should be a priority. It makes getting around the city so much easier and way more affordable. First of all, you avoid parking fees and road congestion. Secondly, it's more environmentally friendly than using taxis all the time. 
If you plan a trip to Singapore, try to be within 500 m or less of a convenient station. Therefore, you will be able to reach Kampong Glam super-fast without walking too far in Singapore's extreme heat. 
Here are a few conveniently located hotels to you started with your search if you are a tourist planning a trip to the city:
Raffles Hotel Singapore (5-star, 9.4/10 review score, very close to Esplanade Station) 
Marina Bay Sands (5-star, 9.0/10 review score, very close to Bayfront Station) 
Chic Capsule Otel (2-star, 8.5/10 review score, 2 minutes from Chinatown Station)
With your accommodation sorted, proceed to Step 2 of how to get to Kampong Glam by MRT, below!
---
Step 2: Purchase either a ticket or card for the MRT network. 
Conveniently, you can select from a few different tickets for your trip to Kampong Glam.
Try to select the right kind of ticket based on your itinerary and whether you are staying in Singapore or only visiting for a day or two. 
The questions below are designed to point you in the right direction:
How long are you in the city, three days or more?
How frequently do you want to wait in ticketing lines while travelling around the city?
Are you just travelling to/from Kampong Glam, or do you have a busy itinerary with a pile of different points of interest?
Next, refer to the information below to finalize your decision:
Singapore Tourist Passes

Stored value cards
Singapore Tourist Passes are the best choice if you want to travel all over the place in a short period of time (typically 3 days or less). We recommend these for foreign tourists spending 1-3 days in Singapore. 
We highly recommend buying a multiple-attraction pass to use alongside your transportation card. You can save up to 52% on Singapore's best attractions by pre-purchasing entrance tickets. At the time of writing, over 200,00 of these have already been sold.
Once you purchase a Tourist Pass, you can use the card for unlimited bus and train trips, including your trip to Kampong Glam.  
Learn More: The Complete Guide on Buying Singapore Tourist Passes – Everything You Need to Know.
Other MRT Tickets for your trip to Kampong Glam
You can also buy single-trip tickets/multi-trip tickets to Kampong Glam. You can buy these in MRT stations throughout Singapore. Try to avoid busy travel times throughout the day (such as rush hour) 
Stored value cards are the third popular ticket you can buy to reach Kampong Glam. 
There are a few different kinds of stored value cards. Simply buy one, top it up with cash, and tap it to enter and exit the MRT network. We used a stored value card while figuring out how to get to Kampong Glam by MRT. 
You don't want to get unexpectedly slowed down on your way to Kampong Glam, so be sure to carry an extra balance on your card at all times.  
Additional Information: How to buy MRT tickets in Singapore – The Ultimate Guide. 
---
Step 3: Plan on riding the MRT to Bugis Station.
Bugis Station is by far the most popular station for accessing the attractions in Kampong Glam. This station is located along two different MRT Lines in Singapore:
East-West MRT Line (Shown in green colour on the metro map)

Downtown Line (Purple on the map)
Since Bugis Station is located on two metro lines, it has four neighbouring stations. We have summarized them below for your convenience:
East-West Line
Lavender MRT Station

City Hall MRT Station
Downtown Line
Rochor MRT Station 

Promenade MRT Station
With a station map, you can plan your journey (including line transfers) to Bugis Station and Kampong Glam.

---
Step 4: Travel on the MRT to Bugis Station.
With your route planned, it's time to ride the MRT to Bugis Station. 
As you approach one of Bugis' neighbouring stations, move closer to one of the exits and bring all your belongings.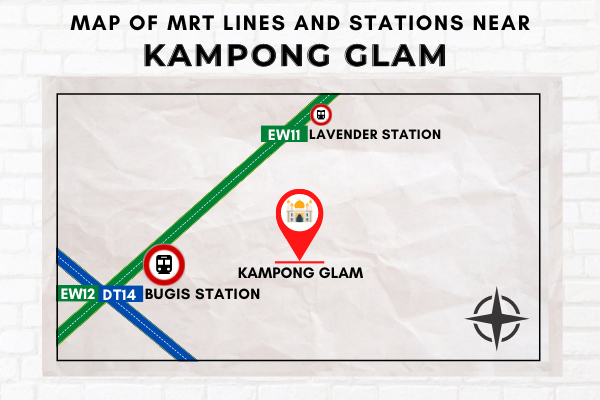 ---
Step 5: Alight from the train at Bugis.
Get off the train at Bugis Station, and begin looking for exit signs from the station.
---
Step 6: Exit Bugis Station and walk to your point of interest in Kampong Glam.
Kampong Glam has a lot of shops, restaurants and cultural attractions to explore. To cater to visitors, Bugis Station conveniently has 6 different exits to choose from:
A, B, C, D, E and G. 
Four of the exits at Bugis Station provide ground-level access (A, B, C and D).
Exit C leads to both street level (using escalators) and a link to Basement 1 of Bugis Junction using a different pair of escalators. Take note that the basement link to Bugis Junction is usually open from 6 am to midnight daily.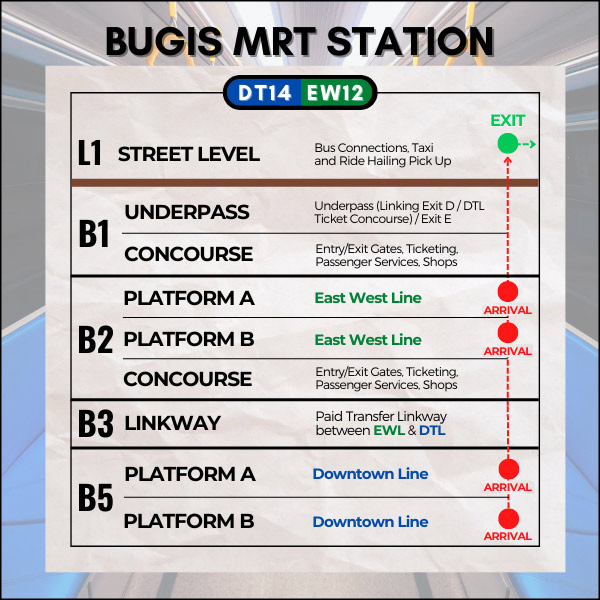 ---
How long does it take to walk from Bugis Station to some of the most popular attractions in Kampong Glam?
Kampong Glam has many attractions and restaurants to check out. Most of these are east of Bugis Station and under 10 minutes away by foot. 
Please refer to the summary below to get an idea of approximately how far popular points of interest are from Bugis Station:
Sultan Mosque  – 600 m/8 minute walk (MRT Directions)
Malay Heritage Centre – 850 m/11 minute walk 
Haji Lane – 650 m/9 minute walk
Golden Landmark Shopping Centre – 400 m/5 minute walk
Arab Street  – 350 m/4 minute walk (MRT directions)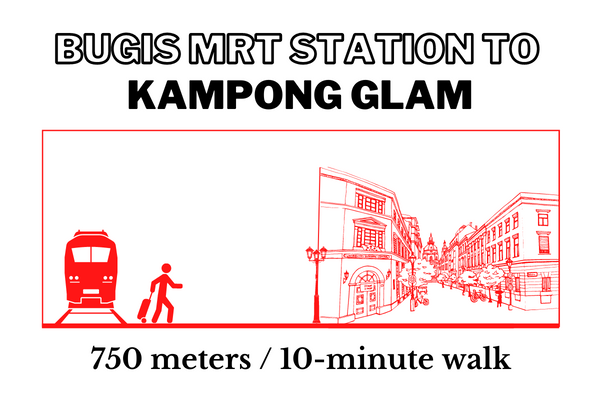 ---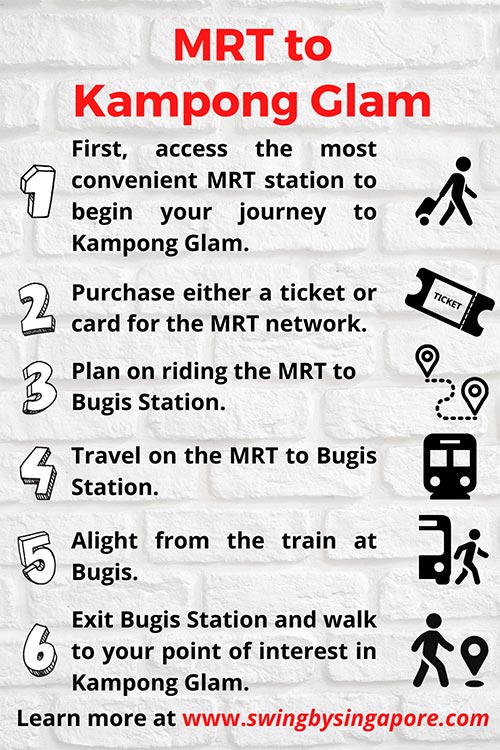 ---
Should you stay in the Kampong Glam area while visiting Singapore?
Kampong Glam has become more and more popular with visitors over the years with a healthy selection of budget-friendly hotels and hostels. 
Budget-conscious travellers like the area around Arab Street, Haji Lane and Sultan Mosque. There are lots of delicious middle-eastern inspired restaurants close to the hotels and hostels. 
A lot of the accommodation in Kampong Glam tends to be quite reasonably priced compared to Marina Bay and Orchard where many tourists choose to stay. 
We reviewed both the cheapest and more luxurious properties in Kampong Glam. Here are two of the most highly rated budget ones:
CUBE Boutique Capsule Hotel @ Kampong Glam (2-star, rated 8.7/10)
Beary Best! Kampong Glam (2-star, rated 8.6/10)
If you are looking for a more spacious (higher-end) place to stay in Kampong Glam, there are also a few excellent properties to choose from:
Andaz Singapore – A concept by Hyatt (4-star, rated 9.2/10)
Pan Pacific Serviced Suites Beach Road (5-star, rated 9/10)
PARKROYAL on Beach Road (4-star, rated 8.8/10)
You can walk from any of these properties within 7-minutes of Bugis Station.
Please take note that we do not have a direct partnership with these properties. All review scores were based at the time of writing, according to leading accommodation websites.
Related Article: Best Hotels in Bugis Singapore – Find the Best Place to Stay….
---
Conclusion – Getting to Kampong Glam
This has been a step-by-step guide on how to get to Kampong Glam by MRT. Ideally, you should be able to reach this fascinating area fast and worry-free with these steps. 
The Kampong Glam area of Singapore is underrated, in our opinion. Simply walking from Bugis Station along the colourful streets here is an experience not to be missed. 
Haji Lane, Arab Street, Sultan Mosque and Malay Heritage Centre welcome many annual visitors in Kampong Glam. Bussorah Street is also a fantastic place to check out as well. Bring your camera along. Sultan Mosque and the surrounding shophouses are scenic. A lot of culinary tourists embark on trips to Kampong Glam. 
You can get all the information about planning a trip to Kampong Glam using this comprehensive itinerary. 
Please don't hesitate to reach out to us with any questions about getting to Kampong Glam using MRT. We would be happy to share information with you about anything related to visiting Singapore!