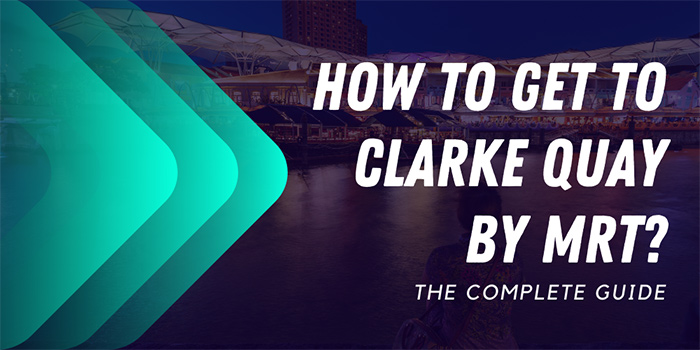 Get to Clarke Quay super fast and affordably with this step-by-step guide.
Welcome to the complete guide on how to get to Clarke Quay by MRT. Our goal when writing this article was to make sure you can get to this fantastic area of Singapore cost-effectively and efficiently. 
Clarke Quay is one of Singapore's best entertainment districts, famous for its wide selection of restaurants, bars and cafes. Both locals and tourists head to Clarke Quay for after-work drinks and late-night partying. Many people underestimate how beautiful the Clarke Quay area is with its scenic location along the Singapore River. 
Ideally, by the end of this article, you will know exactly how to get to Clarke Quay via MRT, but also how to integrate it into your Singapore sightseeing itinerary. 
We plan on answering the following questions: 
What kind of MRT ticket should you use to get to Clarke Quay?
What MRT lines and stations service the Clarke Quay area?
Which attractions and activities are in and around Clarke Quay? 
Fortunately, Singapore has a very well-developed public transportation system that you can use to get to Clarke Quay and the other points of interest near it. 
---
Why should you visit Clarke Quay in Singapore?
We have had the opportunity of visiting Clarke Quay are numerous occasions. The quay is situated upstream from the mouth of the Singapore River and Boat Quay. It is one of the city's premier entertainment and dining areas. If you want nightclubs and a lively bar scene, this is one of the best areas in all of Singapore for meeting people. 
When you visit Clarkey Quay, you will have the choice of watching live bands playing on a nightly basis, and there are some excellent riverside restaurants located here as well. Clarke Quay offers exceptional value and a broad selection of different choices if you want a fun, entertaining night. There are both dance clubs and laid-back pubs throughout this area.
Clarke Quay is also an underrated area to stay if you are visiting Singapore.  It is very well connected to public transportation and within walking distance to Singapore's most scenic districts, such as Robertson Quay, Boat Quay and Marina Bay. 
Many budget hotels are literally 5 minutes away from Clarke Quay. They provide straightforward access to the MRT Network at a fraction of the price of properties on Sentosa Island and Marina Bay. 
---
Specific Details – Getting to Singapore Clarke Quay by MRT
Step 1: Begin your trip to Clarke Quay by accessing the most convenient MRT station.
Due to Clarke Quay's prominent location in Singapore, you can quickly get there from the airport or most city areas using the MRT. 
But, it's a lot easier to get to Clarke Quay if you are staying close to a station (preferably within close walking distance). Singaporeans and permanent residents likely already know what station is close to where they are. However, visitors to Singapore should make a practical decision on where to stay with 'stations' in mind. 
Singapore has many hotels, and fortunately, many of them have been built around MRT stations. 
Here are a few of them to get you started with your search (if relevant to your travel plans):
Raffles Singapore (5-star, 9.4/10 review score, very close to Esplanade Station) 
Marina Bay Sands (5-star, 9.0/10 review score, very close to Bayfront Station) 
Chic Capsule Otel (2-star, 8.5/10 review score, 2 minutes from Chinatown Station)
Once you have your station and accommodation sorted, simply walk to the nearest MRT station, and begin your trip to Clarke Quay!
---
Step 2: Buy the best type of ticket to reach Clarke Quay. 
Conveniently, you will have some choice in terms of the MRT tickets to reach Clarke Quay. Typically, the type of ticket you get is based on your length of stay in Singapore and what your itinerary looks like.
Read the questions below designed to help you select the best ticket for your trip to Clarke Quay. If you already have a ticket/card, jump down to Step #3 below. 
How long are you in the city, three days or more?
Do you want to avoid ticketing lines altogether?
Are you just travelling to/from Clarke Quay, or do you have a busy itinerary consisting of many Singapore attractions?
Next, refer to the information below to finalize your decision:
Singapore Tourist Passes

Single trip tickets

Stored value cards
Singapore tourist passes are ideal for visitors staying 3 days or less. Busy travellers can save a lot of money and stress using a tourist pass because you get unlimited rides on trains and buses for a set period of time. You don't have to worry at all about spending too much money on public transport once you get one of these. 
Tourist Passes are convenient if you plan to use both the MRT and bus services to get to Clarke Quay and other places throughout the city. However, a tourist pass may not save you much money if you only plan to travel a little while in Singapore. If you want to go all over the place, get a Pass! 
More details: Everything you need to know about buying Singapore Tourist Passes.
Other MRT tickets to get to Clarke Quay
The following ticket options for you include traditional single-trip tickets/multi-trip tickets to Clarke Quay. You can buy these in MRT stations throughout Singapore. Just keep in mind that these are not the best option if you are travelling at hectic times when line-ups can build up at ticketing kiosks. 
Stored value cards are the third popular ticket option for getting to Clarke Quay via MRT. 
There are a few different kinds of stored value cards. Simply buy one, top it up with cash, and tap it to enter and exit the MRT network. We used a stored value card while figuring out how to get to Clarke Quay by MRT. 
Just remember to keep an extra running balance on your card to make sure that you don't get slowed down on your way to Clarke Quay!  
Additional Information: How to buy MRT tickets in Singapore – The Ultimate Guide. 
---
Step 3: Plan on taking the MRT to Clarke Quay Station.
Clarke Quay Station is not a transfer station, so it's only found on one of Singapore's MRT Lines – the North-East Line. 
The North-East Line is represented in purple colour on Singapore's rail map. You can refer to the rail map in your starting station to see if you need to transfer lines to get to Clarke Quay Station.

---
Step 4: Ride the MRT to Clarke Quay Station.
Clarke Quay Station has two neighbouring stations:
Chinatown Station 
Dhoby Ghaut Station 
At Chinatown Station, you can transfer from the Downtown Line (Blue) to the North-East Line (Green) en route to Clarke Quay. 
Dhoby Ghaut Station provides transfer opportunities between three lines: North-East (Green), North-South (Red) and Circle Lines (Orange). 
Once you stop at either of these stations, move closer to one of the exits on the train.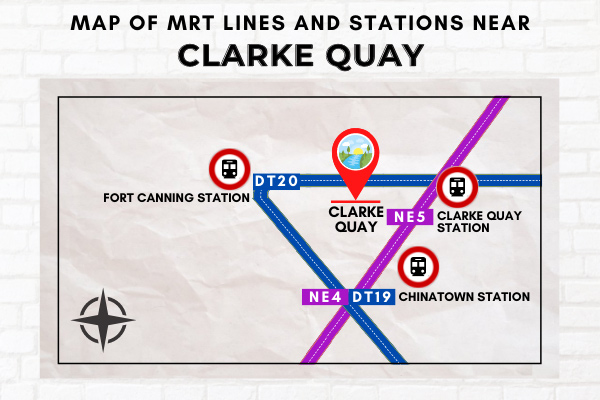 ---
Step 5: Alight at Clarke Quay Station.
Grab all of your personal belongings and alight at Clarke Quay Station. Once off of the train, begin looking for exit signs.
---
Step 6: Exit and walk to your point of interest in Clarke Quay.
Once you arrive at Clarke Quay MRT Station, you will have six exits to choose from, A, B, C, E, G, and G. 
Take exit C if you want to access the restaurants and bars in Clarke Quay quickly. Most bars and restaurants are located on the other side of the Singapore River from Clarke Quay Station. You can walk across Read Bridge to access the social hub.  
Exits E, F and G all lead to The Central Mall. Stop by here for some shopping and some affordable eateries in the food court.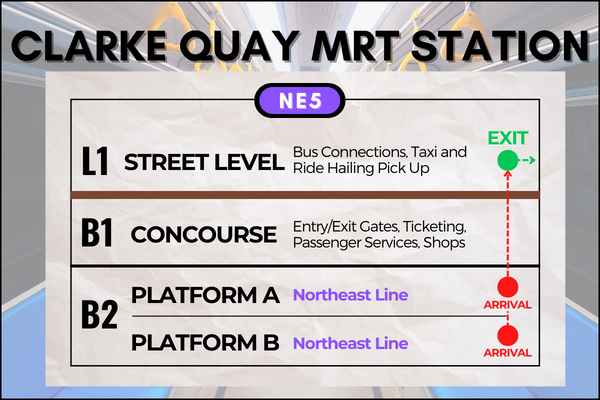 How long does it take you to walk from Clarke Quay station to Clarke Quay?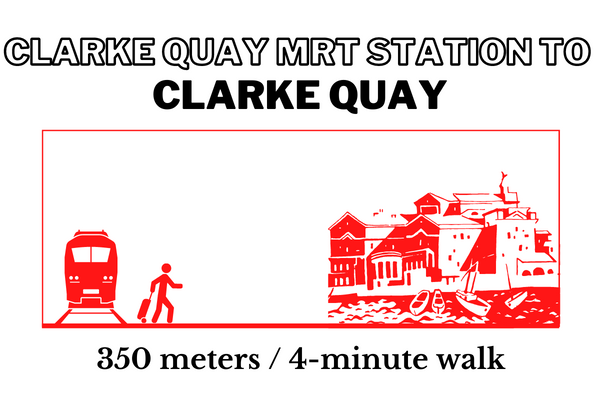 ---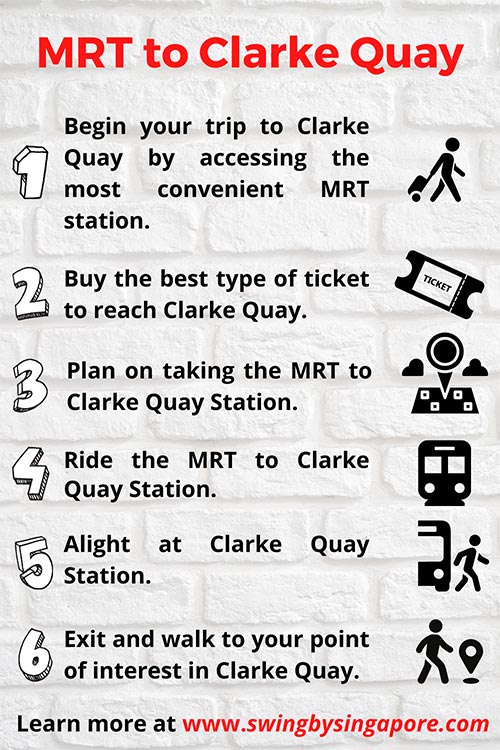 ---
Should you stay in the Clarke Quay area while in Singapore?
Fortunately, we have stayed in multiple areas throughout Singapore, and we feel that Clarke Quay is one of the best places to call 'home base'.  
The Clark Quay MRT station area is strategic because you can either walk or take the MRT to neighbouring areas such as Marina Bay, Chinatown, and Boat Quay.
One of our favourite properties that we have stayed at near the station is called Hotel Bencoolen Hong Kong Street (4-star, 8.3/10 score based on 1020+ verified reviews).
Aside from being a nice, clean and affordable boutique hotel, we found it very close to the MRT Station. 
You can walk to the Clarke Quay MRT Station in under 3 minutes.  During our stays at this property, we were quite impressed with the level of service standards. Our room was spotless, and the breakfast was pretty solid, considering the price that we paid.
Related Article: Best Area to Stay in Singapore – The Complete Guide
We do not have a partnership with this property. Hotel Bencoolen Hong Kong Street has not paid us anything to share this information.  Hopefully, this information can give you an idea of what to expect while staying near Clarke Quay Station. 
Jayleen 1918 (3-star, boutique hotel) is another hotel we have stayed at here that is also within walking distance of the station. It was good value for the money.
---
Conclusion

 
This has been a step-by-step guide on how to get to Clarke Quay by MRT. We hope that these steps will get you there fast and efficiently. Just remember that Clarke Quay Station is on the North-East Line! 
Fort Canning, Chinatown and Raffles Place Station can be used as alternatives for getting to Clarke Quay. Expect about a 10-minute walk from any of these to the middle of Clarke Quay.
Once you are in the Clarke Quay area, consider branching out and exploring cool regions and attractions that are either a walk or a short MRT ride away. 
Some close by points of interest to Clarke Quay include:
Merlion Park
Boat Quay 
Robertson Quay
Singapore Flyer
Gardens by the Bay 
Parliament of Singapore
The Arts House
Asian Civilizations Museum
The Esplanade 
Fort Canning Hill Park
National Gallery Singapore
Battlebox Museum
You will find it challenging to check all of these places out in one day, so you might want to build a 2-3 day itinerary. 
Related Article: Singapore 3-Day Itinerary – Make the most of your time!
Clarke Quay is an impressive area of Singapore. Make the most of your visit by exploring it during the day and night when partying is in full force!