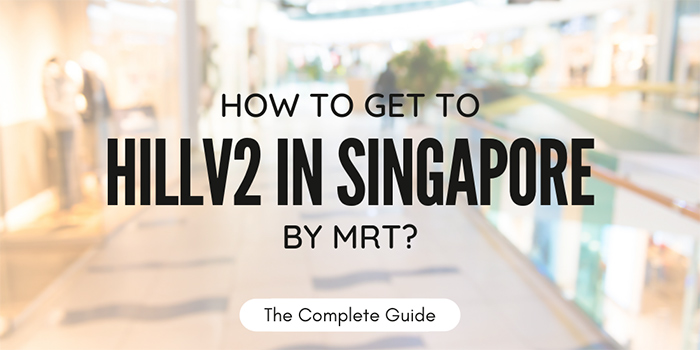 Get to HillV2 in Singapore fast and worry-free using MRT.
Here is the step-by-step guide on how to get to HillV2 by MRT. HillV2 is a mixed-use shopping centre in Hillview, Singapore. It consists of a commercial shopping mall and a residence with 528 rental units. 
Fortunately, getting to HillV2 is straightforward using Singapore's extensive MRT network. Once you get on the correct line and alight at the right station, you can walk directly there without any complications. 
In this article, we will outline how to get there by sharing information about:
Stations
Lines
Transfer Information
Ticket Options
Walking Directions
Then, once you are at HillV2, you can visit other points of interest in the area. To help, we will discuss itinerary and accommodation information.  
---
HillV2 in Singapore – Visitor Information
HillV2 is a mixed-use commercial and residential complex in Hillview, Singapore. 
It consists of 2 retail floors, 528 residential units and 148 car park spaces. In total, there are 53,149 square feet of lettable area at HillV2 and a solid range of services, food and beverage providers and enrichment facilities.
If you are driving a vehicle to HillV2, you can park on-site. There is an initial entrance fee, and then you are charged according to how long you stay.
Expect to find a mix of wellness and lifestyle services here, in addition to cafes, restaurants and spas. It might not be Singapore's biggest mall, but there is an impressive variety of shops. 
---
Getting to HillV2 by MRT
Step 1: Plan your route – stations, lines and transfers.
The most convenient MRT station for getting directly to HillV2 in Singapore is Hillview Station (DT3).
Hillview Station (DT3) is located along the Downtown Line (dark blue on metro maps). 
MRT Transfer Information
If you want to reach HillV2 by MRT, then you need to access the Downtown Line as soon as possible. 
Fortunately, there are many transfer stations that connect several other metro lines to the Downtown Line. 
Some of the most popular interchange stations including
Newton (transfer between the North-South and Downtown Line)
Bugis (transfer between the East-West Line and Downtown Line)
Little India (transfer between the North-East and Downtown Line)
Botanic Gardens (transfer between the Circle Line and Downtown Line)
If you are staying in the city centre, then you can transfer at any of the following stations on your way to HillV2:
Promenade
Bayfront
Marina Bay
Chinatown Station 
All stations in Singapore have clear signs to point you in the right direction.
---
Step 2: Access the closest MRT station. 
Getting to HillV2 via MRT is much easier if you stay close to a station. Singapore has an impressive, well-integrated metro system, but it gets more complicated to use the farther you are from it!
We recommend staying 500 m or less from a station. 
Walking directly to a station cuts down on taxi fees and parking fees. Also, you will bypass road traffic downtown as you try to go to HillV2 and other points of interest in the city. 
If you visit Singapore, check out the properties below at different price ranges. All of them are within 3 minutes or less of their neighbouring stations (also listed below). 
High-End
The Fullerton Hotel (5-star, 9.0/10 review score, close to Raffles Place Station) 
Moderate
Hotel Bencoolen @ Hong Kong Street (4-star, 8.3/10 review score, very close to Clarke Quay Station)
Budget
Wink Capsule Hostel (2-star, 8.4/10 review score, 1 minute from Chinatown Station)
If you have children, you might find our family accommodation guide helpful to find the most suitable places to stay. 
---
Step 3: Purchase an MRT card/ticket to travel to Hillview MRT Station (DT3).
When you are heading to HillV2 using MRT services, you will have to buy either a card or ticket to get there. 
Singapore has several different ticket options.
We used a stored value card while figuring out how to get to HillV2 by MRT. Once you purchase one, just top it up with cash, and you will be good to go.
Singapore Tourist Passes are a very popular option for people visiting Singapore. They are good for 1-3 day itineraries and benefit busy travellers. 
You can also buy either Singapore or multiple trip tickets right in the station on your way to HillV2. Avoid peak travel times to bypass long queues.
---
Step 4: Take the MRT to Hillview Station (DT3).
Make any transfers (if needed) and travel along the Downtown Line to Hillview Station (DT3). 
Remember, there are metro maps at all stations in the MRT network.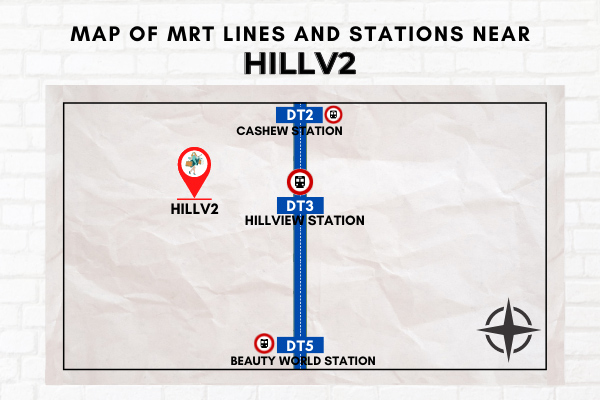 ---
Step 5: Get off at Hillview Station (DT3). 
Hillview Station (DT3) has two neighbouring stations that you should be familiar with:
Cashew (DT2) (north)
Beauty World (DT5) (south)
Once you stop at either one of these stations, move closer to an exit on the train. 
Alight when you arrive at Hillview Station (DT5)
Don't forget anything before getting off.
---
Step 6: Exit the station. 
Hillview MRT Station (DT3) is an underground station on the Downtown MRT Line. 
You will arrive at Basement Level 3 (B3) on the train. 
Travel up to ground level (L1) to access the exits. 
There are two exits to choose from at Hillview Station, A and B. 
Take Exit B.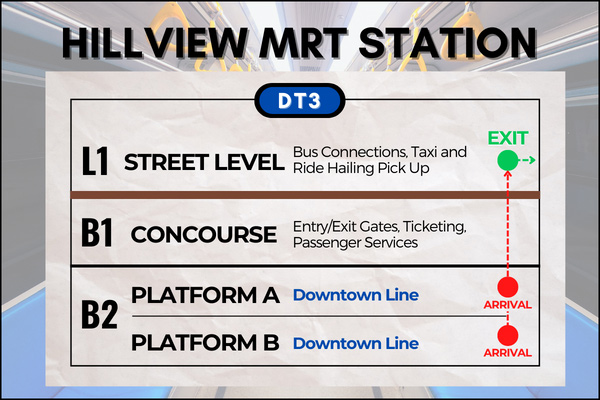 ---
Step 7: Walk directly from Hillview Station (DT3) to HillV2. 
Exit B will bring you out onto the western side of Upper Bukit Timah Road. 
Turn right onto Hillview Road. 
Walk west along Hillview Road until you reach Hillview Avenue. 
Turn right (north) onto Hillview Avenue.
You should see the entrance to HillV2 to your left. 
Cross the road and enter the mall. 
---
How long should it take to walk from Hillview Station to HillV2?
The walk from Hillview Station to HillV2 is only 400 m, which should take less than 5 minutes. It is too close to even consider taking a bus or taxi.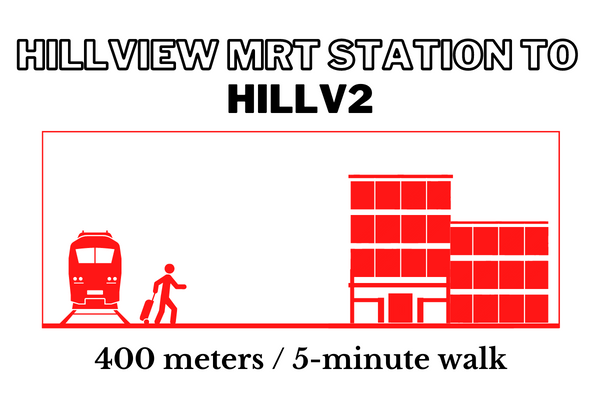 ---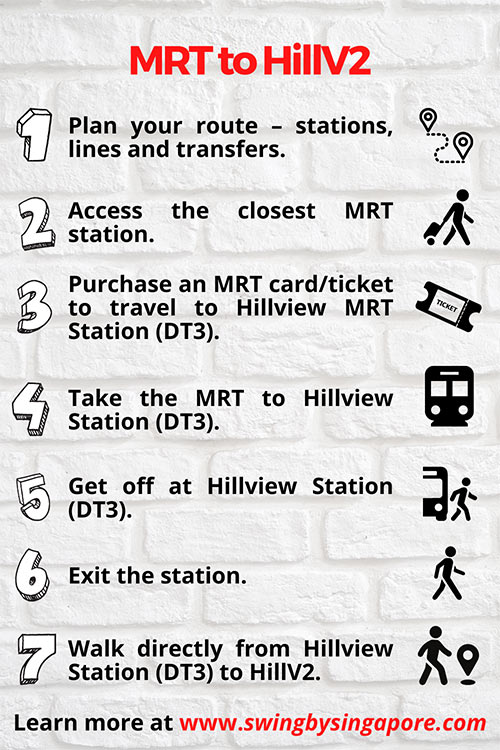 ---
Itinerary Ideas
You might want to explore several other interesting points of interest during the same day as HillV2. Fortunately, there are several shopping centres and recreational facilities close to the mall. 
Once you follow these directions to HillV2, you can take local bus services to get around. 
Here are some of the most popular shopping malls within 10-15 minutes (or less) of HillV2:
The West Mall
Bukit Timah Shopping Centre
Beauty World Centre
Fajar Shopping Centre
Bukit Panjang Plaza
The Rail Mall
Greenridge Shopping Centre
Hillion Mall
Bukit Timah Plaza
The Rail Mall is the closest to HillV2, just a few minutes south along Upper Bukit Timah Road. 
Some of the most popular recreational areas near HillV2 include/l
Bukit Timah Nature Reserve
Bukit Batok Nature Park
Singapore Quarry
Dairy Farm Nature Park
Pang Sua Pond
Chestnut Nature Park
Bukit Batok Hillside Park
Using different bus services around HillV2 may eventually get tiring. Driving your own car is definitely the most convenient way to visit these parks, with parking available on-site. 
---
Should you stay near HillV2while in Singapore?
HillV2 has many residential units if you are looking for long-term stays in Singapore. However, the area is limited in terms of hostels and hotels for visitors. There are several more popular areas to call home base while you are in the city.
Most of these areas are closer to downtown, where more famous tourist spots are located. 
Here is a list for your reference:
Chinatown
Orchard
Sentosa
Geylang
Little India
One of the most popular hotels in Singapore is Marina Bay Sands (5-star, 9.0/10 review score rating). 
Aside from having one of the coolest designs in the world, its infinity pool has also become famous. You can get there using MRT services from Changi Airport. 
Chinatown, Geylang, and Little India are more popular with budget travellers and backpackers who are looking to save some cash on accommodation. 
---
Conclusion
Hopefully, you now know how to get to HillV2 by MRT in Singapore without any stress along the way!
The most important thing about this trip is getting on the Downtown Line. Once you are on the Downtown Line it's super easy to reach Hillview Station (DT3). 
The walk from there to HillV2 is short and sweet, taking less than 5 minutes for most people. Don't bother taking a bus from the station. The walk is short enough that you will spend more time waiting for alternative transportation. 
Please reach out to us if you have any additional questions about getting to HillV2 or anywhere else in Singapore.