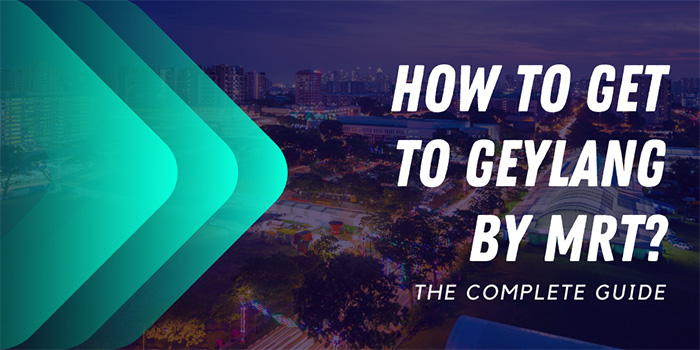 Get to Geylang fast and affordably with this comprehensive article.
We have written this step-by-step guide on how to get to Geylang by MRT to get you there fast, affordably without and stress!
By the end of this article, you will learn how to:
Which MRT lines and stations to use to reach Geylang.

How long it takes to walk from the MRT stations in Geylang to various points of interest in the area.

Build an entertaining itinerary of Geylang which includes the most interesting points of interest. 
Fortunately, Singapore has a fantastic public transportation system in place to get you to Geylang without stepping foot in a vehicle.
You can pretty much access all major attractions and sightseeing areas in Singapore via MRT, and getting to Geylang is no exception! Taking the MRT is a practical strategy to avoid road traffic, parking a vehicle and unnecessary taxi fees. Go green and travel with the MRT to Geylang. 
---
Why should you visit the Geylang area of Singapore?
Geylang may not be as famous as Marina Bay or Sentosa Island, but it definitely welcomes a fair number of guests annually.  It is part of the Central Region of Singapore. Geylang borders Hougang and Toa Payoh in the north, Marine Parade in the south, Bedok in the east, and Kallang in the west. You will notice it is northeast of Marina Bay and Singapore Sports Hub. Geylang is known for its large selection of affordable roadside eateries, late-night parties and affordable accommodation. 
When you arrive in Geylang, you will notice that it has somehow resisted the modernized look of other areas throughout the city. This is a working-class neighbourhood and an affordable place to shop and eat compared to 'trendy' areas. Geylang has a pile of hawker food stalls and small shops with affordable prices.  
Nightlife?
Geylang has also developed a reputation for nightlife with its famous karaoke bars and 'late night' restaurants. 'Late' nightlife here still exists. 
Although often overlooked by locals and tourists, Geylang features a healthy number of cultural landmarks and shopping centres that are worth exploring. You can refer to the list below for your convenience:
Geylang Serai Market
The Intan
Sri Sivan Temple
Malay Village
Wisma Geylang Serai
Peranakan Houses
Khadijah Mosque
Char Yong (Dabu) Association
Geylang Fire Station
The Former Queens Theatre
Rumah Bebe
 Conveniently, Geylang is well-serviced by MRT and has a large selection of boutique hotels and hostels. Geylang is known as one of the cheapest areas in Singapore for hotels and hostels. Budget travellers tend to stay here because the area is relatively cheap but still well connected to public transport such as bus and MRT systems.
Some of the hotels in Geylang receive poor guest review scores, so as a rule of thumb, always read reviews and do your research before booking a room in this area of the city. 
A few of the most popular places to stay in Geylang with good reviews include:
 Ibis Budget Singapore Sapphire (2-star, 8/10 review score) 
Spacepod@sg (1-star, 8.7/10 review score)
 If you plan to stay in Geylang, always check how far your property is from nearby MRT stations. Some hotels are not that close to stations, so walking times are something to consider while building an itinerary. 
---
Specific Details – Getting to Geylang by MRT
Step 1: First, identify the most convenient MRT station to start your trip to Geylang.
Getting around Singapore can be super easy if you are staying at a house, condominium or hotel that is close to an MRT station. If you are visiting the city, make it a priority to book a hotel that is within close walking distance to a convenience station.
If you stay at a hotel or hostel within 500 meters of a station or less, chances are that you won't even need to book a taxi to get around. You can save serious time and money by avoiding cars altogether on your way to Geylang. 
We have researched popular hotels within 2-3 minutes walking distance from neighbouring stations and summarized them below for your convenience: 
Marina Bay Sands (5-star, 9.0/10 review score, very close to Bayfront Station) 
 The Capitol Kempinski Hotel Singapore (5-star, 9.2/10 review score, very close to City Hall Station) 
The Fullerton Hotel (5-star, 9.0/10 review score, 2 minutes from Raffles Place Station)
With your accommodation taken care of, proceed to Step 2 of getting to Geylang via MRT.
---
Step 2: Buy a card or ticket for your MRT ride. 
There are multiple ticket options to get to Geylang using MRT. If you are visiting Singapore, select the right option according to your length of stay and anticipated activity level. 
Read the following questions and select an appropriate ticket for your circumstances:
How long are you visiting Singapore?
Do you mind spending time in ticketing lines for each MRT trip that you make?
Are you travelling to different city areas, or are you just going to/from Geylang?
Next, refer to the choices and information below:
Singapore Tourist Passes

Single Trip Tickets/Multi-Trip Tickets

Stored value cards
Singapore Tourist Passes are great if you are foreign tourist spending 1-3 days in the city. We suggest these for busy travellers who are spending 3 days or less in the city. 
Once purchased, Tourist Passes grant you unlimited bus and MRT trips for a set number of days (usually 1-3 days). You can easily use a Tourist Pass to travel to and from Geylang. 
Get all the details: Buying Singapore Tourist Passes – Everything You Need to Know.
Other Ticket Options for Getting to Geylang
You can also buy single-trip tickets/multi-trip tickets to Geylang. 
These are conventional tickets that can be purchased right in the station. You won't be obligated to travel more than you want to, but expect some potential delays at ticketing machines from time to time.
Stored value cards are the third popular option for going to the Geylang area.
There are a few different kinds of stored value cards. We used a stored value card while figuring out how to get to Geylang by MRT. They are simple to use. Buy one, top it up and reload it when your balance gets too low. 
Always try to keep a running balance of cash on your stored value card so that you don't unexpectedly have to reload it while going somewhere!
Read More: How to buy MRT tickets in Singapore – The Complete Guide. 
---
Step 3: Plan on riding the MRT to Aljunied, Eunos or Paya Lebar Station.
Geylang is a relatively large area of Singapore. Therefore, you can access points of interest here using multiple MRT stations. The station you select should be based on which point or points of interest you are travelling to. 
Three popular stations for accessing Geylang are:
Aljunied Station (EW9) – located along the East-West (Green) Line and convenient for accessing western Geylang.
Paya Lebar Station (EW8/CC9) – located along both the East-West (Green) Line and the Circle Line (Orange). It is ideal for accessing central Geylang.

Eunos Station (EW7) – located along both the East-West (Green) Line. Eunos is situated in eastern Geylang. 
Since Paya Lebar Station is located on both the Circle and East-West Line, it is particularly convenient for transferring to the Geylang area. 
---
Step 4: Travel on the MRT to your preferred station in Geylang. 
You can refer to MRT station maps on the way to Geylang. If you are travelling along the East-West Line from the Marina Bay area, you will stop at Kallang Station directly before Aljunied. 
Move closer to an exit because, after Kallang, you will be in Geylang.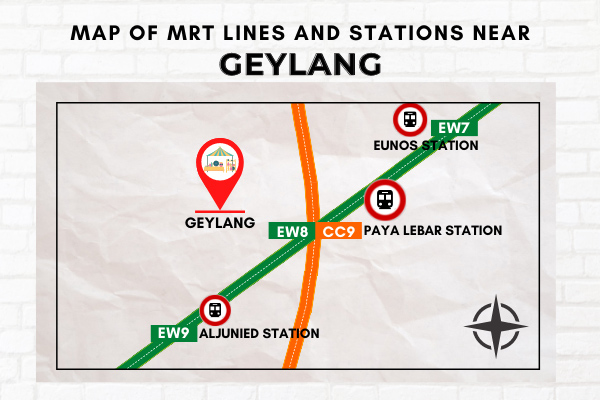 ---
Step 5: Alight at Aljunied, Eunos or Paya Lebar Station.
Get off the train at Aljunied, Eunos or Paya Lebar Station. Remember to bring along your personal belongings. 
---
Step 6: Exit and walk to your point of interest in Geylang.
Exiting Aljunied Station
Aljunied MRT station has two exits on the north and south side of the station. Take Exit A if you want to walk to Sims Avenue (south of the station). Exit B will take you to Aljunied Road, west of the station.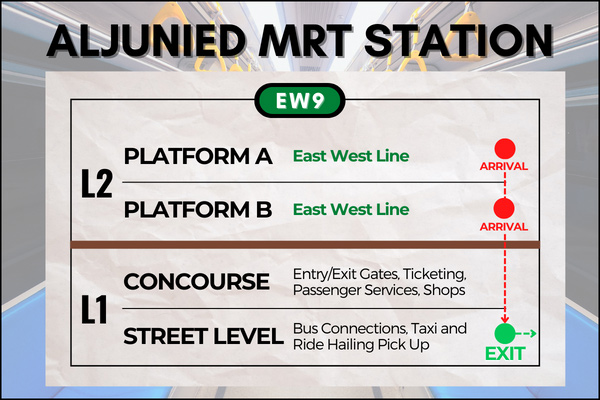 Exiting Paya Lebar Station
Paya Lebar MRT station has five exits at ground level in comparison to only two at Aljunied: A, B, C, D and E. Some of the stations are part of the East-West Line (A, E) whereas others are part of the Circle Line Station (B, C, D and F).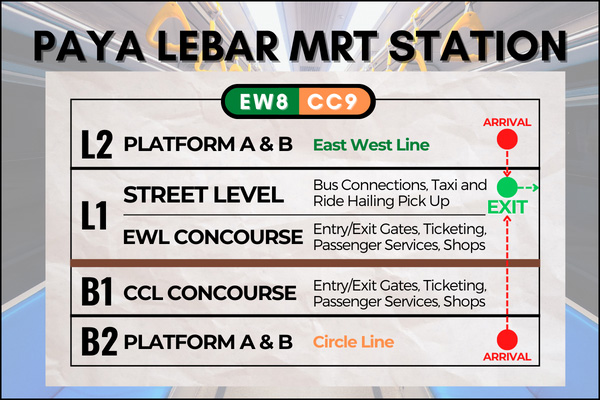 Exiting Eunos Station
Eunos MRT station has three exits to choose from. Passengers for the Eunos Bus Interchange should use Exit B. Take Exit A to access Sims Avenue and use Exit C to walk to Jalan Eunos.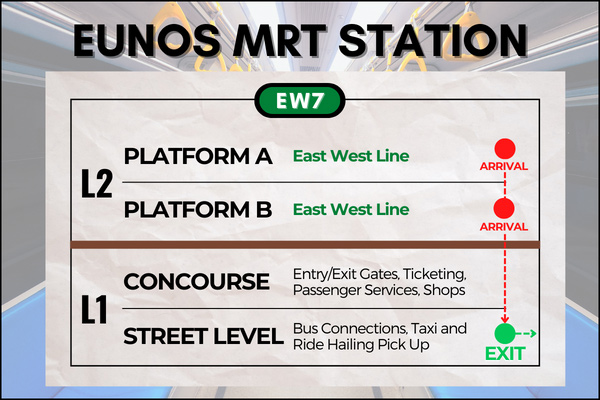 How long does it take to walk from Aljunied MRT Station to Geylang?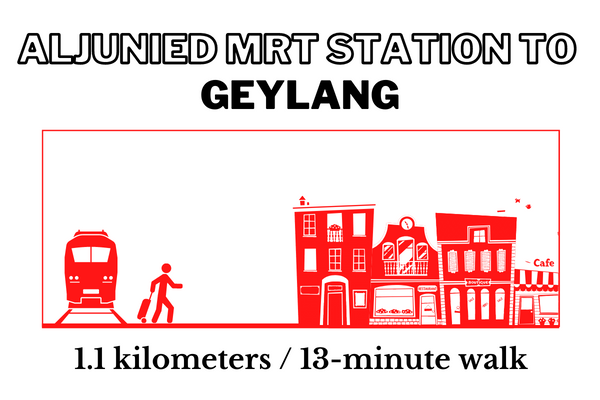 How long does it take to walk from Eunos MRT Station to Geylang?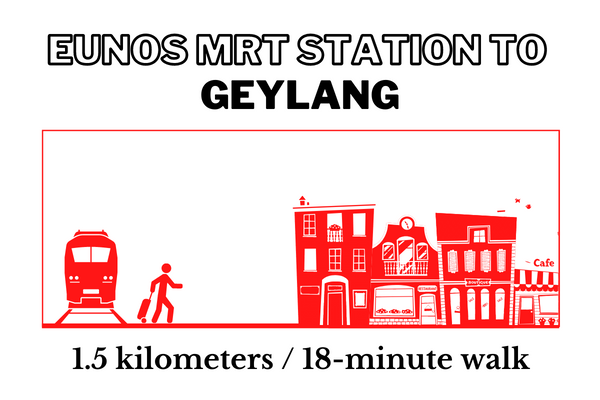 ---
Are there other MRT stations servicing Geylang?
Although Aljunied, Paya Lebar, and Eunos Station provide convenient access to Geylang, there are actually more stations that also service the northern and southern areas. 
For example, you can walk from Mountbatten, Dakota or Stadium Station into southern Geylang. 
MacPherson, Mattar and Ubi Station all provide access to northern Geylang.
So, it's safe to say that Geylang has a pile of stations to choose from!   
---
Where should you stay in Geylang?
Most of the hotels in Geylang are situated south of the East-West MRT line, between Aljunied and Kallang Station. 
You can expect hotels and hostels here to be extremely budget-friendly relative to prime sightseeing areas as Marina Bay and Sentosa Island. If your expectations are relatively low, then you won't be disappointed staying in Geylang. Lots of reasonably-priced food centres are here so you can build a pretty affordable itinerary by making it your home base.
 Geylang does have some pretty run-down hotels. So, you do have to research before booking! There are some great boutique hotels and hostels within 5-10 minutes of Aljunied and Kallang. 
We have included some recommendations below based on our own experience and the reviews of other travellers:
Ibis Budget Singapore Sapphire (2-star, 8/10 review score) 
Spacepod@sg (1-star, 8.7/10 review score).   
Ibis Budget Singapore Emerald (2-star, 7.8/10 review score)
Ark Hostel (1-star, 7.9/10 review score)
As a rule of thumb, look for places to stay that are within 500 metres or less of a station, with guest review scores above 8/10 (if possible!).
---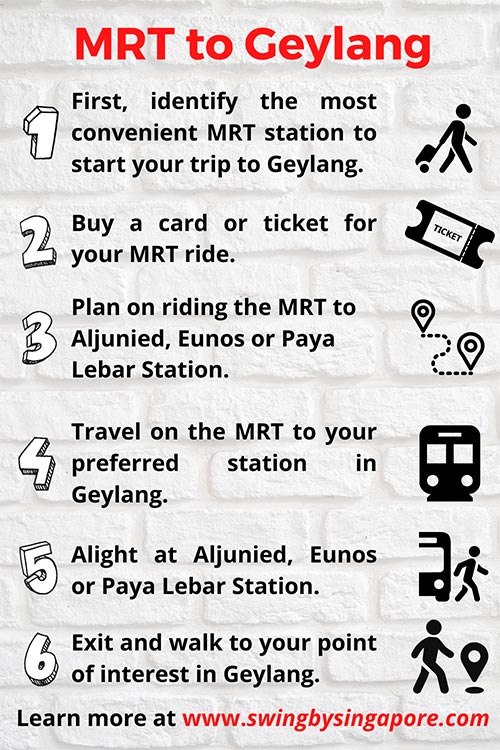 ---
Conclusion – Getting to Geylang via MRT
Hopefully, this step-by-step guide on how to get to Geylang by MRT has been informative and useful!  
Although Geylang does not have as many world-class attractions as areas such as Marina Bay, Chinatown and Sentosa, it has a pile of budget shopping and food centres. 
Some shopping venues you can visit here include:
City Plaza
PLQ Mall
Paya Lebar Square
SingPost Centre
Learn More about Shopping in Singapore – Singapore Shopping Guide
Also, consider staying in Geylang and then taking the MRT down to other popular areas. You can save a lot of money by booking accommodation here and then using a Singapore Tourist Pass to navigate your way through other areas of Singapore. Going to anf from Geylang could be a but costly, but with a Tourist Pass, it's a reasonable option.
Please don't hesitate to email us or comment below if you have any other questions about visiting Geylang – we are happy to help!