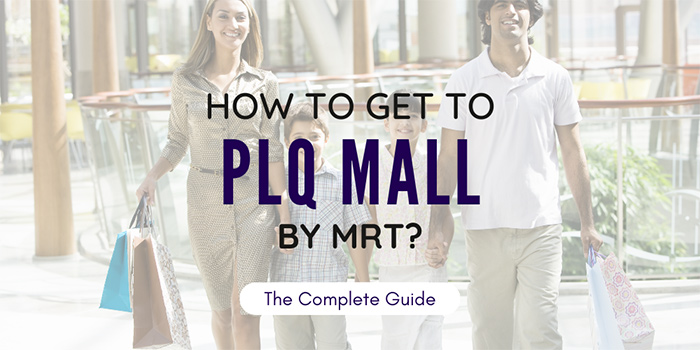 Get to PLQ Mall super fast and affordably with this comprhensive transport guide.
Welcome to our complete guide on how to get to PLQ Mall by MRT in Singapore. 
By the end of this article, you will be able to access this popular mall from any area of the city. Singapore has an extensive MRT network that consists of several well-connected lines. Interchange stations make it possible to reach most destinations in an efficient, stress-free manner. 
Getting to PLQ Mall via MRT is super easy, mainly because it's ideally located right beside a station. Once you book a room within walking distance of a station, you will be able to access the MRT fast and get to the city's best attractions in an affordable fashion.
We will summarize the line(s) you can take to reach PLQ Mall and how to save money by selecting the most appropriate card/ticket for your trip. 
---
Shopping at PLQ Mall in Singapore
PLQ Mall is the popular shopping centre component of Paya Lebar Quarter (PLQ). When you take the MRT to PLQ Mall, you will be impressed by the outdoor spaces surrounding the mall. 
Aside from a shopping mall and business section, Paya Lebar Quarter also has public spaces called Parkside and Plaza, where you can socialize or relax before or after shopping. 
Similar to other shopping centres in Singapore, PLQ Mall has a wide selection of shops and services to cater to everyone. 
Within the mall, there is a great concierge service that allows you to make general shopping enquiries and to learn about current promotions and redemptions. 
Some of the most convenient services at PLQ Mall include
Family Rooms and Nursery Rooms for children and infants
Complimentary wheelchair hire
First-aid assistance
Once you arrive at PLQ Mall, it's super easy to access other malls within 2-3 minutes of walking distance. It's possible to spend a whole day shopping in this city area.
---
Getting to PLQ Mall by MRT 
PLQ Mall in Singapore is one of the most convenient malls to access via MRT.
You can get here quickly and affordably following the step-by-step instructions below.
---
Step 1: Access the most convenient MRT station.
The first step in getting to PLQ Mall via MRT is to access the nearest MRT station.
If you are still planning your time in the city, choose a room within a few minutes of a station. Try to find a place in a convenient area such as Chinatown, Bugis or Marina Bay to ensure efficient and affordable trips to different parts of Singapore. 
 We highly recommend these two properties based on their proximity to stations and verified review scores from previous guests:
Capitol Kempinski Hotel Singapore – 2 minutes from City Hall Station
The Fullerton Hotel Singapore – 2 minutes to Raffles Place Station
Read More: The Best Hotel Guide for Singapore – Expert Opinion
---
Step 2: Map out your MRT route to PLQ Mall.
Plan on going to Paya Lebar Station (CC9/EW8) when you're ready to visit PLQ Mall 
As its shortcode (CC9/EW8) shows, Paya Lebar Station is part of two MRT lines.
Circle Line 
East-West Line
It serves as an interchange between these two lines and offers direct access to PLQ Mall and other malls.
Look for the Orange Line on Singapore's route maps for the Circle Line. 
The East-West Line is also known as the 'Green Line on the metro map. 
Metro maps are present in MRT stations throughout the city. You can also see maps on each train while travelling.
---
Step 3: Buy a card or ticket to reach Paya Lebar Station (CC9/EW8).
When heading to PLQ Mall using MRT, you can choose several transport cards/tickets.
They can be grouped into 2
Tourist Passes

Stored Value Cards
EZ link cards, for example, are a type of stored value card that you can use on both buses and trains throughout Singapore. We used one of these while figuring out how to get to PLQ Mall by MRT.  
All you need to do is buy one, top it up and just tap to enter and exit trains and buses.
Singapore Tourist Passes are another card alternative, but they are only for visitors to the city. They offer excellent value if you are planning a busy itinerary.
We strongly suggest buying a Multiple Attraction Pass to use along with the Tourist Pass. With up to 52% in discounts, you can purchase several entrance tickets to the best attractions at one time. Currently, over 200,000 passes have been sold online due to the savings available.
---
Step 4: Transfer lines (if needed) and ride the MRT to Paya Lebar Station (CC9/EW8).
Travel along the MRT to Paya Lebar Station (CC9/EW8), completing any necessary transfers. 
Remember, the Circle and East-West Lines service Paya Lebar Station. 
Paya Lebar Station has four neighbouring stops that you should be familiar with:
MacPherson Station (North)
Dakota Station (South)
Aljunied Station (West)
Eunos (East)
Within 1-2 minutes, you will stop at Paya Lebar Station after arriving at any of the stations above.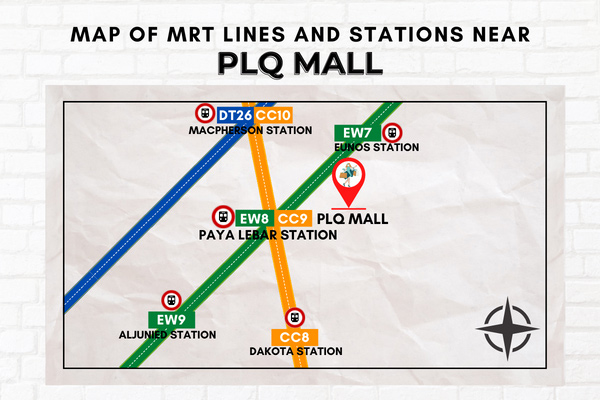 ---
Step 5: Get off the train at Paya Lebar Station.
Listen to the passenger announcements on the train and get off at Paya Lebar Station. 
---
Step 6: Travel from the train platform to the station exit.
Paya Lebar Station is part of two MRT lines. 
The East-West Line Station component is built above ground, whereas the Circle-Line Station is underground. 
You should be familiar with where you will get off the train. 
The Station is located along Paya Lebar Road, near the junction with Sims Avenue. 
Paya Lebar Station consists of 4 primary levels:
L2 – East-West Line Train Platforms A and B
L1 – Street Level and East-West Line Concourse
B1 – Circle Line Concourse
B2 – Circle Line Train Platforms A-D
You will arrive at either Level L2 or Level B2 via MRT, depending on which line you are travelling on.  
Once you get off the train, you must use the stairs, elevator or escalator to access the exit level.
Paya Lebar Station has 6 exits, ranging from A to F.
You can take either Exit A or Exit E to access PLQ Mall.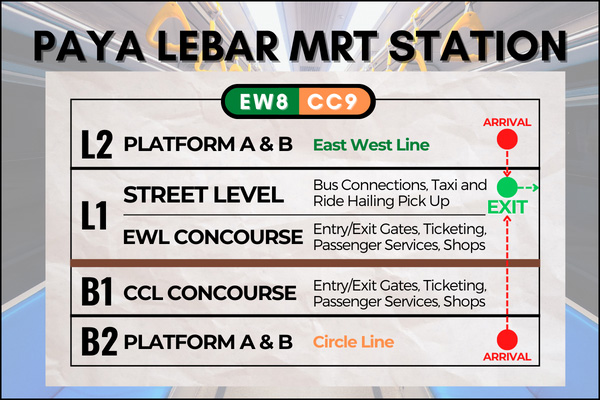 ---
Step 7: Walk from the MRT Station straight to PLQ Mall.
Conveniently, PLQ Mall is directly south of Paya Lebar MRT station. 
All you need to do is exit the station and walk about 50 meters south. You will have the choice of hanging out at Paya Lebar Quarter (outside), or you can enter PLQ Mall.
---
How long is the walk from Paya Lebar Station to PLQ Mall?
The walk from Paya Lebar Station to PLQ Mall is short and sweet. 
It shouldn't take more than 30 seconds since the mall is less than 100 meters from the station exits.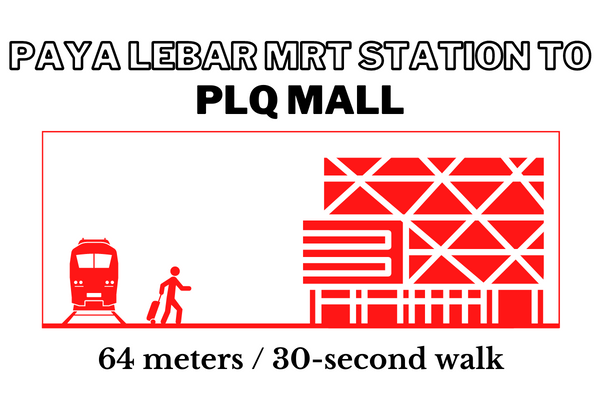 ---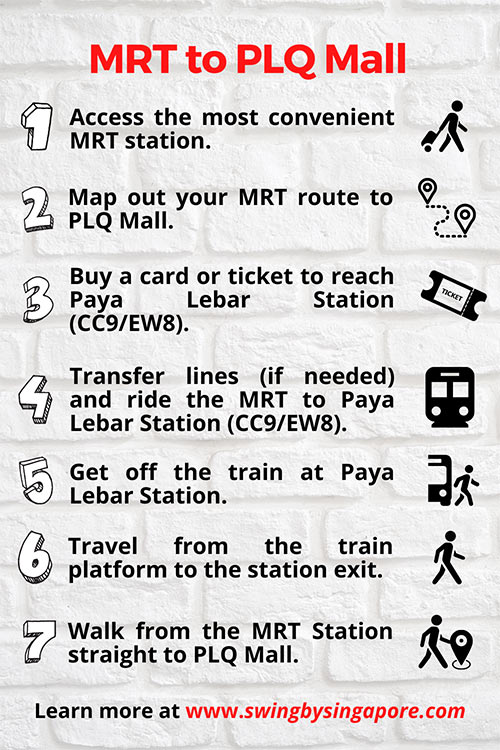 ---
Where to visit after the mall?
PLQ Mall is very convenient because it is less than 5 minutes from several other shopping centres and not far from Joo Chiat Road. 
The closest malls to explore are
SingPost Centre (Directions)
Paya Lebar Square (Directions)
City Plaza
Kinex
Tanjong Katong Complex
Walking southeast from PLQ Mall will eventually lead you to Joo Chiat Road (Directions).
Joo Chiat Road has become one of the best cultural and social streets in Singapore, with direct access to several cultural sites and a wide selection of restaurants, pubs and cafes. 
Visit the Peranakan Houses on Koon Seng Road (Directions) and bring along your camera. They are only 50 meters from Joo Chiat.
The Eurasian Heritage Gallery, Intan and Sri Senpaga Vinayagar Temple (Directions) are other cultural places to visit. They are not far from Joo Chiat Road (all south of PLQ Mall).
If you have not found what you are looking for at the malls near PLQ, head further south to Katong's popular shopping district. 
There are several malls close to Joo Chiat Road that are super convenient to visit during the same day. 
Here are three popular ones to check out:
Parkway Parade 
I12 Katong 
Katong V 
Dunman Food Centre (Directions) is a popular hawker centre to visit. It has limited parking, so you are best to visit using public transport or by walking.
Geylang Serai Market (Directions) and Joo Chiat Complex (Directions) are two popular places to visit within walking distance of PLQ mall. 
East Coast Park is one of Singapore's best outdoor areas. It is along the waterfront at the southern end of Katong. 
---
Best Hotels near Paya Lebar Square
If you want to find cheap places to stay, Geylang is one of the cheapest areas in Singapore. 
But don't expect luxury here. 
Most properties are within the 2-4 star range and tend to be much cheaper than in Marina Bay and Sentosa. 
Some of the closest properties relative to PLQ Mall are:
Head south along Joo Chiat Road to find more budget options with reasonable reviews.
Geylang and Katong have affordable rates for rooms, but do your homework and check review scores before booking. You want to make sure that you are staying at a clean, well-managed property. 
---
Conclusion
At this point, you should know how to get to PLQ Mall by MRT.
If you refer to the route map before your trip, you will make it there without any headaches. 
The most challenging part of the trip to PLQ Mall is making sure that you transfer lines at the right stations on the way. Other than that, it's super convenient because it is only 50 m south of Paya Lebar Station. 
The outdoor area around PLQ Mall is very nice and awesome for socializing with friends. Several malls are scattered around the MRT station, making it easy to visit selected shops and restaurants. 
Highly consider walking south of the station to Joo Chiat Road to experience Peranakan culture and Peranakan architecture at its finest!