Get to SingPost Centre in record time following this detailed, step-by-step transportation guide.
Here is the complete, step-by-step guide on how to get to SingPost Centre by MRT.
Our goal with this article is to ensure that you can reach SingPost Centre in Singapore as fast and affordably as possible using the city's extensive MRT network. 
Fortunately, Singapore has an excellent, world-class metro system with several MRT and LRT lines servicing most city areas. It's possible to make it right to SingPost Centre without stepping foot in a vehicle along the way!
---
Shopping at SingPost Centre in Singapore
SingPost Centre is one of several shopping malls scattered around Sims Avenue and Paya Lebar Road in Geylang Singapore. It is located right in the heart of Paya Lebar Central. 
It is a popular destination for people of all ages because it offers a wide selection of retail brands, restaurants, services, enrichment centres and entertainment venues. SingPost Centre features approximately 178,00 square feet of retail space spanning five floors. 
You can shop at SingPost Centre, watch a movie at the large cinema or socialize at one of several restaurants or cafes located within the commercial centre. There is a popular food court located within SingPost Centre that has several culinary options at affordable prices. 
As the name suggests, SingPost Centre is the General Post Office (GPO) home.   You should go here for convenient postal and e-commerce services. 
Additional services and amenities that you will find at SingPost Centre include
On-Site Parking
Nursing Rooms for Families (Level B1 and L3)
Complimentary Wifi Service (Password – Singp05t) 
Customer Service Centre (Level 2)
As you will learn below, SingPost Centre is conveniently serviced by MRT, making it a very easy mall to reach regardless of where you are starting your trip in Singapore. You can also walk to 3 or 4 malls in under 2 minutes from here.
---
Getting to SingPost Cente by MRT 
One of the coolest things about visiting SingPost Centre is that Singapore's MRT network directly services it. 
You can literally walk from the nearest station to the mall entrance without breaking a sweat! 
The section below will explain the step-by-step process of getting there via MRT.
---
Step 1: Access the most convenient MRT station.
Getting to SingPost Centre is much faster and cheaper if you stay near an MRT station. Hotel developers have purposely made hotels and hostels close to stations because most people use MRT in the city. 
We suggest booking a room in Singapore under 500 m from the nearest station. You will avoid taxi fees, headaches with parking, and shave time heading to different areas. 
Two popular hotels near stations are
Capitol Kempinski Hotel Singapore – 2 minutes from City Hall Station
The Fullerton Hotel Singapore – 2 minutes to Raffles Place Station
It's always wise to shop around before choosing a place to stay. 
---
Step 2: Plan your route to SingPost Centre.
Map out your route to SingPost Centre using the metro maps displayed in stations throughout the city. The station you should be looking for is 
Paya Lebar Station (CC9/EW8)
As its shortcode (CC9/EW8) suggests, Paya Lebar Station is located on two of Singapore's MRT lines.
Circle Line 
East-West Line
The Circle Line is shown in orange colour on Singapore's route maps, whereas the East-West Line is also known as the 'green line.' 
You can find route maps in each station and on each train throughout Singapore on your way to SingPost Centre.
---
Step 3: Buy a ticket to reach Paya Lebar Station (CC9/EW8).
Locals and visitors have several tickets/cards to choose from in Singapore. 
The most popular types of transport cards/tickets include
Tourist Passes

Stored Value Cards

Multiple/Single Trip Tickets
We used a stored value card while figuring out how to get to SingPost Centre. Stored value cards, such as EZ link cards, are acceptable on buses and trains. Once you buy one and top it up, you'll be good to go!
Singapore Tourist Passes are an excellent alternative for tourists staying in Singapore for 1-3 days. Once you buy one, you can get on unlimited trains and buses. But, you will only save money if you plan on having a busy itinerary while in the city. 
 Single or multiple journey tickets can be purchased at machines near the MRT entrance. Credit cards are accepted if they have a functional 'wave feature.'
---
Step 4: Complete any necessary transfers and ride the MRT to Paya Lebar Station (CC9/EW8).
Check the metro map on your way to SingPost Centre. 
You should hear verbal announcements on the trains for upcoming stops as you head to Paya Lebar Station (CC9/EW8)
Keep your eye out for Paya Lebar Stations' four neighbouring stops.
MacPherson Station (North)
Dakota Station (South)
Aljunied Station (West)
Eunos (East)
Expect only 1-2 minutes to Paya Lebar Station after these stops.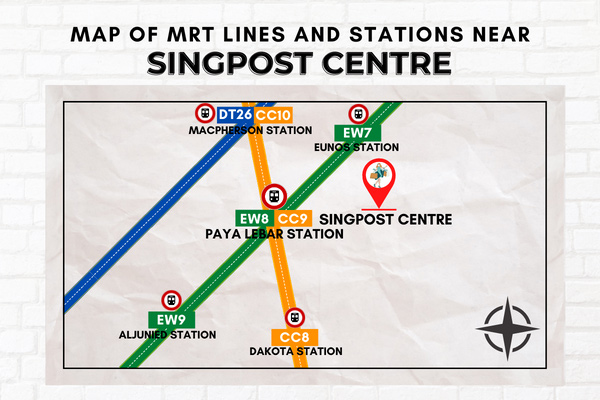 ---
Step 5: Alight from the train at Paya Lebar (CC9/EW8).
Get off the train when you stop at Paya Lebar Station. 
Don't forget to bring your items before stepping off.
---
Step 6: Travel from Level L2 or B2 to Level 1 at Paya Lebar Station. 
Paya Lebar MRT Station (EW8/CC9) is an interchange station for trains travelling along the East-West Line and Circle Line in Geylang. 
It is located along Paya Lebar Road, near the junction with Sims Avenue. 
Keep in mind that the East-West Line Station is built above ground, whereas the  Circle-Line Station is underground.
Paya Lebar Station consists of 4 primary levels:
L2 – East-West Line Train Platforms A and B
L1 – Street Level and East-West Line Concourse
B1 – Circle Line Concourse
B2 – Circle Line Train Platforms A-D
You will arrive at either Level L2 or Level B2 on your way to SingPost Centre via MRT.
Travel either up or down depending on what line you travelled on to L1-Street Level. 
Dakota Station has six exits to choose from. Take Exit A at Street Level to access SingPost Centre.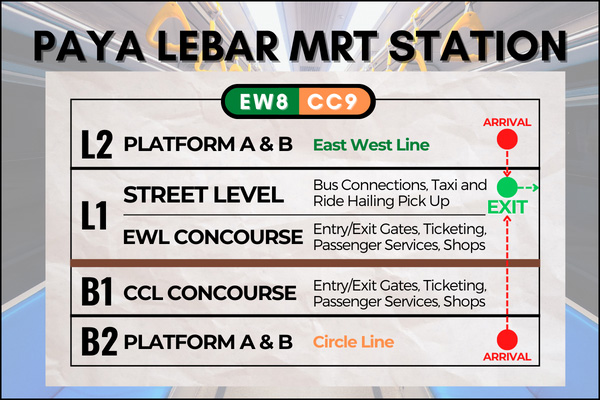 ---
Step 7: Exit Paya Lebar Station and walk directly to SingPost Centre.
The walk from Paya Lebar Station to SingPost Centre is short and sweet!
Exit A will take you to an open area where you can walk directly to the mall.
SingPost Centre is located on the northern side of the station, so just make sure you head north when exiting (and not south).
---
How long does it take to walk from Paya Lebar Station to SingPost Centre?
Conveniently, the walk from Paya Lebar Station to SingPost Centre is around 100 meters, which should take less than 1 minute.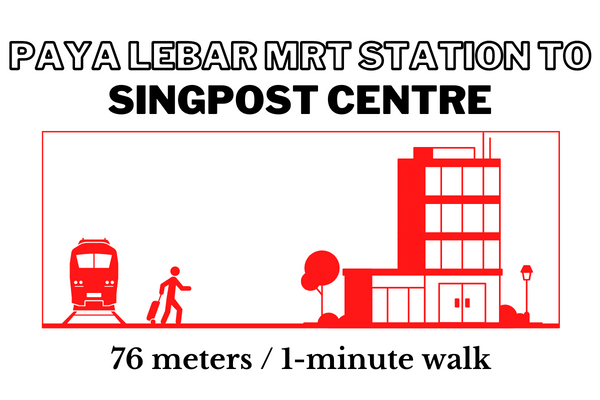 ---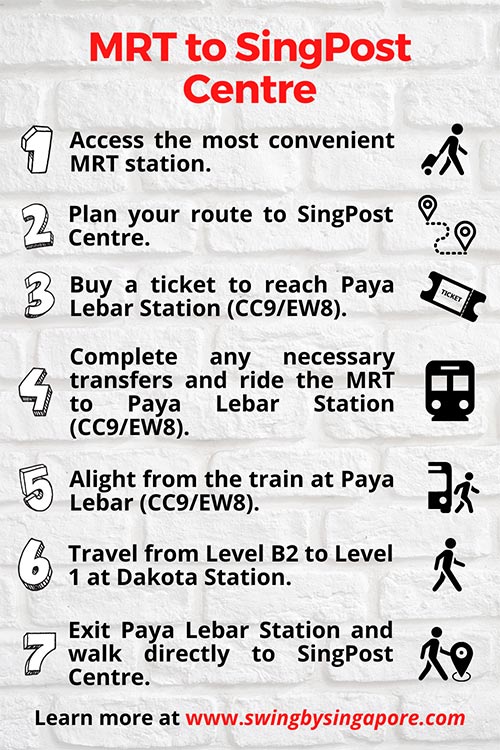 ---
What to see and do around the shopping centre?
SingPost Centre is located in a very convenient spot for accessing other shopping malls and the famous Joo Chiat area of the city. 
There are several shopping malls under 3 minutes of SingPost Centre that you can also access using Paya Lebar Station:
Paya Lebar Square
PLQ Mall
City Plaza
Kinex
Tanjong Katong Complex
You should also highly consider exploring the beautiful Peranakan Houses on Koon Seng Road (Directions), which are south of SingPost Centre. Simply walk south along Joo Chiat Road to access them.
Other cultural points of interest south of SingPost Centre include the Eurasian Heritage Gallery, Intan and Sri Senpaga Vinayagar Temple (Directions). 
Further south, you will discover Katong's popular shopping district scattered near Joo Chiat Road.
Consider checking out these malls while you are in Katong:
Parkway Parade (Directions)
I12 Katong (Directions)
Katong V (Directions)
Dunman Food Centre (Directions) is the place to go for local dishes.
Geylang Serai Market (Directions) and Joo Chiat Complex (Directions) are two awesome places for shopping. Walk south of Paya Lebar Station to access these.
East Coast Park is one of Singapore's best outdoor areas. Head here for some fun in the sun or some superb cycling. You can even make it from East Coast Park all the way to Changi Jurassic Mile on your wheels. 
---
Accommodation Choices near SingPost Centre
Geylang is known for affordable hotels and hostels compared to areas such as Marina Bay and Sentosa Island. 
Most hotels in Geylang and Katong are in the 2-4 star range and reasonably priced. Paya Lebar Station provides convenient access to this area so getting downtown from here is relatively quick and easy. 
Here are a few properties within walking distance of SingPost Centre:
Aqueen Hotel Paya Lebar 
Hotel 81 Tristar
Four Chain View Hotel
You will find more hotels as you walk south along Joo Chiat Road. 
We recommend checking review scores before booking around here. Some properties might be super clean and well managed, but there are some disappointing places to stay in Geylang. Researching and comparing properties is a wise idea.
---
Conclusion
Hopefully, you now know how to get to SingPost Centre by MRT in Singapore!
Getting here is surprisingly easy via MRT because the mall is directly north of Paya Lebar Station. Therefore, the rest is super easy once you navigate your way to Paya Lebar Station. 
Using Exit A at the station, you can walk at ground level straight to the shopping centre's entrance. It will take you less than 1 minute to reach the entrance. 
Once you are at SingPost Centre, consider exploring the malls right around the station, and then head south along Joo Chiat Road. 
Katong is one of Singapore's best areas for walking around and sampling cultural attractions.