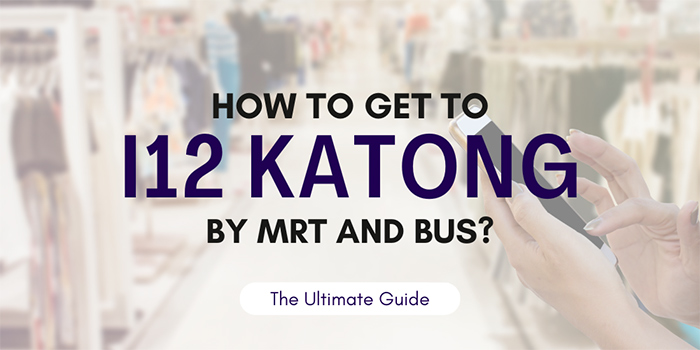 Get to i12 Katong fast and affordably by following the specific steps outlined here.
Welcome to the complete guide on how to get to i12 Katong by MRT and bus. 
Regardless of which area of Singapore you are beginning your trip, you should be able to make it to i12 Katong in a fast, affordable and stress-free manner using a combination of MRT and bus services. 
Singapore has several convenient MRT lines that connect most city areas.  Currently, i12 Katong is not directly beside a station. Therefore,  it's common for commuters to take the MRT to a nearby station and connect with public bus services to reach the mall. We will outline this entire process to ensure that you get there as fast as possible.
 You can also get to i12 Katong directly using several different bus services.  There are several bus stops within walking distance of the mall. Once you are in the area, there are several cultural attractions to explore such as the Peranakan Houses. We will summarize the closest bus stops to the mall and the best hotels that are known for quality review scores.
Parking your vehicle at i12 Katong is a smooth, convenient process that makes driving a vehicle one of the fastest and most convenient options.  But it's hard to argue that getting dropped off by a taxi right near the entrance is also very convenient!
---
Shopping at i12 Katong in Singapore
As its name suggests, i12 Katong is Ideally located right in the heart of Katong – one of Singapore's densest shopping districts. It consists of seven storeys of shops and services spanning 19,299 m2. Currently, approximately 160 tenants occupy spaces here, offering ample selection for visitors. 
I12 Katong was recently renovated to create a better experience for visitors and to infuse the Katong Peranakan culture into its design. It features a cinema, food court, supermarket, and a range of other shops and services. 
When you visit i12 Katong, feel free to use their free Wi-fi service throughout the mall. Nursing rooms are available on both Level 3 and Level 4. You can charge your electronic devices at the charging station located on Level 3. 
Parking at i12 Katong is super convenient, with spaces available for motorcycles, electric vehicles and traditional cars and SUVs. You can charge your electric vehicle at Basement 2. 
Motorcycle parking at i12 Katong is available for a flat daily rate, whereas vehicle parking is organized in 15 minutes intervals. 
---
Getting to i12 Katong by MRT and Bus 
Due to its location in Singapore, i12 Katong is best accessed using a combination of MRT and bus if you plan on using the metro to get there. 
Walking from the nearest MRT station will take you about 25 minutes, so taking the bus is more practical for many people (especially when you consider Singapore's heat)!
In the direct selection below, we will outline how to get from the nearest MRT Station to i12 Katong using connecting bus services. 
---
Step 1: Walk to the closest MRT station.
Getting around using Singapore's MRT is a lot easier if you are within walking distance of a station. We often recommend being 500 m or less away from a station to avoid all taxi fees. 
Then, when you decide to visit places such as i12 Katong, you will reach it faster, cheaper and without having to deal with any road traffic along the way.
Fortunately, tons of hotels are located in convenient locations throughout the city.
We recommend staying at one of the two properties below because they are in beautiful areas and also within 3 minutes walking distance of their neighboring stations.
Fullerton Bay Hotel (3 minutes away from Raffles Place Station)
Marina Bay Sands (2 minutes away from Bayfront Station)
Both of these hotels receive verified review scores of 9/10 on leading accommodation sites around the world.
---
Step 2: Plan your trip to i12 Katong (consider stations, lines and transfers).
You can actually get to i12 Katong using several different MRT stations and buses because of its location. 
However, we will focus on how you can get to the closest station to i12 Katong and which bus services to use from there.  
The closest station to i12 Katong is
Dakota Station (CC8)
It is located on the Circle Line, which is commonly shown in orange on the metro map throughout the city. 
Some of the most popular interchange stations for transferring to the Circle Line include:
Marina Bay 
Bayfront
Promenade 
Paya Lebar
Take a look at the metro map in the first station that you enter and you should have no problem mapping out your route to Dakota Station (and eventually i12 Katong).
---
Step 3: Buy your MRT ticket to reach Dakota Station (CC8). 
Singapore has two main types of MRT tickets to choose from. Still, they come down to the three following categories:
Tourist Passes

Stored Value Cards
Singapore Tourist Passes are designed for foreigner tourists vising Singapore. If you have sightseeing plans, consider getting one of these. You can use the Pass for unlimited bus and train rides for a set period of days. People with short, action-packed itineraries like using Tourist Passes. 
Stored value cards are another very popular option amongst Singaporeans, permanent residents and many tourists. We used one when we discovered how to get to i12 Katong by MRT and bus.
Regardless of whether you have a stored value card or Tourist Pass, you can save additional money by getting an Attraction Pass. We highly recommend buying one to save up to 52% on entrance fees. At this point in time, over 200,000 of these passes have been purchased online!
---
Step 4: Travel along the MRT to the Circle Line to Dakota Station (completing any necessary transfers along the way). 
Singapore has several metro lines and tons of stations. Refer to the metro map in your first station and travel towards the Circle Line. 
Complete any necessary transfers along the way. 
Take the Circle Line to Dakota Station.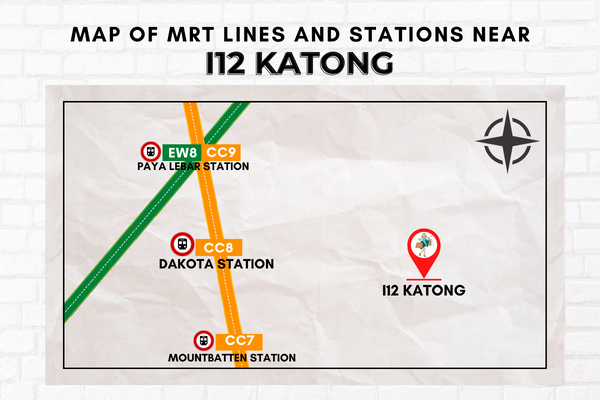 ---
Step 5: Alight at Dakota MRT Station (CC8). 
Get off the train at Dakota Station (CC8) and bring all your stuff. 
Keep in mind that Dakota Station (CC8) has two neighbouring stations:
Paya Lebar (north)
Mountbatten (south)
When you stop at either one of these, you will be getting off at the next stop so move closer to an exit on the train. 
---
Step 6: Walk up from the train platforms at Dakota Station to the exits at ground level. 
Exiting Dakota Station (CC8)
Dakota Station is built under Old Airport Road, at the junction of Jalan Dua near Geylang River.
Dakota Station consists of three levels:
Level 1 – Street Level 
B1 – Concourse
B2 – Train platforms
Dakota Station has two exits to choose from at street level, Exits A and B.
Once you alight at Dakota Station, travel from B2 up to Level 1 to access the station exits.
Take Exit A if you want to connect with the fastest bus to i12 Katong.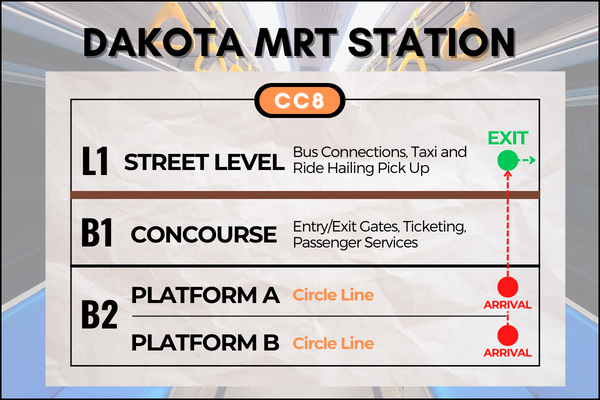 ---
Step 7: Take the bus from Dakota Station to i12 Katong.
The bus from Dakota Station to i12 Katong is super easy and convenient. Here are the step-by-step directions below!
Bus Directions from Dakota Station (CC8) to i12 Katong
Exit A at Dakota Station will get you out onto Old Airport Road
Walk to the bus stop across from the station called:
Dakota Stn Exit A/Blk 99 – Stop ID: 81181
Wait at the bus stop and then get on Bus 16/16E (or 10/32 if it arrives first).
Stay on Bus 16/16E for 4 stops and then alight at:
Opp I12 Katong – Stop ID: 92189
Cross Joo Chiat Road. 
Walk north along Joo Chiat Road.
Enter i12 Katong using the eastern entrance along Joo Chiat Road
Approximate Bus Ride Length (including walking): 14-15 minutes
Bus Pick-up Frequency: Approximately every 12 minutes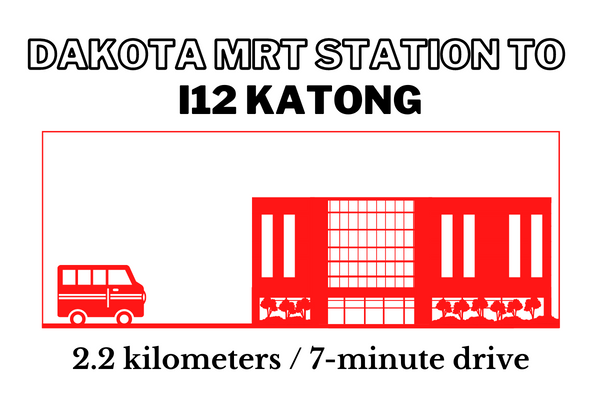 ---
Getting to i12 Katong using Public Bus
At this point, you can already see that i12 Katong is not directly beside an MRT station. A combination of MRT and bus is used by commuters heading here. 
However, if you can bypass the MRT on the way to i12 Katong, you might be able to save more time and headaches. There are several bus stops near the mall. 
Once you get dropped off, the walking distances are short and sweet.
Here is a bus summary below (organized according to bus stops).
Bus Stop

Bus Numbers

Approximate Walking Time from the Bus Stop to the entrance of i12 Katong

112 Katong

Stop ID: 92181

16/16M

1 minute (50 m)

Opp I12 Katong

Stop ID: 92189

16/16M

2 minutes (220 m)

Roxy Sq

Stop ID: 92119

10, 10e, 12, 14, 14A, 14E, 32, 40

3 minutes (260 m)

Opp Roxy Sq

Stop ID: 92111

10, 10e, 12, 14, 14A, 14E, 32, 40, 47

4 minutes (300 m)
According to our research, the four closest bus stops to i12 Katong are under 5 minutes walking distance from the mall. 
The two closest bus stops (112 Katong Stop ID: 92181 and Opp I12 Katong Stop ID: 92189) are only serviced by Bus 16/16E. The other two stops along East Coast Road are serviced by more buses, but they are 1-3 minutes farther from the mall entrance. 
---
Driving or Taking a Taxi to i12 Katong
Driving and/or taking a taxi are the two most convenient options for getting to i12 Katong.
If you plan on driving, here is the address:
 112 E Coast Rd, Singapore 428802
There is convenient parking available at the mall. You can drive there and park your car or motorcycle. Motorcycle parking is charged per entry, whereas vehicles are changed for the first hour and then every 15 minutes from then on. 
Taking a taxi to i12 Katong has several advantages. First, you don't have to worry about MRT and bus connections. Secondly, you don't have to pay for parking or spend any time looking for a parking space. 
---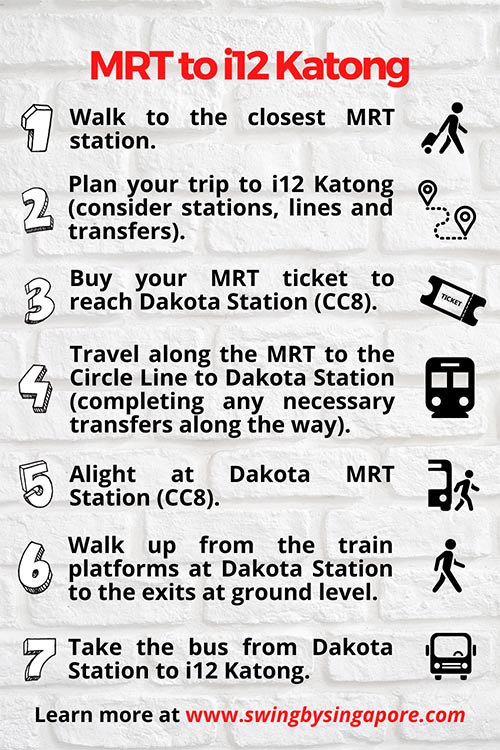 ---
Interesting Places to Visit near the Mall
I12 Katong is surrounded by great shopping malls and is right in the heart of Peranakan culture in Singapore. Therefore, you should have a problem spending an entire day in this area. 
Some of the best shopping malls to explore near i12 Katong include:
Katong V (Directions)
Parkway Parade (Directions)
Katong Plaza
Roxy Square 1
Katong Shopping Centre
Flow @ East Coast
Katong Square
Also, check out the following points of interest while here:
Joo Chiat Road (Directions)
The Peranakan Houses
Sri Senpaga Vinayagar Temple
Koon Seng Road 
Geylang Serai Market and Joo Chiat Complex attract a lot of visitors on a daily basis and they are further north (Geylang). 
You should head to East Coast Park if you want to spend some time outdoors.  It is very popular with families, and it's an awesome spot to relax, exercise or have some fun on the beach. It is south of i12 Katong along Singapore's southern coastline.
---
Best Accommodation Choices near i12 Katong
Katong may not offer the same level of luxury hotels as Marina Bay, Sentosa and Orchard, but it does have a good selection of well-priced properties to choose from. 
Many of the hotels here are scattered throughout Joo Chiat Road and the surrounding shopping malls.  
Some recommended places to stay according to location and verified review scores include:
Grand Mercure Singapore Roxy (top choice)
If you are looking for a safe, clean budget property here consider ibis budget Singapore Joo Chiat. It receives pretty good reviews and is in a great location for accessing restaurants and shops.
---
Conclusion
Hopefully, you now know how to get to i12 Katong by MRT and Bus!
We also shared important information about getting to the mall using your own vehicle and taking a taxi there.
According to our experience and research, it's challenging getting right to i12 Katong by MRT alone. The walking time from the closest station is over 20 minutes, and that's quite far considering Singapore's intense afternoon heat.
Instead, if you plan on using the MRT to get to the mall, you are better off going to Dakota Station and then connecting with the buses there. The bus from the station to the mall is convenient and quick.
Heading to i12 Katong directly is a very good option because you completely avoid the need to take the MRT first. There are 4 bus stops all within 5 minutes of the mall.