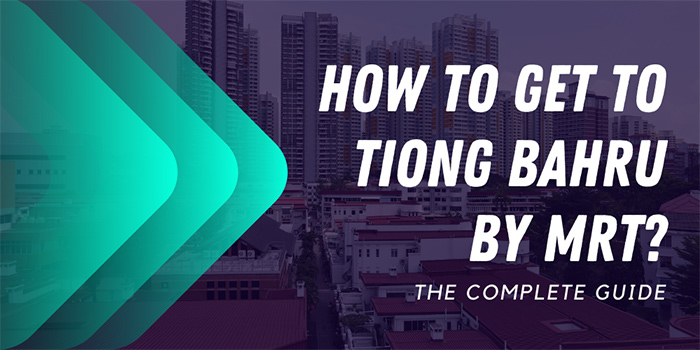 Get to Tiong Bahru fast and easily via MRT using this guide.
Welcome to our complete guide on how to get to Tiong Bahru by MRT. We have written this article to provide you with all the necessary steps to get to Tiong Bahru in a fast, affordable, and environmentally friendly manner. 
Ideally, by the end of this article, your should be able to make informed decisions about:
Which relevant MRT stations and lines you should take to reach Tiong Bahru.

How long it should take you to walk from the stations in Tiong Bahru to popular points of interest in the area. 

Creating a cost-effective itinerary of the Tiong Bahru area. 
Singapore, conveniently, has one of the best public transport systems anywhere. By selecting the MRT as your mode of transportation to Tiong Bahru, you will avoid road traffic congestion, parking fees and paying for a taxi. 
---
Why should you visit Tiong Bahru Singapore?
Tiong Bahru is a hip area located within the Bukit Merah Planning Area of Singapore. The term Tiong Bahru stands for 'New Cemetary' in Malay. Although Tiong Bahru has a ton of large apartment buildings, the area has undergone rapid changes. It now is home to trendy cafes, boutiques and an impressive array of photogenic pre-war architecture.
The younger generation of Singaporeans head to Tiong Bahru to hang out at cafes and eateries. 
But, don't forget to dine at one of Tiong Bahru's hawker stalls!
Tiong Bahru has several popular food centres that specialize in affordable, delicious local dishes. Tiong Bahru Market, for example, is one of the best food centres in Singapore, with a large selection of hawker stalls to choose from. 
Beo Cresent Market and Havelock Road Cooked Food Centre are two other food centres worth checking out while you are in Tiong Bahru. 
Both western and central Tiong Bahru do not have a lot of hotels or hostels. However, there are quite a few places to stay along the eastern edge of Tiong Bahru, closer to Outram. Most properties here are 3 and 4-star hotels. Copthorne King's Hotel and Furama RiverFront are two examples of hotels in Tiong Bahru with positive reviews.
---
Specific Details – Getting to Tiong Bahru by MRT
Step 1: Walk to the most convenient MRT station. 
Getting around Singapore is easy if you are staying near an MRT station! 
So, if you are visiting and still haven't booked a property, then make it a priority. Singaporeans and permanent residents likely already have a 'go-to' station close to their house or condo. 
But, visitors should try to be within short walking distance from a station to cut down on expenses and time wasted in traffic on your way to Tiong Bahru. 
There are hundreds of hotels and hostels close to MRT stations throughout Singapore. It is really a matter of finding an area and then looking for a property within it. 
Here are a few examples of positively reviewed properties near Marina Bay that are under 3 minutes from their neighbouring MRT station:
Marina Bay Sands (5-star, 9.0/10 review score, very close to Bayfront Station) 
 The Capitol Kempinski Hotel Singapore (5-star, 9.2/10 review score, very close to City Hall Station) 
The Fullerton Hotel (5-star, 9.0/10 review score, 2 minutes from Raffles Place Station)
Proceed to Step 2 of getting to Tiong Bahru via MRT once your accommodation is good to go!
---
Step 2: Purchase a ticket for your MRT trip to Tiong Bahru. 
Fortunately, you have many ticket/card options for your trip to Tiong Bahru.
If you don't have a card yet for the MRT, read the following questions and select the best one for your trip:
How long are you in the city?
Do you mind spending time in ticketing lines for each MRT trip that you make?
Are you travelling to different areas of Singapore or only to/from Tiong Bahru?
Here are some ticketing options available:
Singapore Tourist Passes

Single Trip Tickets/Multi-Trip Tickets

Stored value cards
Singapore Tourist Passes are a solid option for tourists spending 1-3 days in Singapore.
Once purchased, Tourist Passes grant you unlimited bus and MRT trips for a set number of days. These are best for busy tourists with busy itineraries.
You can easily use a Tourist Pass to travel to and from Tiong Bahru and also connect with buses along the way.  
Get all the details: Buying Singapore Tourist Passes – The Complete Informational Guide.
Other Ticket Options for your Trip to Tiong Bahru
Single-trip tickets/multi-trip tickets are another ticketing option for getting to Tiong Bahru. 
You can buy these right in the station, but try your best to avoid busy times when line-ups might be present. 
Stored value cards are the third popular option for going to Tiong Bahru.
We used a stored value card while figuring out how to get to Tiong Bahru by MRT. There are various types of cards, but they all pretty much function the same way. Once you buy the card, top it up with some cash and then tap it to enter buses and trains throughout Singapore. 
Keep extra cash on your card so that you don't have to reload it on your way to Tiong Bahru!
Read More: How to buy MRT tickets in Singapore – The Complete Guide. 
---
Step 3: Plan on taking the MRT to Tiong Bahru Station. 
Tiong Bahru is serviced by Tiong Bahru Station and the East-West MRT Line. 
In case you are wondering, Tiong Bahru Station (EW17) has two neighbouring stations:
Rehill Station (EW18) – northwest of Tiong Bahru 
Outram Park Station (EW16) – southeast of Tiong Bahru
Technically, you could go to these stations and then bus, but Tiong Bahru Station is definitely the most convenient!
---
Step 4: Ride the MRT to Tiong Bahru Station. 
You will likely stop at Outram Park Station directly before Tiong Bahru if you are staying in Chinatown or Marina Bay. 
As you get close to Tiong Bahru Station, grab your personal belongings and get closer to an exit on the train.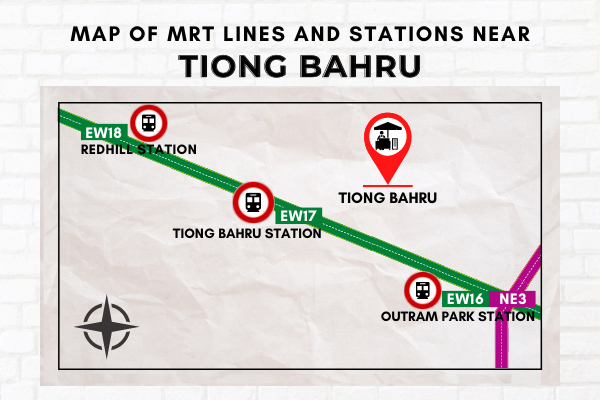 ---
Step 5: Alight at Tiong Bahru Station. 
Alight once you arrive at Tiong Bahru Station. Begin looking for exit signs once you get off the train. 
---
Step 6: Exit and walk to your point of interest in Tiong Bahru.
Exiting Tiong Bahru Station
When you exit Tiong Bahru MRT Station, you will have only two exits to choose from, A and B.
 Use Exit A to go to Jalan Membina.
Use Exit B to walk to Tiong Bahru Plaza. Exit B connects to Basement 1 of Tiong Bahru Plaza via a set of escalators.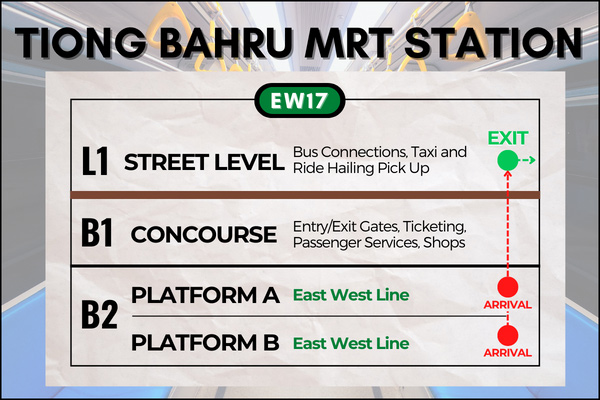 Tiong Bahru Plaza is directly north of the station and only takes about 1-2 minutes to walk there.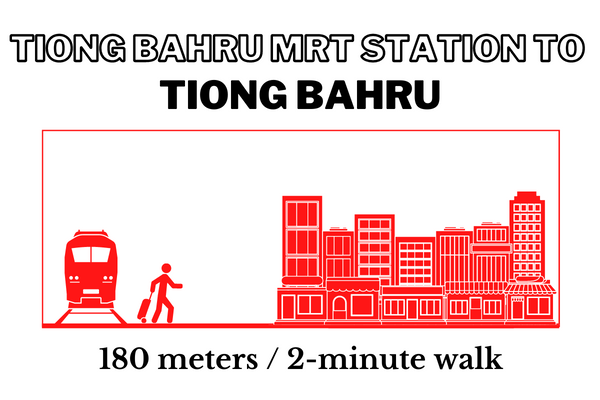 ---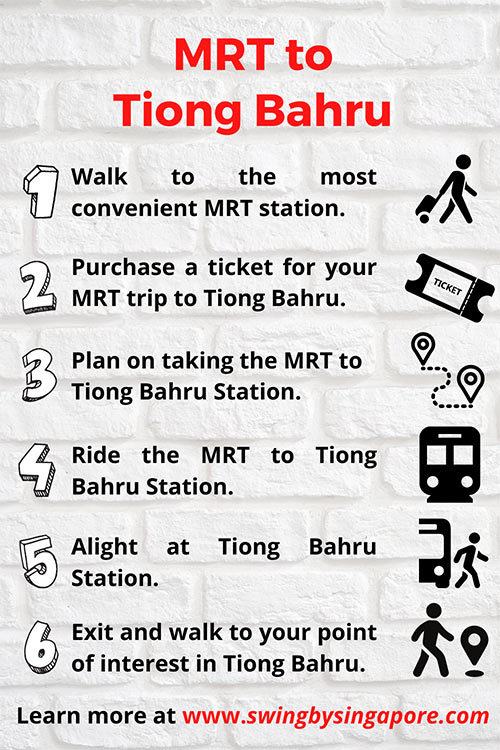 ---
 

Where should you stay in Tiong Bahru?
As mentioned earlier, most of the hotels in Tiong Bahru are located in the eastern section of the area. 
There are two pockets of hotels to choose from here. One cluster of hotels is directly east of Tiong Bahru Market, whereas the other is south of the Singapore River and Robertson Quay. 
Most of the hotels in Tiong Bahru are 3 and 4-star hotels, and many of them receive verified guest review scores of 7.5 and above out of 10. 
Southern Cluster (Near Tiong Bahru Market)
There are 4 to stay about 100 meters east of Tiong Bahru Market:
Nostalgia Hotel – 4-star, 8.2/10 based on 330+ guest reviews
D'Hotel Singapore – 4-star, 8.1/10 based on 220+ guest reviews
ST Residences Tiong Bahru – 8.0/10 based on 29+ guest reviews
Hotel 81 Osaka – 2-star, 7.5/10 based on 241+ guest reviews
Alternatively, you can stay near Havelock Road, south of the Singapore River. The benefit of staying here is that you can walk along the waterside walkway to great restaurants in Robertson Quay and Clarke Quay. 
Northern Cluster (South of Singapore River)
A few of the most popular hotels here are:
Furama RiverFront – 4-star, 7.8/10 based on 1300+ reviews
Copthorne King's Hotel – 4-star, 7.8/10 based on 1400+ reviews 
Although the properties in Tiong Bahru receive reasonable review scores, you may want to search for hotels in Marina Bay if you are looking for five-star luxury properties with higher service standards.
---
Conclusion – Getting to Tiong Bahru via MRT
Hopefully, this step-by-step guide on how to get to Tiong Bahru by MRT has been helpful!
It is safe to say that Tiong Bahru does not receive as many tourists as other areas of Singapore. But there are some real hidden gems in this area worth checking out! In other words, the area is still underrated, in our opinion!
Tiong Bahru has some exceptional food centres which offer delicious traditional dishes that you should consider visiting. 
For example, Tiong Bahru Market is one of the best food centres in Singapore. Havelock Road Cooked Food Centre and Beo Crescent Market are two other places to check out. 
Tiong Bahru Plaza is the largest shopping mall in Tiong Bahru. It's also the most convenient place in relation to the MRT station. 
You can also get some exercise walking over to Tiong Bahru Park. It is only a few hundred meters northwest of the MRT Station. It is an urban park with a sandpit, playgrounds, exercise equipment and jogging tracks.
A lot of visitors to Tiong Bahru like to sample different cafes scattered around the area. 
Please don't hesitate to email us or comment below if you have any other questions about visiting Tiong Bahru – we are happy to help!