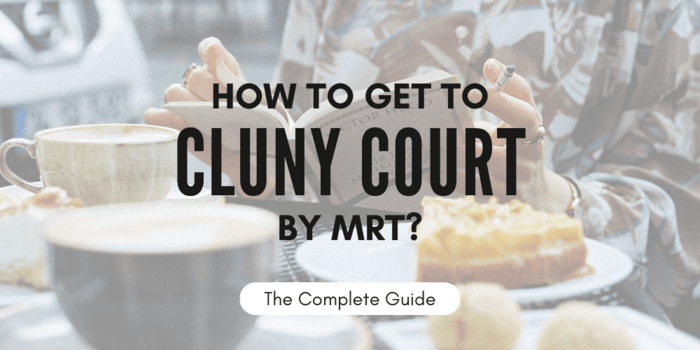 The Complete Guide to getting to Cluny Court via MRT in Singapore!
Welcome to this comprehensive guide on how to get to Cluny Court by MRT. 
Cluny Court is very popular because it feels like a mini-European shopping centre, with tasteful clothing, crafts and food. 
Getting there via MRT is very easy. 
This article will explain how to get to Cluny Court using Singapore's extensive MRT network. Once you find one of the correct metro lines, you should have no problem accessing it. 
The walk from the nearest station to Cluny Court is very short. 
You won't need to arrange alternative transportation. Simply walk straight there, which eliminates taxi fees, bus fares and headaches associated with parking your vehicle. 
---
Shopping at Cluny Court in Singapore
Cluny Court is ideally located right beside the Botanic Gardens of Singapore. It gets excellent reviews from visitors for its European-influenced eclectic shops, services and businesses. It has several small independent upmarket clothing outlets, household shops, and a couple catering to toddlers and children. You can find all kinds of little trinkets here to add style to your home.
Consider visiting Cluny Court for brunch as well. 
After walking through the Botanic Gardens, it's the perfect spot for brunch and coffee. There are several trendy cafes serving up fresh bread and baked goods. Some focus on selling healthy foods, whereas others sell all freshly baked goodies right out of the oven!
You will also find a convenient grocery store at Cluny Court. Buy a few cold beverages after a morning run. 
---
Getting to Cluny Court using MRT
Step 1: Plan your trip – lines and stations. 
 The best station for getting to Cluny Court by MRT is 
Botanic Gardens Station (CC19/DT9)
According to its station shortcode, Botanic Gardens Station allows commuters to transfer between the two following lines:
Circle Line – shown in orange colour on the map 
Downtown Line – shown in blue colour on the metro map 
 Plan on using either one of these lines to reach Cluny Court. 
---
Step 2: Buy an MRT card to reach Cluny Court.
You can reach Cluny Court via MRT using two main types of transportation cards:
Stored Value Cards 
If you want to explore Singapore on a budget, a Tourist Pass is an ideal way to do so if you're visiting from abroad. 
It allows you to receive unlimited rides on buses and trains for a three-day period (or less). 
However, if you don't plan to use the MRT much or you're already living in the city, a Stored Value Card is the more suitable option. 
This card works by deducting the fare from your balance when you leave the public transport system. 
Tourist Passes are only available to foreign guests, whereas anyone can use the Stored Value Card. 
We used a stored value card while discovering how to get to Cluny Court by MRT, and it worked very well!
---
Step 3: Locate the closest MRT station, and tap your card to enter the network.
Staying near a Mass Rapid Transit (MRT) station in Singapore is wise, as it will save you both money and time. 
Plenty of hotels and hostels are within walking distance of stations, allowing you to take advantage of public transportation easily. 
Our readers have particularly enjoyed two popular hotels located only minutes away from the MRT stations:
Marina Bay Sands Hotel (right beside Bayfront Station)
The Fullerton Hotel (right beside Raffles Place Station)
Marina Bay Sands is renowned throughout Asia for its amazing architectural design. 
The Fullerton Hotel is located directly on the picturesque Boat Quay, minutes from Clarke Quay.
If you're trying to save money on a room, then Chinatown or Bugis are great options. 
However, if you're looking for a luxurious experience, you can't go wrong with Marina Bay. You'll have access to the best views in the city from world-class properties!
---
Step 4: Make any line transfers and ride the MRT to Botanic Gardens Station (CC19/DT9).
Ride the MRT network to either the Circle Line or the Downtown Line. 
Then, once you're on one of these, head all the way to Botanic Gardens Station (CC19/DT19). 
Expect to hear verbal announcements on the train to inform you about upcoming stations and transfers. 
---
Step 5: Alight upon arrival at Botanic Gardens Station (CC19/DT9).
Keep your eye out for the neighbouring stations to Botanic Gardens Station:
Caldecott (CC17/TE9)
Farrer Road (CC20)
Tan Kah Kee (DT8)
Stevens (DT10/TE11)
When you stop at one of these, make your way closer to an exit. 
Get off the train when you arrive at Botanic Gardens Station (CC19/DT9).
Don't forget anything on the train before stepping off!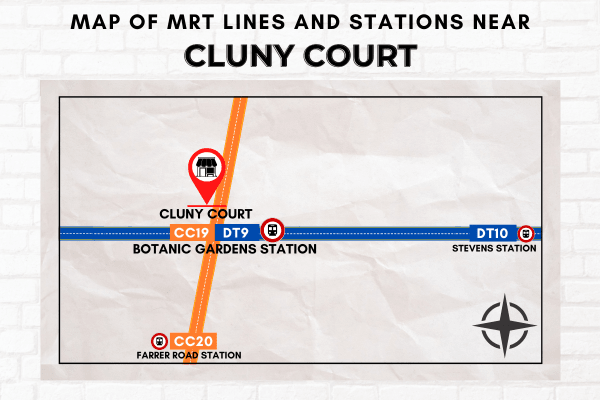 ---
Step 6: Travel from the train platforms to the best station exit.
With two MRT lines stopping at Botanic Gardens Station, it's important that you know how to navigate your way to the best exit. Accessing Cluny Court via MRT is much easier when you know which exit to take. 
Here is all the information you need below. 
---
Exiting Botanic Gardens Station (CC19/DT9)
Botanic Gardens Station (CC19/DT9) is built underground near the northern edge of Singapore Botanic Gardens. It is situated at the intersection between Cluny Park Road and Bukit Timah Road.
With the Circle and Downtown Lines stopping here, there are 5 main levels that you should be familiar with:
L2 –  Overhead Pedestrian Bridge
L1 – Street Level
B1 – Circle Line and Downtown Line Concourses 
B2 – Circle Line Train Platforms
B3 –  Downtown Line Train Platforms
Expect to arrive at Level B2 if you're travelling on the Circle Line or Level B3 if you're using the Downtown Line.  
You can choose from two exits, A and B, at Botanic Gardens Station.
Exit A serves Circle Line passengers, whereas Exit B serves Downtown Line passengers. 
Travel from Level B2 or B3 up to Level 1 Street Level to access Exit A or B. 
You can then walk from Exit A or B to Cluny Court.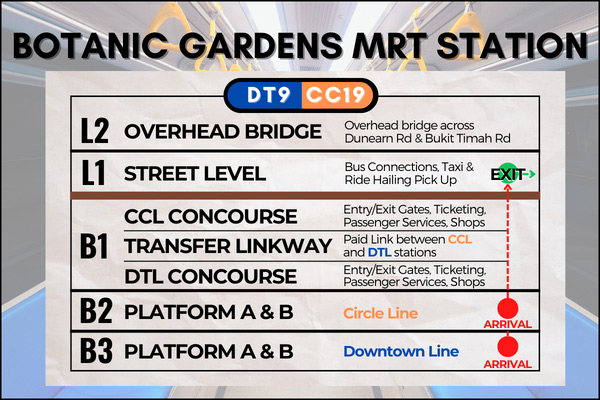 ---
Step 7: Walk from Botanic Gardens Station to Cluny Court. 
Conveniently, Botanic Gardens Station is directly southeast of Cluny Court, making this one of the smoothest walks in the city. 
Once you exit the station, walk briefly northwest towards Cluny Park Road. 
Cross Cluny Park Road and enter Cluny Court using the northeastern entrance. 
---
How long is the walk from Botanic Gardens Station (CC19/DT9) to Cluny Court?
The walk from Botanic Gardens Station to Cluny Court is extremely straightforward and fast. 
It should take 1 minute to cover the 75 meters from the station to the entrance of Cluny Court.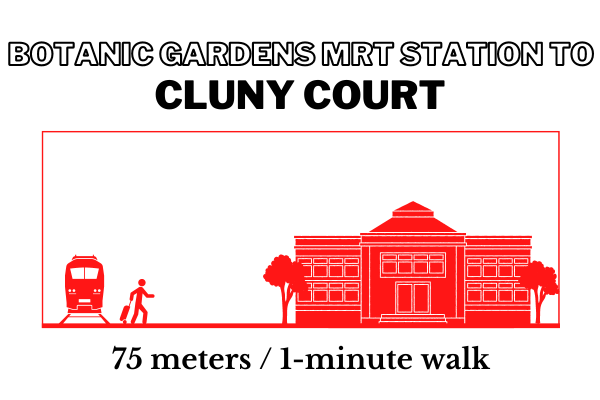 ---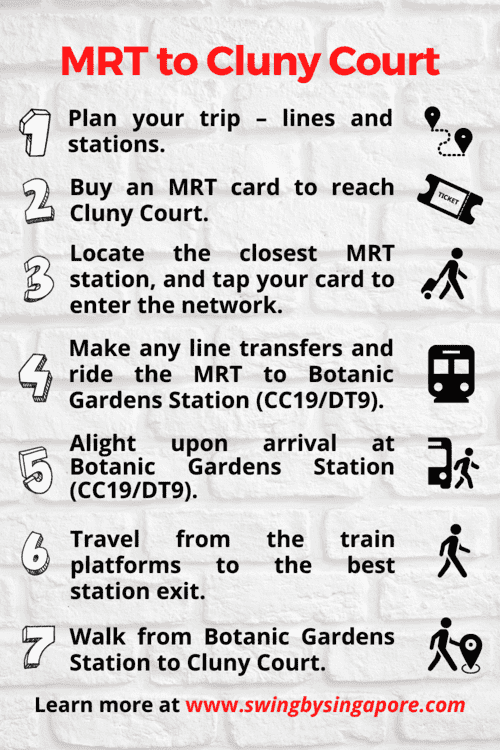 ---
Other Places to Visit During the Same Day
Once you're done shopping and dining at Cluny Court, you might want to explore more. 
Well, fortunately, there are a few other shopping centres within walking distance and one of Singapore's best green spaces. 
If you want to shop, you can head west to Serene Centre. It's directly beside Cluny Court. It has local shops and services, casual cafes and a modern taproom.
A few minutes west will also lead you to the following shopping centres:
Crown Centre Shopping Mall
Kings Arcade Shopping Centre
Coronation Shopping Plaza
One of the best attractions near Cluny Court is Singapore Botanic Gardens (Info and Directions). You can walk directly south from the MRT stations and explore the impressive vegetation. There are also restaurants if you want to enjoy a nice meal in the Gardens!
Travel a few minutes north of Cluny Court to Adam Food Centre if you want great hawker dishes at affordable prices!
---
Best Places to Stay
You won't find too many places to stay right near Cluny Court. 
However, Orchard is not too far away from it, and there are tons of hotels to choose from there!
Orchard Road (Info and Directions) is an extremely popular area for shopping and dining. 
It's wise to stay close to it for seamless MRT connectivity. 
You can take the Downtown Line a few stations east to access this area from Cluny Court. 
Singapore Marriott Tang Plaza Hotel 
Hilton Singapore Orchard
Pullman Singapore Orchard
Any of these properties should serve as a good starting point for accessing the best hotels in Orchard. 
---
Conclusion
Hopefully, at this point, you know how to get to Cluny Court by MRT in Singapore. 
The MRT network in Singapore makes getting around very convenient, and this is no exception for Cluny Court! 
You can take either the Circle (Orange) Line or the Downtown (Blue) Line to get there. 
Simply ride either one of these to Botanic Gardens Station CC19/DT9. 
You can choose either Exit A or B to access Cluny Court. Just walk less than 1 minute northwest of the station.
There are several interesting craft shops and design boutiques throughout Cluny Court. The ground level has a handy grocery store if you need to stock up. 
Consider walking south through Singapore Botanic Gardens. Napier Station (TE12) is located at the southern end, making it possible to access the MRT from both ends of the Gardens.