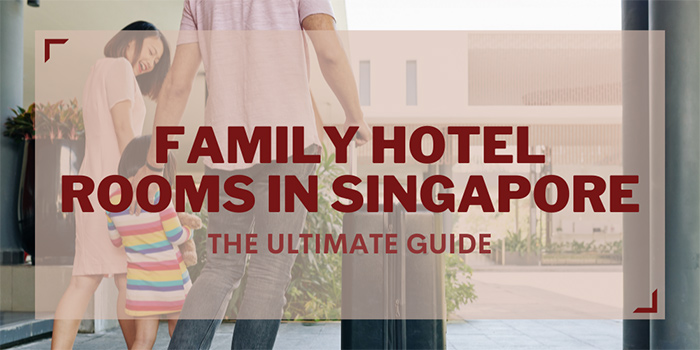 Travelling to Singapore as a family? Learn where to stay using this comprehensive guide.
Looking for a family hotel room in Singapore? In this article, we are going to provide you with an overview of the best family hotel rooms in Singapore and the most important considerations you should be making when selecting a place to stay. If you are planning on visiting Singapore, then you probably have heard that it is an expensive place to visit. Although this is true when compared to other Southeast Asian countries, you can still save serious cash by being proactive with your bookings and selecting properties that make sense based on the number of people in your family and the age of your children. The last thing you want to do is show up in Singapore unprepared, and therefore, ready to shell out some unnecessary cash. 
---
Important Considerations when Booking a Family Room in Singapore 
When you are booking a room in Singapore you have to make some clear decisions before you arrive. Unlike other Southeast Asian countries, showing up in Singapore and just finding a room will likely cost you way more money. You might get away with this strategy in some places during the low season, but as a general rule, it is not a wise decision. We have compiled a list of the main considerations that you should consider well before you land in Singapore and book your family room. 
---
Hotel Facilities for Children
A lot of people think that booking an Airbnb is the best choice if you're travelling to Singapore with family. However, you first have to consider the facilities before you book a family stay. Although some apartments may be cheaper, they may not necessarily have the pools, tennis courts, child programs and services that are found at many of Singapore's amazing hotels.   
If you are travelling to Singapore with children you have to make sure that they enjoy the experience so that you can relax and sit back for a while. When your children are active and occupied, you can enjoy some rest and relaxation. Some popular facilities that you should look for in Singapore include:
Outdoor/Indoor Swimming Pools

Exercise Facilities (especially if you have teenagers)

Tennis Courts

Table tennis (ping pong tables)

Playgrounds

Convenience stores

Family-friendly restaurants and cafes
---
Proximity to Public Transportation
If you are travelling as a family in Singapore, you must check where your preferred hotel is relative to public transportation stations. For some families, it won't really matter if you are not following a budget. But for the majority of families visiting Singapore, transportation is key to saving money and being efficient getting around the city. Family hotel rooms in Singapore that are in high demand tend to be close to MRT stations.
One of the main factors to consider is whether taking a taxi or the MRT is the best decision. If you have a large family then getting taxis or ride-sharing might be a better decision. In this case, it's likely to be less important to be beside an MRT station. However, if you believe economically and environmentally taking the MRT is a better decision for your family, then book a room as close as possible to a station. 
---
Take Advantage of the Extensive MRT Network 
Singapore has a world-class public transport system. It features multiple MRT lines and extensive bus services all over the city. But remember, Singapore gets really, really hot during the afternoon hours. The last thing you want to do is spend hours walking to and from the station with your small children in extreme heat.  There are many family-friendly hotels such as the Ritz-Carlton and Marina Bay Sands that offer direct access to the MRT network without stepping foot out in direct sunlight. 
Think about your family and your priorities and ask yourself: How close should we be to a MRT Station? Then, only search for properties within close proximity to a station in an area of Singapore where you want to stay. 
There are various types of MRT tickets in Singapore. Read our related article on how to buy MRT tickets in Singapore for a complete overview. 
---
Are meals included in the price of your stay?
Eating out in Singapore is quite expensive even as a solo traveller. But if you consider travelling with an entire family, be prepared to spend some serious money! We once ate a burger with fries at Shoppes at Marina Bay Sands and it cost over S$30 with service charges and taxes. Now imagine eating with a family of four or five over a 5 day period in the city!
A lot of the best family-friendly hotels in Singapore offer either free or heavily discounted meals for children. Of the course of a trip, this is pivotal to maintaining a practical budget. 
Furthermore, while you are searching for a family room in Singapore, consider whether you get a buffet breakfast with your booking or not. If so, you can easily eliminate eating out for lunch because chances are, you and your family are still going to be stuffed until dinner time!
In general, 5-star hotels offer the largest selection for meals with extravagant international food stations. Consider hotels such as:
If you book a family room in Singapore using a major website such as Agoda or Booking.com, chances are you will be able to see if breakfast is included. If so, then check to see if it is a continental or buffet breakfast just to make sure. Your hungry teenage kids will thank you for a great buffet breakfast (assuming they can get up in time to eat!).
---
Access to Theme Parks and Activities
A family stay in Singapore would not be complete without visiting some of the most popular attractions. Singapore is loaded with family-oriented activities, but you don't want to spend your entire trip commuting to and from them. Consequently, some areas of Singapore are more popular with families than others. Sentosa Island is one of the most popular islands in the world for a reason – families love it. 
If you stay on Sentosa Island you will have direct access to world-class attractions such as:
Universal Studios Sentosa
There are too many family-oriented attractions to list in this article. But believe us when we say there is no shortage of things to see and do. Siloso Beach, Palawan Beach and Tanjong Beach are also ideal places to visit with children. They are located along the southern shoreline of Singapore's Sentosa Island. If you are interested in visiting Sentosa, then read our detailed article about what to do on Sentosa Island.
Booking a family room in Singapore that is close to attractions and activities is not only fun but also efficient, environmentally friendly and economical. Marina Bay is another area that welcomes tons of families every year. Waterfront boardwalks and direct access to parks, malls and hotels make this a super convenient area to plan your trip around. Popular hotels in Marina Bay include:
Other popular areas to stay in include Chinatown, Bugis and Little India. 
---
Any questions about booking family hotel rooms in Singapore?
So, there you have it, a detailed overview of the main considerations when looking for the best family hotel rooms in Singapore. Some may apply to you and your family whereas others may not. As a general rule, you should prioritize a convenient location that is appropriate for your budget. It's pointless staying in a location such as Marina Bay if you are going to be concerned about additional costs the entire trip. 
Cheaper areas for family rooms in Singapore include Kampong Glam, Chinatown and Little India. These locations are very convenient, but you can expect much smaller rooms at most hotels. Again, you get what you pay for. 
If you have an active family, you might not need a large selection of facilities at your hotel. Instead, you will be occupied with visiting family attractions that are scattered all over Singapore!