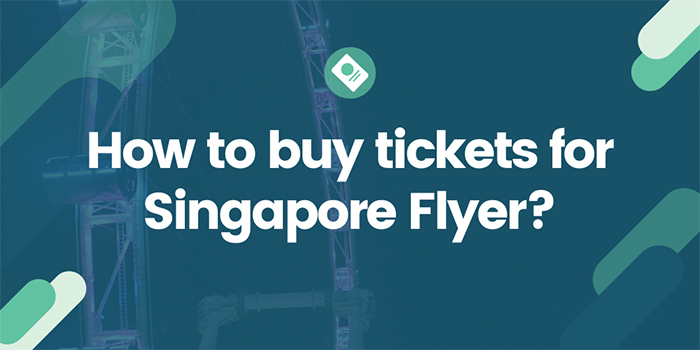 "The complete guide on how to buy tickets to Singapore Flyer"
Wondering how to buy tickets for Singapore Flyer? In this article, we will outline all the specific payment information so that you can find the lowest prices for you and your entire family. Singapore Flyer has been a top-rated attraction for many years and it is located right in the middle of the Marina Bay sightseeing area of the city. You need to know where to buy tickets so that you can add it to your itinerary of Singapore without causing additional headaches…
---
Why should you visit?
Singapore Flyer is one of Singapore's most popular attractions that cater to visitors of all ages. It stands at a stunning 165m from the ground, making it one of the largest giant observation wheels in the world. It consists of 28 viewing capsules that can accommodate up to 28 passengers, giving it a maximum capacity of 784 passengers
One of the main reasons people buy tickets for the Singapore Flyer is the spectacular views you can capture.  It moves at a speed of 0.24 m per second, or 0.76km/h which is ideal for taking jaw-dropping photos of Singapore's famous skyline. Each complete rotation of the Flyer lasts about 30 minutes which is plenty of time to carefully take the videos and pictures you need!
Actually, if the skies are clear, the maximum viewing distance from the Singapore Flyer is 45 km which offers views of neighbouring countries such as Indonesia and Malaysia. 
Needless to say, Singapore Flyer is a stable of most itineraries for the Marina Bay area. It is often shown in postcard photos along with Marina Bay Sands, Esplanade and Singapore's business skyline.  If you are in Singapore, strongly consider checking it out!
---
Types of Tickets Available for Singapore Flyer
Before we outline how to buy tickets for Singapore Flyer, we will first provide an overview of what kinds of tickets are available to purchase. Many visitors think that when you purchase a ticket to go on the Singapore Flyer you simply sit down and take in the surrounding views. When actually, there are multiple ticket options available that make your potential experience much different! There are specific 'combination tickets that allow you to enjoy more than one experience during the same visit. 
Below, you will find an overview of each ticket available for Singapore Flyer at the time of writing:
1) Singapore Flyer Ticket
Main Inclusions:
One rotation around on the Singapore Flyer.

This lasts 30 minutes and takes place in a shared capsule (hopefully, full of your friends and family members).

Enjoy an audio guide and interactive screens within your capsule to discover important information about the past, present and future of Singapore. 
2) Singapore Flyer and Time Capsule Ticket
Main Inclusions:
A visit to the new 'Time Capsule'

. In case you are wondering, the Time Capsule is a multisensory attraction that uses advanced technology to describe Singapore's history and culture. Highly recommended for visiting families.

One rotation around on the Singapore Flyer.

This lasts 30 minutes and takes place in a shared capsule (hopefully, full of your friends and family members).
3) Singapore Flyer Sky Dining Ticket
Main Inclusions:
For two people:
Dinner: A 4-course dinner of your choice from their menu

Time Capsule Entrance: Free Admission to the Time Capsule once your dinner is finished

Two Rotations on Singapore Flyer (60 minutes total time) in a shared capsule

Priority Boarding: Skip lines getting onto the Flyer.

An in-flight host (for 2 rotations).
4) Singapore Sling Experience
Main Inclusions: 
One glass of Singapore Sling (Singapore's most famous alcoholic drink)

One rotation on the Singapore Flyer in a shared capsule (30 minutes)

Skip the queues – priority boarding is included. 

A serving of nuts 

Thematic capsule (subject to availability)

Time Capsule Entrance: Free Admission to the Time Capsule once your dinner is finished
Also, take note that there are also many other experiences at Singapore Flyer, such as booking a:
Private Singapore Sling Capsule

Private Capsule

Solemnisation Package (exchanging vows mid-air)

Private Canapes Capsule 

Premium Champagne Experience

Gift Certificate
Now that you have an overview of many experiences, we will not outline how to buy tickets for Singapore Flyer.
---
Buying tickets for Singapore Flyer
There are two main ways to buy tickets for the Singapore Flyer:
Online using various ticketing websites

In-person at the Singapore Flyer ticketing counter.
Online – Official Website Tickets
If you want to buy tickets for Singapore Flyer, you can purchase tickets directly from the official website.. 
The process is exceptionally straightforward.  Simply go to the web page and click the icon 'Buy Tickets.' It is located in the top right corner or the screen. At the time of writing, the icon was red, but of course, the web layout may change over time. 
Once you click on the 'Buy tickets' tab, then you will be directed to a secure webpage. This is where you can select the type of ticket(s) you want to purchase. Select your intended date and time for the e-ticket. 
Then, proceed to select the number of adults, children and senior citizens that are going on the Singapore Flyer. 
Third-Party Online Tickets
If you want to buy tickets for Singapore Flyer online, then you can also do so through their partner website(s). Again, this depends on their partners at the time you want to visit. 
At the time of writing, it was possible to buy tickets online from at least three different online partner sites:
KLOOK
Trip.com
Global Tix
Like the official website for Singapore Flyer, you can purchase tickets on these websites by keying in the type of ticket you want and how many are for each age category.
KLOOK is particularly popular in Singapore. It summarizes tons of verified guest reviews along with useful photos. At the time of writing, Singapore Flyer had a 4.6/10 review score based on 4,722+ reviews and over 100,000+ tickets books on KLOOK. This strongly suggests that people love visiting Singapore Flyer and they were very happy with the overall experience.
In-Person Ticket Sales
If you are wondering how to buy tickets for Singapore Flyer you will be happy to know that you can also buy tickets directly at the ticketing office. 
There are clear benefits to booking online or buying tickets in person and it really depends on your own preferences. 
During peak travel times it's better to book online in advance to secure a ticket and avoid lines. However, if you are in a worry-free mood and it isn't busy, buying a ticket at the office might work better.
The Singapore Flyer ticketing counter is conveniently located at Level 1, in front of the taxi stand.
---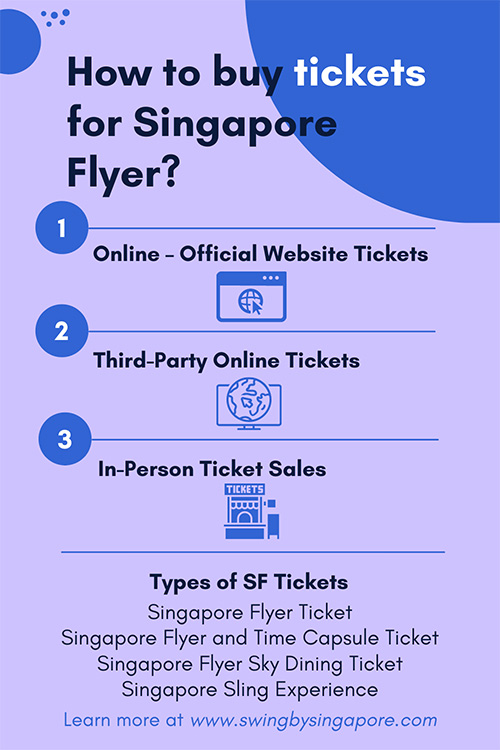 ---
Available Times to Visit Singapore Flyer
Singapore Flyer is open on Thursday to Sunday and on public holidays from 2 pm to 10 pm. This means that the last admission is 9:30 pm because each loop takes 30 minutes to complete.  
The Time Capsule operates under similar times, but the last admission is 9:15 pm. 
---
How to buy the cheapest tickets to Singapore Flyer?
From time to time you might be able to find a promotion for visiting Singapore Flyer. We suggest that you visit all of the websites mentioned above before you purchase your tickets. This will ensure that you find the cheapest ticket available by checking all of the ticketing providers. 
In some cases, the ticket prices may be different on different websites. Check all of them in detail to ensure that you are not missing out on a special promotion. 
---
Additional Information to Consider
If there is inclement weather in Singapore, then you can expect some temporary delays at the Singapore Flyer. Remember, the safety of everyone is the main priority. However, since the Time Capsule is inside it will remain open even if it is bad outside. 
In most cases, if you miss your scheduled time due to bad weather, you can revisit within the next 30 days free of charge. If you have bought a Singapore Flyer Sky Dining, Singapore Sling Experience or Premium Champagne Experience, you must make an extra step or two to reschedule your visit. Email customer_service@singaporeflyer.com or one of the booking agents (Klook or Trip.com for instance) to reschedule.
Since opening times are subject to change, always check the current hours of operation before you proceed to the on-site ticketing counter to buy tickets. 
---
Classes of Tickets
Remember that not all visitors will pay the same cost to visit Singapore Flyer and the Time Capsule. Adult tickets are the most expensive, and other visitors will pay less. 
Singapore Flyer tickets are categorized into three main categories:
Adult (Ages 13 and above)
Child (Ages 3-12)
Senior (Ages 60 and above – only for Singapore Citizens and Permanent Residents)
Take note that children under 3 years of age are free of charge. 
---
Questions about Visiting Singapore Flyer?
This article outlines how to buy tickets for Singapore Flyer. Hopefully, it has provided you with sufficient information to visit this popular attraction in Singapore.  If for any reason, you require additional information, please don't hesitate to send us an email. We would be more than happy to assist you in any way possible. Remember, there are many other world-class attractions within walking distance of the Singapore Flyer as well. Therefore, you might want to consider checking out popular attractions such as Gardens by the Bay, Merlion Park, Sands SkyPark and Flower Dome afterwards. You can visit our popular Singapore Itinerary Guide if you want to learn more on how to fit Singapore Flyer into your visit to Marina Bay.