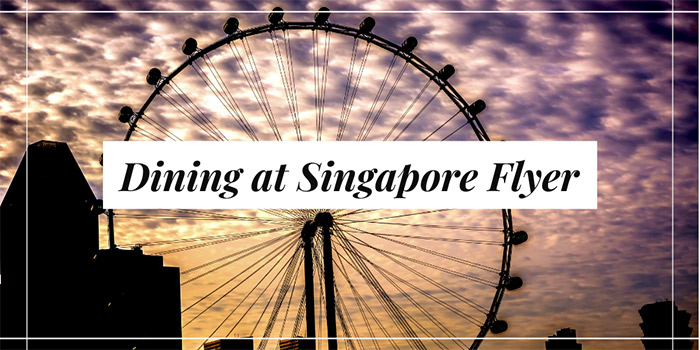 "The complete guide to dining at Singapore Flyer"
Are you thinking about dining at Singapore Flyer? In this article, we will outline all the specific dining options available to plan accordingly. Located right in the middle of the Marina Bay sightseeing area, Singapore Flyer has been a top-rated attraction since it opened many years ago. All those Singapore Flyer is extremely popular with families, it is also a very romantic spot to visit at night time when Singapore's famous Skyline is illuminated.  There are multiple different dining options available at Singapore Flyer and in this article, we will try our best to outline all of the different options available for you. 
---
Why should you visit?
It is challenging to visit Singapore without seeing the Singapore Flyer located right in Marina Bay's heart. Singapore Flyer is without question one of the best attractions in the city. One of the world's largest observation wheels offers stunning panoramic views of Singapore's skyline and the surrounding Marina Bay area. It stands at a truly impressive 165m from the ground and consists of 28 viewing capsules. Each capsule can accommodate up to 28 passengers, giving it a maximum capacity of 784 people at any given time. 
Singapore Flyer rotates at a speed of 0.24 m per second, or 0.76 km/h.  This speed is ideal for taking jaw-dropping photos of Singapore's famous skyline. You can expect each complete rotation of the Flyer to last approximately 30 minutes. However, some of the dining options at Singapore Flyer offer 60 minutes equal to two complete rotations. 
If the skies are clear with little cloud cover or pollution, the maximum viewing distance from the Singapore Flyer is 45 km. It is possible to see neighbouring countries such as Indonesia and Malaysia when the weather is ideal. 
Visiting Singapore Flyer is an amazing experience, but so too is dining there! Eating at Singapore Flyer is truly a memorable experience and one you should prioritize while you are in the city. 
---
Ticketing Options Available at Singapore Flyer
Before we outline the dining options available at Singapore Flyer, you need to know that guests have multiple options. Many guests to Singapore Flyer purchase the basic 'Singapore Flyer Ticket' which includes one complete, 30-minute rotation.  There are also 'Singapore Flyer and Time Capsule Tickets' available, which feature one complete rotation plus access to the Time Capsule, a new multisensory attraction.  
Then, there are also combination tickets that include food and beverages and rotations on Singapore Flyer and visits to the Time Capsule. In the section below, we will outline all of these options so you know everything about dining at Singapore Flyer.
---
Tickets for Dining at Singapore Flyer 
Singapore Flyer offers tickets that include full course meals and also options that provide beverages and snacks.  Therefore, before you purchase your ticket or Singapore Flyer you have to really think about your priorities. If you want a romantic meal with breathtaking views of Singapore Skyline, you probably want to spend more than 30 minutes rotating around. Furthermore, some passengers only want to enjoy a drink and then head to another venue for dinner. These decisions will directly influence what type of ticket you purchased when you visit the Singapore Flyer.
Here is a summary of the different ticketing options:
1) Singapore Flyer Sky Dining Ticket (best for a romantic night!)
If you want a romantic evening with awesome views, then there is no better dining option than the 'Singapore Flyer Sky Dining Ticket.' One of the coolest things about this dining option is that you receive 2-complete rotations on Singapore Flyer which corresponds to 1 full hour. The 4-course dinner is delicious and it comes along with your own in-flight host. We have summarized the main inclusions below for your convenience.
Main Inclusions:
For two people:
Dinner: A 4-course dinner of your choice from their menu

Time Capsule Entrance: Free Admission to the Time Capsule once your dinner is finished

Two Rotations on Singapore Flyer (60 minutes total time) in a shared capsule

Priority Boarding: Skip lines getting onto the Flyer.

An in-flight host (for 2 rotations).
2) Singapore Sling Experience
Another popular semi dining option at Singapore Flyer is the 'Singapore Sling Experience.' As the name suggests, this includes one glass of Singapore's most famous alcoholic beverage, a Singapore Sling, along with a serving of nuts. Like the Singapore Flyer Sky Dining Ticket, you also get a complimentary entrance ticket to the Time Capsule. 
Main Inclusions: 
One glass of Singapore Sling (Singapore's most famous alcoholic drink)

One rotation on the Singapore Flyer in a shared capsule (30 minutes)

Skip the queues – priority boarding is included. 

A serving of nuts 

Thematic capsule (subject to availability)

Time Capsule Entrance: Free Admission to the Time Capsule once your dinner is finished
3) Premium Champagne Experience
You can also impress a loved one by buying a ticket to the 'Premium Champagne Experience' at Singapore Flyer. This is a semi-dining option that includes fine champagne and a delicious serving of chocolates.  
Main Inclusions: 
One rotation on the Singapore Flyer (Shared capsule) 

Priority boarding (skip any lines)

A glass of champagne

Free admission to the

Time Capsule

afterwards
Private Dining Options at Singapore Flyer
Now that we've summarized the shared capsule dining options, we will also summarize the private capsule options at Singapore Flyer. Many of the private packages listed below are similar to the shared capsule tickets listed above. However, these are more tailored towards groups of visitors or very special events. 
a- Private Sky Dining Experience
b -Private Singapore Sling Capsule
c -Private Premium Champagne Capsule
d- Solemnisation Packages
e- Private Canapes Capsule
Since these packages involve booking a private capsule, they are significantly more expensive than shared capsule tickets.  All of these come with some beverages and food. We highly recommend these options for events such as wedding proposals, engagement parties, anniversaries and special occasions.
---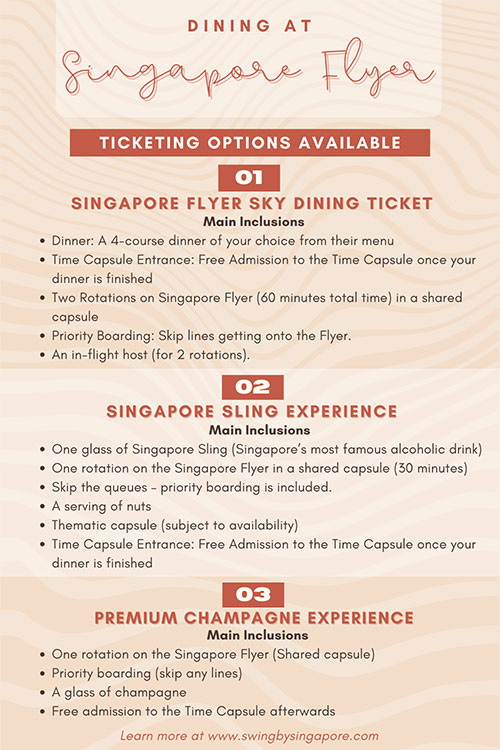 ---
Additional Restaurants and Food Outlets
If you would prefer to eat at a restaurant or grab a few drinks outside of your capsule, that is also possible at Singapore Flyer. At the time of writing, there are 8 different food and beverage services available (aside from the capsule tickets):
Sky View Pavilion (Restaurant) 
Singapore Food Treats (Food Court)
Flyer Lounge (Lounge)
Daily Kopi (Cafe)
Jus Juice (Juice Bar)
Bhandari's Saffron (Indian Restaurant)
Gelatissimo (Gelato)
Plume (Event Hall with bar facilities)
Needless to say, there is pretty much something for everyone who wants to eat at Singapore Flyer. There are also a lot of choices available for families and also more romantic outings. The official Singapore Flyer website provides additional information about eating here including menus and costs. 
---
Additional Information to Consider
If you plan on dining at Singapore Flyer (in a capsule), you should consider the weather outside. You can expect some temporary delays at the Singapore Flyer during inclement weather.  Safety is the main priority here. Time Capsule is inside and it will remain open even if the weather is bad outside. 
In most cases, if you miss your scheduled time due to bad weather, you can revisit within the next 30 days free of charge. If you have bought a Singapore Flyer Sky Dining, Singapore Sling Experience or Premium Champagne Experience, you must make an extra step or two to reschedule your visit. Email customer_service@singaporeflyer.com or one of the booking agents (Klook or Trip.com for instance) to reschedule.
Since opening times are subject to change, always check the current hours of operation before you proceed to the on-site ticketing counter to buy tickets. 
---
Questions about Visiting Singapore Flyer?
This article summarizes dining at Singapore Flyer. Hopefully, it has provided you with sufficient information to visit this popular attraction in Singapore.  If you require additional information for any reason, please don't hesitate to send us an email. We would be more than happy to assist you in any way possible. Remember, there are many other world-class attractions within walking distance of the Singapore Flyer as well. Therefore, you might want to consider checking out popular attractions such as Gardens by the Bay, Merlion Park, Sands SkyPark and Flower Dome afterwards.  Read our comprehensive guide on how to buy Singapore Flyer tickets if you are planning to visit.