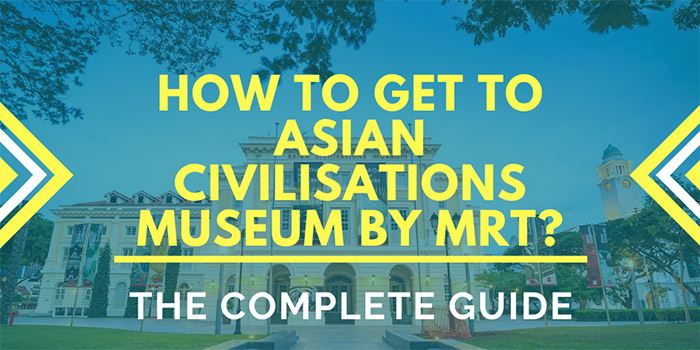 Welcome to the step-by-step guide on how to get to Asian Civilizations Museum by MRT.  We have written this article to make sure that your trip to this Museum is fast, easy and affordable.  
Fortunately, like many other sites in Singapore, the Asian Civilizations Museum (or ACM for short) is well serviced by Singapore's extensive MRT network. This means that you can easily stay at a hotel near an MRT station and then access the system without using a car. This not only avoids unnecessary taxi fees, but you may also avoid headaches associated with parking a vehicle. The Asian Civilizations Museum is in an awesome location overlooking Boat Quay. However, this is not a convenient place to visit with a car, so it's better to take the MRT and simply walk from the nearest station to the Museum.
---
Why should you visit Asian Civilisations Museum?
The Asian Civilisations Museum (ACM) is considered to be a pioneer in terms of showcasing pan-Asian cultures and civilisations in Southeast Asia.  The museum focuses on the history of Southeast Asia, South Asia, West Asia and China. The diverse ethnic groups of Singapore trace their ancestry back to these specific regions. 
Over the years, ACM has had a few different slogans to summarize its exhibitions and historic focus. For example, back in 2006, the Asian Civilisations Museum's (ACM) slogan was "Where Asian Cultures Come Alive" and then in 2013 it became "Singapore's Museum of Asia".  
Like many of Singapore's other superb museums, Asian Civilisations Museum (ACM) has won many awards over the years. According to this article, it was named the top museum in Singapore and managed to rank amongst Asia's top 10 museums in TripAdvisor's Travellers' Choice Awards. 
You can expect to see collections that focus on China, South Asia, and Southeast Asia. A popular collection is called the Khoo Teck Puat Gallery. This where you can see cargo from the recovered from the Tang Shipwreck. This is a sunken 9th-century trading ship that was discovered off the coast of Belitung Island. 
The Asian Civilisations Museum (ACM) is located right in the heart of Boat Quay and also minutes from Marina Bay. This makes it one of the most ideally located Museums in all of Singapore. The famous Fullerton Hotel Singapore (5-star, 9.2/10 review score) and Cavenagh Bridge are only 1-minute away. 
---
Getting to Asian Civilisations Museum using the MRT 
Step 1: Find a station and get a ticket.
Assuming that you have booked a hotel near a station, it's time to get your ticket sorted! The type of MRT ticket that you purchase in Singapore depends on the frequency of your travel and how long you are staying in the city. 
In the section below, we will go over the types of tickets so that you can make an informed decision about the best one for you.
Types of MRT Tickets in Singapore
There are three different types of MRT tickets/passes available in Singapore at the time of writing:
Single trip tickets

Stored value cards

Singapore Tourist Passes
Before we briefly outline each one of these choices, try to read our complete guide on how to buy MRT tickets in Singapore.  This goes into much more detail about each kind of ticket. 
If you are only spending a day or two in Singapore and only going to use the MRT once or twice, then consider using single journey tickets. These can be purchased directly at ticketing kiosks within each MRT Station in Singapore. 
You may want to get a stored value card if you are spending more time in Singapore. For example, when we were trying to figure out how to get to Asian Civilisations Museum by MRT for the first time we used and EZlink card. This is a type of stored-value card that you simply buy and then top up with cash. 
Singapore Tourist Passes are the best choice for short term guests to the city that want to use public transportation a lot. Typically, they work best for people in the city from 24 to 72 hours. 
---
Step 2: Plan on going to Raffles Place Station.
Technically, it's possible to reach Asian Civilisations Museum using different MRT stations. However, the most convenient one is Raffles Place.
Raffles Place Station is part of two different train lines in Singapore:
North-South Line (red colour)
East-West Line (green colour)
Conveniently, you can plan on getting to the Asian civilization museum by using either one of these two lines. 
---
Step 3: Ride the MRT to Raffles Place Station.
When you are set to leave for the Asian Civilisations Museum remember to check out the MRT train map in your first station. This will show you if you need to transfer lines on the way to the Museum. 
While you are travelling on the train to Raffles Station make sure that you listen to the verbal announcement being made. These will make sure that you don't forget to get off at the station. There are signs on the trains that show you where you are on a given line. 
Get progressively closer to an exit as you approach Raffles Station.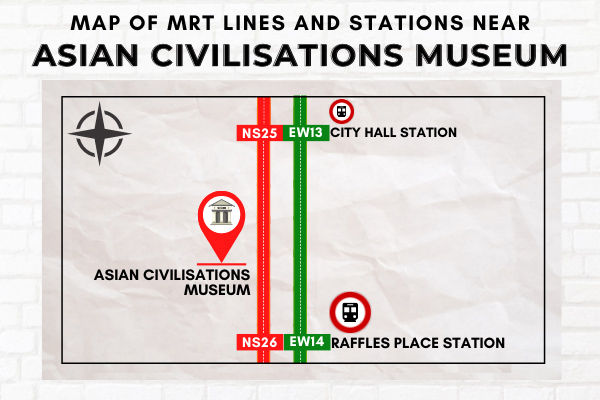 ---
Step 4: Alight at Raffles Place Station and walk to Asian Civilisations Museum.
The Asian Civilisations Museum is geographically north of Raffles Place Station.
Take Exit H to walk from Raffles Place Station to Asian Civilisations Museum.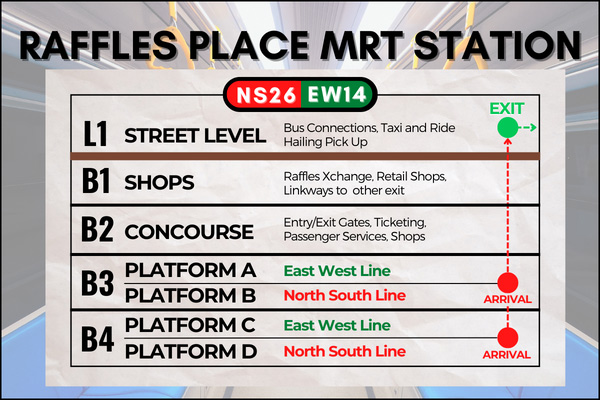 Walk along the waterfront until you reach Cavenagh Bridge and the Fullerton Hotel Singapore. Turn left (north) and walk across the bridge. Turn left again (west) and you should be right at the Museum. 
Raffles City to the Asian Civilisations Museum is 450 metres and this should take you about 5 minutes to walk between them. 
---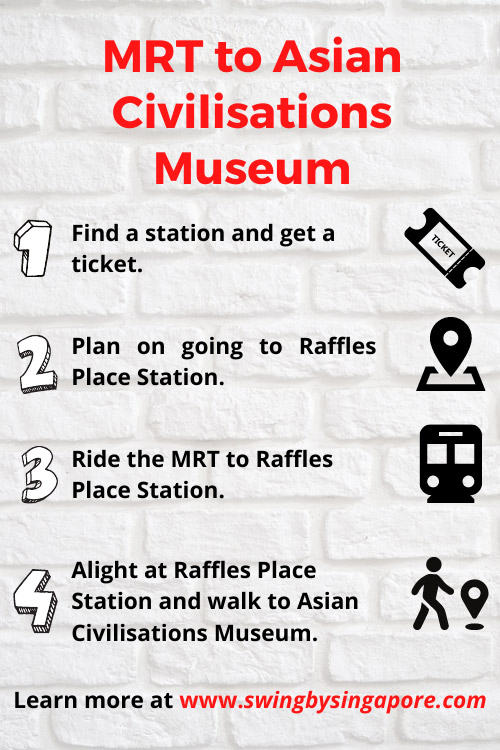 ---
Is it a smart idea to stay near the Asian Civilisations Museum while in Singapore?
The Asian Civilisations Museum (ACM) is in a superb location for sightseeing in Singapore. Not only are you seconds from Boat Quay, but you are also only minutes from Marina Bay which is arguably the nicest part of all of Singapore. 
You can also easily walk to Clarke Quay and Riverside Quay by following the boardwalk adjacent to Singapore River. 
By far the most convenient hotel to stay at in order to access Asian Civilisations Museum (ACM) and the surrounding attractions is The Fullerton Bay Hotel. This is largely considered as one of the top hotels in the entire city. It has an excellent reputation and an equally strong location. 
The next best option is the Heritage Collection on Boat Quay (4-star, 8.9/10 review score). This is an apartment right on Boat Quay – also minutes from the Asian Civilisations Museum.  
If you are looking for budget accommodation then there are a lot of hotels around Clarke Quay Station. We have stayed in the area many times and it is a convenient place to be in Singapore!
---
More questions about getting to the Asian Civilisations Museum?
We hope that this step-by-step guide on how to get to Asian Civilisations Museum by MRT will make your trip fast, affordable and convenient. It is important to note the Raffles Place Station is not the only station that you can use to access this Museum. If you are okay with walking a few minutes longer then you can use other stations. For example, Clarke Quay, City Hall and Esplanade Station are also within walking distance. 
You might want to consider accessing the museum using Raffles Place and then using a different station to exit this area. This will allow you to see more of this beautiful area of the city. 
It is definitely quite easy to put together an interesting itinerary which includes the Asian Civilisations Museum.  After exploring the museums in this area you could walk around Marina Bay and check out sights such as Sands SkyPark and the Merlion. There are lots and lots of possibilities. Just be sure to bring a lot of water and sunscreen. This area can get hot during peak afternoon hours.