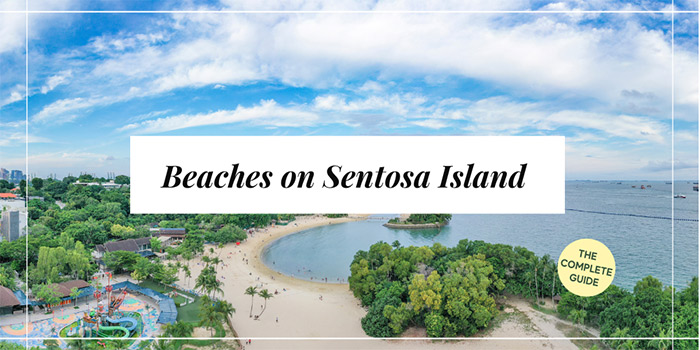 Have you ever wondered about the beaches on Sentosa Island?  This article will provide an overview of the three beaches on Sentosa to make your trip to the island and Singapore easier and more enjoyable. Fortunately, we have stayed on Sentosa Island, and we have had the opportunity of visiting Sentosa Island on multiple occasions. 
Sentosa is filled with many of Singapore's best attractions that you can visit with the Fun Pass, and it has something for visitors of all ages!
Typically, when we are taking the MRT to Sentosa island we alight at HarbourFront Station, walk through VivoCity and then take the Sentosa Express all the way to Beach Station. You can also do this from the airport without stepping foot in a vehicle the entire way! Once you are on Sentosa island there are numerous hotels and resorts to choose from that are close to the beaches. 
---
How many beaches are on Sentosa?
If you have never visited Sentosa before then you will be delighted to hear that there are three popular beaches on the island. Sentosa's beaches are called Siloso Beach, Palawan Beach and Tanjong Beach. All three of these are open to the public to use and are nice strips of sand.
---
Where are the beaches on Sentosa Island?
Siloso, Palawan, and Tanjong Beach are all located along Sentosa's southwestern shoreline. They are adjacent beaches that are separated by small patches of green space. 
Palawan Beach is located between Siloso and Tanjong. Siloso is located to the north of Palawan, and Tanjong to the south. Conveniently, you can visit all three of these on the same day.
---
Siloso Beach Sentosa Island
Siloso is probably the easiest one to get to of the beaches on Sentosa Island. This is due to its accessibility from Beach Station which is part of the Sentosa Express.  Consequently, it is usually the most visited beach on the island as well. 
Siloso is also a great spot to visit if you enjoy water sports like kayaking and skim-boarding. You can also rollerblade, cycle and play beach volleyball here. It's also a handy place to enjoy beachside snacks. Expect to find a beach promenade with cool bars, restaurants and shops to check out. 
At the northern tip of Siloso Beach, you will find the Shangri-La's Rasa Sentosa Resort & Spa (5-star, 8.6/10 review score). This is a great place to stay while visiting Sentosa with sweeping views. We recommend this resort if you want access to the beaches on Sentosa Island.
Another accommodation option on Siloso Beach is Siloso Beach Resort (4-star, 7.5/10 review score). Expect a nice natural setting with great views of the South China Sea. It has a large pool and it is only minutes away from the sand! AJ Hackett Sentosa bungy jumping is directly north of Siloso Beach (middle section of the beach). 
Skyline Luge (Directions) and iFly Singapore are located along the southern portion of Siloso. Therefore, consider checking out at a few of these amazing attractions while you are visiting Siloso Beach on Sentosa.
If you like drinking near the beach, then Siloso is a solid choice. It tends to stay open late and provides the greatest opportunity to mingle with friends over some cold drinks.
---
Palawan Beach Sentosa Island
West of Siloso, you will find Palawan Beach on Sentosa Island. Of Sentosa's beaches, Palawan is the most family-friendly. If you decide to visit Palawan on the weekend or a public holiday expect it to be busy with lots of kids.  There are two popular family-oriented attractions located along the northern tip of Palawan Beach: Port of Lost Wonder and Animal and Bird Encounters. 
Port of Lost Wonder (POLW) is built right along Palawan Beach. It is a busy complex that is awesome for small children (and anyone wanting to get wet in Singapore's extreme heat!). It has water slides, fountains and tons of pools. Conveniently, you can find some shops here selling food in case you want to have a family snack. It's free to access Palawan Beach but there is a fee to enter the Port of Lost Wonders. 
The middle portion of Palawan Beach features a suspension bridge that allows visitors to walk over to Palawan Island. This is considered to be the Southernmost Point of Continental Asia (the closest point to the Equator in Asia). You might want to take a few photos here to celebrate that you made it to this point in the world!
Capella Singapore (5-star, 8.9/10 review score) and Amara Sanctuary Resort (5-star, 7.8/10) are the two best accommodation options close to Palawan Beach. Capella, in particular, is convenient as it is right behind the central area of the beach. This is one of Singapore's most expensive hotels.
---
Tanjong Beach Sentosa Island 
Tanjong Beach is different from the other beaches on Sentosa Island. Since it is the farthest from Beach Station, it tends to be quieter and more tranquil. It takes more time and effort to get to Tanjong Beach which makes it a great spot to relax.
You may enjoy Tanjong's serenity. This is ideal for reading a book or playing some leisurely beach volleyball with your friends. 
Tanjong Beach is also home to Tanjong Beach Club. This is a superb place to have a few drinks with friends under the sun.  Tanjong Beach Club is located along the southern corner of the beach, so you can't miss it if you are walking from Palawan Beach or taking the beach shuttle. 
Similar to Siloso and Palawan, Tanjong Beach has a 'manmade' offshore island. This helps reduce beach erosion. Also, consider swimming to it if you want to get some exercise. 
The best place to stay near Tanjong Beach is Sofitel Singapore Sentosa Resort & Spa (5-star, 8.1/10 review score). 
---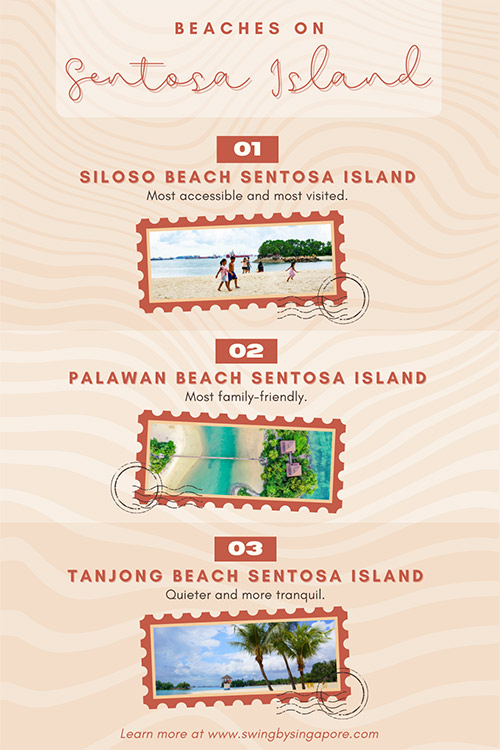 ---
Getting to the beaches on Sentosa  
We have written three comprehensive guide articles on how to get to Siloso, Palawan and Tanjong Beach on Sentosa Island:
In general, what most tourists do to get to these beaches on Sentosa Island is to first take the MRT to HarbourFront Station. Then, you can walk through VivoCity Mall to get to the Sentosa Express ticketing office. After you buy your ticket, simply take the train to Beach Station. To get to these beaches you can either walk or take the Sentosa Beach shuttle that departs frequently from Beach Station.