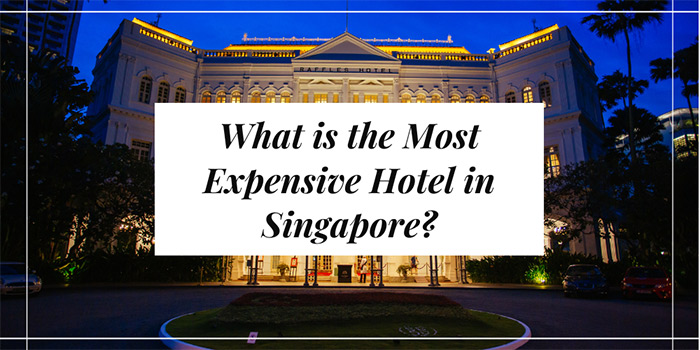 Have you ever wondered what is the most expensive hotel in Singapore????  
We have written this article to provide you with a complete overview of what the most expensive hotels are in the city according to leading accommodation websites. 
While we were doing the research for this article we decided to look at various online accommodation sites so that this is an unbiased overview of the most expensive properties in the city. While you are reading this article you will be able to learn a lot about the luxury hotels in Singapore and how much they cost. This can be beneficial to you especially if you are planning a visit to the city or you have a special occasion to celebrate such as a wedding anniversary or a honeymoon.
'Staycations' have also become very popular in Singapore. 
Luxury hotels in Singapore tend to have extremely delicious restaurants and some of the best service standards in all of Asia. As you might expect, the Marina Bay area of Singapore is loaded with five-star luxury hotels.  This is the best place in the city to capture Singapore's world for a famous Skyline.
---
How did we determine what is the most expensive hotel in Singapore? 
There are actually many different ways to determine the most expensive hotel in Singapore. However, in this article, we specifically focused on controlling as many variables as possible.  In the section below we will explain how we determined which properties would be considered to be on the list for the most expensive in Singapore.  This will ensure that you fully understand the process that we have followed.
1) Time until hotel stay.
And we were determining the criteria for selecting the most expensive hotel in Singapore we wanted to make it realistic.  In other words, we wanted to recreate the process of selecting a hotel in Singapore for an actual stay. 
To control the time before staying at the hotel, we searched all accommodation websites trying to find a room 30 days in advance. For example, we searched for hotels in Singapore on June 15th for an intended stay beginning on July 15th. We made sure that we searched the price of each hotel on the same day and for the same intended date. 
2) Duration of stay at each luxury hotel in Singapore.
Next, we made sure that we searched for a 3-night booking at all properties. Again, we are trying to recreate the booking process. Three nights in Singapore is a realistic amount of time for visitors to check out the main attractions and sample some of the best shopping malls and markets in the city. 
We then looked at the total amount it would cost for a 3-night stay at the top luxury hotels in Singapore. 
3) The number of guests staying at the hotel.
The next variable that we controlled while we were searching for the most expensive hotel in Singapore, was the number of guests staying at the hotel.  We wanted to make sure that this was controlled between all properties and websites that we used. Consequently, we decided to search for the cost of 2 adults to stay at each hotel. 
Since this article is focusing on luxury hotels, we felt that it was a practical decision to select two adults.  The reasoning behind this decision is that many couples choose to stay at luxury hotels in Singapore to celebrate special events.  Weddings, honeymoons and birthdays are just a few examples. 
4) No breakfast included.
While we were trying to find out what is the most expensive hotel in Singapore, we decided to exclude breakfast from our search. Since some hotels include a buffet breakfast and others include an ala carte breakfast this was the best decision to control the cost of breakfast at each property.  We don't want our readers to be confused by the cost of breakfast included in the room rate.
5) Websites selected for comparison. 
Trying to find the most expensive hotel in Singapore required us to look at the most respectable online accommodation sites for the city. Therefore, we decided to use the following major accommodation sites:
Booking.com (www.booking.com)
Agoda (www.agoda.com)
Expedia.com (www.expedia.com)
Hotels.com (www.hotels.com)
Although some smaller accommodation websites may have deals and other things to consider, we felt that these for hotel providers give us a very strong idea about how much each property costs for a 3-night stay.
6) Currency 
To make sure that the currency is being taken into account for our comparison we decided to leave the value in Singapore dollars.  Since these properties are located in Singapore it made the most sense for us to just leave the currency intact.  This avoided unnecessary conversion costs being built into the price.
---
Most Expensive Hotel in Singapore Results
Now it is time for us to share our final results.  In this section, we will just randomly go through each one of these online sites and what they revealed.
The first website that we used to search for the most expensive hotel in Singapore was Booking.com. We just randomly selected this website to do our first search.
Booking.com Search Results
According to Booking.com, the most expensive hotel in Singapore is Raffles Singapore. This is an extremely famous hotel in the city that is known for its colonial architecture and world-class service. It is located within walking distance of Marina Bay. 
The second most expensive property in Singapore during our search was Capella Singapore. This is a luxury property that is located on scenic Sentosa Island.
Agoda Search Results
While we were searching Agoda or the most expensive hotel in Singapore, we came across very similar results.  Again, the most expensive five-star hotel was Raffles Singapore. 
Expedia Search Results
During our third online search, we started to feel like there was a very consistent trend in terms of the luxury hotel prices in Singapore. Capella Singapore was the 'runner-up' for the most expensive hotel in the city. 
Again, Raffles Singapore was the most expensive property by just over $100 Singapore dollars.
Hotels.com Search Results
The final website that we referred to while we were searching for the most expensive hotel in Singapore was Hotels.com.  Again, we saw consistency between these reputable online accommodation websites. Raffles Singapore was indeed still the most expensive property in the city. Capella Singapore was still ranked #2. 
The Fullerton Bay Hotel was the third most expensive hotel in Singapore according to hotels.com. 
---
And the most expensive hotel in Singapore is…….
Raffles Singapore is the most expensive hotel in the city. 
This is a superb property that you should consider staying at if you can afford it. You can expect a memorable experience filled with amazing service and direct accessibility to some of the top attractions in all of Singapore.
Are you still wondering how much the average price for this 3-night stay at Raffles Singapore would have cost?????
Well, according to these four websites it would have cost you just short of $3,000 Singapore dollars.  In other words, just under $1000 Singapore dollars per night.  Although this is expensive for the average tourist visiting Singapore, there are many people around the world that can indeed afford a stay here. We strongly suggest it if you can!
Also, keep in mind while we were trying to find the most expensive hotel in Singapore we made sure that we filtered our search according to 'star rating' and 'days of the week'.  For this particular comparison, we only look at five-star properties in Singapore. Furthermore, we surged from Thursday evening to Sunday. Meaning the three-night stay began on Thursday night and included Friday and Saturday night as well. This means that hypothetically, you would have departed the hotel on Sunday morning before check-out.
---