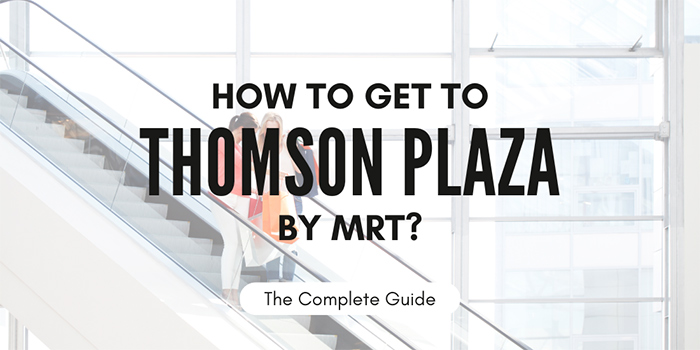 Get to Thomson Plaza using the new Thomson East Coast Line super fast and affordably with this guide!
Here is the complete guide on how to get to Thomson Plaza by MRT in Singapore.
Regardless of where you are starting your trip in Singapore, we will outline all the steps necessary to reach Thomson Plaza by public transportation. We will summarize how to buy transportation cards, and how to save money by buying attraction passes. 
Fortunately, getting around Singapore via MRT is super easy. Several lines service most areas, and convenient interchange stations are in place to ensure easy transfers from one line to the next. Once you book a room near a station, it's extremely easy to avoid vehicles during your entire time in the city. 
Thomson Plaza is not located downtown. Therefore, it's essential to know the best line and station for getting there because there aren't many nearby stations close to it. 
In this article, we will outline which line and station is the best and summarize how far the walk should take from the nearest MRT station Thomson Plaza.  
---
Shopping at Thomson Plaza in Singapore
Thomson Plaza is a suburban shopping centre located along Upper Thomson Road. It has three main shopping levels spanning 467,298 square feet. It has a convenient basement carpark and valet parking available. 
At the moment, you can expect to find around 180 tenants at Thomson Plaza. Similar to other shopping centres in Singapore, you can enjoy lots of restaurants and cafes serving up delicious meals and drinks. There are lots of shops and services focusing on everything from beauty to electronics.
The customer service counter at Thomson Plaza is located on Level 2, and it's typically open from 10 am until 10 pm daily. There are several ATMs, and they are located on Levels 1, 2 and 3. They are organized according to the bank. 
As you will learn below, Thomson Plaza is now directly connected to the MRT, making it super easy to access using public transportation.
---
Getting to Thomson Plaza via MRT
Step 1: Plan your route – the best stations and lines.
The closest and most popular station for getting to Thomson Plaza using MRT is 
Upper Thomson Station (TE8)
It is located on the Thomson East-Coast Line, which is shown in brown colour on Singapore's MRT map.  
We will focus on getting to the Plaza from this station and summarize the walking times and distance you can expect once you arrive via MRT. 
---
Step 2: Walk to the nearest MRT station.
Booking a room close to an MRT station in Singapore is something we highly recommend. 
Not only will you save time by not parking a vehicle, you will also avoid
Parking fees

Vehicle emissions

Road traffic
Finding a place to stay near a station really comes down to two variables, budget and location.
We recommend the following two properties based on their strategic locations and consistently positive reviews:
Marina Bay Sands Hotel (right beside Bayfront Station)
The Fullerton Hotel (right beside Raffles Place Station)
If you're looking for affordable rooms, check our Chinatown, Little India, Kampong Glam and Geylang. They generally have a wide selection of 2 and 3-star hotels and hostels to choose from. 
Marina Bay and Sentosa are well known for their luxury properties and beautiful views. 
---
Step 3: Buy a public transportation card to get to Thomson Plaza.
You can reach Thomson Plaza by MRT using two main types of transportation cards:
Stored Value Cards 
If you're visiting from abroad, you might be able to save some money by getting a Tourist Pass.
They are the most effective when you have a busy itinerary in Singapore for a few days. Buying one will ensure unlimited bus and train rides for a set number of days to reach different destinations. But, if you don't travel a lot, you might not save any real money. 
We decided to use a stored-value card while figuring out how to get to ThomsonPlaza by MRT.
Stored Value Cards are also valid on buses and trains throughout the city.
The balance on your card will be adjusted when you exit the MRT or a bus within the system. Tourist Passes are restricted to 3 days or less, whereas stored value cards are valid for more extended stays. 
Most Singaporeans use stored value cards daily on the MRT network.
We strongly suggest getting a Multiple-Attraction Pass to use alongside your transport card in Singapore. Both Singaporeans and visitors can save up to 52% on entrance fees by buying several online tickets in advance. Over 200,000 of these passes have been purchased due to the saving potential!!!
---
Step 4: Take the MRT to Upper Thomson Station (TE8).
Ride the MRT all the way to Upper Thomson Station (TE8). 
Complete any necessary line transfers to the Thomson East-Coast Line to get there.
Expect to hear verbal announcements on the train as you get closer to Upper Thomson Station.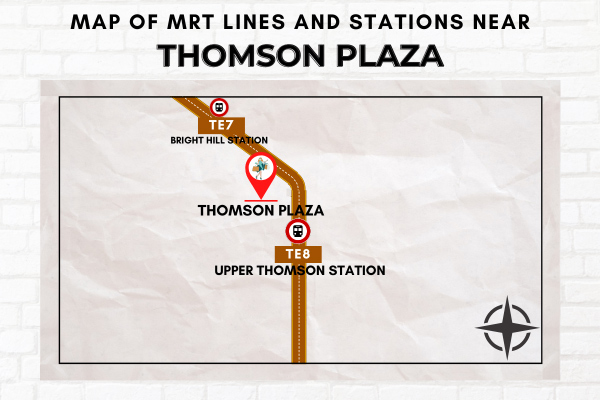 ---
Step 5: Alight at Upper Thomson Station (TE8).
Alight at Upper Thomson Station (TE8).
Make sure you collect all your belongings from the train before you leave.
---
Step 6: Travel from the Thomson East-Coast Line Train Platforms to the best exit for walking to the Plaza.  
The faster you can exit Upper Thomson Station (TE8), the faster you'll get to Thomson Plaza. 
The section below outlines exactly how to access the best exit.  
---
Exiting Upper Thomson Station
Upper Thomson Station (TE8) is built below Upper Thomson Road, at the junction with Bright Hill Drive. It opened in August 2021 after several delays due to the pandemic.
It has four main levels you should be familiar with:
L2 – Plaza
L1 – Street Level
B1 –  Underpass Concourse and Ticketing
B2 – Downtown Line Train Platforms A and B
You will arrive at the Level B2 Thomson East – Coast Line Platforms regardless of which direction you are travelling on the MRT. 
From there, travel to L2 – Plaza using the elevator, stairs or escalator.
Upper Thomson Station (TE8) has five exits to choose from, and they are numbered 1 through 5.
Take Exit #1, located at Level 2 Plaza, to walk to Thomson Plaza.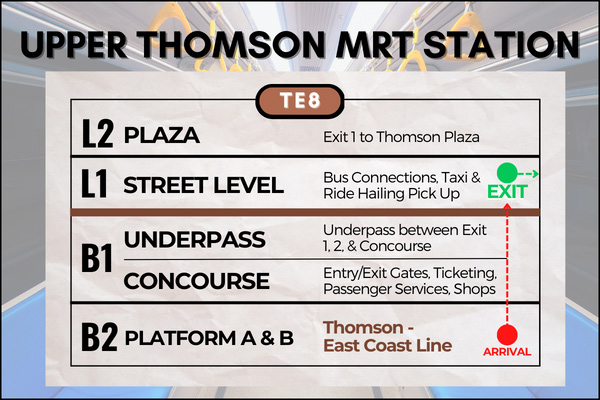 ---
Step 7: Walk from Upper Thomson Station (TE8) directly to Thomson Plaza.
The walk from Upper Thomson Station to Thomson Plaza is short and straightforward, so navigation shouldn't be an issue. 
Follow the directions below to get from door to door in no time.
---
Walking Directions from the station to Thomson Plaza
Exit 1 at Upper Thomson Stations is conveniently located at the corner of Upper Thomson Road and Soo Chow Garden Road, which is right beside the northeast corner of the Plaza.  
All you need to do is follow the Exit 1 signs in the station, and you will end up at the ground level of Thomson Plaza. 
Technically, you could also get there by walking west from the station along Upper Thomson Road, but this doesn't make sense if you just take Exit 1 at the station!
---
How long is the walk from Upper Thomson Station (TE8) to Thomson Plaza?
Exit 1 at Upper Thomson Station is directly beside Thomson Plaza. Therefore, if you only consider their proximity, the walk from the station to the Plaza is less than 1 minute. 
But, if you consider the time it takes to travel from the train platforms all the way to Thomson Plaza using Exit 1, it will likely take you 4-5 minutes (about 400 meters).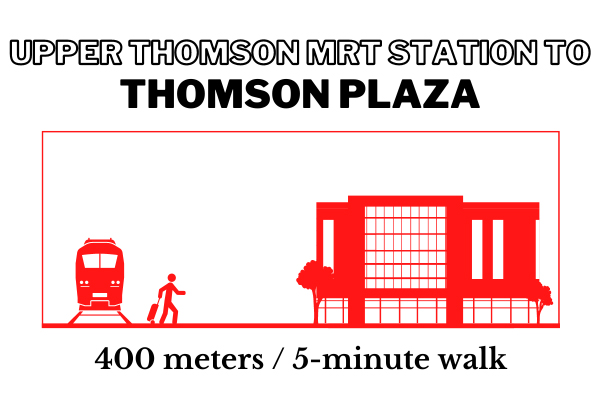 ---
Alternative Stations to Access Thomson Plaza
With the development of the Thomson East Coast Line, there is no question that the best station for accessing Thomson Plaza is Upper Thomson (TE8).
You can also get to Thomson Plaza using the Circle Line, so it's worth checking out whether it's worth transferring over to the Thomson East Coast Line or taking a bus from another station.
In the table below, we summarize the closest stations to Thomson Plaza. 
Station Name

Walking Distance to 

Thomson Plaza

Walking Time to 

Thomson Plaza

Upper Thomson (TE8)

***Best Choice

400 m
3-5 minutes

Marymount (CC16)

1.4 km

18-minute walk or

10-minute bus ride

Bright Hill (TE7)

1.5 km

15-minute walk or

10-minute bus ride
As you can see above, it's considerably less convenient to access Thomson Plaza from Marymount or Bright Hill Station. If you have the choice, head to Upper Thomson Station, but if you're on the Circle Line, consider taking the bus from Marymount Station.
---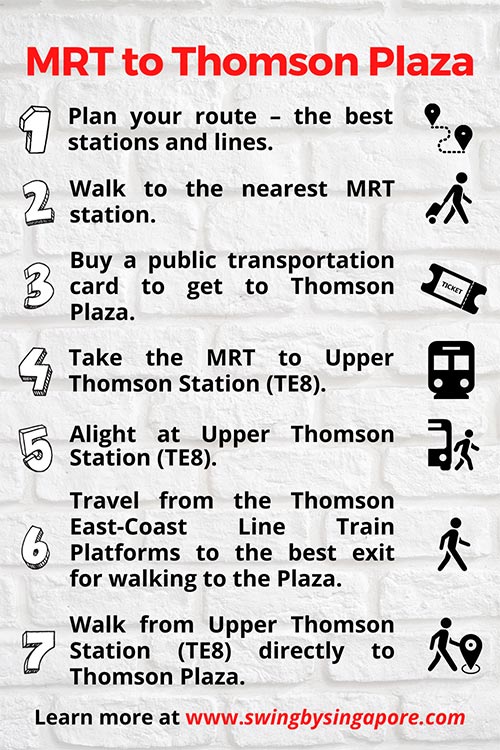 ---
What else to visit during the same day?
Thomson Plaza is quite north of the main business district and Marina Bay. But it isn't far from some of the best outdoor spaces in Singapore. 
East of Thomson Plaza, you will find interesting outdoor activities like golf, hiking and bird watching. 
Windsor Nature Park, MacRitchie Nature Trail and TreeTop Walk (Directions) are three places worth checking out. SICC Millennium Golf Course and Singapore Island Country Club are two of the closest golf courses. 
If you want to do additional shopping, Sin Ming Plaza is the closest shopping centre relative to Thomson Plaza. You can access it from Upper Thomson Station as well. 
---
Best Places to Stay Near Thomson Plaza?
There are very few places to stay near Thomson Plaza due to its location well north of the city centre. 
If you want to find a place a bit further south of it, we suggest staying along Balestier Road. 
A few of the most popular places to stay there include 
ibis Singapore Novena (3-star)
Ramada by Wyndham Singapore at Zhongshan Park (4-star)
Fragrance Hotel – Oasis (2-star)
Rooms here tend to be quite affordable in comparison to the city centre. Remember to check recent review scores to ensure you are getting the best property for your budget.
---
Conclusion
Hopefully, you now know how to get to Thomson Plaza by MRT in Singapore.  
Once the Thomson East Coast MRT line opened up, it suddenly became much easier to access Thomson Plaza and all the other points of interest around it.
If you're heading to the Plaza, there are two main things to remember:
Transfer to the Thomson East Coast Line (if you're not starting on it) 
Alight at Upper Thomson Station
Once you're at Upper Thomson Station, take Exit 1, which will bring you right beside Thomson Plaza. Coincidentally, Thomson Plaza is extremely well connected to the station, which makes the walk super fast and worry-free. You don't even need to step foot on a sidewalk or street to make it to the Plaza. 
The walk from door to door should take you no more than 5 minutes. 
Marymount (CC16) and Bright Hill (TE7) are the next two closest stations to Thomson Plaza. For most commuters, you can expect a lengthy walk or a relatively short bus ride from each of these stations. 
Sin Ming Plaza is one of the closest shopping malls to Thomson Plaza. Head southeast along Upper Thomson Road to access it.