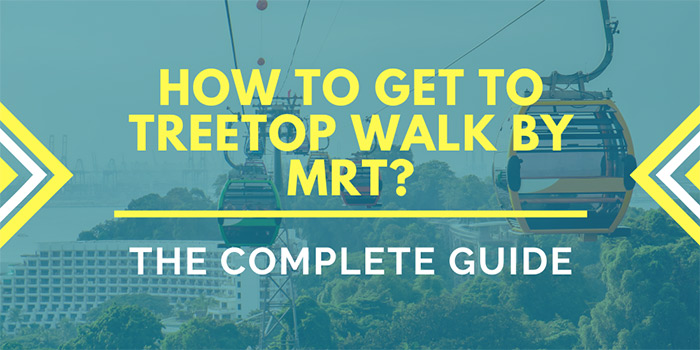 This is the complete guide on how to get to TreeTop Walk by MRT. As you may already know, Singapore is loaded with world-class attractions and activities. The City continues to reinvent itself by creating innovative and fun things to do. Fortunately, TreeTop Walk is one of them! 
When you read this article we hope that you will be able to make it to TreeTop Walk in a fast and affordable manner. We want you to avoid Singapore's traffic and save some cash while doing so! And, let's not forget about parking as well. Staying right beside an MRT station and taking the MRT while you are in Singapore is a very smart decision.
If you are visiting Singapore we highly recommend that you book a hotel room within walking distance of an MRT station.  This sets the stage for a very efficient trip where you can easily access the system to get to places such as TreeTop Walk. Avoid taxi fees and private vehicles as much as possible. We will explain how you can do this!
---
Why should you visit TreeTop Walk in Singapore?
The TreeTop Walk or TTW for short is a very popular hiking route in MacRitchie, Singapore. This section of the hiking trail consists of a free-standing suspension bridge. The bridge connects the two highest points of the park and offers amazing views of secondary forest and a wide array of plants and animals. According to the official webpage for TreeTop Walk, the "total length of the walkway is about 250 m and its height from the forest floor varies, with the highest point at 25 m." 
TTW, or TreeTop Walk is also pivotal for research purposes as well. Since it's challenging to collect information about animals and trees at this altitude, the canopy walk provides access for researchers. They conduct surveys here at TreeTop Walk that provides us with information about ecosystems. When you visit TreeTop Walk expect it to take some time! TreeTop Walk is about 2.5 km (45 mins/1 hour walking time) from the parking area at Venus Drive. Consequently, it is realistic for you to take 3-5 hours for a round trip visit to TreeTop Walk. 
TreeTop Walk is an amazing place to visit in Singapore, but you do need to do some pre-planning before heading here. Refreshments and proper clothing are things you have to consider before visiting. 
---
Getting to TreeTop Walk using the MRT 
Step 1: Walk to a nearby MRT station and purchase a ticket.
At this point in time, we assume that your hotel is sorted and that you want to use the MRT to get to Treetop Walk.  Keep in mind that it is possible to get to the parking area using a bus, but the assumption that we have is that you are going to use the MRT as much as possible to get to this cool place in Singapore. 
The first step in getting to TreeTop Walk via MRT is making sure that you have an appropriate ticket.  The type of ticket that you use really comes down to how long you are staying in the city and how many different places you plan on visiting.
We have included an overview of the types of at MRT tickets in Singapore for your convenience below:
Types of MRT Tickets in Singapore
There are two main types of MRT tickets/passes available in Singapore at the time of writing:
Stored value cards

Singapore Tourist Passes
If you want really specific information on MRT tickets we suggest that you read our complete guide on how to buy MRT tickets in Singapore.  this goes into specific detail about each type of ticket in what the pros and cons are.
However, in general, if you are spending only a few days in the city you can purchase single journey tickets.  You can buy these at ticketing kiosks within each station. These are an okay option if you do not want to use public transportation off a lot while you are in the city.
Stored-value cards are a great option if you are spending more time in Singapore. These are popular with Singaporeans, ex-pats and long-term visitors to the city. When we were trying to figure out how to get to TreeTop Walk by MRT for the first time we used an EZlink card. Conveniently, you can use these cards on buses as well!
Singapore Tourist Passes are the best choice for short term guests who want to do a lot of sightseeing.  You have to travel a lot to make them financially worthwhile, but a lot of visitors love these! Tourist Passes are often used along with Singapore Attraction Passes. When you buy a bundle pass to Singapore's you can visit multiple attractions at large discounted prices. 
---
Step 2: Plan on going to Marymount MRT Station.
When you are taking the MRT to Treetop Walk in Singapore you actually have a choice of different stations to go to.  In this article, however, we will focus on the closest and most convenient station relative to Treetop Walk. 
The most convenient MRT station for getting to Tree Top walk is Marymount.
Marymount Station is located along the Circle Line. This line is represented in orange colour on Singapore's official train map. 
Special Note: Marymount may no longer be the most convenient station when the Thompson-East Coast Line opens up.
---
Step 3: Take the MRT Marymount Station.
While you are still in your first station en route to TreeTop Walk, refer to the train map. The map will help you to see if you need to transfer lines on the way to this hiking trail.
Then, simply tap your card/scan ticket to enter the system and then board the correct train en route to TreeTop Walk. 
While you are taking the MRT to Treetop walk be sure to listen to verbal announcements be made on the train. These are designed to inform you of upcoming stations. The neighbouring stations to Marymount are Caldecott and Bishan. 
Once you hear either one of these being announced, get closer to an exit so you do not miss Marymount Station.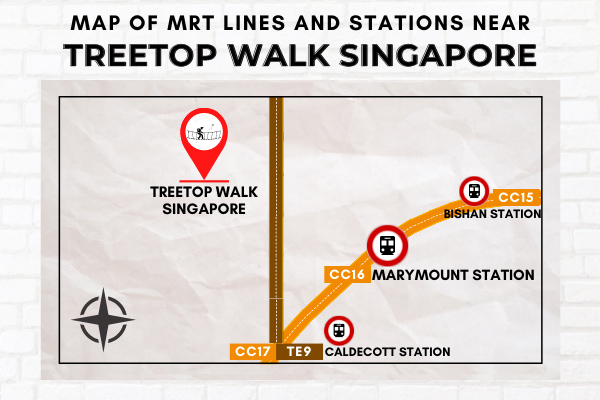 ---
Step 4: Get off the train at Marymount Station. 
Alight at Marymount station. Exit the station and be sure to bring all of your belongings. Now you have a choice of either walking to the entrance to the park or taking a bus/taxi.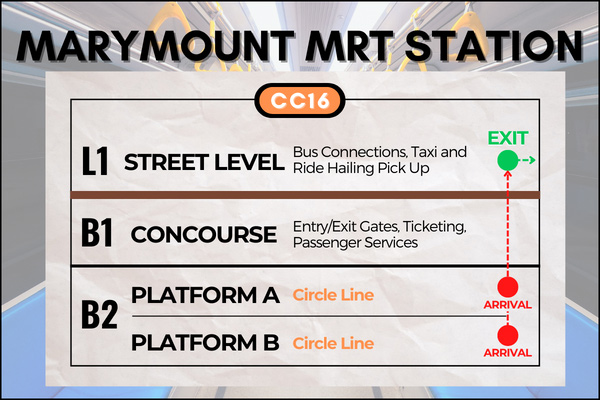 ---
Step 5: Either take the bus, walk, or get a taxi to Venus Drive where the MacRitchie TreeTop Walk Car Park is located.
When you have exited Marymount Station then you have a choice on how you want to get to Treetop Walk. 
The distance from Marymount Station to the car park at Venus Drive is about 2 km. This translates to a 25-minute walk. If you are up for some exercise, just walk northwest along Upper Thomson Road. When you reach Venus Drive, turn left and walk through the parking area. From there it's a 30-45 minute walk to TreeTop Walk. 
Taking a bus from Marymount Station to TreeTop Walk
If you do not want to walk from Marymount Station all the way to the entrance of the nature reserve, then you can take a bus from a nearby stop. Simply walk along Upper Thomson Road until you reach Opp Shunfu Est bus stop. 
Then take any of the following buses north: 132, 163, 165, 166, 167, 855, 908. Get off at Opp Flame Tree Pk bus stop. Then walk south along Upper Thomson Road until you reach Venus Drive. 
---
Step 6: Walk from Venus Drive to TreeTop Walk
Venus Drive is the road that is adjacent to the car park area. From there, follow the signs and walk to TreeTop Walk. 
The TreeTop Walk is 2.5 km (45 mins – 1 hr walk) from the car park area at Venus Drive. Therefore, expect to be walking for at least 1.5 hours for the roundtrip from the car park area. This doesn't include time taking photos and checking out plant and animal species.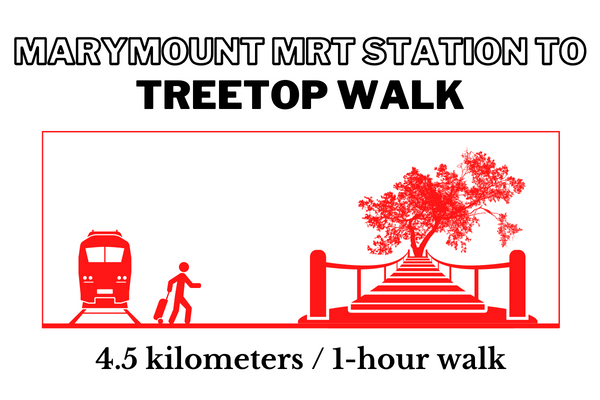 ---
Should you stay near the TreeTop Walk while in Singapore?
The TreeTop Walk is located quite far north of other main tourist attractions in Singapore.  Therefore, we do not suggest staying up in this end of the city unless you want direct access to the reservoir and other attractions such as the Zoo and Night Safari.
It is much more common for tourists to stay down south in areas such as Orchard, Chinatown or Marina Bay. Then, you can easily take the MRT north towards the TreeTop Walk. 
Some of the most popular hotels in Singapore include the following:
Marina Bay Sands (5-star, 9/10 review score) 
minutes from Bayfront Station
Fairmont Singapore (5-star, 9/10 review score) 
minutes from Esplanade Station
Four Seasons Hotel Singapore (5-star, 9.2/10 review score) 
minutes from Orchard Station
As you can see we have included the nearby MRT stations with these hotels. If you book it any one of these then you can directly access the MRT and go to all kinds of attractions throughout the city, including TreeTop Walk.
---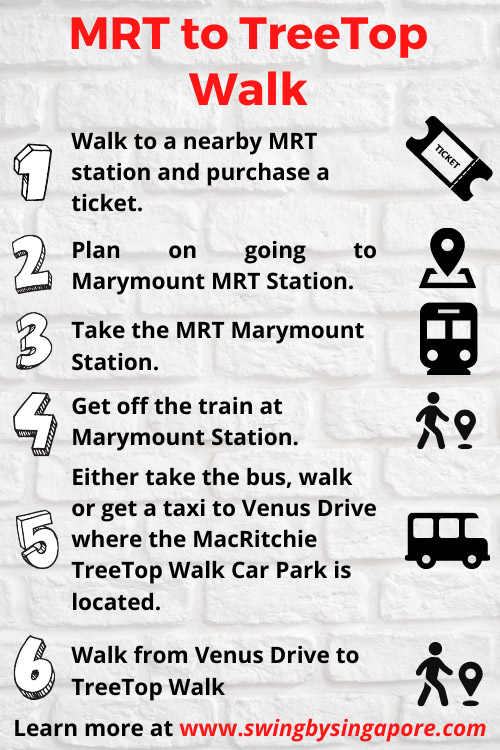 ---
More questions about getting to the TreeTop Walk?
We hope that this step-by-step guide on how to get to TreeTop Walk by MRT has been helpful. This is not the easiest attraction in Singapore to get to by any means. It is located quite far north of the main tourist area of the city. Consequently, there are actually many different ways that you can get to this area, but your mode will depend on your point of origin. 
You can go to different stations other than Marymount Station and still get to the same final destination!
It is also important to note that you can take buses from the south to get to the parking area near TreeTop Walk.  We have written this article to provide you with details on how to use the MRT to get as close as possible to Treetop Walk. However, you may find that taking the bus is a better option for you depending on where you are staying in the city.  
We will also try to focus on explaining how to get there directly by bus in additional articles that we write.
While you are visiting TreeTop walk remember that Singapore Zoo and Singapore Night Safari are both located north of this point of interest. Therefore, while you are drafting up your itinerary for Singapore, you may want to combine one or two of these on the same day. We also strongly recommend buying a Klook Attraction Pass for Singapore. This will significantly cut down on your transportation time and also money getting up to this northern area of Singapore.