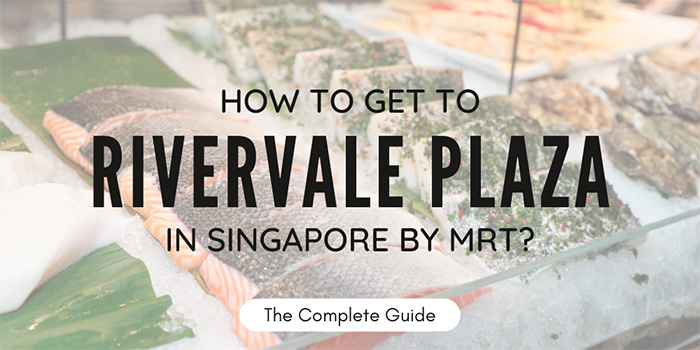 Get to Rivervale Plaza in Sengkang fast and stress-free with these detailed steps.
If you are wondering how to get to Rivervale Plaza in Singapore, we will share all the specific steps in this comprehensive guide. 
We will start by explaining how to get there using a combination of MRT and LRT services and then summarize bus services. By the end of this article, you will know exactly how to reach Rivervale Plaza using the following modes of transportation:
MRT and LRT

Bus 

Private Vehicle/Taxi
Getting to Rivervale Plaza using MRT and LRT requires specific information about stations, metro lines and transfers. Once you are at Rivervale Plaza, we will discuss some itinerary ideas to ensure that you don't miss anything before leaving the area.
First, let's discuss some information about Rivervale Plaza and then describe how to get there!
---
Shopping at Rivervale Plaza in Singapore
Rivervale Plaza was the first shopping centre that opened its doors in Sengkang New Town. Currently, it has houses around 46 shops spread over two levels. Although Rivervale Plaza is not particularly large by modern standards in Singapore, it is still a popular and convenient shopping experience for Rivervale and Sengkang New Town residents. 
Unlike most of Singapore's new malls, Rivervale Plaza has a wet market.
Consequently, it's possible to buy fresh fish during a visit to the mall. It also has two food courts, a variety of retail shops, medical clinics, cell phone and electronics specialists, a music school and fast food outlets.
The grocery store is popular among residents of Rivervale and Sengkang.  
Since it only consists of two levels, Rivervale Plaza is an efficient shopping experience with a diverse range of products and services. You can get to the mall quickly with a combination of MRT and LRT services or bus services. 
---
Getting to Rivervale Plaza in Singapore by MRT and LRT.
Step 1: Walk to the closest MRT station. 
Rivervale Plaza is accessible using a combination of MRT and LRT. However, these are not practical transportation options unless you are actually staying close to an MRT station. Otherwise, you would be better off just taking a car directly to the mall in many cases.
Singaporeans and residents of Singapore likely have a station that they are very familiar with and use all the time. If that's the case, you can jump down to step number two. 
However, visitors to the city should highly consider where they should stay in relation to an MRT Station. Being close to a station will make getting around the city more efficient, affordable, and stress-free because you do not have to think about accessing different stations all the time.
Below, you will find three properties within three minutes or less of a station. 
They receive positive reviews scores from verified guests:
Luxury
Fairmont Singapore (5-star, 8.7/10 review score, close to Esplanade Station) 
Mid Range
Hotel Bencoolen @ Hong Kong Street (4-star, 8.3/10 review score, very close to Clarke Quay Station)
Budget
Chic Capsule Otel (2-star, 8.5/10 review score, very close to Chinatown Station)
Always remember to check previous guest reviews before booking a room in Singapore. 
Once you know where you are staying in Singapore, you can now focus on directions to Rivervale Plaza.
---
Step 2: Plan your route to Rivervale Plaza (stations, transfers, lines).
Getting to Rivervale Plaza is really easy using MRT and LRT services, but you have to have some familiarity with the stations, lines and transfers to get there. 
The section below will summarize MRT station and line information, followed by an overview of transfers required to get on the appropriate line. 
MRT Station and Line Information
Sengkang Station (NE-16) is the main MRT station that is used to access Rivervale Plaza and the surrounding points of interest. 
To reach Sengkang Station (NE-16), you first need to get on the North-East MRT Line. 
The North-East MRT Line is shown in purple on the metro map.  
Transfer Information to reach the North-East MRT Line
Once you get on the North-East Line, you can go to Sengkang Station, where you can transfer to the LRT. Rivervale Plaza is best accessed via LRT.
Therefore, if you are not staying close to a station along the North-East MRT Line, then you will likely have to transfer from a different MRT line.
The transfer stations below that are popular with MRT commuters heading to the North-East MRT line: 
Little India (transfer between the North-East and Downtown Line)
Serangoon (transfer between the North-East and Circle Line)
Dhoby Ghaut (transfer between the North-South, North-East and Downtown Lines)
Also, keep in mind that there are MRT metro maps in stations throughout Singapore and station personnel that you can ask for help getting to Rivervale Plaza.
---
Step 3: Purchase a card or ticket to access the MRT network. 
There are several tickets/cards to choose from when heading to Rivervale Plaza via MRT and LRT, but here are three main types of tickets to choose from:
1) Stored Value Cards
2) Singapore Tourist Passes 
3) Single/Multi-Trip Tickets
We used a stored value card when figuring out how to get to Rivervale Plaza in Singapore, but Tourist Passes are a solid choice for foreign tourists visiting. People with a busy itinerary will benefit from using a card, opposed to tickets. 
Your decision whether or not to get a Tourist Pass should be based on your answers to the three questions below:
Are you visiting from abroad?
How many days are you in the city (1-3 days or more)?
Do you plan on travelling a lot (MRT, LRT and Bus Services)? High frequency, medium or low? 
If you are visiting for less than 3 days and want to explore a lot, get one!
Multi-trip and single-trip tickets are purchasable in stations throughout the city, but always consider rush hour when ticket queues can be long. You are best to make your way to Rivervale Plaza when trains are empty!
---
Step 4: Complete transfers (if needed) and ride the MRT along the North-East Line to Sengkang Station (NE-16).
Make your way on the MRT to the North-East Line. 
You may have to transfer once or twice if you are not beginning at a station along the North-East Line. 
Travel to Sengkang Station (NE-16) and take note of its neighbouring two stations:
Buangkok Station (directly south)
Punggol Station (directly north)
You will stop at either one of these before stopping at Sengkang.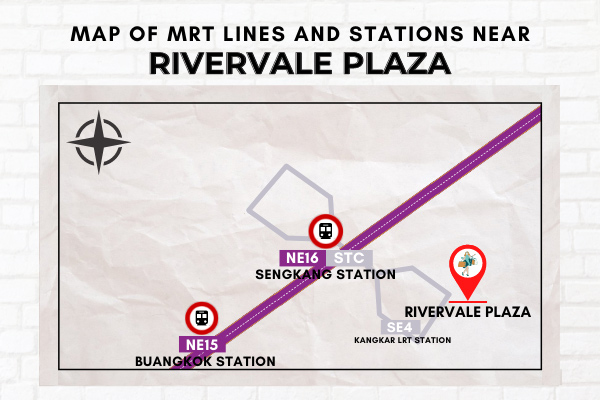 ---
Step 5: Get off the train at Sengkang Station (NE-16).
Alight at Sengkang MRT Station, and bring all of your belongings with you.
---
Step 6: Walk from the MRT platform to the LRT platform at Sengkang Station.
Sengkang Station is an integrated station, which allows commuters to transfer between the North-East MRT Line and the Sengkang LRT Loops.  
It has both MRT and LRT platforms for trains. The LRT component of the station is built above the MRT component. 
The LRT and MRT share common concourses on both the ground Ground Level and Level 2.
You will get off the MRT at Basement Level 1. 
But the LRT platforms are located on Level 3 of the station. Therefore, follow the signs and travel up to Level 3.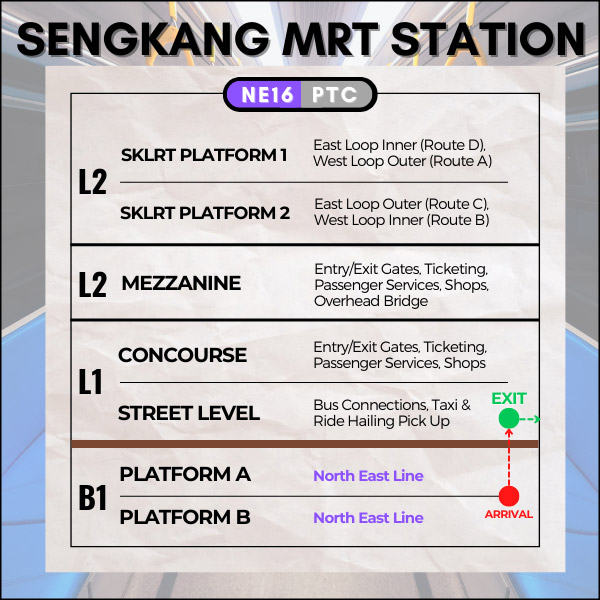 ---
Step 7: Ride the Sengkang East LRT Loop to Kangkar Station (SE4).
Take Sengkang East LRT loop to Kangkar Station (SE4). 
---
Step 8: Get off at Kangkar LRT Station (SE4) and walk to Rivervale Plaza.
 Kangkar Station (SE4) is located within Sengkang New Town. It is built above ground along Rivervale Drive, near the junction of Rivervale Walk and next to Rivervale Plaza.
You can expect to arrive at the Level 3 Platforms via LRT. 
Make your way down to ground level by taking Exit A from the Station. 
Walk northeast along Rivervale Drive, and turn left (west) onto Rivervale Lane. Take another left to access the entrance of Rivervale Plaza.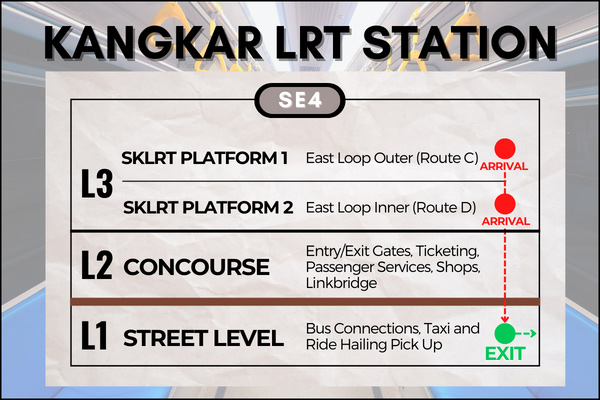 How long does it take to walk from Kangkar Station to Rivervale Plaza?
The walk from Kangkar Station to Rivervale Plaza is only about 300 metres, taking you about 4 minutes (max). You should see Rivervale Plaza almost immediately once you get out.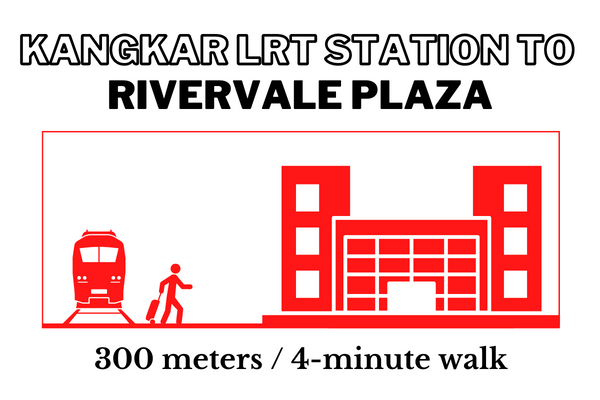 ---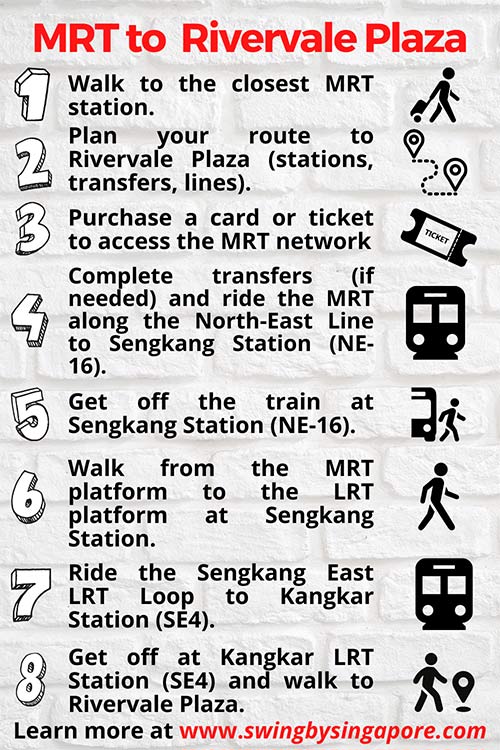 ---
Getting to Rivervale Plaza by Bus
Aside from LRT and MRT, you can also get to Rivervale Plaza via public bus services. Refer to the table below for an overview of convenient bus stops and the bus numbers to look for. 
| | |
| --- | --- |
| Bus Stop | Bus Numbers |
| #67159 Kangkar Stn Exit A | 119, 136, 654, NR6 |
| #67159 Blk 111 | 80, 80A, 82, 88, 88A, 163, 163A |
| #67141 Blk 119d | 85, 86, 119, 136, 654 |
You can walk from any of these three bus stops to Rivervale Plaza in 4 minutes or less. 
---
Driving or Taking a Taxi to Rivervale Plaza
If traffic is light, consider driving or taking a taxi to Rivervale Plaza. 
Taxis in Singapore are a great option if you travel with other people and share the meter price. Furthermore, you don't have to worry about parking if you take a taxi!
You can get to the Rivervale Plaza by using various major expressways and exits to Sengkang. 
The official address for Rivervale Plaza is:
118 Rivervale Drive, Singapore, 540118
The most common expressways for getting to Rivervale Plaza are:
1) Tampines Expressway (TPE)
2) Central Expressway (CTE)
3) Kallang-Paya Lebar Expressway (KPE)
Regardless of whether you are taking a taxi or private vehicle to Rivervale Plaza, be sure to check the route in advance. Avoiding traffic and finding the best exit off the expressway are important factors to consider.
---
Should you stay near Rivervale Plaza or elsewhere in Singapore?
There would be a hotel directly beside Rivervale Plaza in Singapore in a perfect world. But, in reality, there are few hotels or hostels in Sengkang that are close to the mall. 
The closest place to stay that we could find through our research was:
Village Residence Hougang by Far East Hospitality (4-star, 7.4/10 review score, 12+ reviews)
Due to its distance from Rivervale Plaza, you might want to consider staying in an area such as Little India that offers much more selection in terms of hotels and hostels. 
Little India is further south, and therefore, much closer to downtown and popular sightseeing areas such as Marina Bay and Chinatown. 
Little India provides direct access to both Sengkang and Marina Bay using the North-East Line. 
 A few of the most popular hotels near Little India Station include
Citadines Rochor (4-star, 8.6/10 review score, 160+ reviews) 
Hilton Garden Inn Singapore Serangoon (4-star, 8.2/10, review score, 2400+ reviews)
Check out our popular and very comprehensive accommodation guide to find the best areas and places to stay in the city.
---
Conclusion
Ideally, this guide on how to get to Rivervale Plaza in Singapore will save you valuable time and money!
 We highly recommend using the MRT and LRT network to get to Rivervale Plaza, but driving there (or taking a taxi) is another great option. If you are travelling with other people and don't stay near an MRT or LRT station, consider taking a taxi! You can share the cost, which means the price will be comparable to public transport.
 Regardless of how you get to Rivervale Plaza, it's easy to get around using the Sengkang LRT Loops once you are there. You can use both the East and West components to access nearby shopping malls and other recreational facilities.  
Points of Interest in Sengkang and Beyond
Building a one-day itinerary that includes a visit to Rivervale Plaza and is super easy.
 You can explore several other shopping malls near Rivervale Plaza, such as:
Rivervale Mall
Compass One
Buangkok Square Mall
Hougang Mall
Hougang Green Shopping Mall
 Compass One is probably the most convenient shopping centre to visit. It is directly integrated with Sengkang MRT Station. FYI, You can read how to get there with this article. 
 Not to be confused with Rivervale Plaza, Rivervale Mall is also accessible via the Sengkang East Loop.
 The other shopping centres are in Hougang – a region south of Sengkang in Singapore. You can access these by taking the North-East Line further south to either Buangkok or Hougang Station. 
Don't forget to enjoy a meal or two while in Sengkang!
 Kopitiam Square is only a few minutes southwest of Sengkang Station. It has a wide selection of traditional hawker foods that Singapore is famous for!
Sengkang Sports Centre, Sengkang Swimming Complex and Sengkang Sculpture Park are popular recreational facilities. These are a short drive west of Sengkang MRT station along the waterfront.
This step-by-step guide on how to get to Rivervale Plaza in Singapore has been designed to get you there efficiently, affordably and without unnecessary complications. If you feel like something should be adjusted in this article to make things easier for commuters, or if you have any questions, send us an email, and we would be happy to discuss!