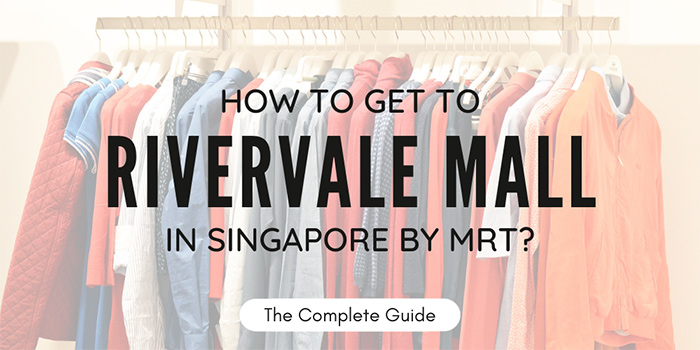 Get to Rivervale Mall super fast and affordably with these detailed steps!
Welcome to the complete guide on how to get to Rivervale Mall in Singapore.
As you read through this comprehensive article, we will share information on getting to Rivervale Mall using multiple forms of transportation, including:
MRT

LRT

Bus 

Private Vehicle/Taxi
Rivervale Mall is quite easy to get to using a combination of MRT and LRT, and that's what we will summarize first, followed by bus and driving information. 
We will answer the following questions:
What kind of ticket should you get to reach Rivervale Mall using LRT/MRT?
Which MRT line(s) and LRT line(s) should you use to get there? 
What is the best station for walking directly to Rivervale Mall?
Are there other popular malls and points of interest in Sengkang (near the Rivervale)?
Is staying near Rivervale a wise or idea, or is there a better area in Singapore?
First, let's discuss some information about Rivervale mall and then describe how to get there!
---
Rivervale Mall in Sengkang – Visitor Information
Rivervale Mall is a popular suburban retail mall in Sengkang, Singapore. It first opened its doors in 2000 but was completely renovated in 2017.
Currently, it consists of 3-storeys and approximately 85,000 square feet (7,900 m²) of retail space for you to enjoy. There are also four carpark levels and a healthy mix of retail, lifestyle, healthcare and dining establishments to choose from. 
One of the convenient aspects of shopping at Rivervale Mall is that it is well connected to the LRT network, meaning that you can avoid long walks or time spent in traffic getting here.  
Aside from stores and restaurants, you can also access convenient services at Rivervale Mall such as:
AXS station

SAM machine 

Several ATMs 
The taxi stand is located at Level 1 in front of Food Junction, making it convenient to get dropped off/or picked up without much hassle.
Once you are at Rivervale Mall, it's super easy to access other shopping centres and points of interest using the Sengkang LRT network. 
---
Getting to Rivervale Mall in Singapore by MRT and LRT
Step 1: Access the closest MRT station. 
It's very easy to reach Rivervale Mall in Singapore using a combination of MRT and LRT services. In most cases, commuters first take the MRT to Sengkang and then transfer to the LRT to get to the Mall. 
We will outline these steps in detail below!
One of the first things you need to consider when going to Rivervale Mall is where you are going to stay while in the city. 
Plan where you are staying well in advance and try to prioritize staying close to a station. Walking directly to an MRT network will save you serious time and money by avoiding traffic, taxi fees and parking!
Below, you will find three properties that are within three minutes or less of a station. Check these out and consider other options as you plan your trip.
Luxury
Fairmont Singapore (5-star, 8.7/10 review score, close to Esplanade Station) 
Mid Range
Hotel Bencoolen @ Hong Kong Street (4-star, 8.3/10 review score, very close to Clarke Quay Station)
Budget
Chic Capsule Otel (2-star, 8.5/10 review score, very close to Chinatown Station)
Always remember to check previous guest reviews before booking a room in Singapore. Once your hotel or hostel booking is taken care of, it's time to start planning your trip to Rivervale Mall in Sengkang. 
---
Step 2: Plan which stations, lines and transfers are needed to reach Rivervale Mall. 
Getting to Rivervale Mall by MRT and LRT is easy, but remember that you might have to make a line transfer or two to get there. 
The section below outlines which stations, lines, and transfers you will likely require to reach Rivervale Mall. 
MRT Information
Sengkang Station (NE-16) is the MRT station you will have to travel to access the LRT to Rivervale Mall. 
Sengkang Station is located on Singapore's North-East MRT Line. The North-East MRT Line is shown in purple on the metro map.  
Transfer Information to reach the North-East MRT Line
If you are not staying directly near a station on the North-East Line, you will have to complete a transfer from another line to reach Sengkang Station. Once you arrive at Sengkang Station, you can transfer to the LRT to access Rivervale Mall. 
The transfer stations below that are popular with MRT commuters heading to the North-East MRT line: 
Little India (transfer between the North-East and Downtown Line)
Serangoon (transfer between the North-East and Circle Line)
Dhoby Ghaut (transfer between the North-South, North-East and Downtown Lines)
You can refer to commuter maps available in MRT stations throughout the city and a digital screen on each train if you need help. 
---
Step 3: Purchase either a card or a ticket for your trip.
There are several tickets/cards to choose from when heading to Rivervale Mall via MRT and LRT. 
Permanent residents and Singaporeans will already have a card in most cases. 
But if you need to get one, the main factors you should consider before purchasing your ticket are:
How many days are you in the city (1-3 days or more)?
Do you plan on travelling a lot (MRT, LRT and Bus Services)? High frequency, medium or low? 
There are three main types of tickets to choose from
1) Stored Value Cards
2) Singapore Tourist Passes 
3) Single/Multi-Trip Tickets
We used a stored value card when figuring out how to get to Rivervale Mall in Singapore, but Tourist Passes are also a good idea depending on your itinerary. 
Multi-trip and single-trip tickets are purchasable in stations throughout the city.
---
Step 4: Ride the MRT to the North-East Line all the way to Sengkang Station.
Access the North-East Line by completing any necessary transfers. 
Stay on the North-East Line to Sengkang Station (NE-16). Before reaching Sengkang Station, you will stop at one of these two neighbouring stations:
Buangkok Station (directly south)
Punggol Station (directly north)
Since you will alight at the stop after these, move closer to an exit and remember to bring everything.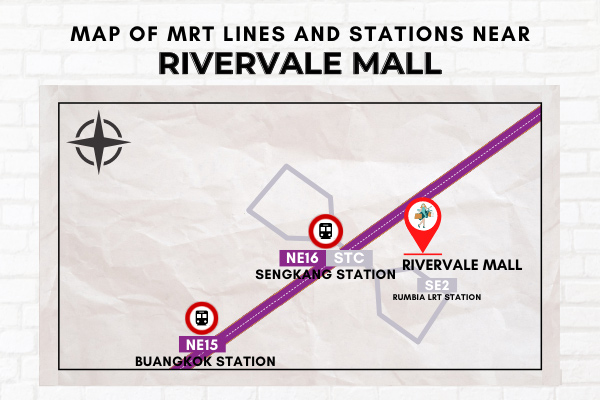 ---
Step 5: Alight at Sengkang Station (NE-16).
Alight at Sengkang Station and refer to LRT information in the station once you're off the train. 
---
Step 6: Transfer from the MRT to the LRT at Sengkang Station.
Sengkang Station has both MRT platforms and LRT platforms for trains. It is a multi-level structure with the elevated LRT station built on top of the underground MRT station. 
They share common concourses on both the ground Ground Level and Level 2.
The MRT platforms are located at Basement Level 1. So, to transfer to the LRT platforms, travel up to Level 3 of the station.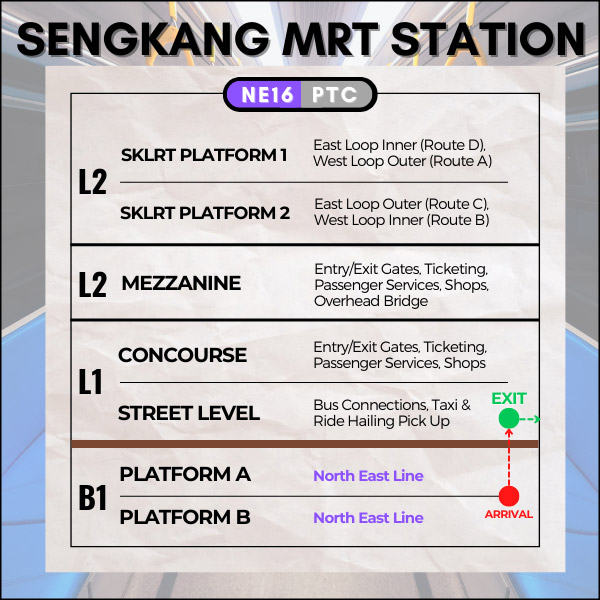 ---
Step 7: Take the Sengkang East LRT Loop to Rumbia Station (SE2).
In order to reach Rivervale Mall take the Sengkang East LRT loop to Rumbia Station (SE2). Expect this to take only a few minutes. 
---
Step 8: Alight at Rumbia LRT Station (SE2) and walk directly to the mall
Rumbia is an overground station and built along Rivervale Drive, near the junction of Rivervale Crescent.
You will arrive on Level 3 of the station. Travel down to the ground level and take Exit A from the station. 
Walk west along Rivervale Drive, and you should see Rivervale Mall to your left (south).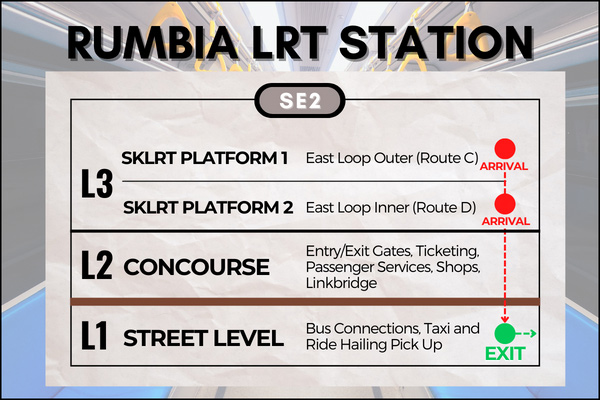 ---
How long does it take to walk from Rumbia Station to Rivervale Mall?
The walk from Rumbia Station to Rivervale Mall is only about 200 metres, taking you 2-3 minutes (max). It's a fast, stress-free walk!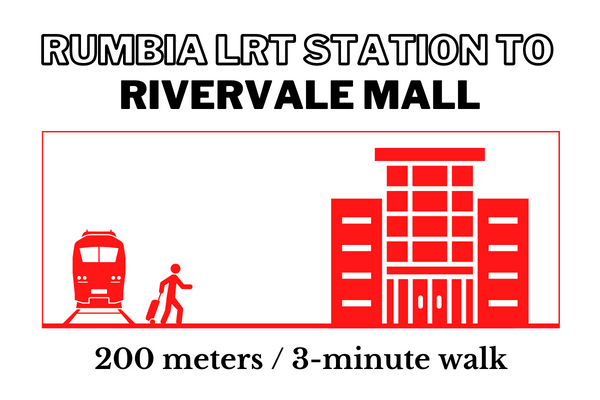 ---
Getting to Rivervale Mall by Bus
Conveniently, you can get to Rivervale Mall using several bus services. 
First, going to an MRT station and then transferring to a bus is a popular choice. 
In the section below, we have summarized several bus stops within walking distance of Rivervale Mall, with their respective bus service numbers.
Bus Stop
Bus Numbers

#67239

Opp Rivervale Pr Sch

 

86, 371, 654

#67231

Rivervale Pr Sch

86, 371, 654

#67229

Rumbia Stn Exit A

86, 654
 All of these bus stops are within approximately 3-5 minutes walking distance of Rivervale Mall. 
---
Driving or taking a Taxi to Rivervale Mall in Sengkang
Driving a private vehicle to Rivervale Mall is a practical means of getting there if traffic is light. 
Remember there is a taxi drop-off and also 4 levels of parking. 
You can get to the Mall by using various major expressways, but it will depend on where you are starting your trip.
The official address for Rivervale Mall is:
11 Rivervale Crescent, Singapore 545082
You can get to Rivervale Mall using three major expressways:
1) Tampines Expressway (TPE)
2) Central Expressway (CTE)
3) Kallang-Paya Lebar Expressway (KPE)
Rivervale Mall is located along Rivervale Drive. You can't miss it once you are in the right area.
We suggest using a GPS device, such as Google Maps, to plan your route in advance. You will save time by avoiding traffic along your way to the mall. 
---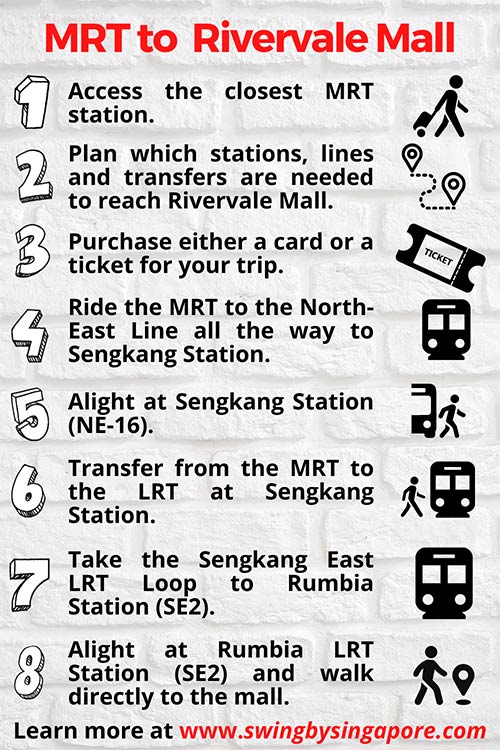 ---
Should you stay at a hotel near Rivervale Mall?
It would be super convenient to stay right beside one of the shopping centres in Sengkang, such as Rivervale Mall. 
But, according to our research, there are relatively few hotels or hostels in Sengkang. 
The closest place to stay that we could find on accommodation websites is 
Village Residence Hougang by Far East Hospitality (4-star, 7.4/10 review score, 12+ reviews)
It is pretty far from Rivervale Mall, so it isn't too practical. 
Staying further south in Little India might be a better idea!
Similar to Sengkang, The North-East Line services little India. But, Little India is situated between Rivervale Mall and the prime sightseeing districts such as Marina Bay and Chinatown. 
Little India provides direct access to these areas using the North-East Line. 
 A few of the most popular hotels near Little India Station include
Citadines Rochor (4-star, 8.6/10 review score, 160+ reviews) 
Hilton Garden Inn Singapore Serangoon (4-star, 8.2/10, review score, 2400+ reviews)
Our comprehensive accommodation guide provides tons of information about where to stay in Singapore. You might find a more suitable area than Little Inda by checking it out. 
---
Conclusion
We hope that this step-by-step guide on how to get to Rivervale Mall in Singapore has been clear and useful. Using the MRT and LRT network is a convenient way of getting to the mall. Just remember to plan out your line transfers in advance to avoid confusion along the way!
Driving to Rivervale is also no problem. Just remember to avoid traffic congestion during rush hour. 
The Sengkang LRT Loop makes it easy to build a day-itinerary that includes Rivervale Mall and other points of interest in the area. 
Itinerary Ideas
Once you arrive at Rivervale Mall, you should consider spending more time in this part of the city.
Several shopping malls are close to Rivervale, such as:
Compass One
Rivervale Mall
Buangkok Square Mall
Hougang Mall
Hougang Green Shopping Mall
Compass One is particularly easy to access because it's attached to Sengkang MRT Station. Rivervale Plaza and Rivervale Mall are both east of Compass One. 
The other shopping centres are in Hougang – a region south of Sengkang in Singapore. You can access these by taking the North-East Line further south to either Buangkok or Hougang Station. 
Also, consider eating while you are near Rivervale Mall. 
Kopitiam Square is only a few minutes southwest of Sengkang Station. It has a wide selection of traditional hawker foods that Singapore is famous for!
Sengkang Sports Centre, Sengkang Swimming Complex and Sengkang Sculpture Park are popular recreational facilities. These are a short drive west of Sengkang MRT station along the waterfront.
We genuinely hope you know how to get to Rivervale Mall in Singapore based on this article! Send us an email if you have any questions or suggestions in the future, and we would be delighted to help!