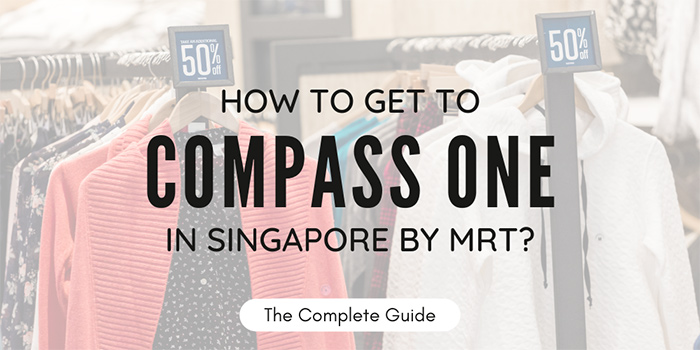 Get to Compass One in Sengkang super fast and easily with this detailed article!
Welcome to our step-by-step guide on how to get to Compass One in Singapore by MRT. 
Regardless of whether you live in Singapore or are visiting for a few days, it's important that you can get around the city fast and affordably. Getting to Compass One shopping centre in Sengkang is no exception. 
As you read this article, we will share specific information about stations, lines, tickets, transfers so that you know all options available. 
We will answer the following questions throughout this detailed 'how to' article. 
What kind of ticket should you buy to reach Compass One affordably using the MRT?
Which MRT line(s) should you use to get there? 
What is the best station for walking to Compass One?
Are there other popular malls and points of interest in Sengkang (near the mall)?
Should you book a room near Compass One, or is there a better area in Singapore?
First, we will share information about Compass One mall, and then we will go over each step in getting there via MRT. 
---
Compass One – Important Visitor Information
Compass One is a popular suburban shopping mall in Sengkang, Singapore. It is a fully integrated shopping centre that initially opened in 2002. After a thorough renovation in 2015 and 2016, it now features more than 180 brands and a modernized interior design spanning 25,000 square metres (270,000 sq ft).
If you are looking for a convenient, family-friendly shopping experience, Compass One is an excellent choice. It's integrated with Singapore's MRT network and Compass Heights (condominium). Getting there using public transport is stress-free and efficient. 
Compass One consists of several floors of stores, restaurants and services. For example, Sengkang Public Library is currently located on a portion of Levels 3 and 4. Families love visiting the outdoor wet and dry playground at Compass One. It is located on Level 4 of the mall. 
Some additional services you will find at Compass One include:
Complimentary Wifi (30 minutes)

Nursing Rooms (Level 4 and Basement Level 1)

Play Area for Children (Level 4)

Customer Service (Level 3)

Cashcard Top Up Machine (Basement 2)

AXS Machine (Level 1)

SAM Machine (Basement Level 1)
With its convenient location in Sengkang, with several shopping centres, food centres and recreational facilities close by. Therefore, once you visit Compass One, you can easily access other points of interest in the Sengkang area.  
---
Getting to Compass One in Singapore by MRT.
Step 1: Walk to the closest MRT station. 
One of the easiest ways to get to/from Compass One is to be stationed near an MRT station. You don't want to waste time getting a taxi to reach a station or walking in Singapore's intense heat for too long. 
Quickly accessing the MRT system is a priority, and it makes it cheaper and faster to get around. 
If you are staying year-round in Singapore, you likely have a 'go-to' station that you access all the time. In this case, jump down to step #2.
However, visitors to the city should strategically consider where you are staying to make it easy to access the MRT. Getting to Compass One will be a lot easier this way. 
To help get you started, we have completed a thorough online search and identified three sample properties at different price ranges. All of them are within 3 minutes or less of the stations listed below:
Luxury
Fairmont Singapore (5-star, 8.7/10 review score, close to Esplanade Station) 
Mid Range
Hotel Bencoolen @ Hong Kong Street (4-star, 8.3/10 review score, very close to Clarke Quay Station)
Budget
Chic Capsule Otel (2-star, 8.5/10 review score, very close to Chinatown Station)
Always remember to check previous guest reviews before booking a room in Singapore. Once your accommodation is sorted, it's time to start planning your trip to Compass One in Sengkang. 
---
Step 2: Plan your route (stations, lines and transfers) to Compass One.
Getting to Compass One using the MRT is easy, but some commuters will have to transfer along the way (it depends on where you are starting your trip!).
The section below outlines which stations, lines, and transfers you will likely require to reach Compass One. 
Station, Line and Transfer Information
Station Information
Sengkang Station (NE-16) is by far the best and most practical station for getting to Compass One. 
MRT Line Information 
Sengkang Station is located on Singapore's North-East MRT Line.
If you are not familiar with Singapore's MRT lines, the North-East MRT Line is shown in purple on the metro map.  
MRT Transfer Information to reach the North-East Line
You may have to make at least one transfer to reach the North-East Line and eventually Sengkang Station. Once you arrive at Sengkang Station, it's super easy to access Compass One.
Please refer to the transfer stations below that are popular with MRT commuters. 
Little India (transfers between the North-East and Downtown Line)
Serangoon (transfers between the North-East and Circle Line)
Dhoby Ghaut (transfers between the North-South, North-East and Downtown Lines)
There are commuter maps available in MRT stations throughout the city and a digital screen on each train to help you along the way. 
---
Step 3: Buy a card or ticket. 
Conveniently, there are several tickets/cards to choose from when heading to Compass One.  
The main factors you should consider before purchasing your ticket are?
How many days are you in the city (1-3 days or more)?
Do you plan on travelling around Singapore a lot (MRT, LRT and Bus Services)? High frequency, medium or low? 
There are three main types of tickets to choose from:
1) Stored Value Cards
2) Singapore Tourist Passes 
3) Single/Multi-Trip Tickets
We used a stored value card when figuring out how to get to Compass One in Singapore by MRT. The benefit of these cards is that you can use them interchangeably on buses and trains by simply tapping them to enter and exit. Stored value cards are popular among:
Singaporeans

Permanent Residents

Expats

Tourists staying longer than three days in the city
Are you a foreign tourist in the city?
Tourist Passes are ideal if you visit from abroad and have a busy itinerary planned. In other words, you plan on checking out many points of interest in different areas of the city. 
If you want to save serious money with your Tourist Pass, you have to travel a lot on buses and/or trains in a short time period (otherwise, they won't be worth the upfront expense).
You can also reach Compass One using single or multiple journey tickets that you can buy right in the station when you begin your trip. When buying these traditional tickets, always consider your travelling time because long queues can develop during rush hour and peak holiday seasons. 
---
Step 4: Ride the MRT to Sengkang Station, completing any necessary transfers along the way.
Start your trip to Compass One mall. Complete any transfers to the North-East Line if you are not staying close to a NE station.
Travel along the North-East Line to Sengkang Station (NE-16). 
Take note that Sengkang Station has two neighbouring stations:
Buangkok Station (directly south)
Punggol Station (directly north)
Once you arrive at one of the two stations listed above, you will be getting off at your next stop. Therefore, collect your belongings and move closer to an exit on the train.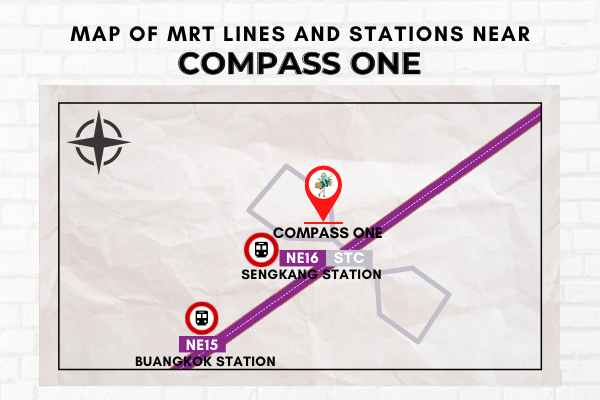 ---
Step 5: Get off at Sengkang Station (NE-16).
Alight at Sengkang Station and refer to exit information in the station once you're off the train. 
---
Step 6: Exit Sengkang Station (NE-16).
Sengkang MRT/LRT Station (NE16/STC) is an underground station and an interchange station with Sengkang LRT (SKLRT).
You will have the choice of four exits when you arrive here (A, B, C and D).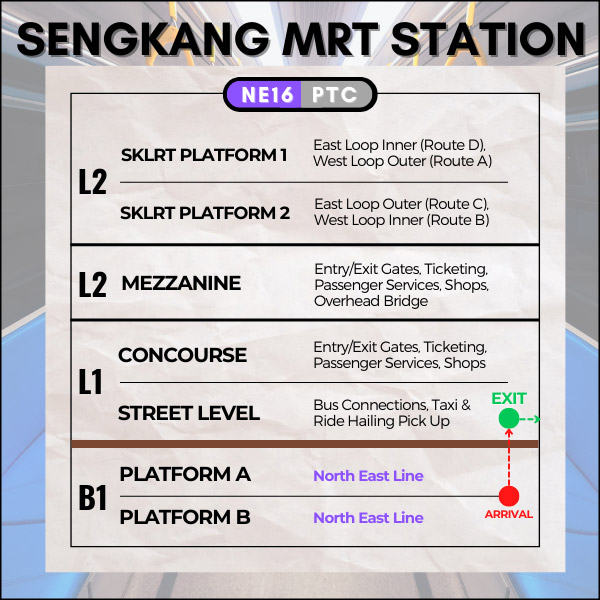 ---
Step 7: Walk directly from Sengkang Station (NE-16) to Compass One.
Sengkang Station is integrated with Compass One, meaning that they are physically connected. The mall is directly west of the station, meaning that you can walk right into Compass One without getting rained on or breaking a sweat!
Walking Directions to the Mall
Take Exit A at Sengkang Station to walk directly to Compass One. 
Walk west and enter Compass One. There is no need to walk outside.
---
How long does it take to walk from Sengkang Station to Compass One?
You can expect the walk from Sengkang Station to Compass One to take under 2 minutes (less than 200 metres).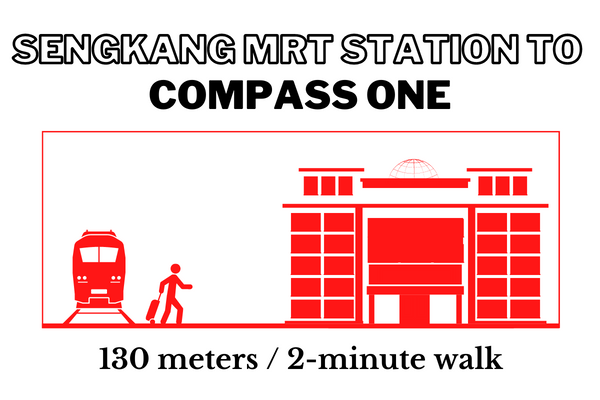 ---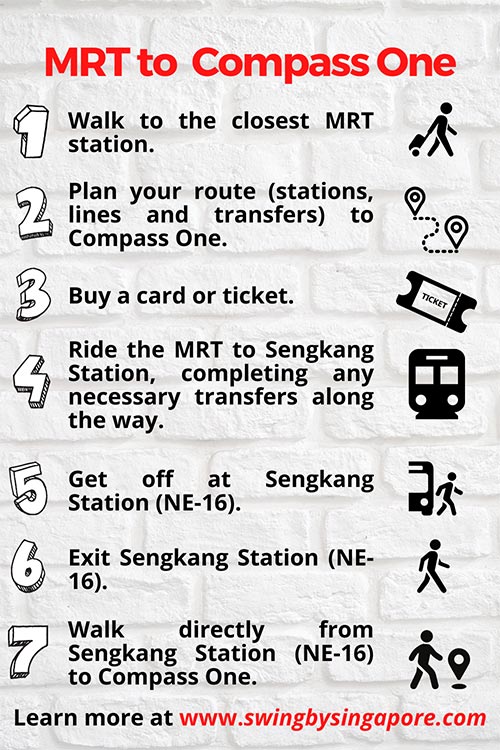 ---
Should you stay at a hotel near Compass One?
There is no denying that staying beside Compass One in Singapore would be super convenient for accessing shops and restaurants. 
However, despite the convenience of this area, there are relatively few hotels or hostels in Sengkang. If you want to visit Compass One, you might have to consider staying in another area of the city and using public transportation to get here. Since you have already learnt how to get to Compass One in Singapore by MRT, getting here should be a smooth process!
The closest place to stay that we could find on accommodation websites is: 
Village Residence Hougang by Far East Hospitality (4-star, 7.4/10 review score, 12+ reviews)
You might also want to consider staying in Little India instead of Sengkang. 
Like Sengkang, Little India is serviced by the North-East Line. However, the benefit of staying in Little India is that it's between Compass One and the prime sightseeing districts such as Marina Bay and Chinatown. 
If you stay at one of the many hotel options in Little India, you can simply hop on the MRT and ride along the North-East Line to your intended destination.
 A few of the most popular hotels near Little India Station include:
Citadines Rochor (4-star, 8.6/10 review score, 160+ reviews) 
Hilton Garden Inn Singapore Serangoon (4-star, 8.2/10, review score, 2400+ reviews)
Check out our comprehensive accommodation guide to help you find an area and place to stay in Singapore. It is very popular with our readers. 
---
Conclusion
We hope that this step-by-step overview on how to get to Compass One in Singapore by MRT will help you save time and money!
Once you get on the North-East Line, it's super easy to get to Compass One and Sengkang Station. 
Although we haven't focused on the LRT in this specific article, once you arrive at Sengkang, you can transfer to the East and West LRT loops here as well. These open up all kinds of itinerary ideas because Sengkang is very well connected by the MRT and LRT (not to mention bus services). 
Take the MRT here and transfer to the LRT or bus services to reach your intended destination.
Activities and Itinerary Ideas
Once you arrive at Compass One, consider spending more time in Sengkang!
You can visit several other shopping malls that are a close drive from Compass One, such as:
Rivervale Plaza
Rivervale Mall
Buangkok Square Mall
Hougang Mall
Hougang Green Shopping Mall
Rivervale Plaza and Rivervale Mall are east of Compass One in Sengkang, whereas the others are south of Compass One, in Hougang. You can access these by taking the North-East Line further south to either Buangkok or Hougang Station. 
A trip to Sengkang would not be complete without some food!
Try some traditional hawker food at Kopitiam Square. It is only about 2 minutes southwest of Sengkang Station and directly south of Compass One!
Sengkang Sports Centre, Sengkang Swimming Complex and Sengkang Sculpture Park are excellent recreational facilities to enjoy with your family. These are a short drive west of Compass One, along the water.
We genuinely hope that you enjoy your experience at Compass One and Sengkang. If you have questions or suggestions about how to get to Compass One in Singapore by MRT send us an email!