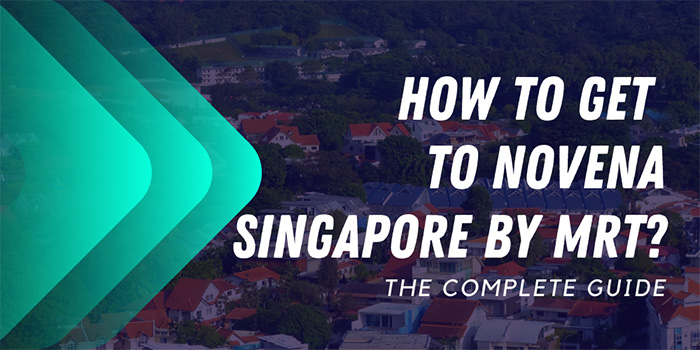 Get to Novena fast and easily by following these specific steps!
Welcome to the step-by-step guide on how to get to Novena Singapore by MRT!
Novena is a planning area of Singapore well known for a wide range of shopping, food centres, hotels and condominiums. Since there is no bus interchange right in Novena, taking the MRT to this city area is a popular choice amongst Singaporeans and visitors to the city. 
Fortunately, Singapore has an extensive MRT network that services most areas of the city, including Novena. You can easily add Novena to your Singapore itinerary and transfer lines to reach this area. 
In addition to outlining MRT transportation to Novena, we will share information about purchasing tickets, walking to points of interest in Novena, and building an itinerary of this area. 
---
Visiting Novena in Singapore
Novena is a centrally located planning area of Singapore that is located between Southern sightseeing areas like Marina Bay and northern attractions such as Singapore Zoo and Singapore Night Safari. 
Over the years, Novena has seen new shopping centres open up, and now there is a healthy selection of shops and restaurants in the area. Tan Tock Seng Hospital is one of the oldest and well-established hospitals in Singapore. It occupies a central position in Novena, and it is surrounded by a cluster of shopping and social centres on Balestier Road, Thompson Road, and Moulmein Road. 
Any trip to Novena wouldn't be complete without checking out some of the popular shopping malls and food centers in this area. 
If you refer below, we have included the summary of some of the most popular points of interest the visitors:
Novena Square
Novena Square 2
United Square Shopping Centre
Velocity
Royal Square Novena
Balestier Point
Balestier Plaza
Whampoa Food Centre
Zhongshan Shopping Mall
You should have no problem spending a day or two in Novena, shopping and dining. 
Even though Novena is not as popular with tourists compared to Marina Bay, Orchard, Chinatown and Sentosa, there are quite a few hotels here.
Most of the hotels are located along Balestier Road, but a few popular properties are south near the MRT station and malls. 
A few of the most popular hotels in the Novena area:
Courtyard by Marriott Singapore Novena (4-star, 8.6/10 review score, 180+ reviews)
Ramada by Wyndham Singapore at Zhongshan Park (4-star, 8.3/10 review score, 1,445+ reviews)
Keep in mind that many of the hotels in Novena are well-priced compared to hotels in Marina Bay, Orchard and Sentosa. You can find some good bargains here in the 2, and 3-star hotel categories. 
---
Getting to Novena via MRT
Step 1: Walk to the nearest MRT station in the city. 
Begin your trip to Novena in Singapore by walking to the most convenient MRT station. 
If you are already living in Singapore, then skip down to number two. 
However, if you are visiting from abroad, you must book a strategic room close to a neighbouring MRT Station.
By booking a room at a convenient hotel or hostel, you will immediately make your trip more efficient because you will not spend any time in traffic and avoid any headaches associated with parking your vehicle.
It is also more environmentally friendly to take the MRT while you're in the city instead of using vehicles to get stations and other points of interest.
If you haven't booked a room already, then you can refer to our three suggestions below. 
All three of these properties are at different price ranges, and they are within 3 minutes or less of their adjacent MRT station:
 Luxury
The Fullerton Hotel (5-star, 9.0/10 review score, beside Raffles Place Station) 
Mid Range
Hotel Bencoolen @ Hong Kong Street (4-star, 8.3/10 review score, very close to Clarke Quay Station)
Budget
Chic Capsule Otel (2-star, 8.5/10 review score, very close to Chinatown Station)
Now, it's time to map out your MRT ride to Novena!
---
Step 2: Plan which MRT lines you need to use to reach Novena.
Getting to Novena is easy using the MRT network. In the section below, we will outline line and station information for getting to Novena. Just keep in mind that it's also possible to get to Novena using bus connections from other areas.
We will focus on MRT lines and which station is the best to minimize additional public transportation forms. 
Most Convenient MRT Lines and Station(s) Novena
The most convenient MRT station for getting to Novena is Novena Station. Yeah, it's that easy to remember!
Novena Station (NS-20) is located along Singapore's North-South MRT line, connecting Marina Bay with Jurong East. It has two neighbouring stations, Toa Payoh Station to the north and Newton Station to the south. 
Some of the most popular transfer stations on the way to Novena Station include:
Newton – transfer between North-South and Downtown Lines 
Dhoby Ghaut – transfer between North-South, North East, and Circle Lines
Bishan – transfer between North-South and Circle Lines. 
Before you start your trip to Novena Singapore, make sure you know which transfer(s) you have to make (if any).
---
Step 3: Buy an MRT ticket/card. 
Next, purchase an MRT ticket or card for your trip to Novena. 
The tickets for the MRT system can be classified into three main categories: 
1) Singapore Tourist Passes 
2) Stored Value Cards
3) Single/Multi-Trip Tickets
Tourist Passes are popular with foreign tourists, and for good reason. Once you purchase one, you are entitled to unlimited bus and train rides for a set number of days. Usually, 1-3 day passes are issued. Only buy one of these if you are going to commute a lot. Otherwise, you won't save any money. 
We used a stored value card while learning how to get to Novena Singapore by MRT. Buy the card, top it up and just tap and go on buses and trains. It's that simple!
You can buy single and multi-trip tickets right in the station on the way to Novena. Avoid peak travel times to avoid long queues for tickets.
---
Step 4: Travel on the MRT to Novena Station. 
Map out your expected line transfers in advance, and when you're ready, ride the MRT to Novena Station.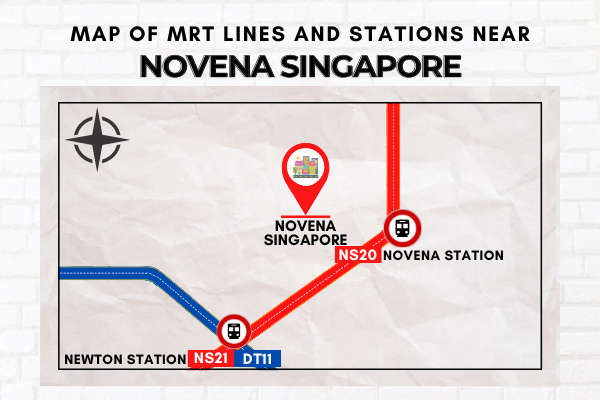 ---
Step 5: Alight at Novena. 
Get off the train and Novena and bring along all of your items. 
---
Step 6: Exit Novena Station. 
Once you are off the train, begin looking for exit information. Signs should be visible throughout the station. 
Novena Station has two exits to choose from on the underground level:
Exit A
Exit B
You can then access underpasses to multiple developments in the Novena area. 
If you are connecting with bus services, use Exit B. Taxi services can be accessed from Exit A and Exit B.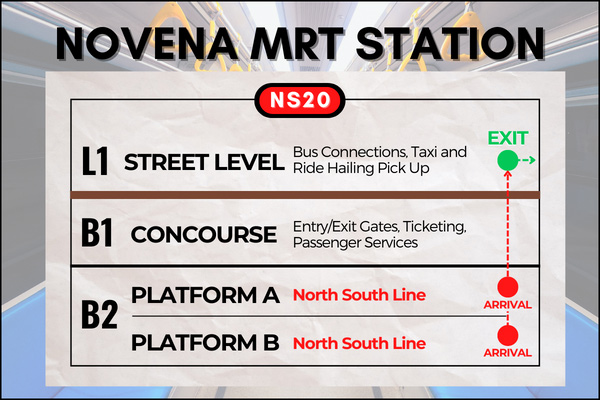 ---
Step 7: Walk to your point of interest in Novena.
You may be wondering how long it takes to walk from Novena Station to other points of interest nearby. 
In the section below, we have summarized approximate walking times to relevant malls, health facilities, and food centres:
Shopping Malls
Novena Square – 1 minute (100 m)
Novena Square 2 – 2 minutes (200 m)
United Square Shopping Centre – 10 minutes (1 km)
Velocity – 2 minutes (200 m)
Royal Square Novena – 2 minutes (200 m)
Balestier Point – 17 minutes (1.3 km)
Balestier Plaza – 15 minutes (1.2 km)
Zhongshan Shopping Mall – 10 minutes (750 m)
Food Centres
Whampoa Food Centre – 19 minutes (1.5 km)
Balestier Market – 12 minutes (1 km)
Medical Centres
Tan Tock Seng Hospital – 8 minutes (650 m)
Thompson Medical Centre – 9 minutes (700 m)
As you can see, based on the information provided above, there are numerous shopping centers, food centers and hospitals within walking distance of Novena Station.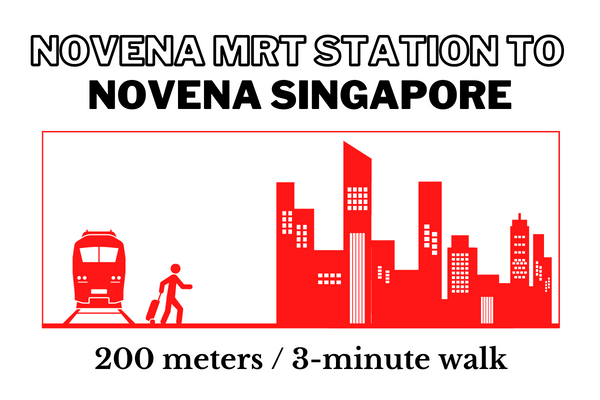 ---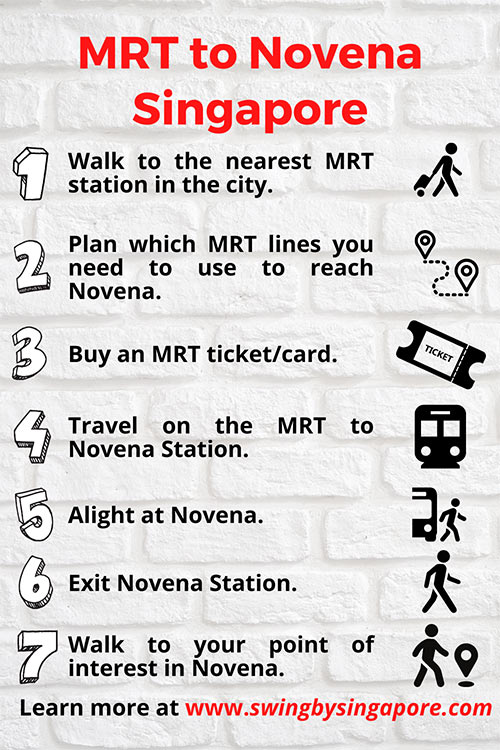 ---
Should you stay at a hotel in Novena or elsewhere?
When selecting a hotel or hostel to stay at in Singapore, you have to think about your preferred location and your budget. 
Novena isn't usually on the top of the list for foreign tourists because it is far from prime tourist destinations. 
But, as you have read, it is a very convenient 'home base' with plenty of shopping malls and hawker centres. 
Another benefit of staying in Novena is that hotels here tend to be good value for the money. Most of the hotels are north of the MRT station along Balestier Road. A lot of the properties here are in the 2-3 star range.
There are a few 4-star hotels near the MRT station that are super convenient, popular and receive positive review scores from guests:
Courtyard by Marriott Singapore Novena (4-star, 8.6/10 review score, 180+ reviews)
Oasia Hotel Novena (4-star, 8.3/10 review score, 1324+ reviews)
If you want more selection in terms of selecting your hotel, refer to our comprehensive accommodation guide. 
---
Conclusion and Itinerary Ideas 
So, there you have it, our step-by-step guide on how to get to Novena Singapore by MRT!
When you are visiting Novena, you have a lot of choices in terms of shopping malls near the MRT station. The area directly northeast of Novena Station is mainly built-up with shopping centres. Royal Square Novena, Velocity, Novena Square, and Novena Square 2 occupy the space between the station and the southern portion of Tan Tock Seng Hospital. 
You can easily spend a whole day in Novena without getting bored! We suggest spending some time shopping and then making an effort to try some hawker dishes at Whampoa Food Centre. But, if you want to eat at one of the malls, there are tons of restaurants scattered around Novena Station. Expect to find both local and international restaurant chains here.
Please reach out to us if you have any questions or concerns about getting to Novena or any other points of interest in Singapore!