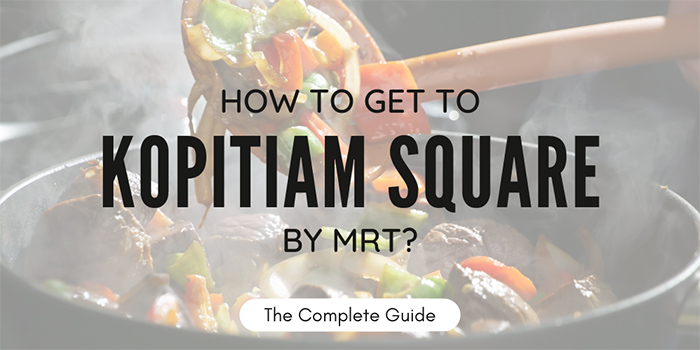 Get to Kopitiam Square in Sengkang Singapore super fast and affordably with these detailed steps.
Welcome to the complete guide on how to get to Kopitiam Square by MRT! By the end of this article, you will know precisely how to reach this popular food centre in Sengkang in a fast, affordable and stress-free manner. 
Aside from describing how to get to Kopitiam Square, we will also share information about nearby points of interest, such as shopping malls and recreational facilities. 
We will provide answers to the following important questions:
What are the best lines, stations and transfers to access Kopitiam Square as fast as possible?
Should you buy a transport ticket, card or Tourist Pass to get there?
What other points of interest should you check out after eating at Kopitiam Square?
We will first share some important information about Kopitiam Square and then explain how to get there via MRT in great detail. 
---
Eating at Kopitiam Square – Important Information
Kopitiam Square is a popular food centre located right in the heart of Sengkang Singapore. If you are looking for delicious, affordable traditional hawker food, this is a fantastic choice!  
Consisting of approximately 60 food stalls, Kopitiam Square offers a wide selection of hawker fares. One of the unique things you will experience at Kopitiam Square is the option to pay cashless using the 'Kopitiam Cards'. It also features an 'air-cleaning system' that removes unwanted smells to make the dining experience more enjoyable for everyone. 
So what kinds of delicious foods can you eat at Kopitiam Square?
Well, it's got tons of choices, but some of the most popular dishes include:
Char kway teow

Zi char

Roti prata 

Bak Kut Teh

Fried Dumplings

Crystal Hor Fun

Mala Hotpot

Chicken Rice Set

Thai Mookata Pot

Roasted Duck Rice

Glutinous Rice with Lotus Leaf

Claypot Curry Chicken
One of the benefits of eating at Kopitiam Square is direct access to Singapore's convenient MRT network and direct access to Sengkang's LRT Loops. Consequently, it's super easy to develop an itinerary that includes all of Sengang's major points of interest after dining at Kopitiam Square.
---
Getting to Kopitiam Square Singapore by MRT 
Step 1: Plan your route to Kopitiam Square (identify stations, transfers, and lines to get there). 
Getting to Kopitiam Square is easy using MRT services, but you will likely have to do some planning before getting to your starting station.  
You have to know which lines, stations and transfers to make along the way to avoid unnecessary delays.
We will share all the information needed to plan your route to Kopitiam Square in the section below.
MRT Station and Line Information
The most convenient station for Kopitiam Square is Sengkang Station (NE16). 
You have to take the North-East MRT Line to Sengkang Station, so plan on transferring there. It is shown in purple on metro maps throughout Singapore.  
Transfer Information to reach the North-East Line and Sengkang Station 
Singapore's MRT network consists of several lines. If you are not staying close to the North-East Line, then you will have to transfer to it to reach Kopitiam Square. 
The three stations listed below are common spots to the North-East Line for commuters in the city: 
Little India (transfer between the North-East and Downtown Line)
Serangoon (transfer between the North-East and Circle Line)
Dhoby Ghaut (transfer between the North-South, North-East and Downtown Lines)
Remember, maps are located in stations throughout Singapore, and there is station personnel available to find the platforms you are looking for. 
---
Step 2: Walk to the convenient MRT station. 
If you want to save the most time and money getting to Kopitiam Square via MRT, make sure you stay close to a station!
We suggest being 500 meters (or less) away from a station to avoid taxi fees and extra time spent in traffic. It defeats the purpose of using public transportation if you need to spend a pile of time getting to a station. 
To help get you started, we researched several online websites and identified three places to stay that are minutes away from MRT stations:
Luxury
Fairmont Singapore (5-star, 8.7/10 review score, close to Esplanade Station) 
Mid Range
Hotel Bencoolen @ Hong Kong Street (4-star, 8.3/10 review score, very close to Clarke Quay Station)
Budget
Chic Capsule Otel (2-star, 8.5/10 review score, very close to Chinatown Station)
You can stay at any of these properties and easily walk to the nearest station (shown above) in 3 minutes or less. Take a look and remember to refer to verified guest reviews before booking a place to stay. 
---
Step 3: Purchase either a ticket or a card for your trip.
You can choose from several tickets/cards when travelling to Kopitiam Square by MRT. 
Here are the main categories:
1) Stored Value Cards
2) Singapore Tourist Passes 
3) Single/Multi-Trip Tickets
All three choices are popular but cater to different people with different priorities. 
Singaporeans and permanent residents commonly use stored value cards. 
We used a stored value card when learning how to get to Kopitiam Square MRT.
Tourist Passes are ideal if you visit from abroad (for a few days) with a busy itinerary.
If your answer is 'yes' to the following three questions, then a tourist pass might be a solid option for you.
Are you visiting from abroad?
How many days are you in the city (1-3 days or more)?
Do you plan on travelling a lot (MRT, LRT and Bus Services)?
Multi-trip and single-trip tickets are available at kiosks throughout the city on your way to Kopitiam Square.
---
Step 4: Transfer (if needed) to the North-East Line and ride the MRT to Sengkang Station (NE16). 
Travel to the North-East Line, completing any transfers. Refer to maps in stations and electronic signs while on the train. 
Ride the MRT to Sengkang Station (NE16).
Buangkok Station (NE15) if you are travelling from the city centre. Move close to the exit on the train when you stop at Buangkok because you'll be getting off at the next station!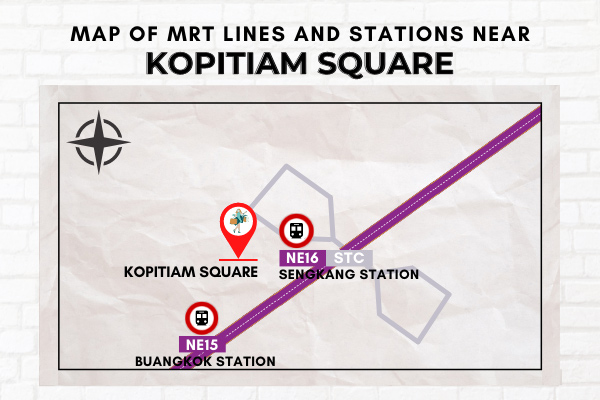 ---
Step 5: Alight at Sengkang Station (NE-16).
Get off the train at Sengkang Station (NE16) with all your personal belongings.
---
Step 6: Exit Sengkang Station (NE16).
You will arrive at Basement Level 1 of Sengkang Station. 
Travel up and take Exit A.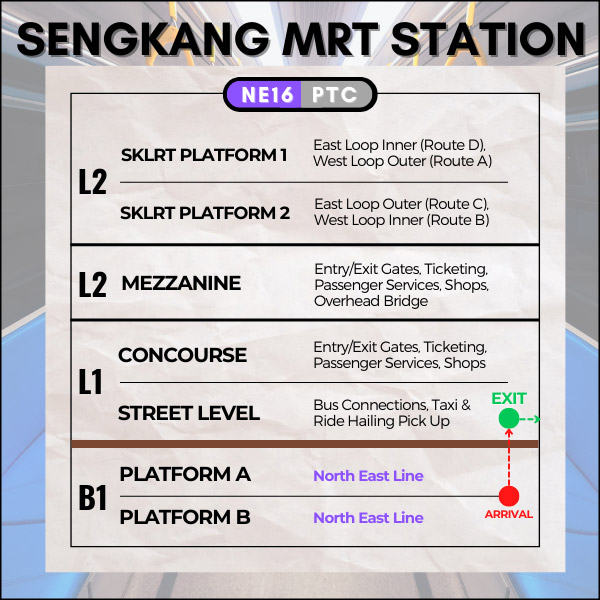 ---
Step 7: Walk from Sengkang Station (NE16) directly to Kopitiam Square.
After taking Exit A from Sengkang Station, you can walk directly to Kopitiam Square. 
You have a few choices on how to walk there. Take the covered walkway south of Compass One mall over to Sengkang Square road. Then, walk south, and you should be right at the entrance to Kopitiam Square. 
Alternatively, you can walk across the diagonal walkway south of Compass One to the southern entrance of the food centre. Regardless, the walk is super easy!
How long should it take you to walk from Sengkang Station (NE16) to Kopitiam Square?
Fortunately, it will only take approximately 2 minutes to walk from Sengkang Station to Kopitiam Square. The walk is only 200 metres, so it is super convenient to get there.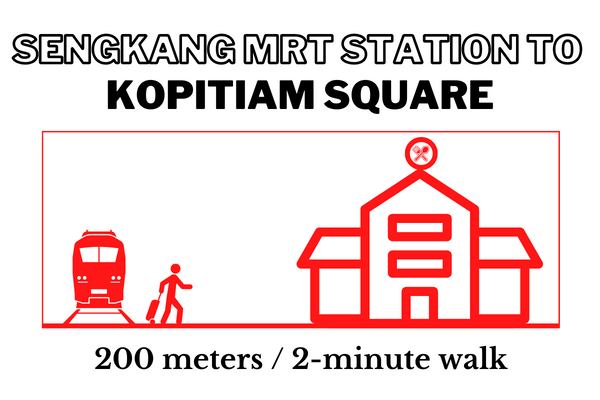 ---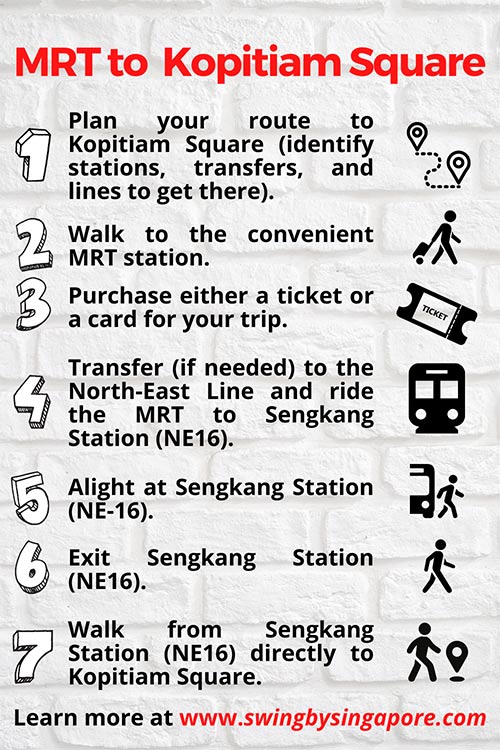 ---
Should you stay near Kopitiam Square or choose another area in Singapore?
The area around Kopitiam Square in Sengkang is well known for housing complexes and condos. But, unfortunately, there are very few (if any) hotels or hostels near the MRT station. 
Consequently, many visitors prefer to book a room south of Sengkang, closer to popular areas such as Marina Bay, Kampong Glam, Chinatown, and Little India.
With more hotels in these areas, there's a better chance of finding something that suits your budget and service expectations. 
If you are keen on staying near Sengkang, then check out:
Village Residence Hougang by Far East Hospitality (4-star, 7.4/10 review score, 12+ reviews)
Rest House (8.6/10 review score, 36+ reviews)
Hotel 81 Kovan (2-star, 6.7/10 review score, 300+ reviews)
These are the three closest properties that we could find. 
 As an alternative location, we suggest staying in Little India. It offers direct access to the North-East Line, meaning that you can quickly access both downtown and Sengkang without much trouble. 
Two properties within walking distance of Little India Station include:
Citadines Rochor (4-star, 8.6/10 review score, 160+ reviews) 
Hilton Garden Inn Singapore Serangoon (4-star, 8.2/10, review score, 2400+ reviews)
Our comprehensive accommodation guide is a popular source of information for our readers. Check out all the best areas and properties in the city with this guide.
---
Points of Interest near Sengkang Station and Kopitiam Square
Once you have finished eating at Kopitiam Square, take full advantage of Sengkang's East and West LRT loops to access other points of interest in the area.  
Several shopping centres and recreational facilities around Sengkang station are worth exploring. 
For example, Compass One is one of the most convenient shopping centres.
It is integrated with Sengkang MRT Station, directly northeast of Kopitiam Square.
Rivervale Plaza and Rivervale Mall are popular malls as well. 
You can take the Sengkang LRT to access both without any issues.
Seletar Mall can be accessed using Sengkang LRT and getting off at Fernvale Station (or by using bus services). 
 Also, consider visiting Sengkang Sports Centre, Sengkang Swimming Complex and Sengkang Sculpture Park. These are a short drive west of Sengkang MRT station along the waterfront. Active families love these facilities!
---
Conclusion
We hope that this guide on how to get to Kopitiam Square by MRT will make this trip so much easier for you. You might even save some time and money along the way!
Remember to stay close to an MRT to make each trip more efficient. You don't want to spend time in traffic or parking a vehicle.
Once you are on the MRT, get to the North-East Line, and the rest is super easy!
Please remember to reach out to us if you have any questions or suggestions for improvement in reaching Kopitiam Square. Enjoy your time here and save travels.