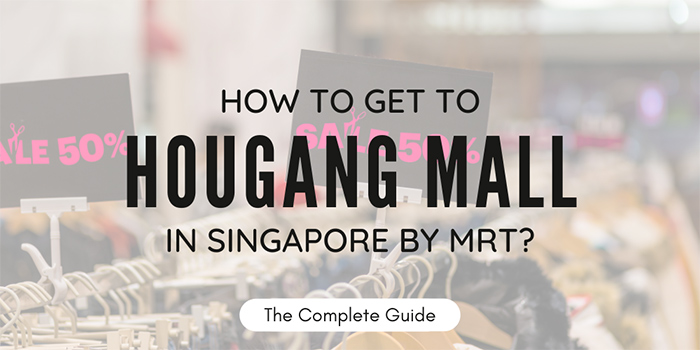 Get to Hougang Mall in Singapore super fast and affordably with these detailed steps!
Welcome to the complete guide on how to get to Hougang Mall by MRT!
This detailed article will outline every step you need to take to reach Hougang Mall using Singapore's extensive MRT network.  Under most circumstances, getting to the mall is straightforward, especially if you are staying near a station in Singapore.
Regardless of where you are in the city, we will ensure that you can get to Hougang Mall fast, affordably and without any inconvenience.
To provide a complete overview of how to get there, we will answer the following questions:
What are the best lines, stations and transfers to reach Hougang Mall as fast as possible?
Is a transport ticket, card or Tourist Pass the best option for you to get there?
What other points of interest should you check out after shopping at Hougang Mall?
First, we will discuss important information about Hougang Mall, and then we will explain how to get there via MRT. 
---
Shopping at Hougang Mall – Visitor Information
Hougang Mall is a popular suburban shopping centre in Hougang, Singapore. It is a busy shopping mall that offers a good selection of home furnishing, accessories, gifts, electronic gadgets, and dining vendors. Many residents of Hougang shop here on a weekly basis. 
Hougang mall originally opened 25 years ago in 1997. It has received numerous renovations over the years, with the most recent one being in 2016 where food vendors were added to the second level of the mall. Currently, it consists of 7 floors and has around 134 tenants occupying 217,000 square feet (20,200 m2) of retail space.
There are four anchor tenants at Hougang Mall and a popular rooftop play area for children. There are nursery rooms on both Level 2 and Level 5 of the mall. The Customer Service Counter is on Level 3, and that's the best place to ask questions while visiting Hougang Mall. 
---
Getting to Hougang Mall by MRT 
Step 1: Identify the stations, lines and potential transfers needed to reach Hougang Mall.
Getting to Hougang Mall is very straightforward using the MRT, but many commuters in the city will have to make a line transfer to get there. 
The section below will outline which stations lines and potential transfers you may have to make to get there efficiently.
MRT Station and Line Information.
The most convenient station for getting to Hougang Mall is Hougang Station (NE14). 
You should have no problem remembering this station!
Hougang Station (NE14) is located along the North-East MRT Line. This line is purple on metro maps in stations around the city.  
Transfer Information to reach the North-East Line and Hougang Station. 
Singapore has an extensive MRT network consisting of several lines. If you are not staying at a hotel near a North-East Line station, you will have to complete a transfer. 
The three stations listed below are common spots to the North-East Line for commuters in the city: 
Little India (transfer between the North-East and Downtown Line)
Serangoon (transfer between the North-East and Circle Line)
Dhoby Ghaut (transfer between the North-South, North-East and Downtown Lines)
You can always refer to station maps throughout the city or ask station personnel to get to Hougang Mall by MRT. 
---
Step 2: Access the most convenient MRT Station. 
Staying close to a station is one of the most strategic decisions in Singapore.
Singapore's MRT provides an affordable, convenient, efficient and environmentally friendly way of getting around. Book a room close to a station if you are visiting the city. 
You will immediately save time and money avoiding taxis, traffic and parking.
Refer to the hotels below. After searching several different accommodation websites, we have found three very convenient properties close to MRT stations. 
Luxury
Marina Bay Sands (5-star, 9.0/10 review score, close to Bayfront Station) 
Mid Range
Hotel Bencoolen @ Hong Kong Street (4-star, 8.3/10 review score, very close to Clarke Quay Station)
Budget
Chic Capsule Otel (2-star, 8.5/10 review score, very close to Chinatown Station)
Remember to check out several hotels/hostels before booking a place to stay. Verified guest reviews and scores are critical to read to ensure the location and services match your expectations.
---
Step 3: Buy a ticket or card for your trip to Hougang Mall.
Fortunately, there are several tickets/cards to choose from when travelling to Hougang Mall by MRT. 
The main categories are summarized below:
1) Stored Value Cards
2) Singapore Tourist Passes 
3) Single/Multi-Trip Tickets
Each option has some pros and cons, so it's a matter of choosing one that works for your plans/itinerary.
Singaporeans and permanent residents commonly use stored value cards. 
We used a stored value card when learning how to get to Hougang Mall.
Tourist Passes are ideal if you visit from abroad (for a few days) with a busy itinerary.
Refer to the questions below. If your answer is 'yes' to them, then you might want to purchase a tourist pass:
Are you visiting from abroad?
How many days are you in the city (1-3 days or more)?
Do you plan on travelling a lot (MRT, LRT and Bus Services)?
You can buy multi-trip and single-trip tickets on your way to Hougang Mall. Simply use the machines in the stations to purchase one of these. 
---
Step 4: Travel along the MRT to Hougang Station (NE14), completing any necessary transfers along the way. 
Refer to maps in stations and begin your trip to Hougang Mall. 
Complete any required transfers to reach the North-East line and ride the MRT to Hougang Station (NE14).
Kovan Station (NE13) is directly south of Hougang, whereas Buangkok Station (NE15) is north. These are the two neighbouring stations that you need to know on your way to Hougang Mall. 
Once you stop at Kovan or Buangkok, you will be getting off at your next stop, so move closer to an exit on the train.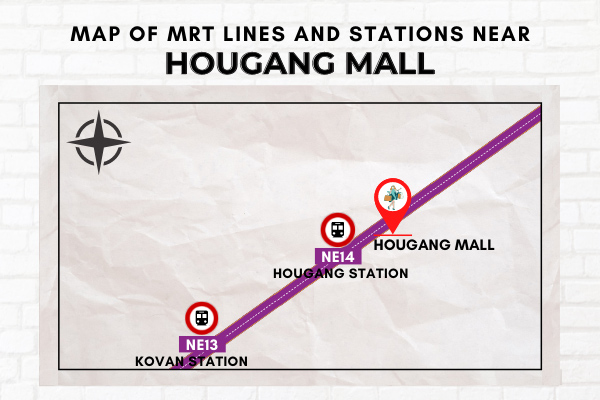 ---
Step 5: Alight at Hougang Station (NE-14).
Get off the train at Hougang Staiton (NE14). Bring all your belongings with you!
---
Step 6: Exit Hougang Station (NE14).
Hougang MRT Station (NE14) is an underground station located below Hougang Central Bus Interchange. 
You will arrive at Basement Level 2 at Hougang Station (NE14).
Refer to signs in the station and travel up to Level 1 (street level).
Hougang MRT station has three exits leading to ground level (A, B and C). 
Take Exit B at Hougang Station to walk to Hougang Mall.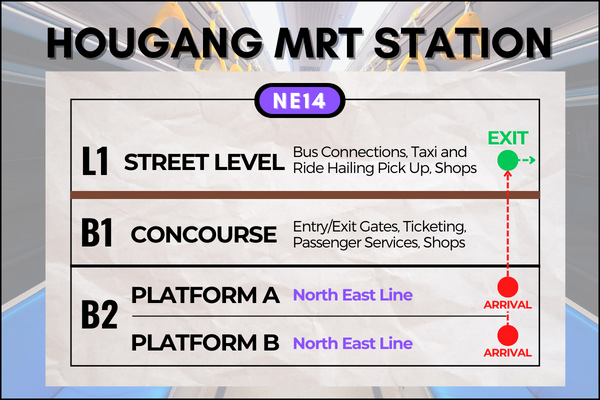 ---
Step 7: Walk from Hougang Station (NE14) to Hougang Mall. 
After taking Exit B from Hougang Station, you can easily walk to Hougang Mall. 
Exit B will bring you out onto Hougang Central Road. 
Walk north along the covered walkway (west of Hougang Mall). Either take the walkway to Hougang Avenue 10 or cut across the parking lot. 
Turn right (east) along Hougang Avenue 10, and walk along with it until you reach the entrance of Hougang Mall. 
How long should it take you to walk from Hougang Station (NE14) to Hougang Mall?
Fortunately, it will only take about 3-4 minutes to walk from Hougang Station to Hougang Mall. 
The walk is only 350 metres, and it's even shorter if you cut across the parking lot to the mall entrance.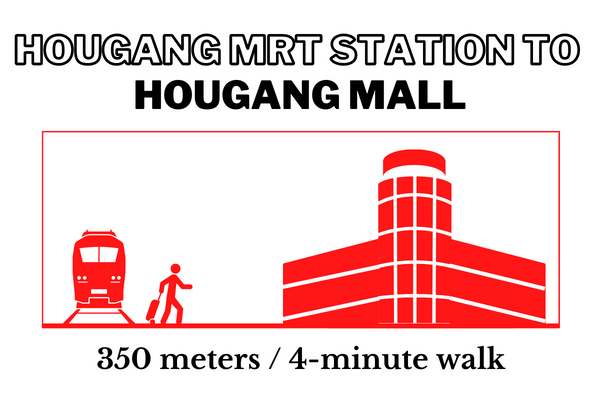 ---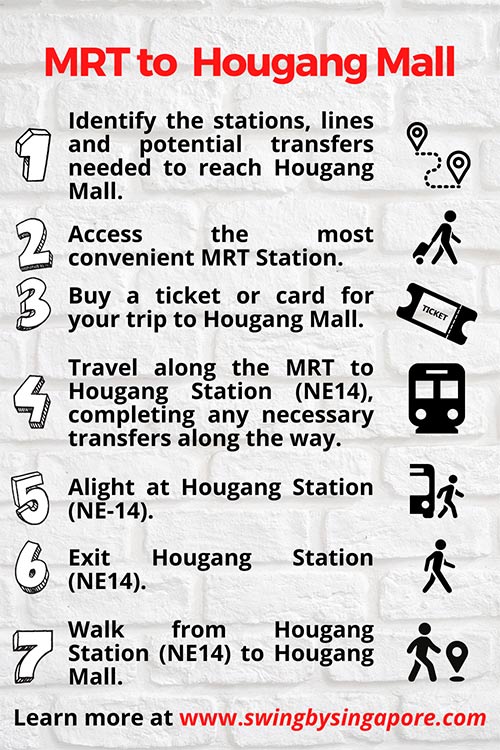 ---
Should you stay near Hougang Mall, or is another area better in Singapore?
There are lots of malls and things to do in Hougang, but unfortunately, this is not the best area in Singapore to find hotels and hostels to choose from.
The closest properties to Hougang Mall that we could find are listed below:
Village Residence Hougang by Far East Hospitality (4-star, 7.4/10 review score, 12+ reviews)
Rest House (8.6/10 review score, 36+ reviews)
Hotel 81 Kovan (2-star, 6.7/10 review score, 300+ reviews)
Most visitors to Singapore choose to stay closer to the downtown area. Famous sightseeing districts such as Marina Bay, Chinatown, Little India and Kampong Glam  have way more hotels and hostels to choose from all price ranges.
 If you want convenient access to Hougang and downtown Singapore, consider staying in Little India. Little India Station is located on the North-East Line, meaning that you can quickly travel south (to Marina Bay) and north (to Hougang) in very little time.
Two properties within walking distance of Little India Station include:
Citadines Rochor (4-star, 8.6/10 review score, 160+ reviews) 
Hilton Garden Inn Singapore Serangoon (4-star, 8.2/10, review score, 2400+ reviews)
Read our comprehensive accommodation guide to learn more about where to stay in Singapore and the best properties at different price levels. 
---
Interesting Places to Visit near Hougang Mall
Once you have finished shopping at Hougang Mall, there is still lots to see and do in this area of Singapore.  
Several shopping centres and recreational facilities are located quite close to the mall, making it easy for you to create a convenient day itinerary for this city area.
Some of the most popular shopping centres near Hougang Mall include,  
Hougang Green Shopping Mall
Hougang 1
Heartland Mall
The Promenade @ Pelikat
Buangkok Square Mall
Most of these shopping malls are a short taxi ride or bus ride from Hougang Station.
Alternatively,  if you want to have some fun with your children or get some exercise, consider heading to Punggol Park or Hougang Community Club. 
---
Conclusion
We hope that this guide on getting to Hougang Mall by MRT Has provided you with all the information you need to get there fast and cost-effectively.
Remember, time is money!
 The main priority is getting on the North-East Line as soon as you can, then all you need to do is take note of the neighbouring stations relative to Hougang, and you should be at the mall in no time!
Stored value cards and Tourist Passes can make your trip even faster by simply tapping your card to enter and exit stations. If possible, avoid ticket queues to save time, which is extremely important during rush hour when stations are busy!
Please remember to reach out to us if you have any questions or suggestions for improvement about getting to Hougang Mall. We would be delighted to hear from you. Enjoy your time here and safe travels.