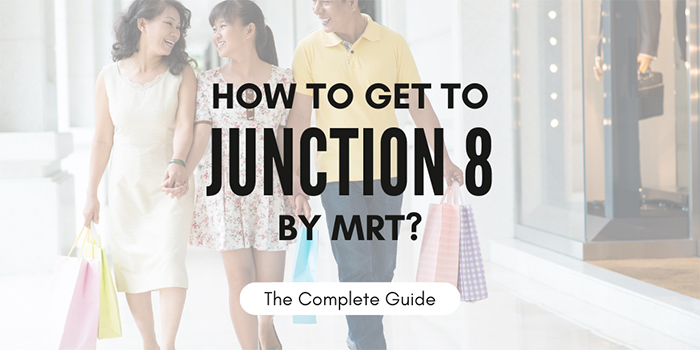 Get to Junction 8 in Bishan super fast using this compreghensive guide!
Here is the complete guide on how to get to Junction 8 by MRT in Singapore.
Regardless of where you are staying in Singapore, by the end of this article, you will know exactly which lines and stations are best for accessing Junction 8 in Bishan. 
Since it is not located downtown, you must know where to transfer lines and how far the expected walk is from the closest station. Getting there via MRT also has some clear advantages, such as saving money and avoiding parking headaches. 
Once you arrive at the nearest station, you will be in the mall quickly!
---
Shopping at Junction 8 in Singapore
Junction 8 is a popular mall in Bishan Town Centre. It consists of five retail floors, including a basement level and two levels of basement carpark. It has a very convenient location between Bishan MRT Station and Bishan Bus Interchange.
If you visit Junction 8, you will have an excellent selection of shops, services, restaurants, cafes, groceries and a cinema. Junction 8 is also very well managed with a customer service desk on Level 2 of the mall and free-wifi available to guests. 
Nursing Room facilities are located at Level B1, 1, 2, and 3 making it a convenient spot for families to visit. They even offer complimentary baby stroller loans while you're at the mall. Parking is available at Junction 8 if you drive instead of taking the MRT.
---
Getting to Junction 8 via MRT
Step 1: Plan your route – the best stations and lines.
 The best and most convenient station for getting to Junction 8 using MRT is 
Bishan Station (CC15/NS17)
According to its shortcode, Bishan is an interchange station between the following two lines:
Circle Line – shown in orange colour on the metro map
North-South Line – shown in red colour on the metro map. 
Conveniently, you can access Bishan Station on either of these lines. 
---
Step 2: Buy an MRT card to reach Junction 8.
You can get to Junction 8 by MRT using two primary types of transportation cards:
Stored Value Cards 
Technically, both of these work in a similar way. 
All you need to do is tap them to enter or exit the MRT network. 
Singapore Tourist Passes are designed for foreign visitors to Singapore. If you buy one, you can get unlimited bus and train rides for a set number of days (typically 3 or fewer). To save money with a Tourist Pass, plan on using the MRT a lot over a short period of time. 
We used a stored value card while figuring out how to get to Junction 8 by MRT. 
Once you buy one, each trip price will be automatically charged to your card. Singaporeans use these to get around, periodically topping up their cash balance for getting around the city. 
---
Step 3: Walk to the nearest MRT station.
Booking a room near an MRT station is a proven way to save time and money while living in Singapore. 
Whether you are living in a condo or booking a hotel room, the MRT is reliable, affordable, and more environmentally friendly than always using private vehicles.
You can also avoid parking fees, vehicle emissions and road traffic by using the MRT to get around. 
Many properties are located beside stations, which can speed up your trip to places such as Junction 8. 
The following two hotels routinely receive excellent reviews for top-notch service and ideal locations close to stations:
Marina Bay Sands Hotel (right beside Bayfront Station)
Fullerton Hotel (right beside Raffles Place Station)
Marina Bay hotels can get pricy, but they are awesome. If you want cheaper options, head to Chinatown, Little India, Kampong Glam and Katong, where more 2, 3 and 4-star properties are located. 
---
Step 4: Ride the MRT network to Bishan Station (CC15/NS17).
To reach Junction 8 using MRT, you must ride the network to Upper Bishan Station (CC15/NS17). 
Remember to transfer to either the Circle Line (Orange) or North-South Line (Red) to access it. 
You should hear some verbal announcements on the train as you approach the station.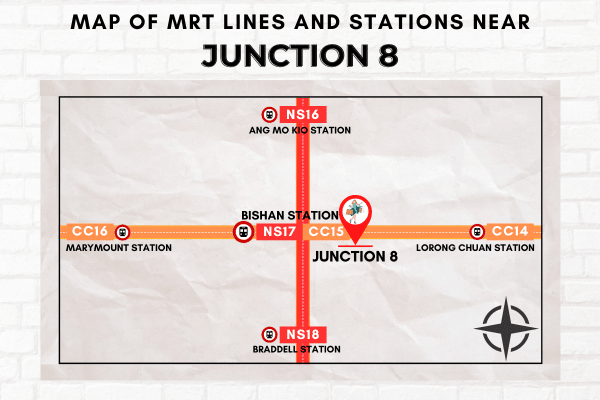 ---
Step 5: Alight at Bishan Station (CC15/NS17).
Get off the train when you arrive at Bishan Station (CC15/NS17).
Double-check that you didn't leave anything behind before getting off!
---
Step 6: Travel from the station platforms to the best exit for walking to Junction 8. 
Knowing which exit to take and how to get there will speed up your trip to Junction 8.
Refer to the section below to get to the right exit at Bishan Station. 
---
Exiting Bishan Station (CC15/NS17)
Bishan MRT Station (NS17/CC15) is built underground at the boundaries of Bishan East and Marymount planning subzones.
It has four main levels you should be familiar with:
L1 – Street Level
B1 –  North-South Line Train Platforms A and B
B2 – Circle Line Concourse and Transfer Link
B3 – Circle Line Train Platforms A and B
As you can see above, if you're travelling on the North-South Line, you will get off at B1, whereas Circle Line passengers will alight at B3.  
Bishan MRT station has five exits in total: A, B, C, D, and E.
Exits A, B, C and D are all located at Street-Level. 
Exit E is located beside the North-South Line platforms on B1.  
Underground Exit E leads from the NSL Southbound Platform B directly to the basement of the Junction 8 shopping centre. 
Take note that Exit E is typically open between 07:30 to 23:00.
You can also access Junction 8 by taking heading up to L1 Street Level and using Exit A.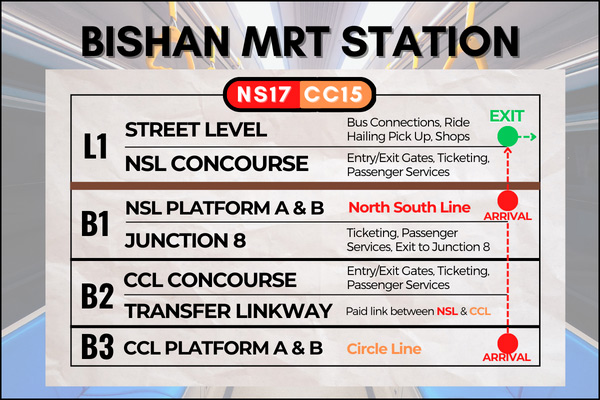 ---
Step 7: Walk from Bishan Station directly to Junction 8.
If you use Exit E at the North-South Line train platforms, you can enter Junction 8 directly at the basement level. 
Exit A provides ground-level access to the Mall. 
---
How long is the walk from Bishan Station (CC15/NS17) to Junction 8?
The walk from Bishan Station to Junction 8 should only take 1-2 minutes. 
Bishan Station is directly west of Junction 8, so regardless of whether you take Exit E or Exit A, it's super convenient.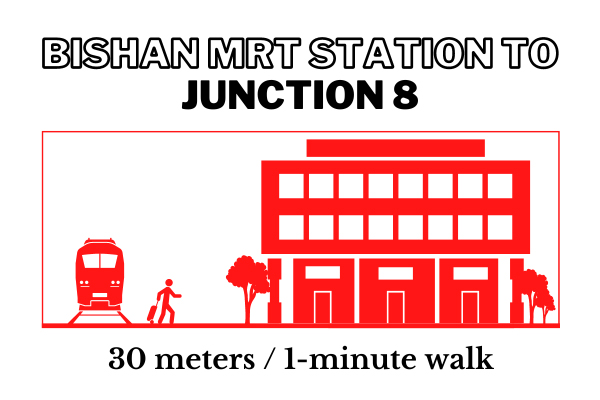 ---
Alternative Stations to Access Junction 8
 It's very clear that Bishan Station is the best one for accessing Junction 8 in Singapore via MRT. 
There are also several other stations not too far away that you can access by bus. 
Here is a summary of alternative stations for getting to Junction 8, just in case you can't make it all the way to Bishan on the MRT network. 
Station Name

      Distance to Junction 8

Time to Junction 8

Bishan Station 
270 m
3 minutes

Marymount (CC16)

1.3 km

17-minute walk

15-minute bus ride

Bradell (NS18)

2.0 km 

23-minute walk

12-minute bus ride
---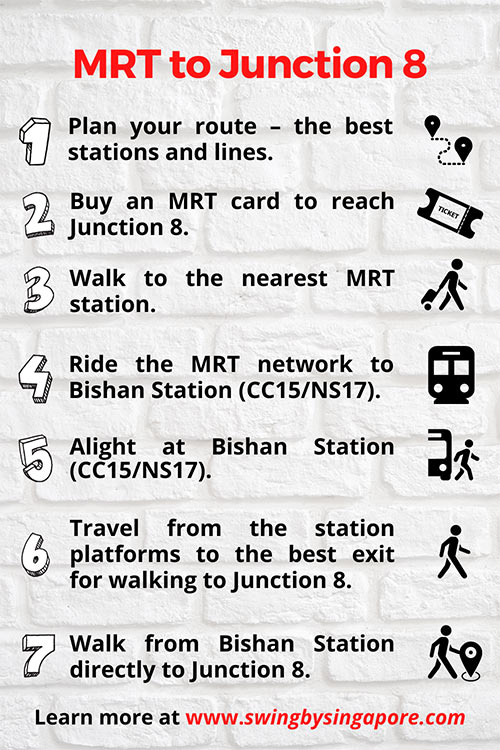 ---
What else to explore close to the mall?
Junction 8 isn't located in a popular tourist area of Singapore, but some other malls and parks worth exploring are quite close. 
Bishan-Ang Mo Kio Park is a popular park a few minutes northwest of Junction 8. 
If you head further west, consider checking out these outdoor spaces:
TreeTop Walk (Directions) 
Windsor Nature Park
MacRitchie Nature Trail 
If you like golf, these courses are also west of Junction 8:
SICC Millennium Golf Course
Singapore Island Country Club 
Junction 8 has lots of shops and services, but if you want to look for more, consider visiting these malls:
Sin Ming Plaza (Info and Directions)
Thomson Plaza (Info and Directions)
Bishan North Shopping Mall
---
Where to stay near Junction 8?
With its location well north of Marina Bay and the central business district, you won't find too many properties near Junction 8. 
Instead, it makes more sense to stay further south along Balestier Road, north of Tan Tock Seng Hospital (Directions), where several hotels exist.
Most of the properties along Balestier Road are quite affordable and listed as 2, 3 or 4-star properties. 
Here are some of the most highly-rated properties:
Ramada by Wyndham Singapore at Zhongshan Park (4-star)
Ibis Singapore Novena (3-star)
Fragrance Hotel – Oasis (2-star)
You won't have skyline views here, but it is much easier on the wallet than staying right downtown.
---
Conclusion
Ideally, this guide has made it clear how to get to Junction 8 by MRT in Singapore.
Actually, Junction 8 is one of the most convenient malls in Singapore to access by MRT because it is right beside Bishan Station. 
All you need to do is focus on getting on either the North-South Line or the Circle Line to get there. Bishan Station (CC15/NS17) is an interchange station between these two lines. 
You can then access Junction 8 via the basement level of the mall or at the street level. 
There are also alternative stations, such as Marymount or Bradell, to reach Junction 8, but Bishan is way more convenient.   
Once you are at Junction 8, enjoy the wide selection of available stores, services, and food and beverage options!