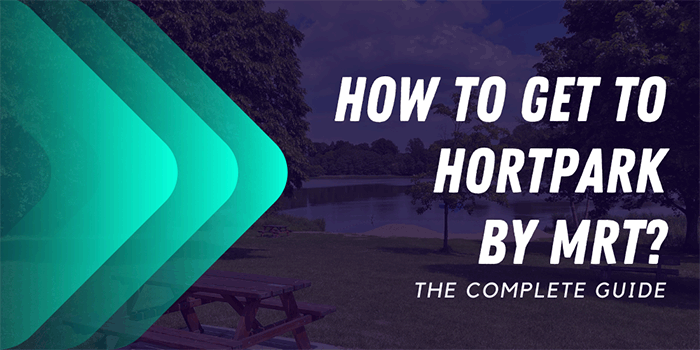 Get to HortPark Fast and Easy with this Comprehensive Guide
Welcome to the step-by-step guide on how to get to HortPark by MRT. This article will outline the specific steps you should take to reach Hort Park via Singapore's extensive public transport network. You should be able to get to this impressive recreational facility in a fast and affordable way without any unnecessary headaches. 
Conveniently, Hort Park in Singapore is serviced by multiple bus routes. Therefore, you can either walk to the park from the nearest station or take a bus from more distant stations along the MRT system. There are lots of awesome hotels within walking distance of stations. Regardless, you can expect good connectivity and frequent departure times throughout the day. 
Singapore has done a superb job of developing and sustaining parks all over the city. The area around Hort Park is loaded with recreational opportunities. We will outline the steps needed to get to Hort Park and suggest exciting attractions to visit in this article. It is possible to build an exciting itinerary that includes Hort Park and adjacent green spaces. 
---
HortPark in Singapore – Why should you visit?
HortPark is a popular gardening hub that is located in the southwestern part of Singapore. It spans 9-hectares and provides connectivity by allowing people to travel around Mount Faber Park, Kent Ridge Park and Telok Blangah Hill Park. Many people consider HortPark a unique recreational facility because it offers a wide variety of gardening-related activities in one central location. 
Not only is HortPark an excellent place to get some fresh air, it is also known as a recreational, educational and a knowledge centre. It is common for people in the horticultural industry to share ideas about plants, gardening and new designs. 
 If you are interested in learning about the best gardening practices, you can join workshops as HortPark. Volunteer Gardening is also encouraged at HortPark, where you can contribute to Singapore's important 'green lungs.' 
HortPark also welcomes a lot of families throughout the year. Children usually enjoy the Pitter Patter Potter Garden. There is also a popular playground for kids to expel some energy. Your young children can enjoy the sand playing area. Expect to find baby changing rooms and complete bathroom facilities at HortPark. 
---
Specific Details – Getting to HortPark by MRT
Step 1: Access the most convenient MRT station. 
If you live in Singapore, access the closest MRT station to begin your trip to HortPark. However, if you are visiting the city, make sure that you select a hotel or hostel close to an MRT station. 
Singapore has an impressive MRT and bus network. But it is pointless staying far away from a station if you plan on using these modes of transportation. Try to be within 5 minutes of walking distance from your home-base station. Avoid the heat and save time and money. 
There are tons of hotels in Singapore near stations, but here are a few places that are popular with tourists:
The Fullerton Hotel (5-star) (very close to Raffles Place Station)
Marina Bay Sands (5-star) (very close to Bayfront Station)
Fairmont Singapore (5-star)(very close to Esplanade Station)
Once you are ready for your trip to HortPark, access the closest station and bring your personal belongings.
---
Step 2: Buy either an MRT ticket or a card for your trip to HortPark.
While in the station, buy either a ticket or a multi-use card to ride the MRT to HortPark.  
When deciding on the type of ticket, consider these three main questions:
How long are you in Singapore for? And….
Is your itinerary busy or not?
Do you plan on riding a bus or walking to HortPark from the nearest station?
There are two primary forms of tickets for Singapore's MRT network that can be purchased to reach HortPark:
Singapore Tourist Passes

Stored value cards
Related Article: The detailed guide for the best information about buying MRT tickets in Singapore. 
In our opinion, Singapore Tourist Passes are for visits in Singapore spanning 1-3 days. Once you purchase a Singapore Tourist Pass, you can enjoy unlimited MRT, LRT and bus rides. We recommend these if you plan on doing a lot of sightseeing using both the MRT and bus network. For example, if you want to take the bus from the closest station to HortPark, then Tourist Passes can be used for both. 
More Options….
You can save a lot of money with these cards, but you have to travel a lot to make them worthwhile. A lot of people feel that simply the feeling of unlimited trips is worth the price. Your journey to HortPark could be just one of several trips within the same day using a Tourist Pass. 
You can purchase a stored-value card if you plan on sightseeing in Singapore for more than three days. We used one of these when we figured out how to get to HortPark by MRT. All you need to do is buy the card, add cash to it, and then you can 'tap and go' throughout the entire MRT network. Bypassing ticket lines is one of the main benefits of using one of these.  
Read More: How to buy Singapore Tourist Passes – The Complete Guide
---
Step 3: Plan on travelling to Labrador Park MRT Station.
Getting to HortPark by MRT is really straightforward, but some people get overwhelmed with all the MRT + bus options. Technically, you can get to HortPark from many MRT stations because numerous bus routes service the park. 
The closest and most convenient station for getting to HortPark by MRT is Labrador Park Station. 
You can also get there from the following stations, but the bus trip will be farther:
HarbourFront Station 
Clarke Quay Station 
City Hall Station 
Commonwealth Station 
Serangoon Station 
Bugis Station 
Queenstown Station 
Bukit Batok Station 
Jurong East Station 
Outram Park Station
Redhill Station 
Telok Blangah Station 
We suggest using Labrador Park Station if you plan on walking to HortPark. 
---
Step 4: Ride the MRT to Labrador Park Station.
To reach Labrador Park Station, travel along the Circle Line to station CC28. Chances are that you will be travelling from downtown Singapore, so the preceding station on the line will be Telok Blangah. 
If you are travelling easterly towards downtown Singapore, then the preceding station will be Pasir Panjang.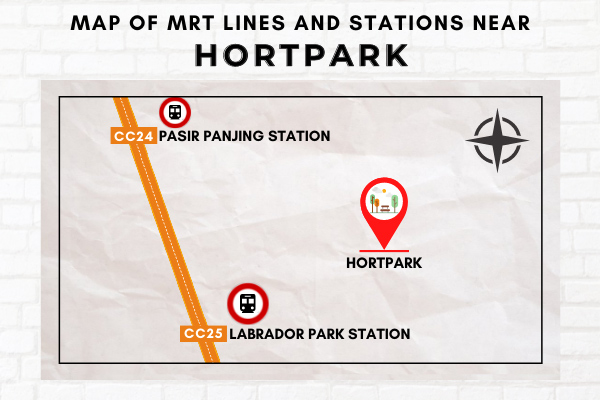 ---
Step 5: Alight, and exit at Labrador Park Station. 
Once the train arrives at Labrador Park Station, alight and bring along your personal belongings. 
There is only one exit at Labrador Park Station, so take Exit A to get out of the station.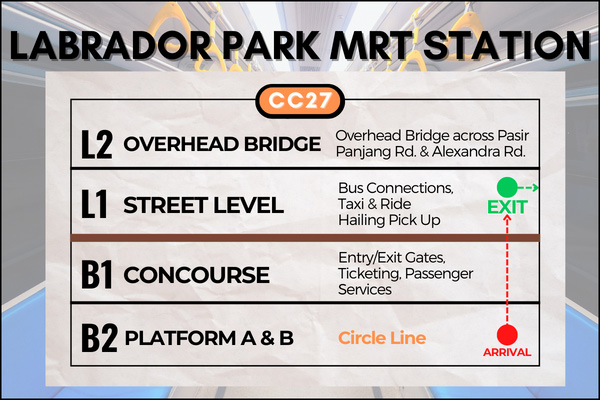 ---
Step 6: Walk or take the bus north from Labrador Park Station to HortPark. 
Once you exit Labrador Park Station, you will choose to either walk to HortPark or take a short bus ride. 
Walking directions from Labrador Park Station to HortPark: Walk north along Labrador Villa Road, and cross Telok Blangah Road. Make a slight left on Pasir Panjang Road and then walk north along Alexandra Road. Remain on Alexandra Road and eventually turn left (west) to enter HortPark. 
The walk from Labrador Park Station to HortPark should take you about 10-13 minutes. It is 1 kilometre north of the station.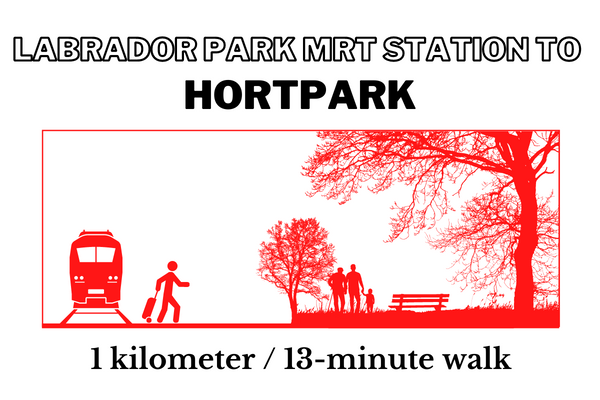 Bus directions from Labrador Park Station to HortPark: Multiple buses service HortPark from Labrador Park Station. They include:
51
61
93
97
100
120
166
963 
A convenient pick-up bus station is located in front of Alexandra Retail Centre on the other side of the West Coast Highway. You can expect the bus ride to take between 5 and 7 minutes. 
---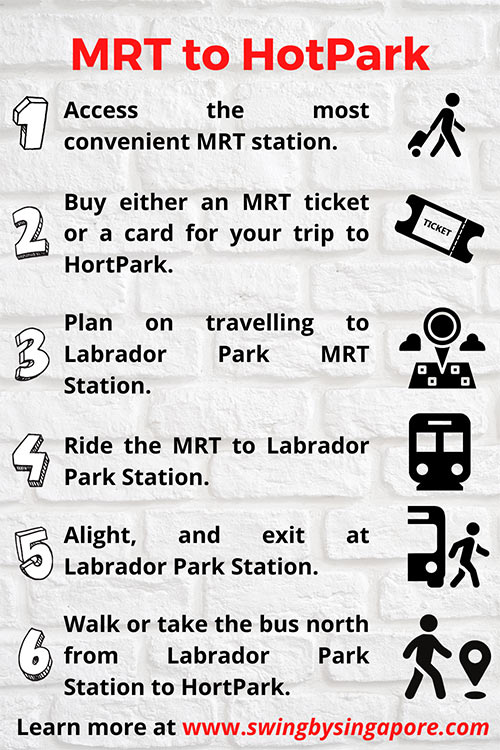 ---
Are there alternative MRT stations for getting to HortPark?
We want to clarify that Labrador Park Station is only one of many stations that you can use to get to HortPark. It is the closest in terms of walking distance but if you want to take a bus from a more distant station, go for it!
You can also take the MRT to any of the following stations and then ride a bus to HortPark:
| | |
| --- | --- |
| Station | Buses going to HortPark |
| HarbourFront Station (NE1) | 61, 93, 97, 100, 166, 408, 963 |
| Clarke Quay Station (NE5) | 51, 61 |
| City Hall Station (EW13 / NS25) | 61, 166 |
| Commonwealth Station (EW20) / Serangoon Station (NE12) | 100 |
| Bugis Station (EW12) / Queenstown Station (EW19)  | 51 |
| Bukit Batok Station (NS2) | 61 |
| Jurong East Station (EW24 / NS1)  | 97 |
| Outram Park Station (EW16 / NE3) / Redhill Station (EW18) / Telok Blangah Station (CC28) | 120 |
As you can see, according to this table, bus 61 is a good one to get on if you are travelling to HortPark. 
Table Reference: https://www.nparks.gov.sg/~/media/gdo-2017/map–how-to-get-to-hortpark.pdf
---
Should you stay at a hotel near Hortpark?
HortPark is not located in an area known for hotels and hostels. It is west of popular sightseeing areas such as Marina Bay and Chinatown. Generally, most people visiting Singapore stay closer to downtown or on Sentosa Island. 
HortPark only has a few places to stay within a few kilometres:
Ibis Budget Singapore Mount Faber (2-star hotel)
Travelodge Harbourfront (4-star hotel)
Villa Samadhi Singapore (luxury rooms)
Expect to take the bus from any one of these to the park. Needless to say, there are more convenient places to stay in the city in terms of accessing restaurants, shopping centres and markets. 
Sentosa Island is a suitable place to stay if you want to explore HortPark and the neighbouring green spaces. Just take the MRT east to Harbourfront Station and transfer to the Sentosa Express to get onto the island. 
Read More: Singapore Accommodation Guide – Find the Best Places to Stay, Now…
---
Conclusion – Getting to HortPark by MRT.
We really hope that this step-by-step guide on how to get to HortPark by MRT will get you there fast and affordably. The last thing that we want is you wasting valuable time and money. 
The area around HortPark is very well known for its recreational spaces. Some of Singapore's best parks and hiking trails are located along the Southern Ridges.  
You can quickly develop a personal or family-friendly itinerary here. Henderson Waves is a famous bridge that has become popular for dates and scenic views. 
Consider checking out some of these points of interest during the same day trip to HortPark:
Kent Ridge Park (MRT Directions)
Haw Par Villa (Directions)
Southern Ridges
Mount Faber Park
If you are travelling with children, then Sentosa Island is a 'must-visit. It is only a few stations east of HortPark. It features world-class attractions such as Universal Studios, Adventure Cove and iFLY Singapore. You can easily spend 4-5 days on Sentosa without getting bored!
Read More: How to buy tickets for Universal Studios Singapore? The Complete Guide. 
If you have any questions about how to get to HortPark by MRT or sightseeing in this area, please send us an email or comment below. We would be delighted to help you! 
Now, be sure to make the most of your trip to HortPark in Singapore!