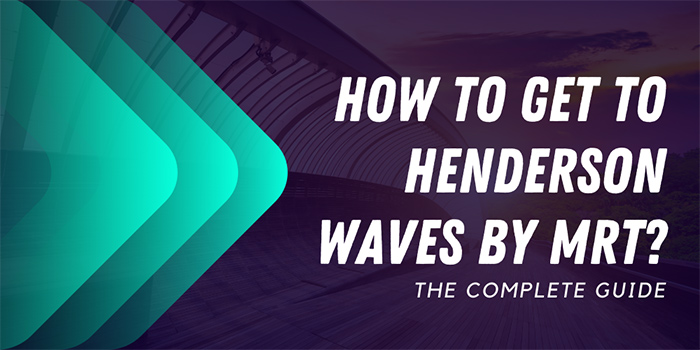 Get to Henderson Waves fast and easy using this comprehensive guide. 
This is the complete step-by-step guide on how to get to Henderson Waves by MRT. We hope that you will be able to reach Henderson Waves in a fast and affordable manner by the end of this article. 
Regardless of whether you are from Singapore, Henderson Waves is genuinely an impressive bridge that is definitely worth checking out. We will outline all the steps to get there using Singapore's extensive MRT network and give you some additional advice on what else to check out nearby. 
It is important to note that there are different ways to get to Henderson Waves using MRT depending on which place you are staying in the city. And once you have visited, there are several other attractions worth visiting not too far away that you can book online. Therefore, we will share as much information as possible with you to make the most practical transportation decisions regardless of where you are beginning your journey in Singapore. 
---
Henderson Waves Bridge in Singapore – Why should you visit?
Henderson Waves is one of Singapore's most impressive bridges that is very popular with Singaporeans, permanent residents, and tourists familiar with it. Standing at an impressive 36 metres above ground, Henderson Waves is the highest pedestrian bridge in Singapore. It spans 274 metres in length and forms a unique undulating design, curving and twisting with elegance. 
Henderson Waves Bridge first opened in 2008, and ever since, it has provided visitors with superb views of the surrounding flora and fauna, Singapore's southern islands, and city skyline. It tends to be the busiest on weekends with couples, joggers and families with children.  People love to capture vivid photos and videos at Henderson Waves, but it also serves a practical purpose. 
Location and Additional Info
Henderson Bridge connects Telok Blangah Hill Park and Mount Faber Park. These parks are within the popular Southern Ridges Walk – a fantastic hiking trail that offers Singapore's best views and greenery.  
Due to its unique design, Henderson Waves Bridge has pockets where you can sit and relax while not being in other people's way. Date nights here are common. People tend to stay here after sunset because it is impressively illuminated by light-emitting diode (LED) lighting every evening. A return to Henderson Waves Bridge during the morning hours will offer you a great opportunity to birdwatch.  
---
Specific Details – Getting to Henderson Waves by MRT
Step 1: Find the closest MRT Station.
Making your way to Henderson Waves by MRT is a lot easier if you are staying close to an MRT station. Singapore, fortunately, has one of the best public transport systems in Asia. Therefore, if you are close to a station, it's easy to get around and easy to save cash while doing so. 
We recommend staying within 500 meters or less of a station if you are visiting the city. Here are a few examples to get you started with your search:
Fullerton Hotel (5-star) (very close to Raffles Place Station)
Marina Bay Sands (5-star) (very close to Bayfront Station)
Fairmont Singapore (5-star)(very close to Esplanade Station)
When you are ready, it's time to walk to the nearest station to reach Henderson Waves Bridge. 
---
Step 2: Buy your MRT ticket or multi-use card for your trip to Henderson Waves.
After you access the most convenient station, it's time to buy a transportation card for your trip to Henderson Waves.  
Some of the main considerations when you are buying an MRT ticket to Henderson Waves include:
How long are you in Singapore? And….
Is your itinerary really busy or not?
There are the two primary forms of tickets for Singapore's MRT network that can be purchased to reach Henderson Waves:
Stored value cards

Singapore Tourist Passes
Related Article: The detailed guide for the best information about buying MRT tickets in Singapore. 
In our opinion, Singapore Tourist Passes are for visits in Singapore spanning 1-3 days. Once you purchase a Singapore Tourist Pass, you can enjoy unlimited MRT, LRT and bus rides. You can save a lot of money with these cards, but you have to travel a lot to make them worthwhile. Furthermore, a lot of people feel that simply the feeling of unlimited trips is worth the price.
Getting to Henderson Waves could be just one of several trips within the same day using a Tourist Pass. 
We highly recommend buying a multi-attraction pass to use with the Tourist Pass. You will be able to access different areas of the city affordably via MRT, and also save up to 52% on entrance prices to major attractions. So far, over 200,000 of these passes have been sold to visitors!
If you stay in the city for more than three days, consider getting a stored-value card. We used one of these when we figured out how to get to Henderson Waves by MRT. All you need to do is buy the card, add cash to it, and then you can 'tap and go' throughout the entire MRT network. Bypassing ticket lines is one of the main benefits of using one of these.  
You can also just purchase a single trip ticket if you don't want to buy a multi-use card to get to Henderson Waves. Just be cautious that you don't travel at a really busy time because you might spend too much time waiting at the ticketing machine. 
Read More: How to buy Singapore Tourist Passes – The Complete Guide
---
Step 3: Select your terminal station: Telok Blangah, Harbourfront, or Redhill.  
Unlike many attractions in Singapore, Henderson Waves can technically be reached by getting off at multiple MRT stations. It is sort of wedged between them, so you can get to it by taking the train to any of these three stations:
Telok Blangah Station (our recommended station – within walking distance)
Harbourfront Station (a hike or bus ride away)
Redhill Station (north of Henderson Waves, but farther walking distance than Telok Blangah)
We suggest taking the train to Telok Blangah Station if you just plan on walking from the station to Henderson Waves. But, it's also possible to walk from Redhill Station (but it takes longer). 
Harbourfront Station takes about double as long to walk from the station. But you can either hike there or take a short bus ride. 
---
Step 4: Ride the MRT to your preferred station.
Directions to Telok Blangah Station: Take the MRT along the Circle Line to station CC28. Chances are that you will be travelling from downtown Singapore, so the preceding station on the line will be Harbourfront. 
Directions to Harbourfront Station: Harbourfront is located on both the Circle Line and the North-East Line. Travel west from downtown Singapore on the Circle Line to get here. 
Directions to Redhill Station: Take the East-West Line (green line) to station #18. It is northwest of downtown Singapore.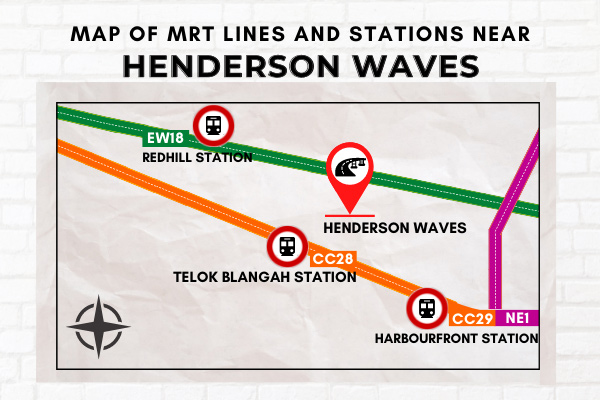 ---
Step 5: Exit your preferred station and make your way to Henderson Waves. 
Travel on the MRT to either Telok Blangah, Harbourfront or Redhill Station. Alight from the train and bring all your personal belongings. 
Directions from Telok Blangah Station to Henderson Waves: Telok Blangah Station is southwest of Henderson Waves. Exit the station and walk east along Telok Blangah Road (under the West Coast Highway). After only 1-2 minutes, turn north (left) and cross Telok Blangah Road onto Henderson Road. Walk north along Henderson Road for about 8-10 minutes, and then keep your eyes open for a small Henderson Waves sign beside the sidewalk. Walk up the staircase to the entrance to Henderson Waves.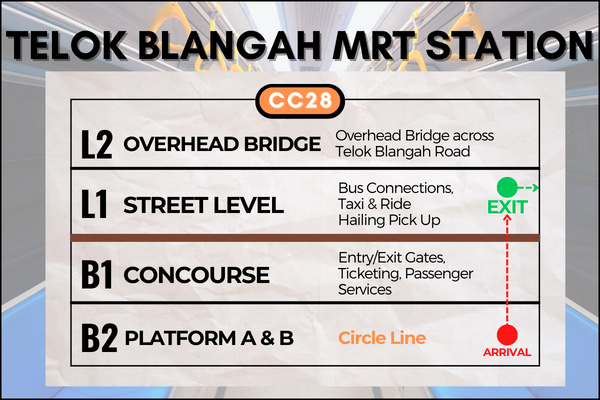 You can expect the walk from Telok Blangah Station to Henderson Waves to take about 12 minutes. It is 1 kilometre from the station.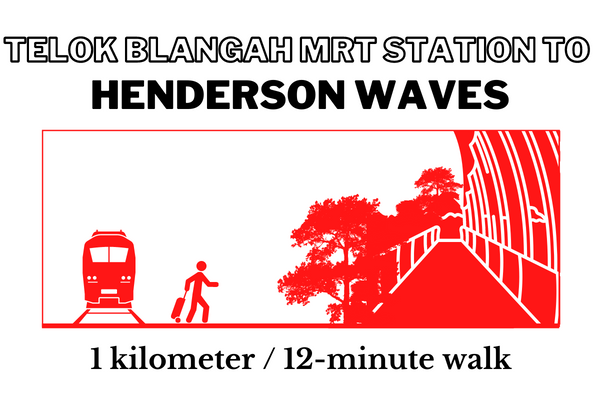 Harbourfront or Redhill?
Directions from Harbourfront Station to Henderson Waves: The walk from Harbourfront to Henderson Waves is about 2.2 km – a considerable distance in Singapore's heat! You can walk if you want to exercise, but taking a bus is more practical for most people. Bus 131 and 145 are two buses that service Henderson Waves. Look for the small hillside sign along Henderson Road.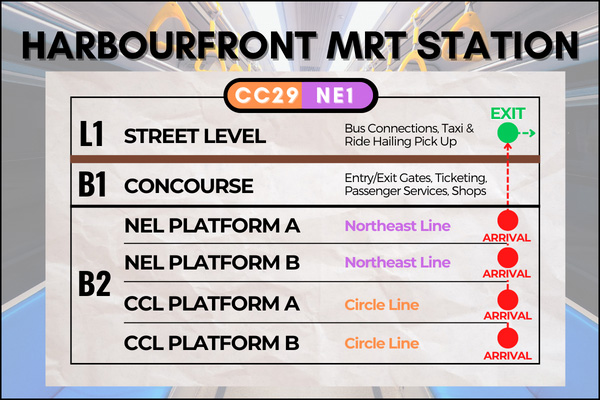 The bus ride should take about 7 minutes.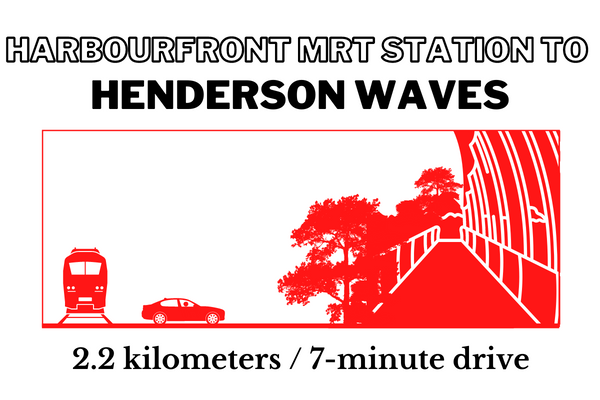 Directions from Redhill Station to Henderson Waves: The walk from Redhill Station to Henderson Waves is about 1.9 km and takes about 25 minutes.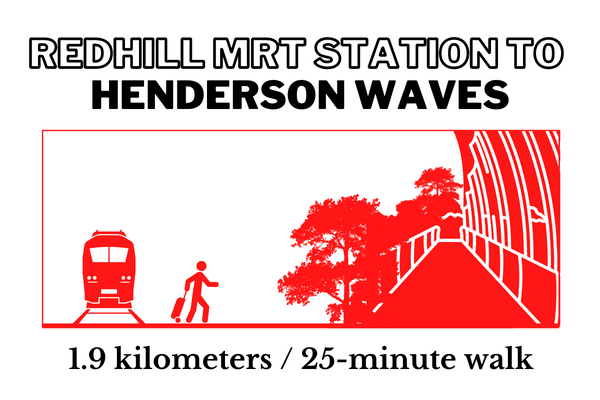 Alternatively, you can take a bus south of the station to the same hillside entrance. Bus 145 services this route and it takes about 12 minutes with a few stops along the way.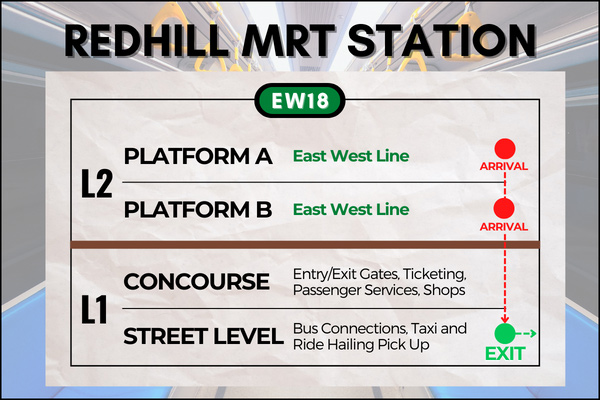 ---
Which MRT station is the best for getting to Henderson Waves?
We suggest that you take the MRT to Telok Blangah Station if you want to get to Henderson Waves. It is only 1 km walking distance from the station which reduces the need to take a bus. All you need to do is walk down Telok Blangah Road and head north along Henderson Road. It's easy to get there and the sidewalk is on the same side of the road as the hillside walkway to Henderson Waves. 
---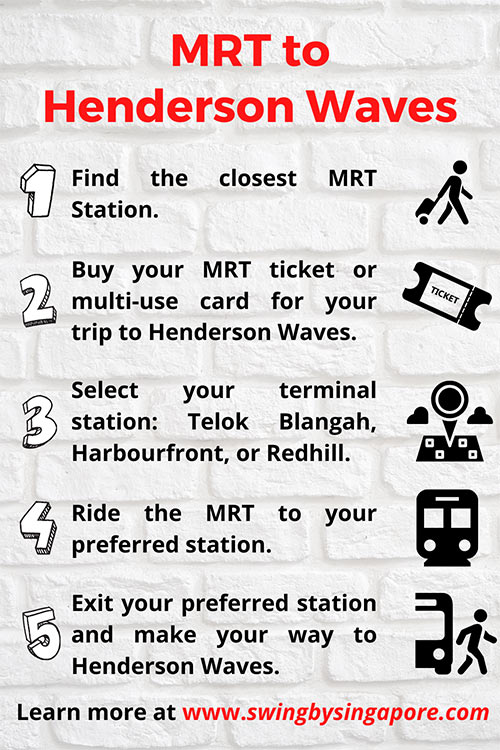 ---
Should you stay at a hotel near Henderson Waves?
Henderson Waves is southwest of Marina Bay and the core downtown area. Therefore, most people visiting the city tend to stay closer to the famous city skyline as opposed to the direct area around Henderson Waves. 
Actually, there are only a few properties relatively close to Henderson Waves:
Ibis Budget Singapore Mount Faber (2-star hotel)
Travelodge Harbourfront (4-star hotel)
Both of these require a significant walk, or in most cases, a bus ride to get to Henderson Waves. 
Since Henderson Waves is quite close to Sentosa Island, that is a convenient place to stay to access this beautiful bridge.  
Read More: Singapore Accommodation Guide – Find the Best Places to Stay, Now…
---
Conclusion – Getting to Henderson Waves by MRT.
Ideally, we hope that this step-by-step guide on how to get to Henderson Waves by MRT has provided all the information you require. We want you to save time, money and all the headaches. 
If you are travelling to Henderson Waves by MRT, then it's possible to develop an itinerary in the surrounding area.  Most of the points of interest in this area of Singapore focus on recreational activities. You can easily spend 2-3 days in this area. 
Some of the most popular outdoor recreational areas near Henderson Waves include: 
Kent Ridge Park (Directions)
HortPark (Directions)
Southern Ridges
Mount Faber Park
But the most famous place to visit is definitely Sentosa Island. It is jam-packed with family attractions such as Universal Studios, Adventure Cove Waterpark and Madame Tussauds. You can spend 5 days here and still have stuff to do!
Read More: How to buy tickets for Universal Studios Singapore? The Complete Guide. 
If you have any questions about how to get to Henderson Waves by MRT or sightseeing in this area, please send us an email or comment below. We would be delighted to help you! 
Now, be sure to enjoy the awesome views from Henderson Waves Bridge!