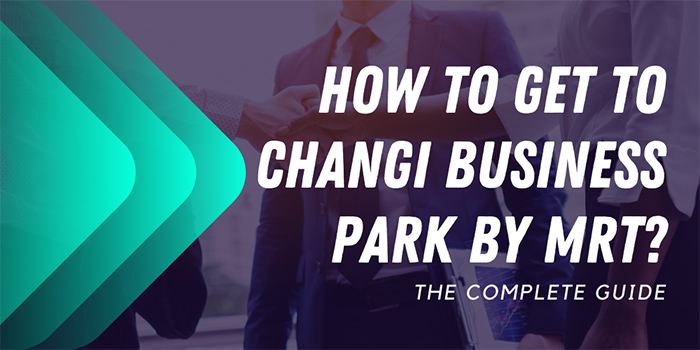 Follow these specific steps to get to Changi Business Park fast and easily!
Welcome to the step-by-step guide on how to get to Changi Business Park by MRT. We have written this article to make sure that you can seamlessly get to Changi Business Park (CBP) directly using MRT without the need of even stepping foot in a vehicle. 
Fortunately, like many other points of interest in Singapore, you can get right to the Business Park using the Metro, making it an affordable and convenient place to travel to. 
In addition to outlining the transportation steps required, we will also focus on:
How to select the best type of ticket for your circumstances in Singapore?

How to build an itinerary of interesting attractions near Changi Business Park?

Whether Should you stay right near the Business Park or elsewhere?
The Business Park is very close to Changi Airport, so it is common to see commuters travelling directly from Changi and other city areas such as Marina Bay.
---
Changi Business Park – Important Location Info
Changi Business Park is a 66-hectare business park located in Changi South – and an area close to Changi Airport in the eastern part of Singapore. It was officially launched in 1997 and is currently home to a wide range of businesses that focus on technology, software, research and development, and data analytics. 
One of the most convenient things about Changi Business Park is its location. Since it is only minutes away from Changi Airport, it is easy for companies to transport shipments to this city area. It is also strategically located directly east of Singapore Expo – the largest convention centre in Singapore. 
The southern section of Changi Business Park includes a popular shopping mall called Changi City Point. You can walk directly from the businesses in CBP to the mall for some shopping and meals. 
---
Getting to Changi Business Park via MRT
Step 1: Walk to an MRT station to start your trip.
If you are reading this article, we will assume that you are not staying close to Changi Business Park. 
The first step in your trip is accessing the closest station. Singaporeans and permanent residents likely already know what their 'go-to' station is. But for tourists, you must take some time and find an area that suits your itinerary. 
Being within close walking distance to a convenient station should be a priority to use the MRT all the time without spending on taxi fees. 
Here is a shortlist of hotels that our readers enjoy:
Marina Bay Sands (5-star, 9.0/10 review score, very close to Bayfront Station) 
The Fullerton Hotel (5-star, 9.0/10 review score, 2 minutes from Raffles Place Station)
Swissotel The Stamford (5-star, 9.0/10 review score, directly across from City Hall Station) 
 You should be able to walk to any of these in under three minutes from the stations listed above. 
---
Step 2: Purchase your ticket/card.
You have many different ticket options for getting to Changi Business Park. But what it really boils down to is:
How long are you staying in Singapore? And…

How frequently do you want to use public transport to get around?
Single and Multi-Trip Tickets
Single trip and multiple trip tickets are the more traditional form of available tickets.  
Simply buy the ticket when you enter the first station from a ticketing machine, and you will be good to go to Changi Business Park! The potential downside of using one of these is that you could be stuck in a long queue at a station. Therefore, try your best to avoid hectic times when stations are packed. 
Stored Value Cards
Stored value cards are popular with Singaporeans, permanent residents and tourists staying longer than three days in Singapore. 
We used a stored value card while figuring out how to get to Changi Business Park by MRT. 
There are various types of cards, but they all work the same way. Buy the card, top it up and then use it as a 'tap and go' as you enter and exit the MRT and bus network. Remember to carry extra balance on your card to avoid a 'surprise' situation. 
Singapore Tourist Passes
You can also buy a Singapore Tourist Pass if you are from abroad and spending 3 days or less in Singapore. 
The big advantage of getting a Tourist Pass is that you don't have to worry about topping up your card. Simply buy one, and you are granted unlimited access to the bus and MRT network. You could use it going to and from Changi Business Park and multiple other places during the same day. 
---
Step 3: Plan your trip on the Downtown or East-West Line to Expo Station. 
Expo Station is the best station in Singapore for accessing Changi Business Park. So, if you get to Expo, you should have zero issues getting to the Business Park!
Relevant Line Information
You should be familiar with the metro lines to get to Expo Station in a fast manner. 
Expo Station is a stop on two different lines:
Downtown Line (Blue Line on the Metro Map)
East-West Line (Green Line on the Singapore Metro Map)
Currently has three neighbouring stations that you should know:
Changi Station – providing airport access on the East-West Line.
Tanah Merah – west on the East-West Line
Upper Changi – north on the Downtown Line
Also, when you depart any of these stations (above), you will be at Expo Station in only a few minutes. 
---
Step 4: Ride the MRT to Expo Station.  
Take the MRT to Expo Station via the Circle or East-West Line (whichever is more convenient).
If you are travelling from downtown Singapore be prepared to transfer at Tanah Merah to the Changi portion of the East-West Line to reach Changi Business Park. 
As you stop at a neighbouring station, grab your personal belongings and move closer to an exit. 
---
Step 5: Alight at Expo Station. 
Alight at Expo Station. Don't forget anything and look for exit signs once you get off the train. 
---
Step 6: Exit Expo Station and Walk to your Point of Interest in Changi Business Park. 
Walking directions from Expo Station to Changi Business Park
Expo Station has a total of 7 exits to choose from when you alight: A, B, C, D, E, F, and G. 
Exits A, B, C, D, and E all provide access to the neighbouring streets, whereas exits F and G are connected to the Basement level of adjacent buildings in the area. 
Take Exit B, D or G to walk from Expo Station to Changi Business Park. 
Exit B will bring you out onto Changi South Avenue 1 (directly west of the Business Park). 
Exit D will bring you out directly to the Business Park, whereas Exit G will bring you out to the Basement Level of UE Bizhub East.
It really comes down to which building you are walking to in the Business Park. Since there are several buildings, we will give you some approximations below to help you plan your trip.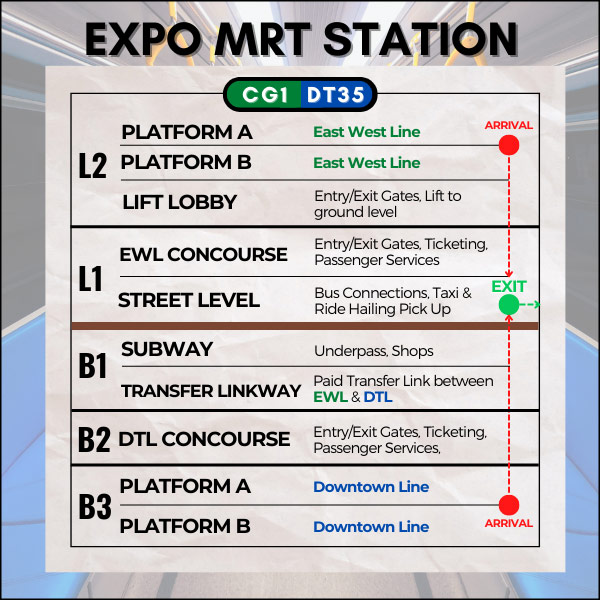 ---
How long should it take you to walk from the station to different buildings in Changi Business Park?
Most of the buildings in Changi Business Park are located northeast of Expo Station. 
Here are some examples of walking distances and times to several buildings within the Park to give you an idea:
Changi Business Park Vista – 9 minutes/700 meters
The Signature – 9 minutes/750 meters
Plaza 8 – 6 minutes/500 meters
IBM – 6 minutes/550 meters
Based on our research, you can expect the farthest buildings to be about a 12-15 minute walk from Expo Station. Some of the closest buildings within Changi Business Park are about 3-5 minutes away from Expo Station.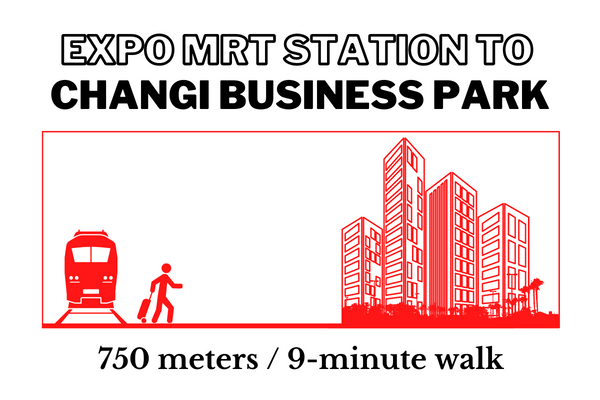 ---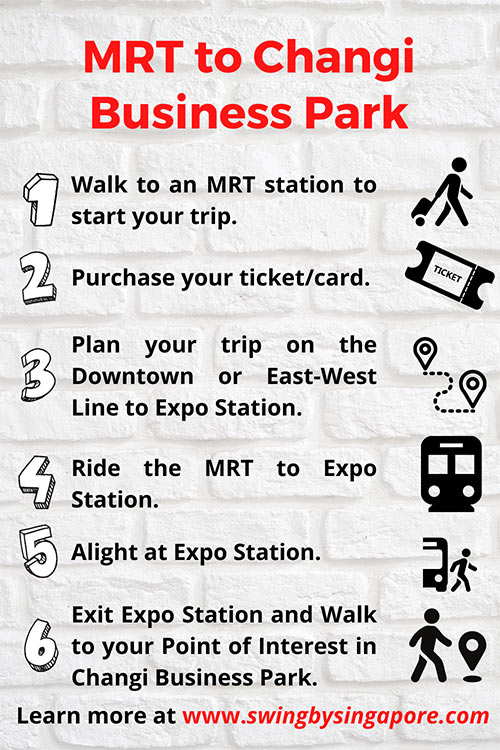 ---
Is it a wise decision to stay near Changi Business Park?
Staying near Changi Business Park can be a smart decision if you plan on spending a lot of time at one of the business towers here or the Singapore Expo (next door). But, most tourists choose to stay downtown and commute here for a 1-day event. In other words, choosing to stay here or elsewhere comes down to your itinerary.
Since Changi Business Park is close to Changi Airport, you could stay near the hotel and have convenient access to the properties here. 
Based on our research, two of the closest properties within walking distance of Changi Business Park include:
Park Avenue Changi (4-star, 8.4/10 score based on 800+ reviews) 
Capri by Fraser Changi City (4-star, 8.6/10 score based on 1150+ reviews)
Changi Aiport is only one stop west of Expo Station, so flying in and conducting some business here is also convenient. 
---
Conclusion, and Itinerary Ideas 
Ideally, this guide on how to get to Changi Business Park by MRT will make your trip fast, affordable and worry-free! 
Although the immediate area around Changi Business Park is mainly business buildings, there are some interesting points of interest in this corner of Singapore to explore. 
Changi Jurassic Mile is worth checking out if you like dinosaurs or have children. It is a dinosaur-themed park with interesting exhibits scattered around biking and jogging trails. Furthermore, kids love the place, and so too do adults!
East Coast Park is a large recreational space to capture some fresh air.  Head there if you want to enjoy a break from the corporate feel of Changi Business Park and the Singapore Expo.  
Also, there is a series of good golf courses a few minutes south of Singapore Expo:
Laguna National Golf Resort Club
Tanah Merah Country Club Tampines Course
Tanah Merah Country Club Garden Course
National Service Resort & Country Club
If you are in the mood for shopping, head to Changi City Point (technically, located right in the Changi Business Park), Jewel Changi Airport or Tampines Mall.
Please reach out to us via email if you have any questions about planning your trip to Changi Business Park or about Singapore. We will try our very best to help you!