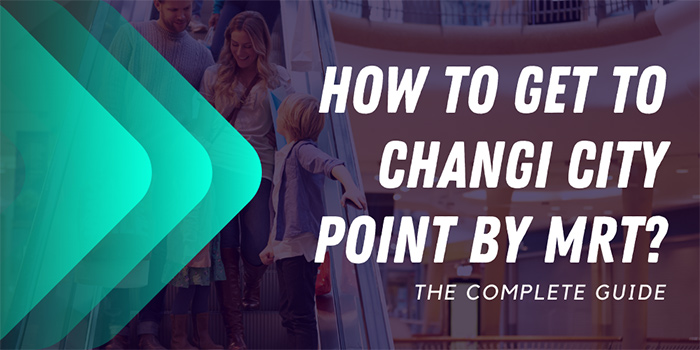 Get to Changi City Point Mall in Singapore super fast and affordably using this step-by-step guide.
Welcome to our complete guide on how to get to Changi City Point by MRT. If you are wondering how to get to one of Singapore's best malls specializing in factory outlets, this is the right place!
Fortunately, you can directly access Changi City Point using MRT, saving you time and money getting there. Singapore, as you might already know, has one of the world's best public transportation systems. Once you book a hotel near a station, you can swiftly access the MRT and then it's really easy getting around to most areas of the city. 
Changi City Point, as its name suggests, is located very close to Changi Airport. It is beside Singapore Expo and adjacent to the businesses in Changi Business Park. Consequently, it welcomes a wide variety of visitors, including foreign tourists, locals, families, and business people, from the corporate offices in the surrounding area. 
Regardless of whether you are a Singaporean, permanent resident or visitor to the city, in this article, we will provide you with all the details on how to save money on transport, attractions, and how to get to Changi City Point using only MRT.
In addition to this, we will also help you to:
Identify surrounding points of interest that you may want to visit.  
Select appropriate accommodation near the mall or elsewhere in the city.
Save money at stations by selecting the right kind of ticket for your trip. 
---
Changi City Point – Visitor Information
Changi City Point is a popular shopping mall that is located right in the heart of Changi Business Park in Singapore. It is adjacent to Singapore Expo and close to residential areas such as Bedok & Tampines, Simei, Upper Changi Road, Upper East Coast Road, Kew Drive, Bedok Road and Tanah Merah.
There are several good reasons why people visit Changi City Point, but one of the big drawing cards here is the large selection of factory outlets. At the time of writing, there are 38 outlets here selling world-class products at discounted rates from what you will find in other malls. You can find everything here, from sporting apparel to world-renowned luxury brands. 
If you have children, then don't hesitate to bring them along for the day. Changi City Point Mall has a nicely landscaped rooftop garden, playground, and tree-house trail for children. They can burn off some energy here while you go bargain hunting!
There is also a cool outdoor amphitheatre here called "The Arena @ L3". 
Similar to other shopping malls in Singapore, Changi City Point has a wide range of restaurants to choose from. You can also relax at a cafe here between business meetings or after you have found a few crazy outlet deals!
Changi City Point's strategic location makes it easy for visitors arriving at Changi Airport and those staying in downtown Singapore to access without breaking a sweat.
---
Getting to Changi City Point via MRT
Step 1: Access the most convenient MRT Station.
Making your way to Changi City point is a very easy endeavour. But, it does get one more challenging if you are not staying close to an MRT station.  Most Singaporeans and permanent residents will likely already know which station to access in relation to their house or condo in the city. So, you can skip down to step 2 if you wish!
If you are visiting Singapore, you should consider spending enough time selecting a property within walking distance of a station.  Not only will this save you unnecessary taxi fees, but you will also avoid walking too far in Singapore's intense afternoon heat.
Singapore has some excellent areas to stay in. Here are just a few hotels that are within 3 minutes (or less) from their neighbouring stations:
Marina Bay Sands (5-star, 9.0/10 review score, very close to Bayfront Station) 
The Fullerton Hotel (5-star, 9.0/10 review score, 2 minutes from Raffles Place Station)
Swissotel The Stamford (5-star, 9.0/10 review score, directly across from City Hall Station) 
As you can see, all of these properties receive positive guest review scores from visitors.  There are hundreds of other hotels within walking distance of stations in Singapore, so be sure to take your time and select the right place for you. That will make your trip to Changi City Point via MRT much more efficient and cost-effective.
---
Step 2: Buy an MRT ticket/card for your trip to Changi City Point.
There are several different ticket options for getting to Changi City Point. 
But, based on our experience, the main factors that you should consider are how long you plan to travel around Singapore (are you a visitor or local), and how frequently do you plan on using the bus and train services?
Stored Value Cards
Stored value cards are one option for getting to Changi City Point. These cards are popular with Singaporeans, permanent residents and tourists staying longer than three days in Singapore. 
We used a stored value card while learning how to get to Changi City Point by MRT. 
Once you buy and top up your stored value card with cash, all you need to do is simply tap it to enter and exit the MRT network. Long as you keep a running balance on the card, these are super easy to use and very highly recommended for long-term guests in the city.
Best Option for Busy Foreign Tourists?
Singapore Tourist Passes
You can buy a Singapore Tourist Pass and use it to get to Changi City Point. 
Tourist Passes are ideal for foreign visitors spending 1, 2, or 3 days in Singapore.  
But they aren't for everyone! 
Since you are entitled to unlimited bus and train rides through Singapore with one of these passes, you must make sure that you have a busy itinerary planned to get your money out of them. You pay upfront for unlimited rides, so make sure that your itinerary is busy enough to warrant the upfront costs. 
If you are only using the Pass to reach Changi City Point, you won't get your money out of the card! 
We highly recommend buying an Attraction Pass to go along with a Tourist Pass. With over 200,000 already purchased, it's a common way to save up to 52% on entrance fees to Singapore's top attractions.
---
Step 3: Plan your trip on the Downtown or East-West Line to Expo Station. 
Before travelling towards Changi City Point, make sure that you know which lines to take and which station is best.
First of all, the best station (by far) for directly accessing Changi City Point is Expo Station. To get to Expo without any unexpected headaches, refer to the line information below.
Line Information for Reaching Changi City Point
Expo Station is a stop on two different MRT lines in Singapore:
Downtown Line (also known as the Blue Line)
 East-West Line (Green Line)
Knowing the neighbouring stations to Expo can help you prepare to get off the train at the right time. 
Here they are for your convenience:
Changi Station – providing airport access on the East-West Line.
Tanah Merah – west on the East-West Line
Upper Changi – north on the Downtown Line
All of these stations are only a few minutes away from Expo Station and Changi City Point.
---
Step 4: Travel on the MRT network to Expo Station.  
Take either the Circle or East-West Line to reach Expo Station. Both of these lines are popular with people staying in downtown Singapore, so check which one makes more sense from your initial starting point. 
**Keep in mind that you will have to transfer at Tanah Merah to the Changi portion of the East-West Line to reach Changi City Point. 
Remember to move closer to an exit when you reach one of the neighbouring stations.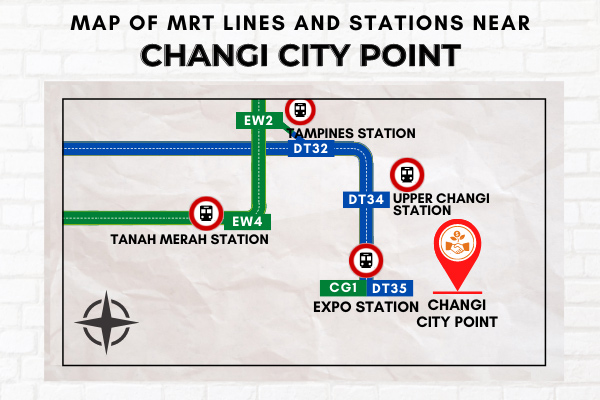 ---
Step 5: Alight at Expo MRT Station. 
When the train arrives at Expo, alight with all of your personal belongings. You should begin to see signs as you step off the train. 
---
Step 6: Exit and walk directly to Changi City Point from Expo Station.
Walking directions from Expo Station to Changi City Point
When you get off the train at Expo Station, you will have 7 exits to choose from A, B, C, D, E, F, and G. Don't be overwhelmed by all the options because there are lots of things in this area. 
Exits A, B, C, D, and E provide access to the neighbouring streets, whereas exits F and G are connected to the Basement level of adjacent buildings in the area. 
Take Exit F to walk from Expo Station directly to Changi City Point. 
Exit F will bring you directly to Changi City Point via Level B1 of the station. Follow the multiple signs to the mall.  Therefore, you won't have to worry about walking outside and dealing with street-level directions.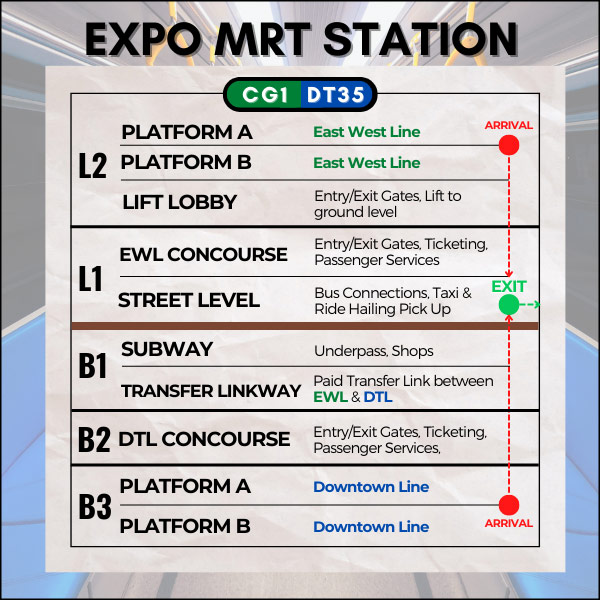 ---
How long should it take you to walk from Expo Station to Changi City Point?
The walk from Expo station to Changi City Point should only take approximately 2 or 3 minutes (200 m). 
Since the mall is physically connected to the station via Exit F, it is comfortable and straightforward. 
Now that is convenient!!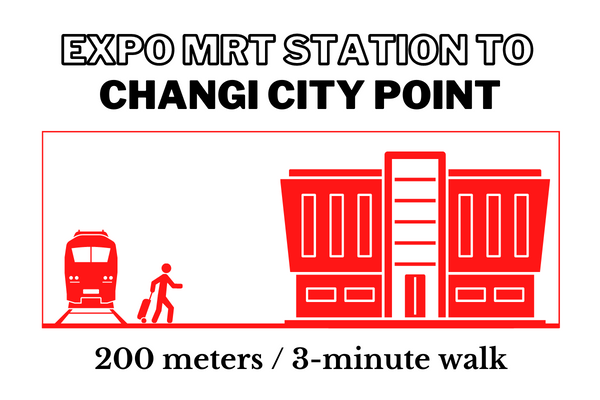 ---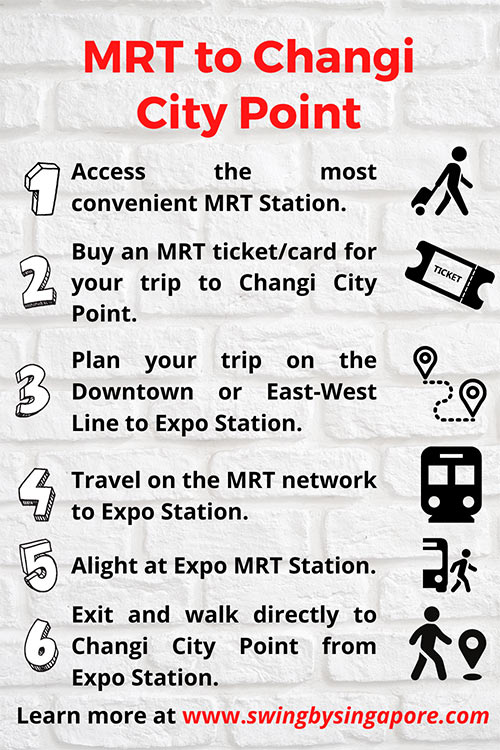 ---
Should you stay in the area around Changi City Point or elsewhere in Singapore?
Selecting the area to stay in Singapore is an important decision from both practical and financial perspectives.
Changi City Point is located within Changi Business Park and also minutes from Changi Airport. Therefore, you can expect the natural flow of visitors to the mall from the airport area and the adjacent corporate buildings. 
But, since Changi City Point is so well connected with convenient access from the MRT Network, you don't have to stay in this area unless you are going to an Expo or doing a lot of business at one of the neighbouring buildings.
Review your itinerary and see whether it makes more sense to stay in this immediate area or to stay in a popular area such as Marina Bay in the city center. 
If you decide to stay near Changi City Point, the most convenient hotel is Park Avenue Changi, followed by Capri by Fraser Changi City. We have included relevant information below for your convenience:
Park Avenue Changi (4-star, 8.4/10 score based on 800+ reviews) 
Capri by Fraser Changi City (4-star, 8.6/10 score based on 1150+ reviews)
You can also walk from Expo Station to either one of these properties and only a few minutes. 
---
Conclusion – Getting to Changi City Point Mall
Hopefully, this article on how to get to Changi City Point by MRT was helpful! 
Although Changi City Point may be far from downtown Singapore, it is extremely convenient to access using the MRT Network. The walk from Expo Station to the mall is only two or three minutes. 
You can't make it much easier than that!
Most of the buildings around Changi City Point are in the form of corporate facilities. Changi Business Park and Singapore Expo are two very popular venues for business visitors to the city. But you still have some recreation and leisure points of interest that are not too far away!
If you enjoy golf, there are four great golf courses a few kilometres south of Changi City Point:
Tanah Merah Country Club Garden Course
National Service Resort & Country Club
Laguna National Golf Resort Club
Tanah Merah Country Club Tampines Course
Furthermore, you might want to bring the whole family to Changi Jurassic Mile.
Changi Jurassic Mile is a dinosaur-themed park with interesting exhibits scattered around biking and jogging trails. Not only is this an innovative idea for the city, but it is also a great place to burn some calories while checking out the cool dinosaurs.
East Coast Park is a large recreational space to capture some fresh air.  Head there if you want to enjoy a break from the corporate feel of Changi Business Park and Singapore Expo.  
Changi City Point should offer you a lot of choices in terms of shops and products. But if you want to sample other malls in the area, head to Jewel Changi Airport or Tampines Mall.
Please feel free to reach out to us if you have any questions or concerns about getting to Changi City Point.  We would be delighted to help you in any way that we can!